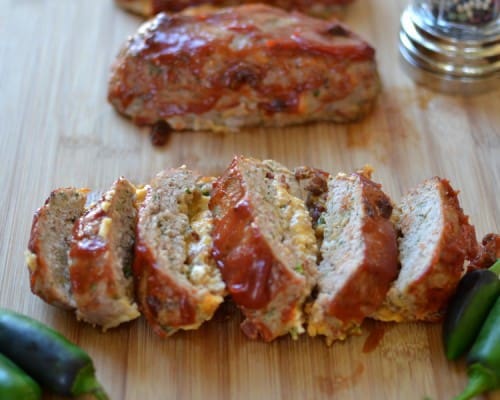 I love jalapenos but you have to be careful with them. You need to use rubber gloves to remove the seeds and membranes. If you do not have rubber gloves simply use a plastic sandwich bag and discard it when you are done. Also taste a little tiny bit of that jalapeno before you decide how much to use. Every one of those little critters is different. Some are smoking hot and others are so mild you could eat them like a piece of celery.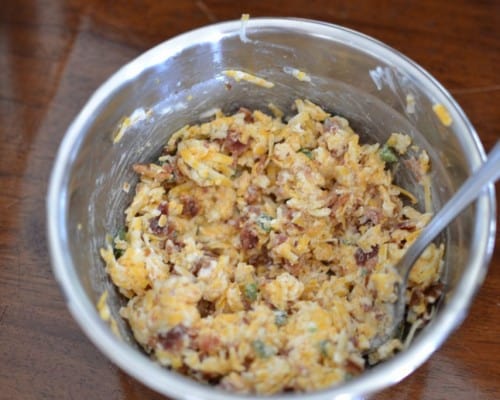 However when they are mixed with some cream cheese, Colby jack and bacon they tend to mellow out. In other words they play well with others. I wish I could say that about my kiddos.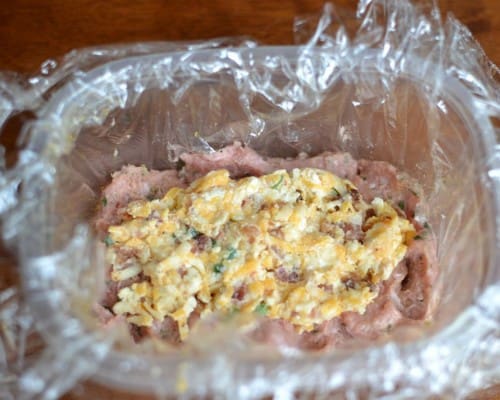 Now I am going to include this crazy picture so you can see how I molded and stuffed the mini meatloaves. Not the prettiest of pictures but I wanted you to see firsthand what was going on.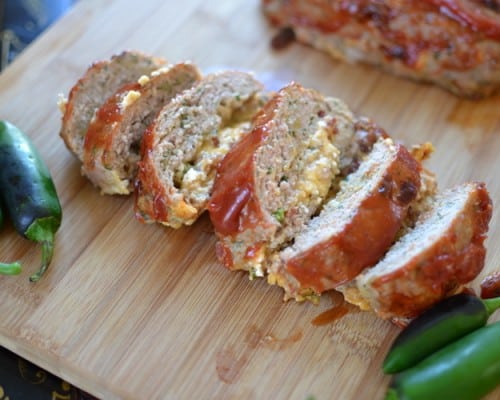 These little guys are delicious. They are a little more work than your average run of the mill meatloaf but the combination of flavors will blow your top off!
Print
Stuffed Mini Meatloaf
Scale
Ingredients
1 jalapeno seeds and membranes removed finely chopped
2 ounces cream cheese
2 1/2 cups shredded Colby Jack
4 slices cooked crisp bacon chopped
2 tablespoons mayo
1 1/4 lb. ground turkey or beef
1 egg
1/2 cup Italian breadcrumbs
1/4 cup finely minced onions (optional)
1 tablespoon parsley
Salt & Pepper
1 cup ketchup
1 chipotle chili in adobe sauce very finely chopped.
Instructions
Preheat oven to 350 degrees
Mix jalapeno, cream cheese, Colby Jack cheese, bacon and mayo together.
Mix ground turkey, egg, breadcrumbs, onions, parsley, salt and pepper in a separate bowl.
Line a mini loaf pan with plastic wrap and spray the plastic wrap with nonstick cooking spray. You will use this to shape the loaves. Place enough of the meat mixture into the mini loaf pan to measure about 1/2 inch thick. Scoop up about 2/3 cup of the cheese mixture and place on top of the meat mixture already in the bottom of the mini loaf pan. Try to pile it in the middle keeping it away from the edges. Now place about another 1/2 inch or so of meat mixture on top trying to seal the meat mixture together around the cheese.
Gently pull the mini meatloaf out with the plastic wrap and shape gently to make sure the cheese is sealed up as tight as possible. Repeat making the rest of the mini meatloaves. Place the mini meatloaves in a baking dish.
Mix the ketchup and chipotle chili together. Coat the tops and sides of the meatloaf with the ketchup mixture. Bake for 45 minutes coating with the ketchup mixture 1 more time.
Notes
I used a gladware container to shape the loaves as I did not have a mini loaf pan.
You can find chipotle chilis in adobe sauce in the Mexican food section of your grocery store.
https://www.smalltownwoman.com/wp-content/uploads/2019/05/Beth-1.pdf