A Juicy Lucy is a juicy beef burger with a pocket of ooey gooey melted American Cheese. This mouthwatering burger is equally delicious grilled or pan fried.
I like mine with tomato, pickle, onion and ketchup but feel free to customize to your own taste. As my late mother used to say "Different strokes for different folks." I love to serve these delicious burgers with Baby Blooming Onions and Creamy Cucumber Tomato Salad.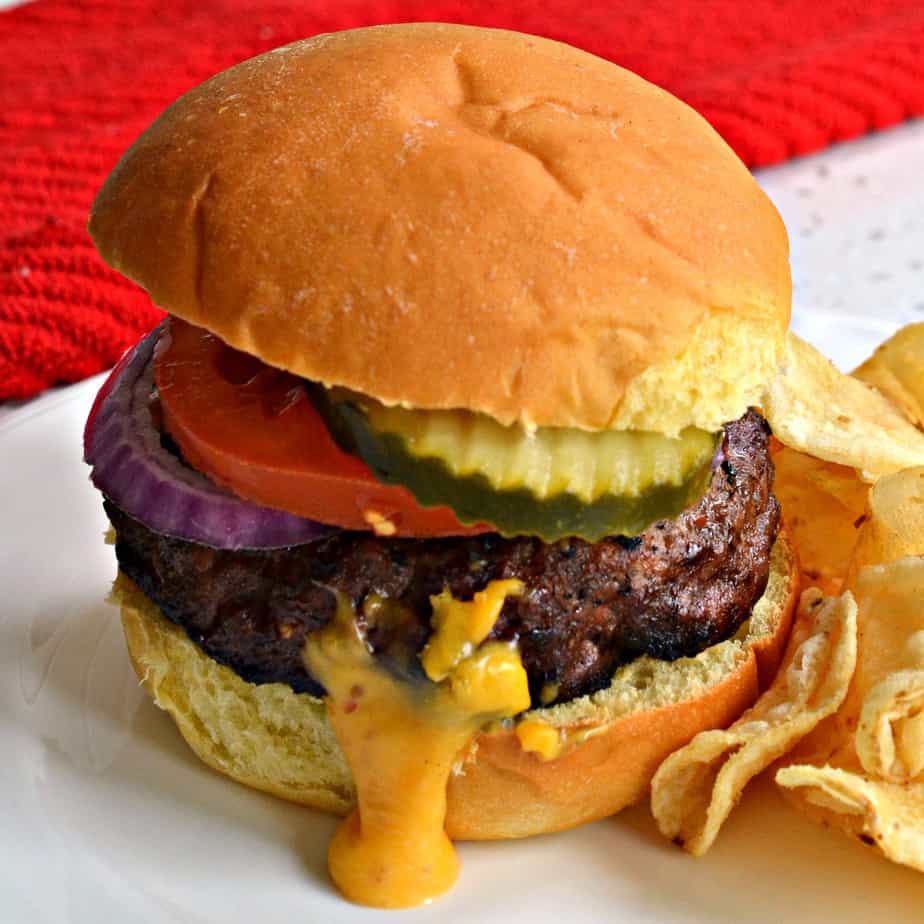 There is no classic dinner bigger or better than a juicy burger.  Now stuff that big bad burger with a hunk of American cheese and you have yourself a tasty Juicy Lucy!  This burger originated in a Minneapolis bar in the 1950s although there is some debate which bar created it first.

How do you make a Juicy Lucy?
Start by patting out a large thin beef patty and a small thin patty.  Next fold a piece or two of American cheese into quarters.  Now spread them out over the big patty but not too much as the little patty needs be able to cover the cheese.  Place the smaller patty on top and bring up the sides of the larger patties to seal in the cheese.
Now either grill or pan fry the burger until cooked to your desired doneness. I usually grill my burgers for about 4 minutes on each side.  Keep an eye on the burgers as you don't want to find out the cheese cooked right out while you were working on the sides.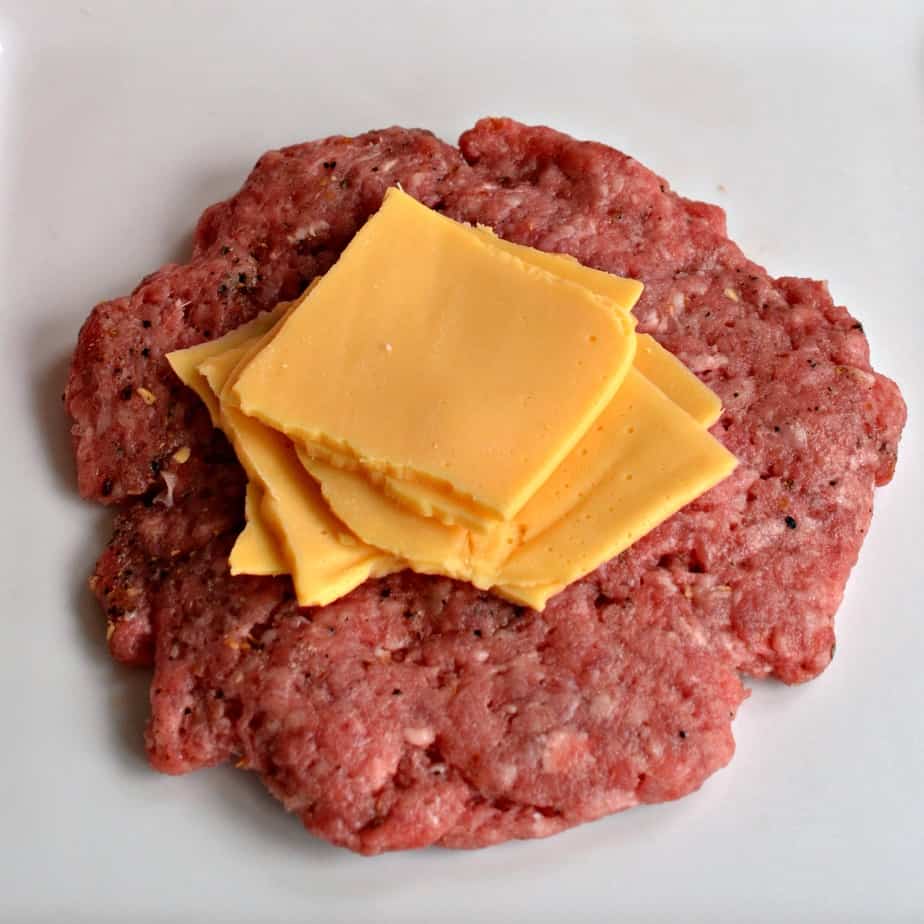 Helpful tips for making the Juicy Lucy
Season the ground beef well.  I like to use a little burger seasoning, mesquite grilling seasoning, Worcestershire Sauce, salt and pepper or any combination of the above.
When grilling or pan frying stay close by as the heat can get so high that the cheese just simply bubbles out.
Let the burgers rest loosely covered in aluminum foil for 5-10 minutes so hot cheese does not squirt out and burn you.
These are really big burgers!  If you are a little gal like myself you might consider splitting one.
Garnish with what you you like.  Anything goes and it is only limited by your imagination.
What toppings can you put on a Juicy Lucy?
Tomatoes Slices
Pickled Jalapenos
Lettuce
Thin Slices of Red or Vidalia Onions
Ketchup
Mayonnaise
Bacon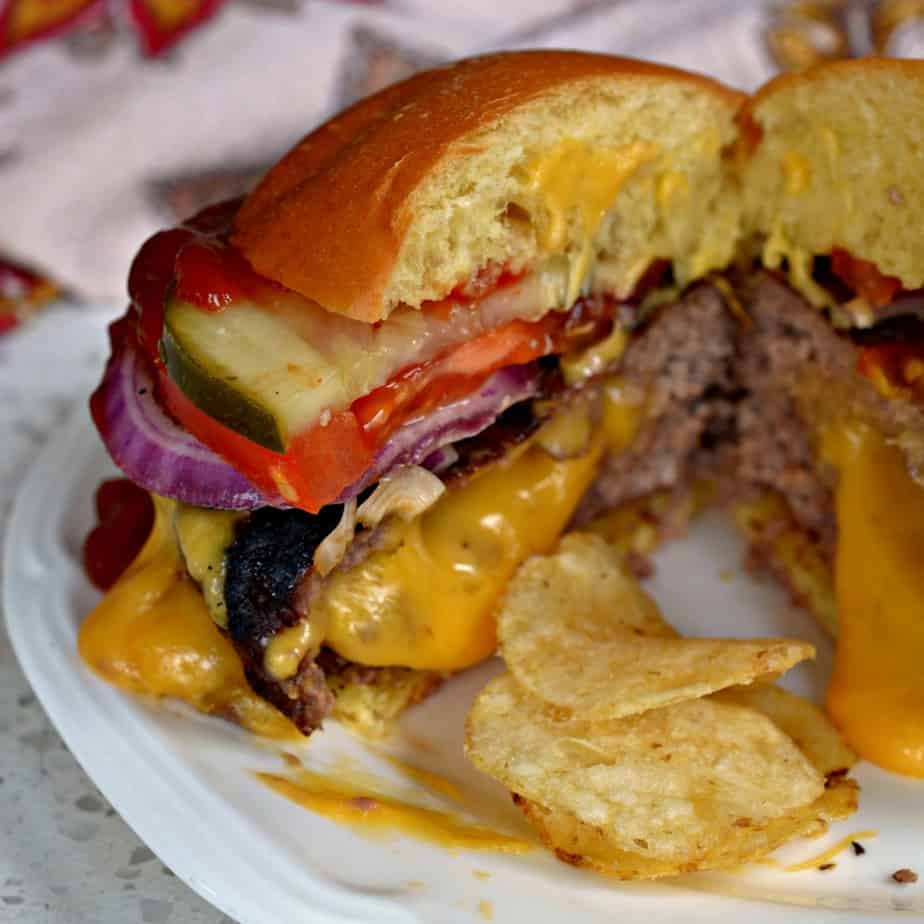 More ground beef recipes you will love!!
Print
Juicy Lucy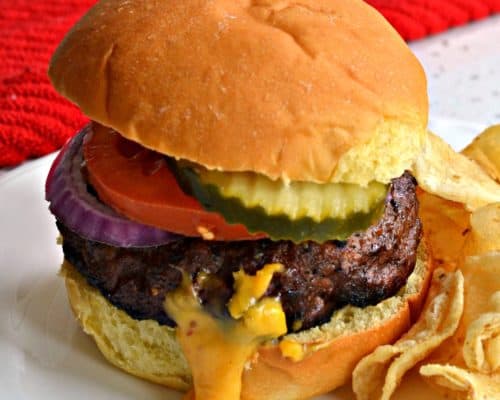 This recipe is for an easy to make well seasoned ground beef burger that is stuffed with a generous helping of American cheese. It is then either grilled or pan fried to cheesy mouthwatering perfection.
Author:
Prep Time: 10 minutes
Cook Time: 10 minutes
Total Time: 20 minutes
Yield: 4 servings 1x
Category: main meal beef
Method: grill
Cuisine: American
Scale
Ingredients
1 1/2 pounds lean ground beef
1 tablespoon burger seasoning (like mesquite grilling)
2 teaspoons Worcestershire Sauce
6–8 slices American Cheese
4 hamburger buns split
Instructions
Mix ground beef, burger seasoning and Worcestershire Sauce
Pat out 4 large thin patties and 4 smaller thin patties.  Cut or fold American cheese into fourths.  Place 6-8 of these cheese fourths on each larger patty.  Place the smaller patties on top of the larger patties and bring up the edges to seal the cheese in.
Preheat grill and cook about 4 minutes each side or until desired doneness.  Stay close by and check often so the cheese does not cook out of the beef.
Place each burger on a bun and top with your favorite toppings.
Keywords: juicy lucy burger, burger, how to make a juicy lucy burger, cheese stuffed burger
https://www.smalltownwoman.com/wp-content/uploads/2019/05/Beth-1.pdf