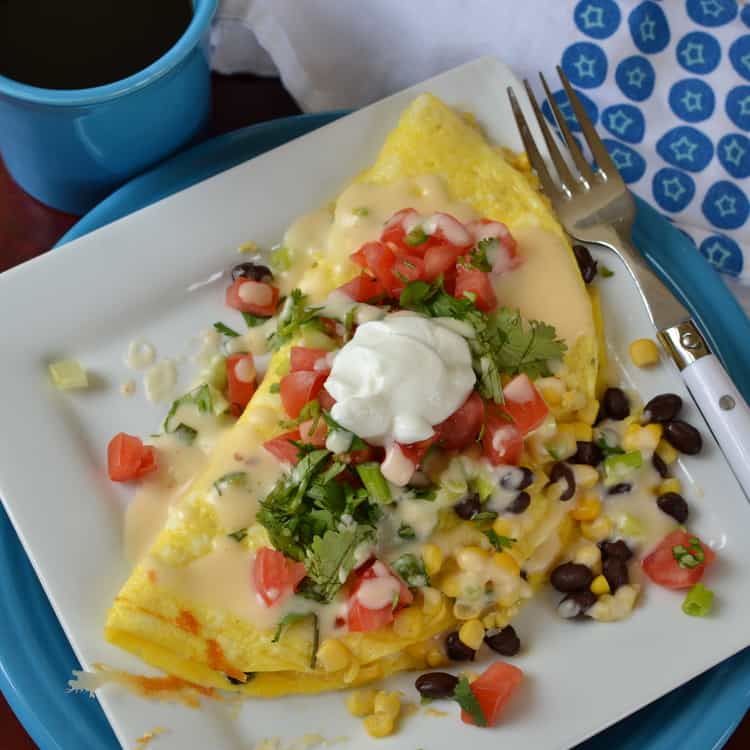 I love the incredible edible egg. This omelette combines the fantastic flavors of black beans, corn, tomatoes, onions and cilantro. It is topped with a dab of Greek yogurt and drizzled with a lightly spiced Queso! You can top it with salsa for even more flavor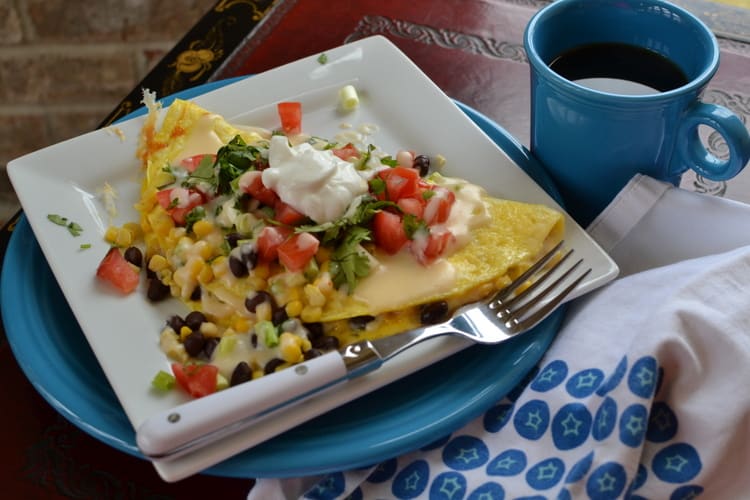 Look at that! It is almost too beautiful to eat but I am sure that you will find a way just as I did!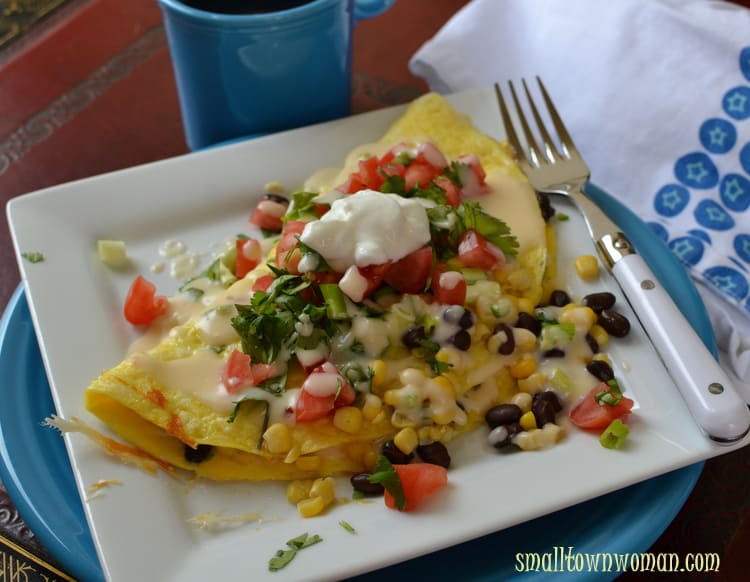 Well enough spoken! Make yourself a bon appetit and have a beautiful day!
Print
Mexican Omelette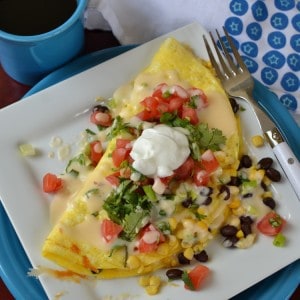 1/2 can corn
1/2 can black beans
1 serrano pepper finely minced
1 tablespoon butter
1 tablespoon flour
3/4 cup milk
4 ounces shredded Monterey Jack cheese
1 pinch of onion powder
1 teaspoon sriracha
6 eggs
2 tablespoons milk
1 Roma tomato
4 green onions sliced 1/4 inch thick
1/4 cup coarsely chopped cilantro
Greek yogurt
Salt & Pepper
Instructions
Combine corn, beans and serrano pepper in small bowl and set aside.
Melt butter in saucepan over low heat. Whisk in flour and stir until combined. Slowly add 3/4 cup of milk whisking continuously. Stir over low heat until thickened. Add Monterey Jack cheese, onion powder and srirarcha. Stir until melted and smooth over very low heat.
Whisk eggs and 2 tablespoons milk in small bowl.
Heat 10 inch nonstick skillet over medium low heat, pour 1/2 the egg mixture into the skillet. Cook until set. Add 1/2 the corn/bean mixture. Fold omelette, remove from pan and top with 1/2 of the tomato,1/2 of the green onions and 1/2 of the cilantro. Top with a dollop of Greek Yogurt and drizzle with 1/2 of the Monterey Jack cheese sauce. Salt & pepper to taste! Repeat for second omelette.
https://www.smalltownwoman.com/wp-content/uploads/2019/05/Beth-1.pdf