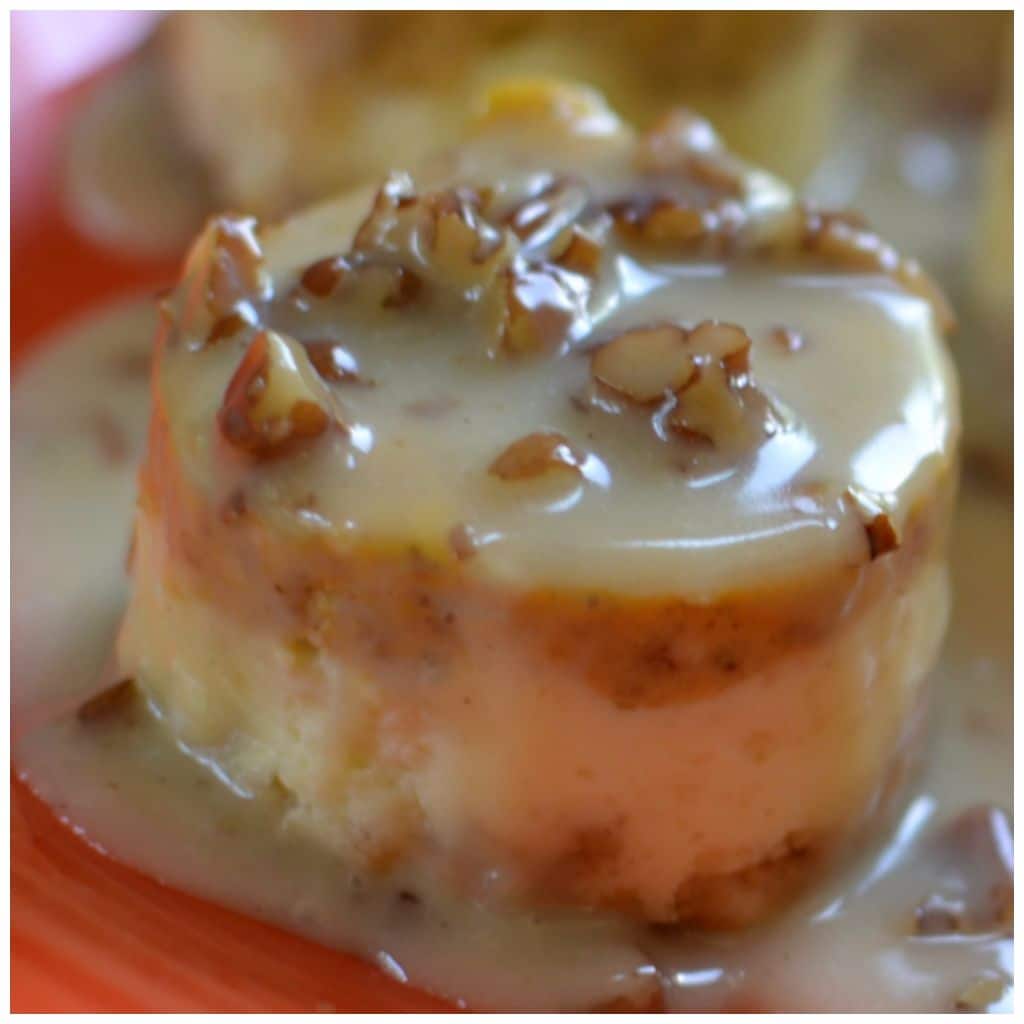 Cheesecake has got to be one of the most delectable choices for dessert.  Now this one takes it to a new high.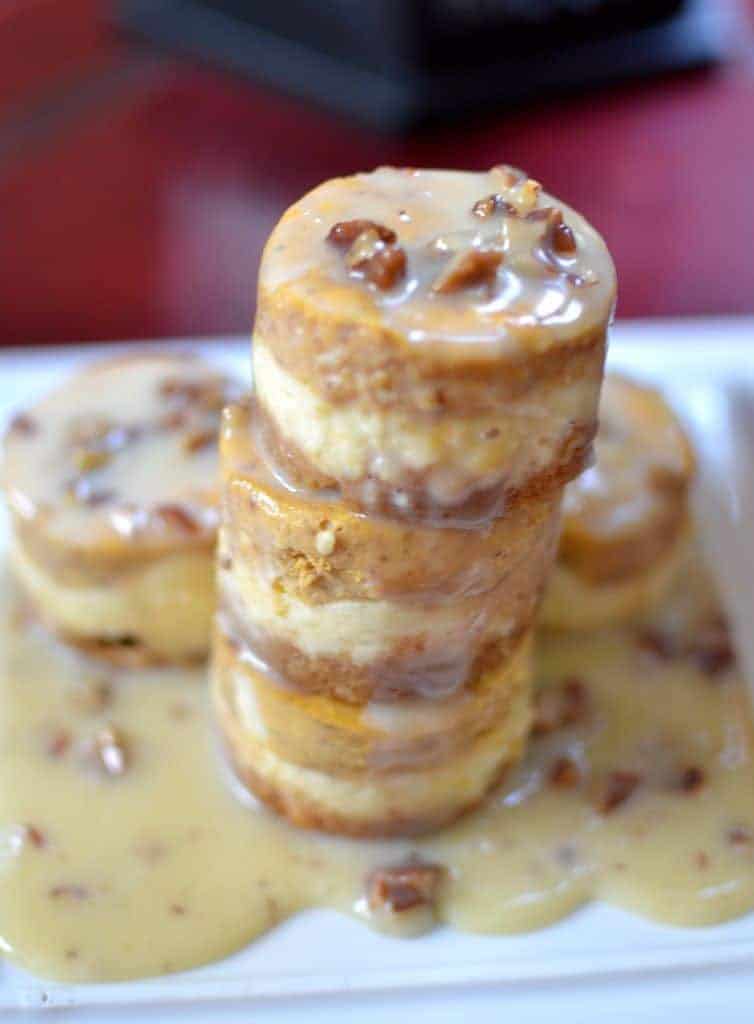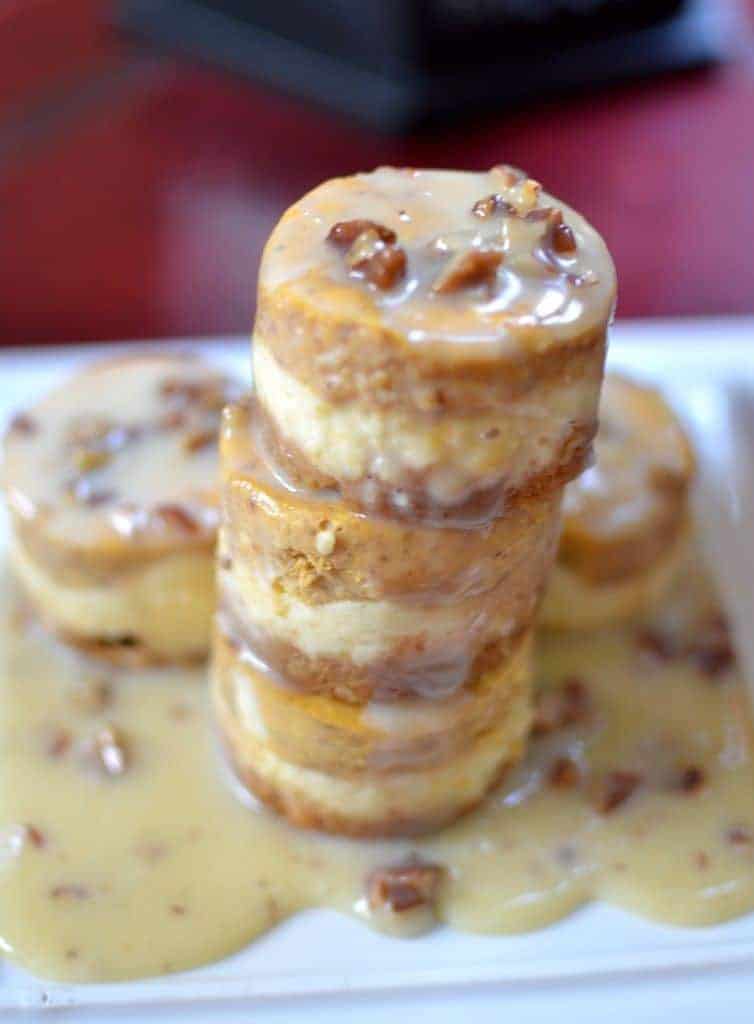 This beautiful little tantalizing treat combines creamy luscious cheesecake with pumpkin baked over a graham cracker crust sweetened with just a touch of white chocolate.  If that isn't enough it is drizzled with a creamy white chocolate pecan sauce.  Can you say heavenly delicious?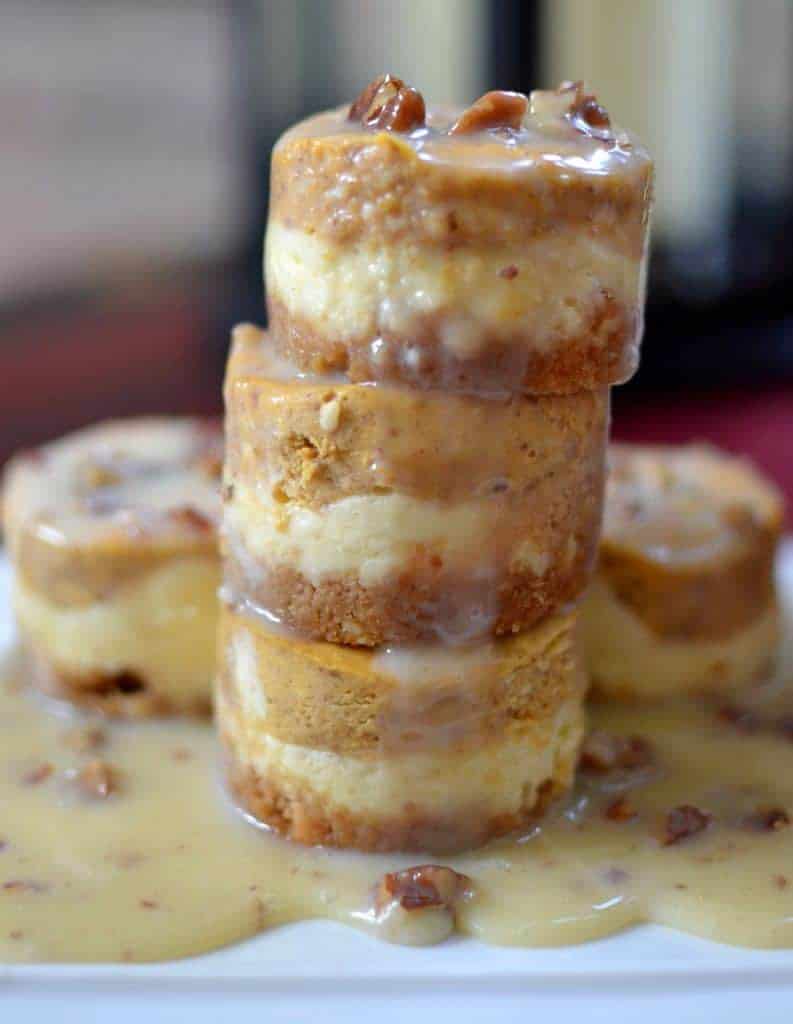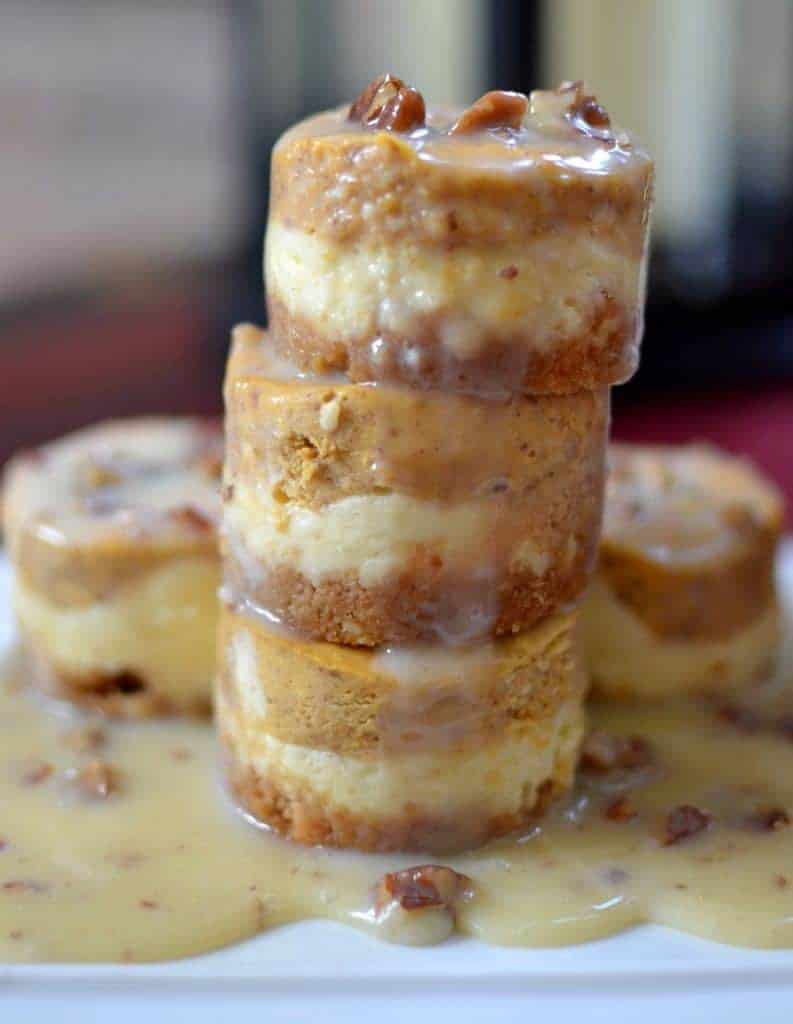 You are going to love every little decadent bite.  Don't worry about the calories either….they are mini.  You can work it off at the gym lickety split.
Print
Mini Pumpkin Cheesecakes with white chocolate Pecan Sauce
Scale
Ingredients
3/4 cup graham cracker crumbs
1/4 cup white chocolate chips chopped
2 tablespoons butter melted
2 packages (8 ounces each) cream cheese softened
1/4 cup plus 1 tablespoon sugar
2 eggs
1/3 cup canned pumpkin (plain)
1/2 teaspoon cinnamon
1/4 teaspoon ginger
1/4 teaspoon nutmeg
Pinch of ground cloves
1/2 cup heavy whipping cream
1/4 cup chopped pecans
1/2 cup white chocolate chips
1 tablespoon butter
Instructions
Preheat oven to 290 degrees.
Spray mini cheesecake pan with non stick cooking spray.
Combine graham crackers, chopped chocolate and melted butter in small bowl. Press approximately 1 rounded tablespoon in each mini cheesecake hole.
In stand mixer with paddle attachment beat cream cheese and sugar on low speed until light and creamy. Add eggs one at a time just until blended. Add approximately 1 rounded tablespoon to each of the cheesecake holes.
With a whisk add the pumpkin, cinnamon, nutmeg and cloves. Spoon remaining cheesecake mixture into cheesecake holes dividing evenly.
Bake 30-35 minutes or just until set. Refrigerate for several hours or overnight before removing from pan.
Melt 1 tablespoon of butter in small skillet over medium low heat. Roast pecans just until fragrant. Add whipping cream to small saucepan over low heat and cook until simmering whisking frequently. Remove from heat and stir in white chocolate chips until melted and smooth. Stir in roasted pecans. Drizzle over cheesecakes.
Notes
Use good quality chocolate. It makes all the difference.
You can use a cupcake pan with cupcake liners if you don't have a mini cake pan.
Other Delicious Mini Cheesecakes
Andes Mint Mini Cheesecakes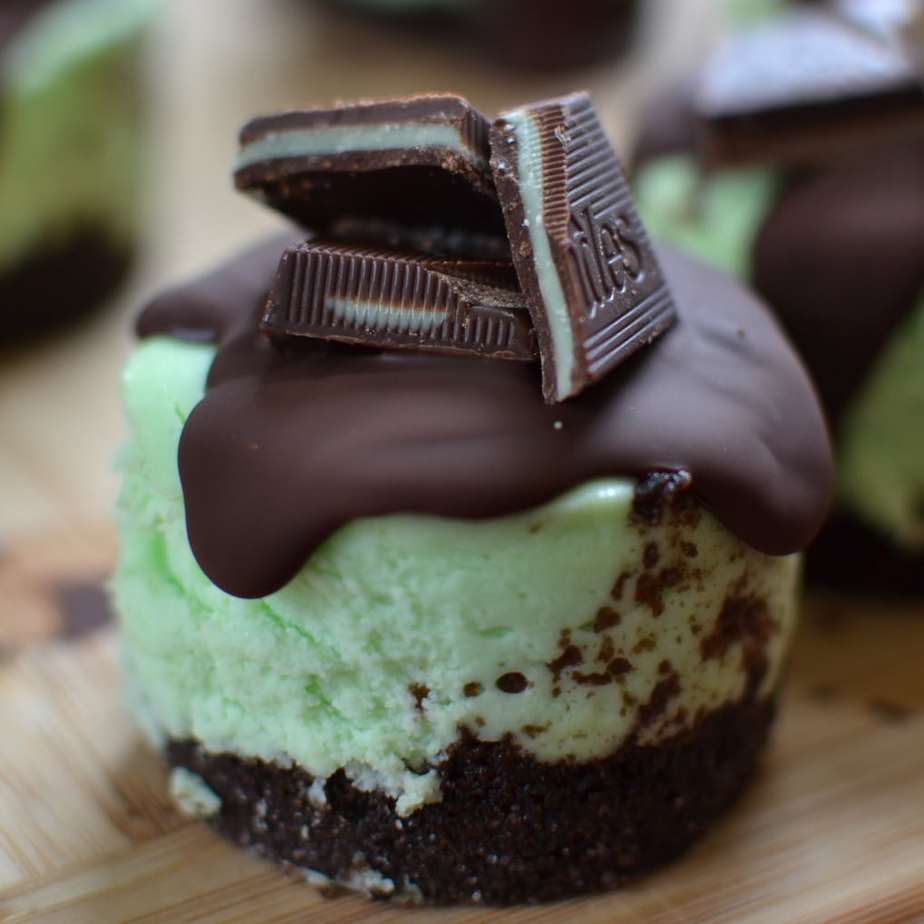 https://www.smalltownwoman.com/andes-mint-mini-cheesecakes/
Blueberry Mini White Chocolate Cheesecakes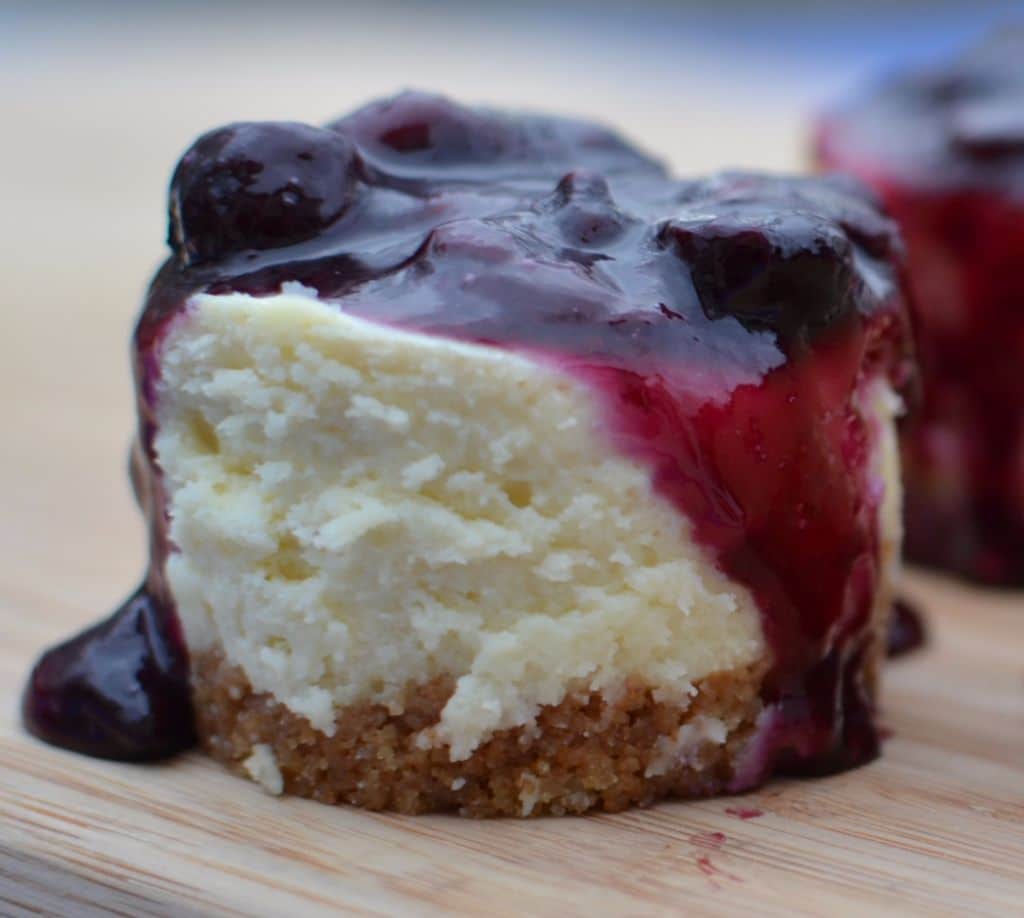 https://www.smalltownwoman.com/blueberry-mini-white-chocolate-cheesecakes/
https://www.smalltownwoman.com/wp-content/uploads/2019/05/Beth-1.pdf