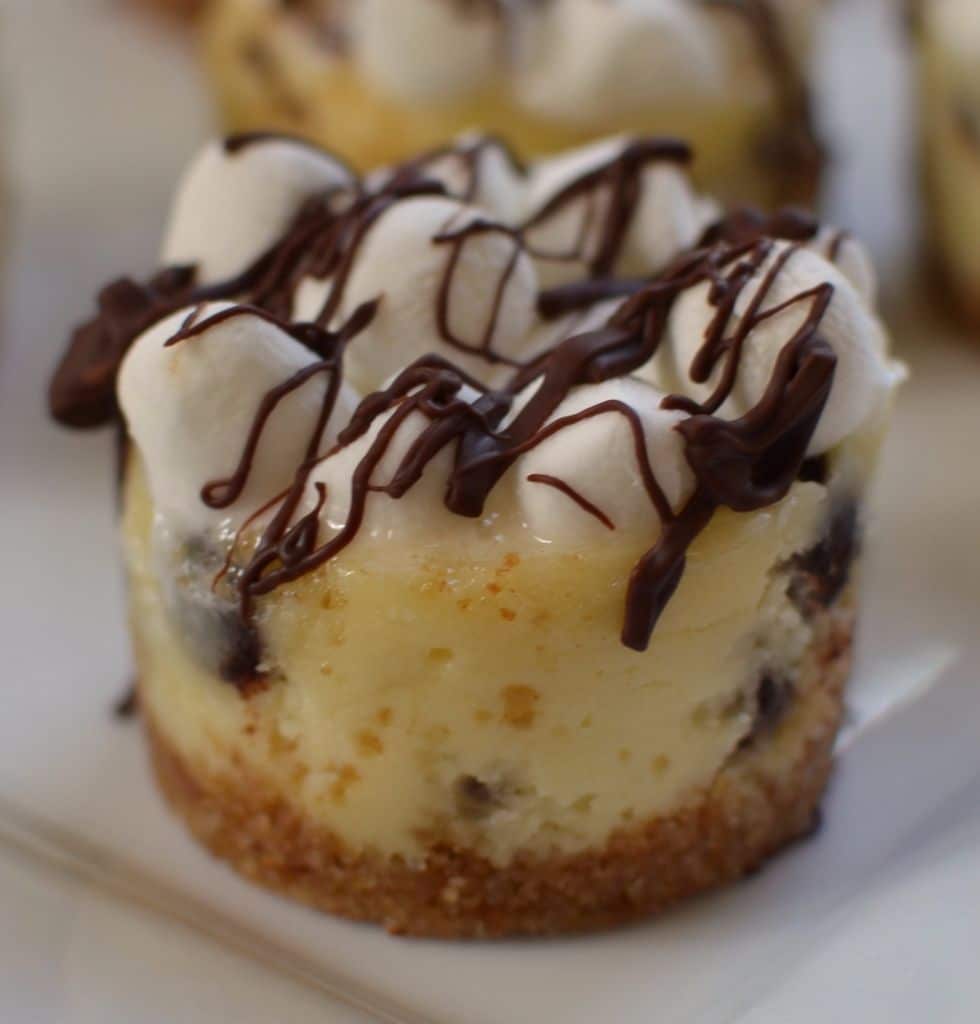 These delicious Mini S'mores Cheesecakes are the cat's meow!  They are super cute and diminutive so it won't require a day at the gym to work it off. I make these in my Chicago Metallic pan.  It has removable bottoms so after chilling you can gently push these cuties out.  Love that pan.  However you an also make them in a muffin pan with cupcake liners.  You can remove them from the liners or leave them in the liners.  They have such decorative choices for cupcake papers these days!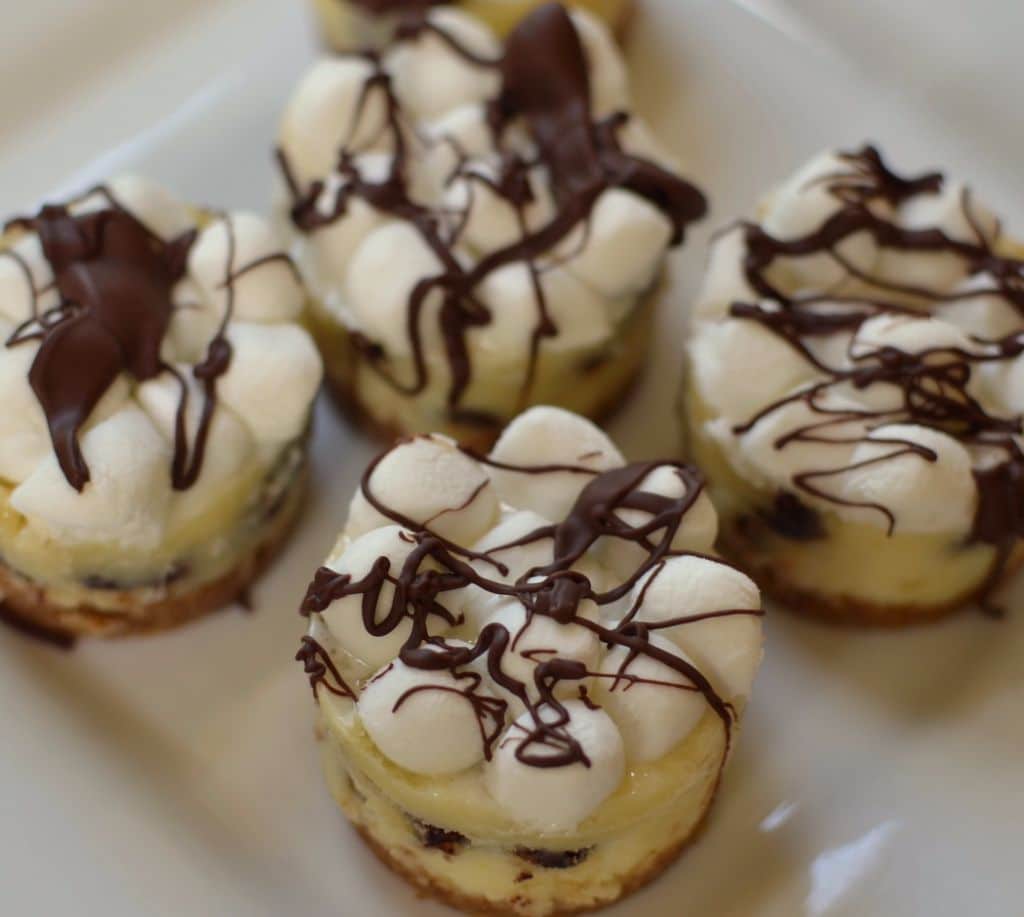 Now if you love s'mores,  than these cheesecakes are a must bake!  They start with a graham cracker crust, then they are filled with creamy delicious cheesecake with semisweet chocolate morsels, and finally topped with mini marshmallows and a drizzle of chocolate.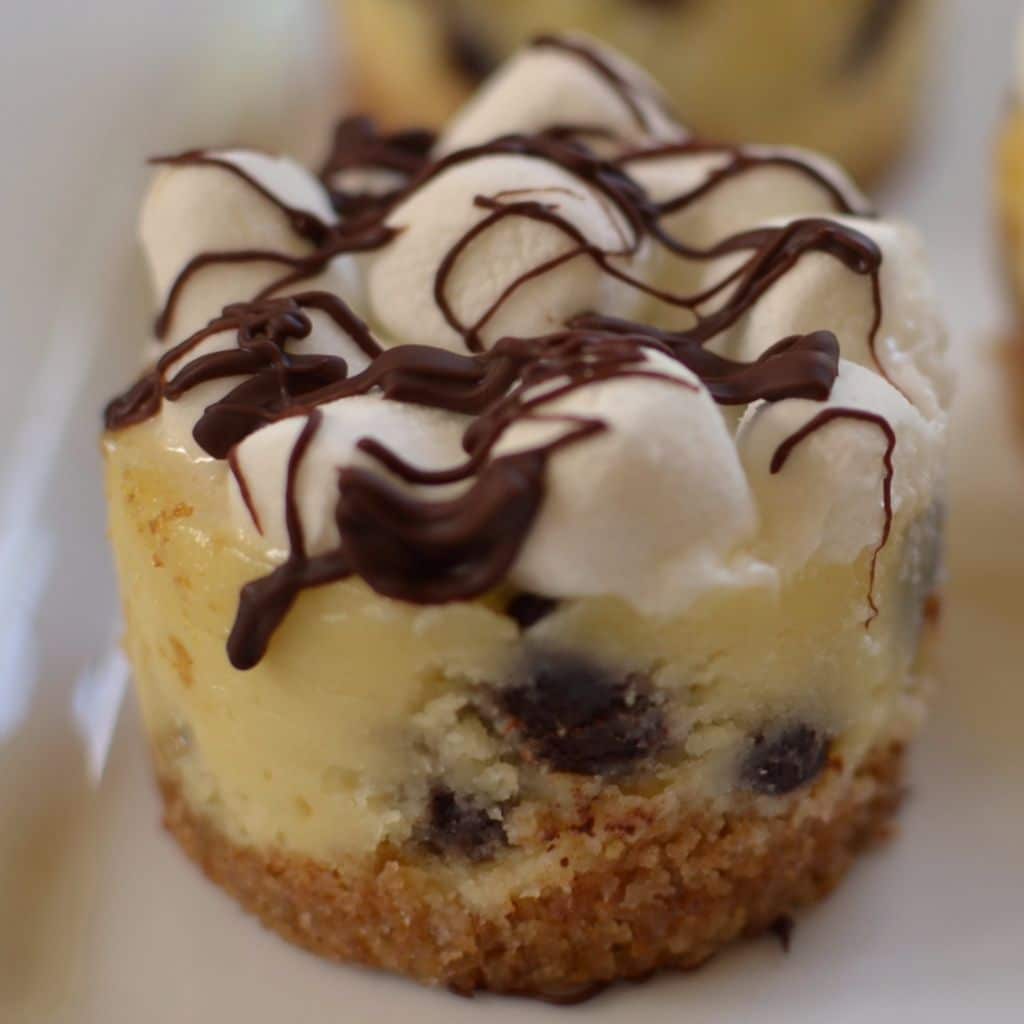 Aren't these Mini S'mores Cheesecakes so cute and sweet?  Perfect for all parties.  They can be prepared and frozen up to three weeks in advance.  They must be double or triple wrapped and the cakes must be removed from any packaging before defrosting. The condensation that builds up while defrosting in the packaging  would make a mess of the cakes.  They could be brought out of the freezer shortly before the party starts and set out to look all pretty. They would be ready to consume shortly after the guests arrive.
Print
Mini S'mores Cheesecakes
3/4 cup graham cracker crumbs
1 tablespoon sugar
3 tablespoons butter melted
10 ounces cream cheese (1 1/4 box)
1/4 cup sugar
1 egg
1/2 teaspoon vanilla
1 cup chocolate chips
1 cup mini marshmallows
Instructions
Preheat oven to 300 degrees. Spray mini cheesecake pan with nonstick baking spray.
Combine graham cracker crumbs, sugar and melted butter in small bowl. Divide evenly in pan and press down to create the crust.
In stand mixer blend cream cheese and, sugar until creamy and fluffy. Add the egg and vanilla; mix just until blended in. Stir in 1/2 cup of chocolate chips Divide evenly in the cheesecake pan over the crust.
Bake for 20-25 minutes or just until set. Remove from oven and turn oven off. Place marshmallows on the top of each cheesecake and place back in turned off oven for 2-3 minutes. Just enough to melt the marshmallows slightly together. Do not go longer than 3 minutes.
Refrigerate cakes for 2 hours to up to overnight. Remove from pan.
Melt remaining 1/2 cup chocolate chips according to manufacturers instructions on packaging. Drizzle over well chilled cakes.
Other terrific mini cheesecakes you will love!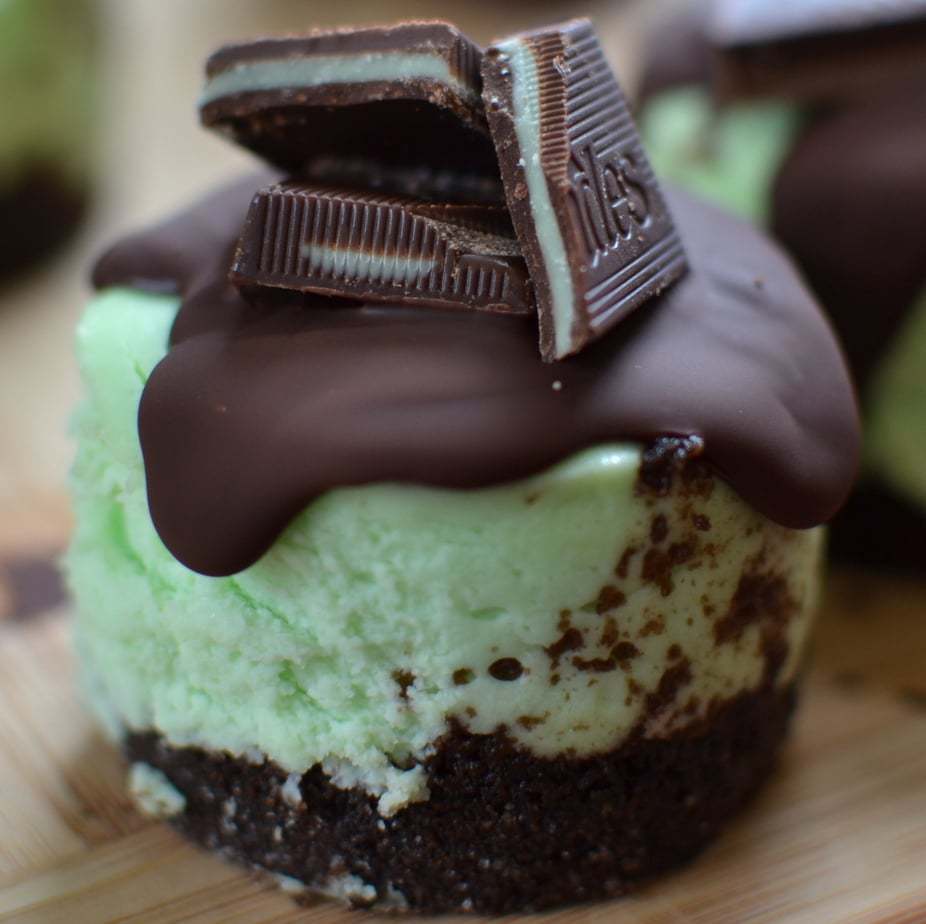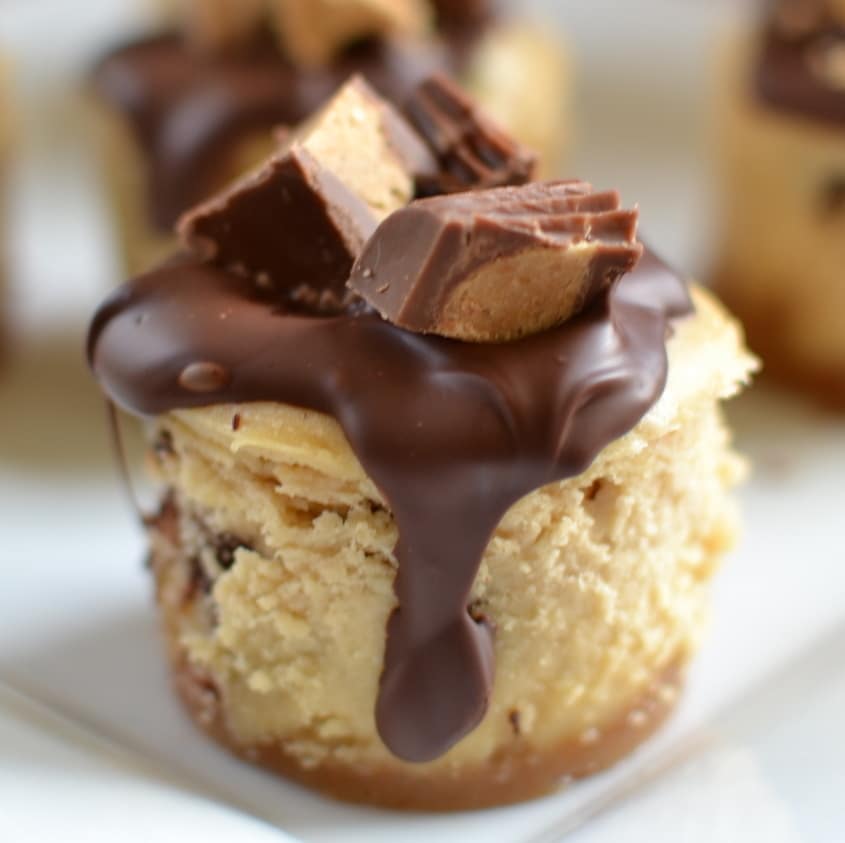 Mini Peanut Butter Cheesecakes
https://www.smalltownwoman.com/wp-content/uploads/2019/05/Beth-1.pdf