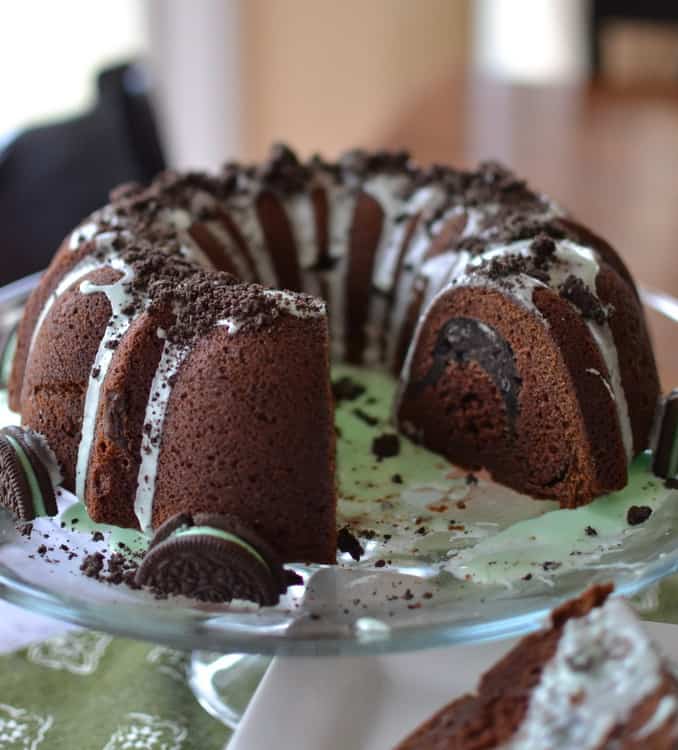 Do you like Oreos? Who doesn't love them? The mint ones are incredibly good! Now combine that with a rich decadent chocolate cake and you have the ultimate dessert!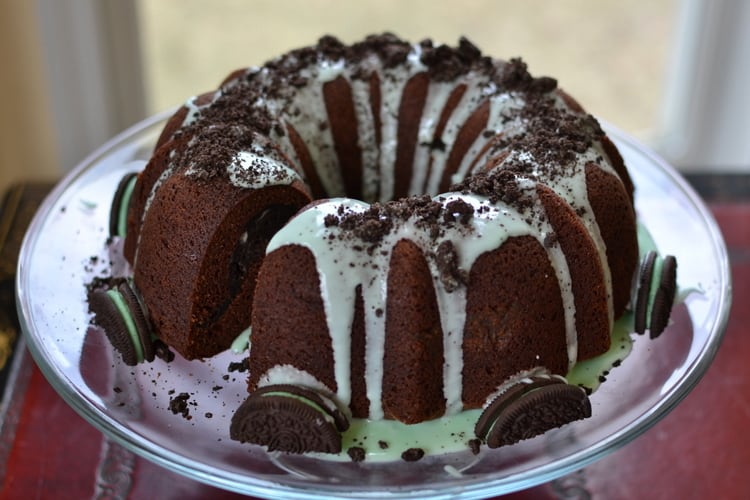 Of course if you are like me you will need to share the cake with your neighbors so you don't need to spend the rest of your life on the elliptical.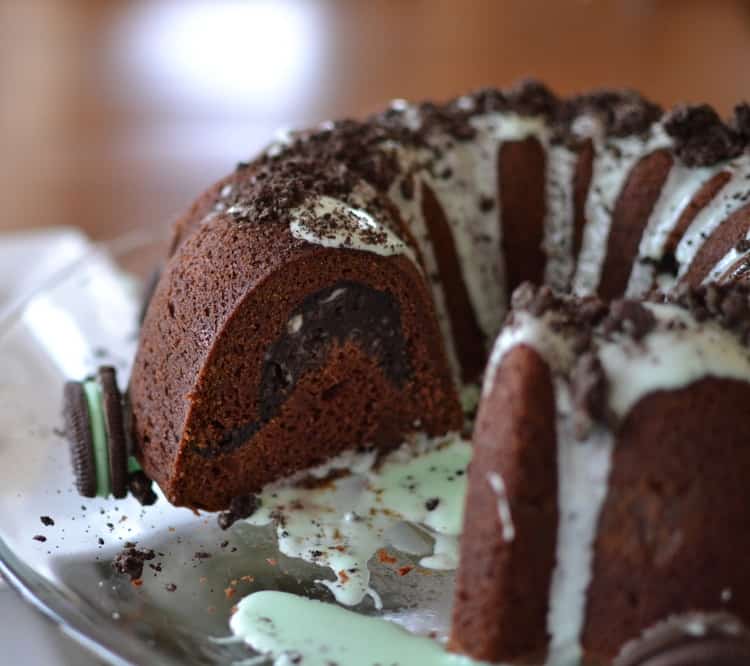 I am sure that you could use different flavors of Oreos and a little ingenuity and create your own masterpiece.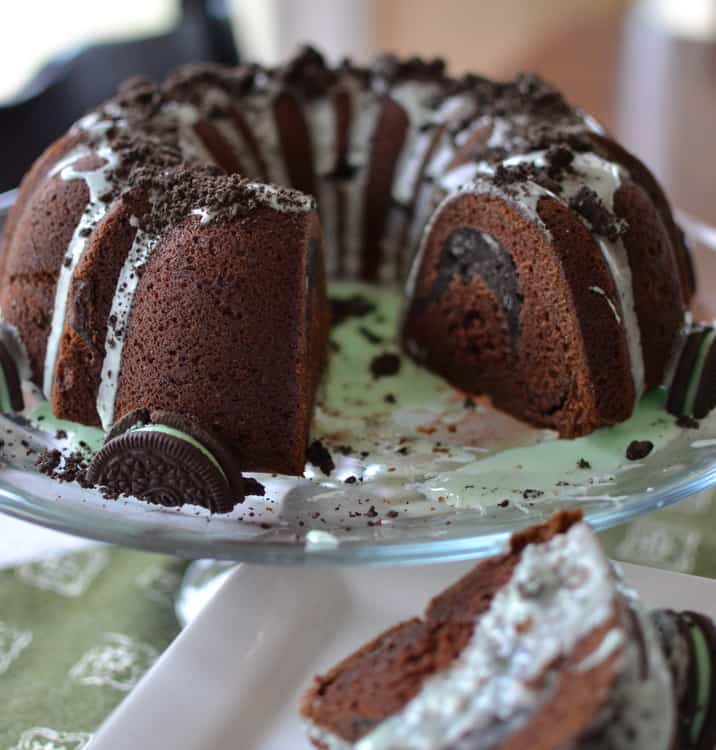 Then everyone would love on you and sing accolades and who wouldn't enjoy that! So step away from the computer! Go start living your life and create a masterpiece because I just left you the perfect recipe!
Print
Mint Oreo Stuffed Bundt Cake
Scale
Ingredients
10 Oreo cookies crushed
6 ounces cream cheese (3/4 of an 8 ounce box)
1/2 teaspoon mint extract
2 eggs
2 1/4 cups all purpose flour
2 teaspoons baking soda
1/2 teaspoon salt
1/2 cup unsalted butter softened
2 1/2 cups brown sugar
3 eggs
1 teaspoon vanilla extract
3 ounces bittersweet Ghirardelli chocolate melted
1 cup sour cream
1 cup boiling water
1 cup powdered sugar
2 tablespoons milk
1–2 drops green food coloring
1/2 teaspoon mint extract
2 Oreo cookies crushed
Instructions
Preheat oven to 350 degrees. Spray bundt pan with nonstick cooking spray.
Blend 10 crushed Oreos with cream cheese. Add 1/2 teaspoon mint extract and 2 eggs, 1 at a time until just blended. Set aside.
In small bowl sift flour, baking soda and salt, Set aside.
Cream butter and brown sugar in stand mixer. Add 3 eggs, 1 at a time mixing just until combined between eggs. Add vanilla extract and melted chocolate and mix until combined scraping sides. Add 1/3 of the sour cream and 1/3 of the flour mixture at a time blending each time. Stir in the cup of boiling water.
Pour 1/3 to 1/2 of cake batter into bundt pan. Spoon in Oreo stuffing with small spoon making sure that it is in the center of the cake and there is a 1/2 buffer zone between it and any side of the pan. Carefully add the rest of the cake batter.
Bake for 35-40 minutes. Cool ten minutes in the pan before inverting the pan and taking the cake out.
When the cake is completely cool combine powdered sugar, 2 tablespoons milk, 1-2 drops green food coloring and 1/2 teaspoon mint extract. Add more milk or more powdered sugar a tablespoon at a time until you get the consistency you want. Drizzle on the cake and sprinkle with crushed Oreos.
Notes
Use extra Oreos to decorate around the cake.
https://www.smalltownwoman.com/wp-content/uploads/2019/05/Beth-1.pdf