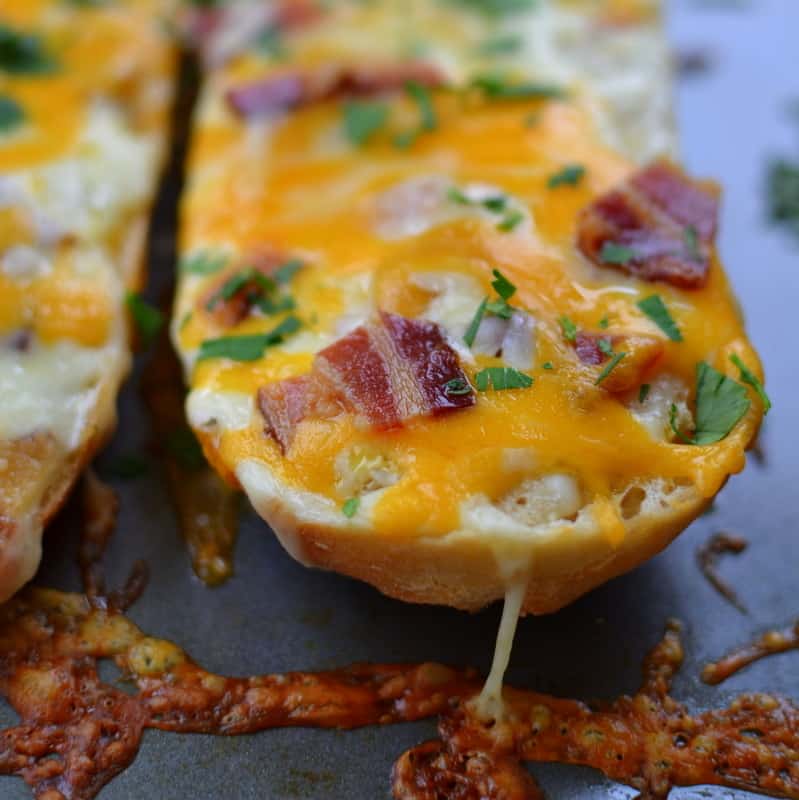 Winter is definitely here. Just got back from a short walk with the dog and I think my buns are frozen. You should have seen Marshmallow (the dog not to be confused with the husband) trying to sneak up on a rabbit. She walked real slow lifting her hind legs in a complete circle like that will make the step down a lot softer. I am assuming she is thinking that the rabbit will not hear the crunch of her paws on the frozen ground or leaves. The rabbit kind of gave her that look like Beagle you are not fooling anyone and ran off leaving her standing in the cold.
Sometimes these cold winter months (and we are having the coldest one in thirty years) call for good old comfort food. Spring is still about ten weeks away! Believe me when the air temperature is twenty degrees for a high I am looking for something with melted cheese, gravy, or creamy pasta. This Monterey Jack Cheddar Ranch Bacon Bread is the ultimate in comfort food. French bread is topped with ranch dressing, cheddar, Monterey Jack cheese and crispy bacon. Folks it just does not get much better than this. If you cook your bacon ahead of time you can have this prepped in less than five minutes and on the table in 15-20 minutes.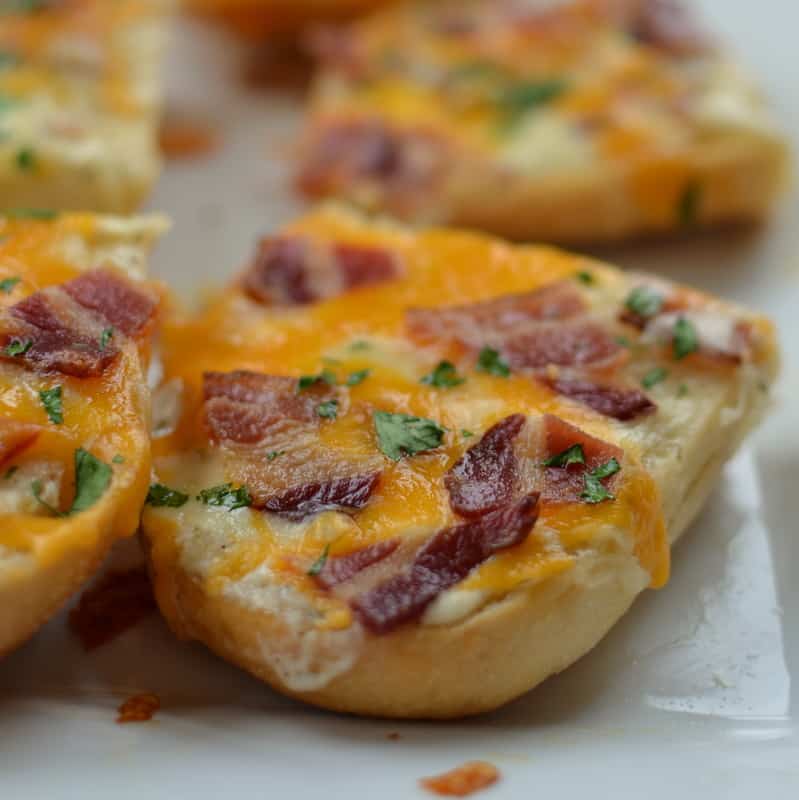 Bacon Jalapeno Cheddar Beer Bread, Cheddar Drop Biscuits with Chive Butter and Triple Cheese Garlic Bread are some other delicious comfort carbs recipes that you might like. Shrimp Avocado Garlic Bread from Cafe Delites is a fellow blogger personal favorite of mine.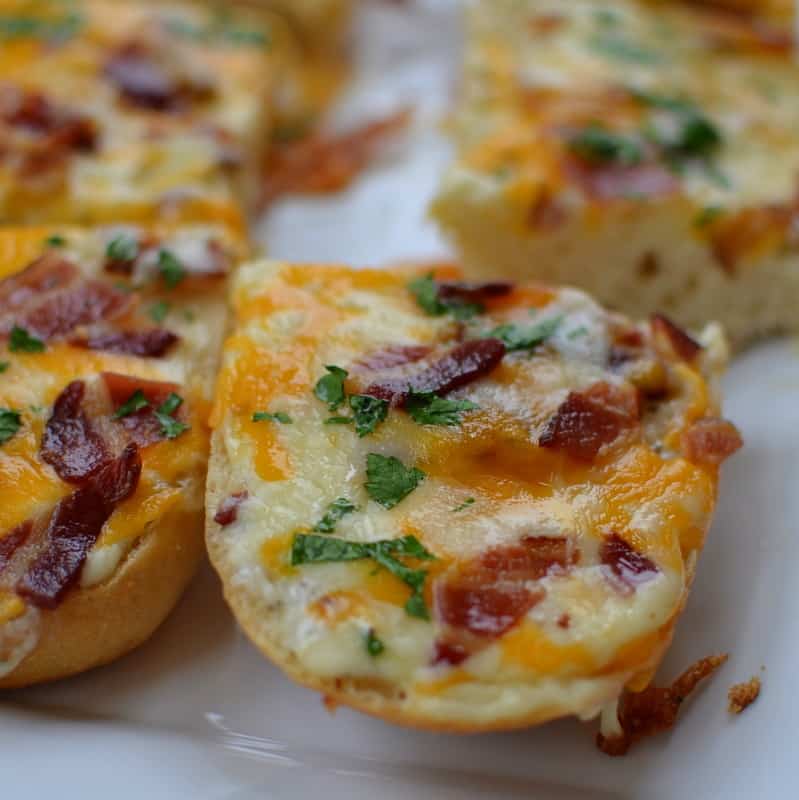 You can serve this Monterey Jack Cheddar Ranch Bacon Bread by itself, with a simple bowl of pasta, a warm bowl of soup or even with a nice fresh green salad. The choice is all yours!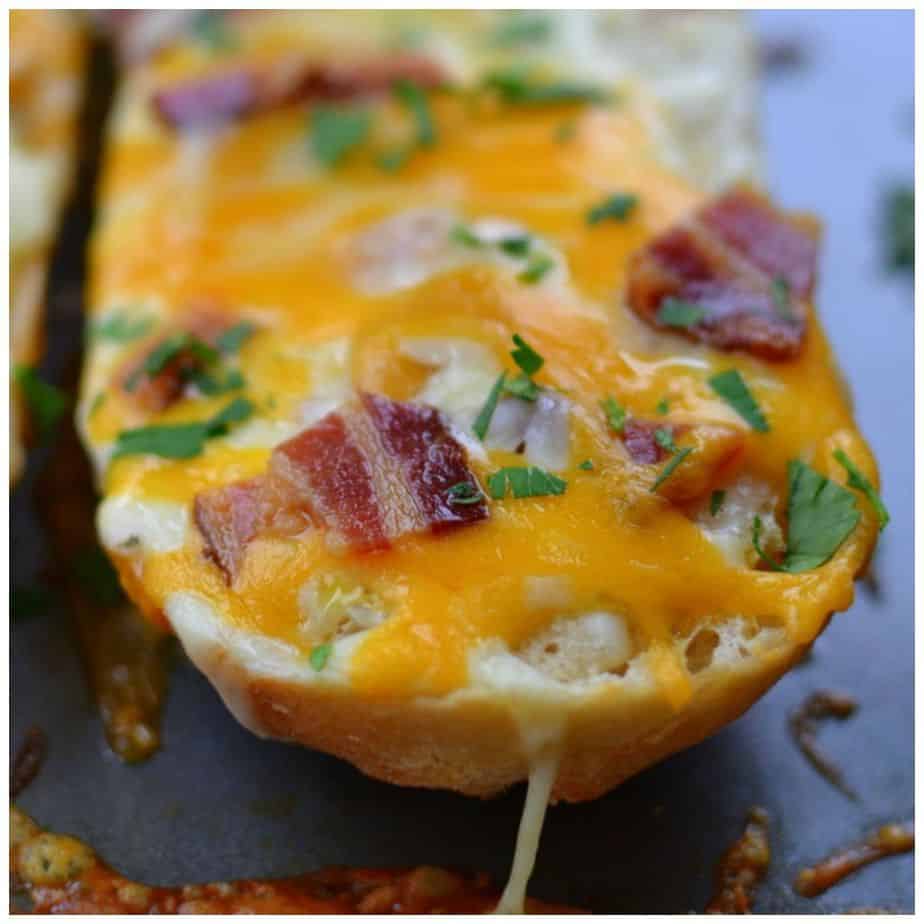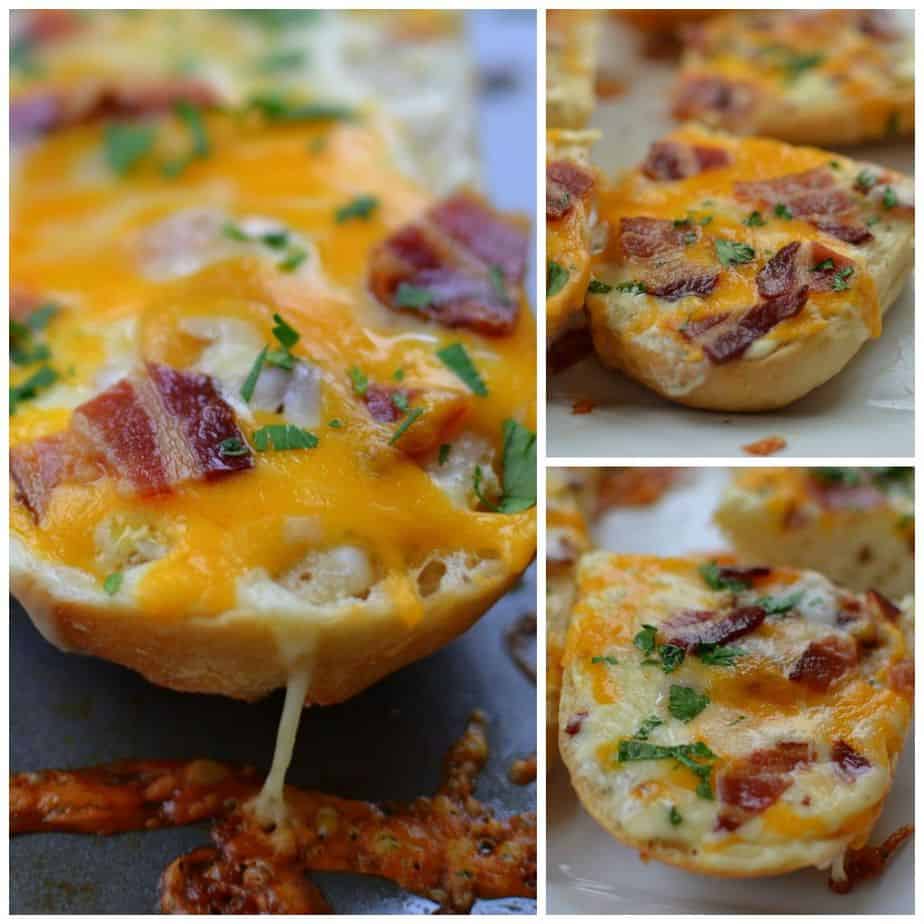 Monterey Jack Cheddar Ranch Bacon Bread
Scale
Ingredients
(12 ounce) french baguette (I used the small twin baguettes)
2/3 cup bottled ranch dressing
1 cup shredded Monterey Jack cheese
1 cup shredded sharp cheddar
4 slices crispy bacon coarsely chopped
2 tablespoons fresh chopped Italian parsley
Instructions
Preheat oven to 350 degrees
Slice baguette (baguettes) in half. Top with ranch dressing, Sprinkle with both cheeses and top with bacon. Bake for 10-15 minutes or until cheese is melted.
Sprinkle with parsley , slice and serve warm.
Other comfort recipes you will love!