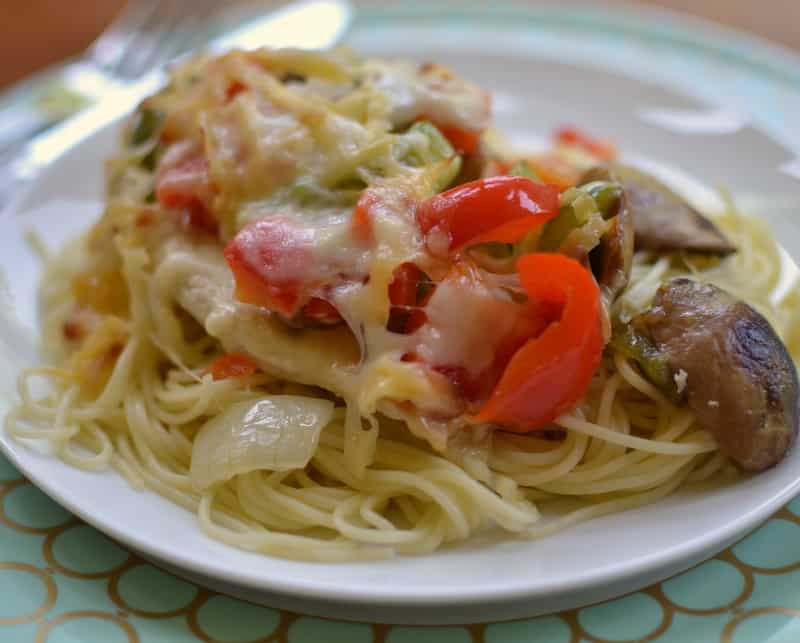 Boy life is good.  Busy but good. Fall is on the horizon and the mornings are cool and crisp.  I am sitting on the veranda enjoying all that nature has to offer and talking to you. I love fall and I love being able to do what I love during the day.  Fall is my favorite time of the year.  I can't wait to plant my colorful mums and put up my semi-scary Halloween decorations.  As a matter of fact I am chomping at the bit to get it done already. The big beautiful mums I want or not in yet and I have finally convinced myself to wait until after Labor Day.
Last night I fixed this easy healthy tasty Mozzarella Mushroom Pepper Chicken Bake.  This delectable supper is so quick to prepare that a weeknight is absolutely doable. You can even cook this beauty in the same skillet you prepared it in as long as it is oven proof.   I decided to put mine in a casserole dish for the photos sake.  Have you tried any of my other chicken recipes?  Easy Pan Fried Chicken and Cream Gravy, Easy Creamy Chicken Mushroom Asparagus Skillet and One Skillet Savory Chicken and Orzo are some of my reader favorites. Here is one of my favorites Easy Chicken Tortilla Stack from my blogging friend Baking Beauty.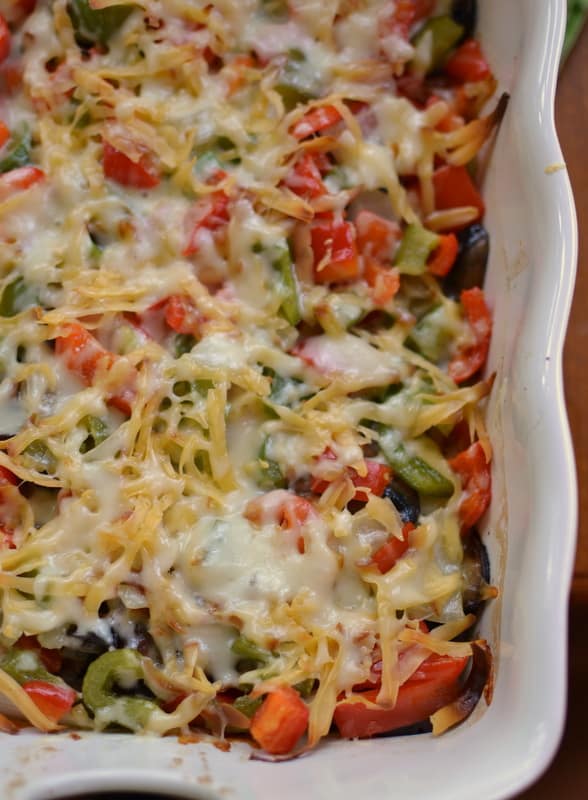 Isn't my Mozzarella Mushroom Pepper Chicken Bake gorgeous?  I just love all the colors of those beautiful healthy peppers .  This dish is pretty enough for company and simple enough to prepare while helping with homework or blogging (if that is your gig).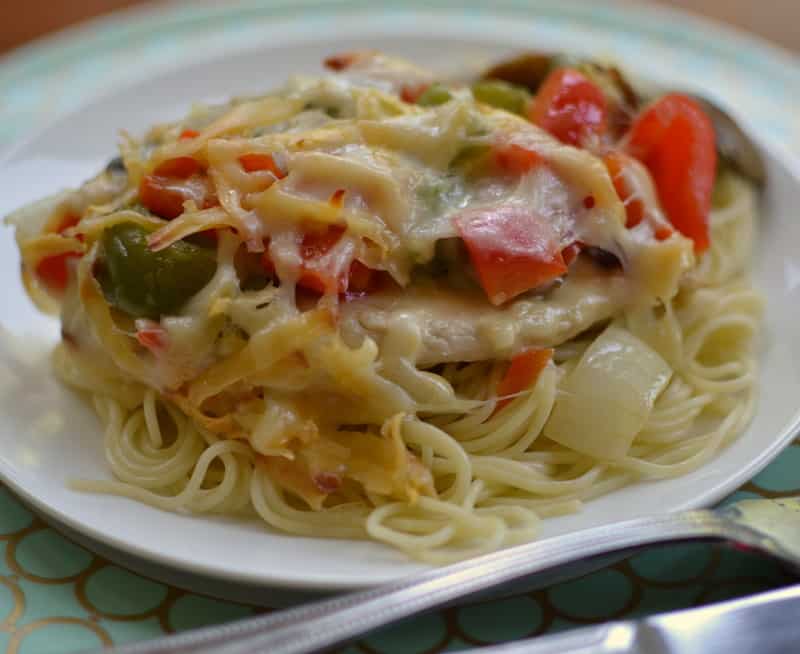 Mozzarella Mushroom Pepper Chicken Bake combines chicken breasts, golden mushrooms, sweet onion and bell peppers, gooey mozzarella and smoked Gouda.  It will quickly become a family favorite. It is a meal that you can feel good about feeding your loved ones.  I am absolutely convinced that I can never have enough great chicken recipes.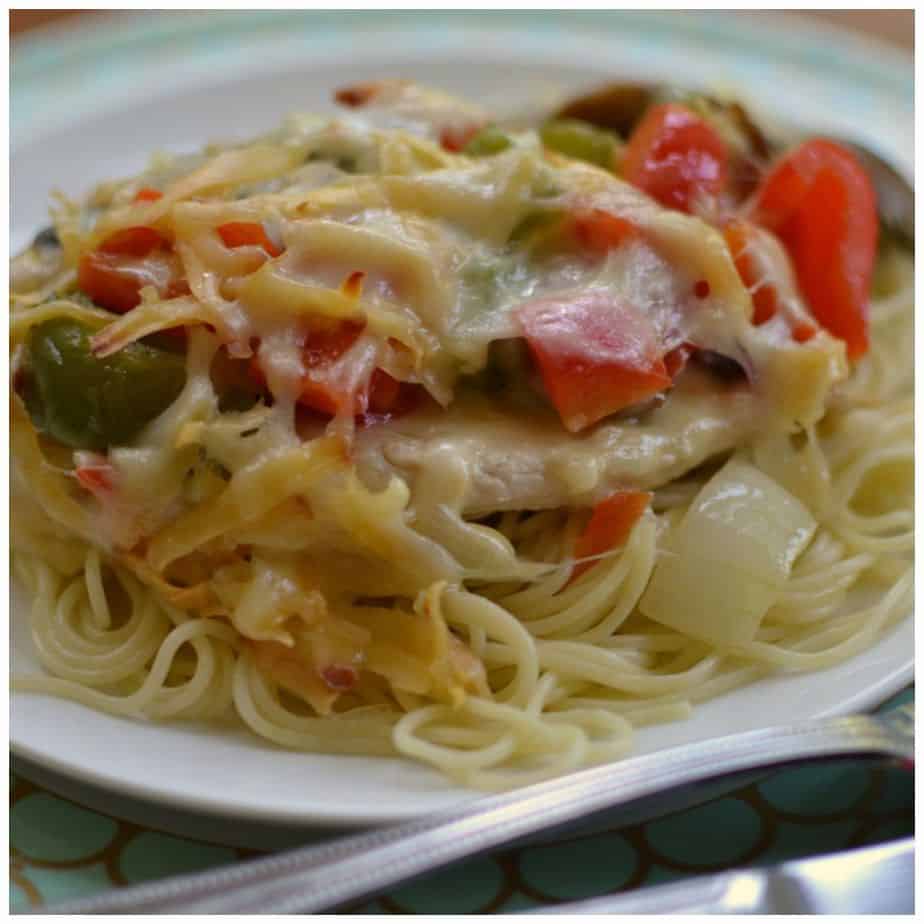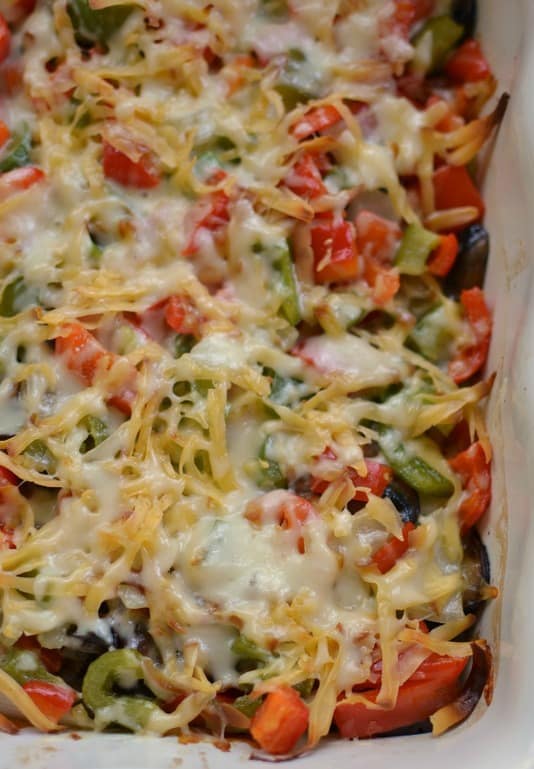 Print
Mozzarella Mushroom Pepper Chicken Bake
Scale
Ingredients
2 tablespoons olive oil
2 tablespoons butter
2 large chicken breasts (about 1 1/4 lbs) cut in half lengthwise
8 ounces white button mushrooms sliced
1/2 small onion chopped
1 green pepper chopped
1 red pepper chopped
2 cloves garlic minced
1 1/2 cups shredded mozzarella
1/2 cups shredded smoked gouda
Instructions
Heat 1 tablespoon oil in large ovenproof skillet over medium heat. Brown chicken on both sides, remove, plate and cover.
Raise heat to medium high and add butter to skillet. Add mushrooms; work in batches so there is room between the mushrooms. When the mushrooms are evenly browned push them off to the side and add more. Continue cooking until all the mushrooms are evenly browned and the liquid is gone. Remove mushrooms to plate.
Add 1 tablespoon oil in same skillet. Add onions and peppers. Cook for 3-4 minutes. Add garlic and cook for 30 seconds. Remove to plate with mushrooms.
Preheat oven to 350 degrees. Add chicken back to the skillet, sprinkle with half of the mozzarella, top with mushrooms and peppers, sprinkle with remaining mozzarella and Gouda. Bake uncovered for 15-20 minutes (depending on the thickness of your chicken breasts) turning on broiler the last 1-2 minutes of cooking.
Notes
You can bake this right in your ovenproof skillet or assemble all in a casserole dish.
I have always found broilers unpredictable so stay close when under the broiler for the last 1-2 minutes of cooking.
https://www.smalltownwoman.com/wp-content/uploads/2019/05/Beth-1.pdf