This easy Rotini Pasta is a family friendly flavor packed meal that is ready in under 30 minutes all in one  pot.  If you liked southwestern cuisine than you are going to love this!   It is a filling meal but when entertaining I love to serve it with Raspberry Margaritas and Easy Mexican Street Corn Salad.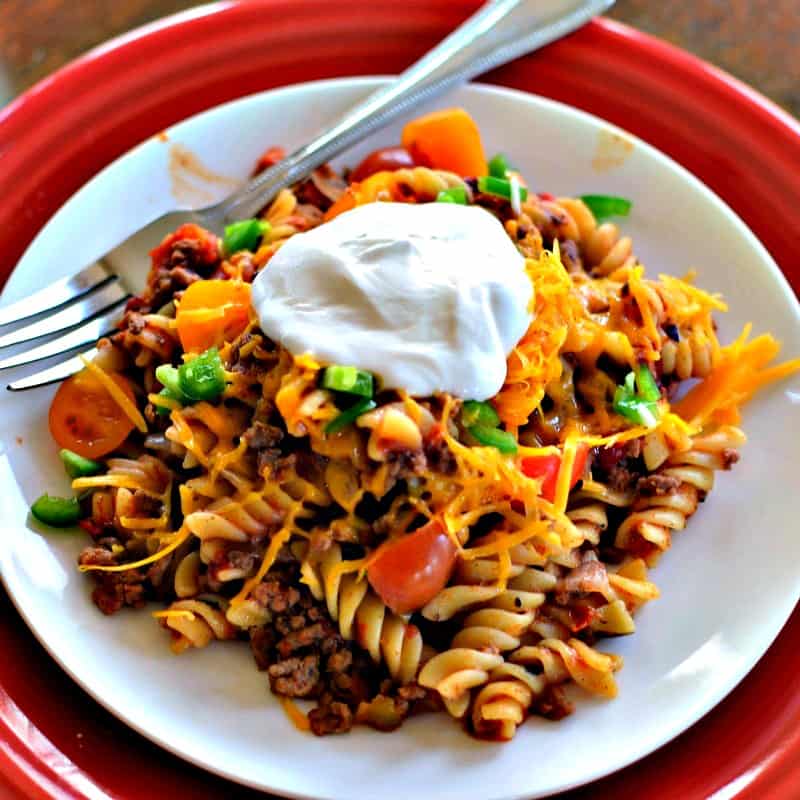 Sometimes there are those busy nights were there could be two of me and that is not enough! I am sure that you know exactly what I am talking about. Last night was just one of those nights.  It is a good thing that this Easy Taco Rotini Pasta takes so little effort. We were like that firecracker at the end of the night on the 4th of July  that you think is going to produce the biggest bang and instead it just slowly fizzles out.
It is a good thing that this One Pot Easy Taco Rotini Pasta packs a heck of a lot more punch than us.  It is packed full of flavor and requires just a small amount of effort.  You have can have this on the table in about 30 minutes.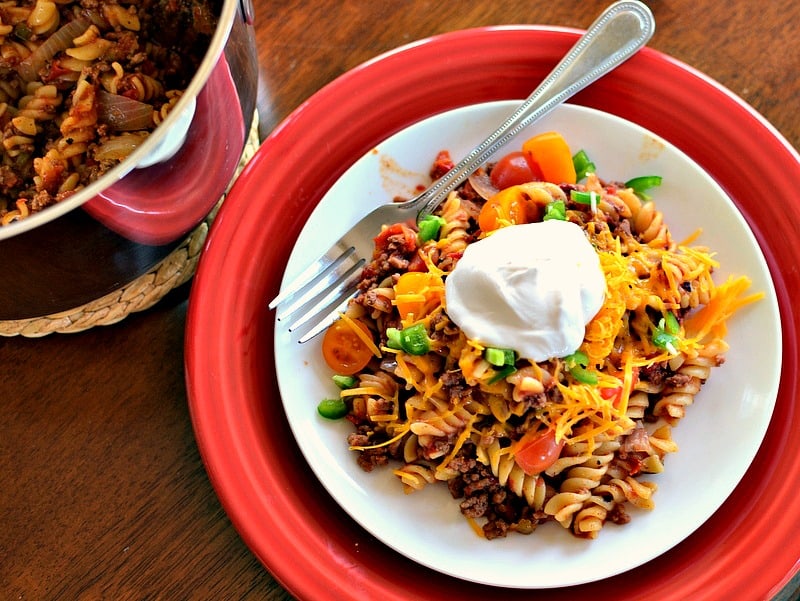 How do you make Taco Rotini Pasta?
Start by browning your ground beef in a large skillet over medium heat. About halfway through the browning process drain any excess grease and add your onions and finely chopped jalapenos.  Finish browning and turn the heat to low.  Then add the garlic cooking for one minute while stirring constantly.  Now stir in the taco seasoning, salsa style tomatoes, chicken broth and rotini pasta.
Cover and simmer for about 20 minutes or until the pasta is tender.  Serve promptly and top with all of your favorite fixings.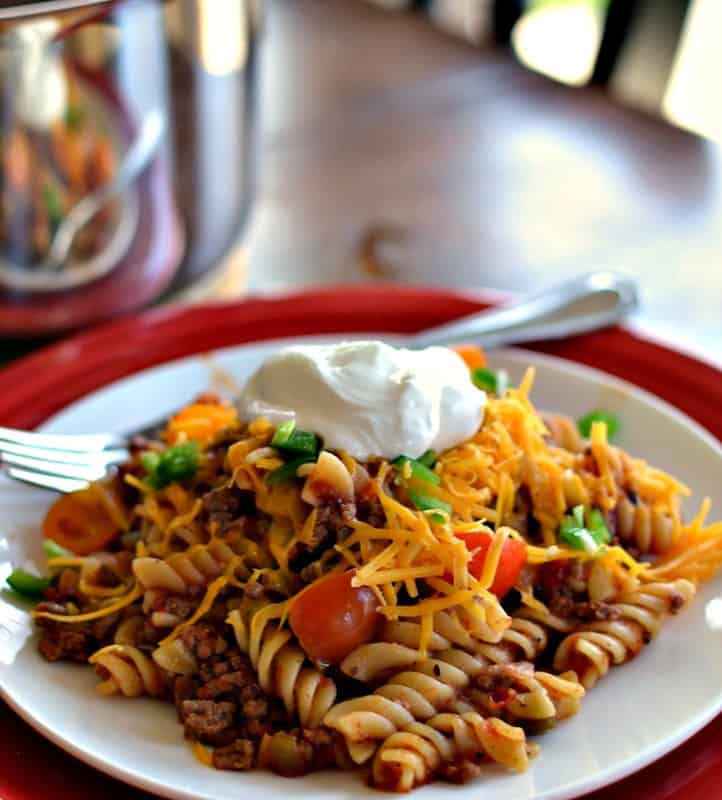 Tips for making Taco Pasta Rotini
Use fairly lean ground beef and drain any excess fat.
Chop your onion fairly fine and mince your jalapeno and garlic.
Use good quality taco seasoning. I love to use Spice Islands Taco seasoning which I purchase from Costco.  It has such great flavor.
Salsa style or fire roasted tomatoes can be found with the other canned tomatoes at your local grocery store.
Cover and cook the dish just until the pasta is tender.
Top with any or all of your favorites right before serving warm.  Are you serving for a small crowd? Make a small toppings bar with assorted shredded cheeses, sour cream, black olives, green onions, diced tomatoes or chopped avocados.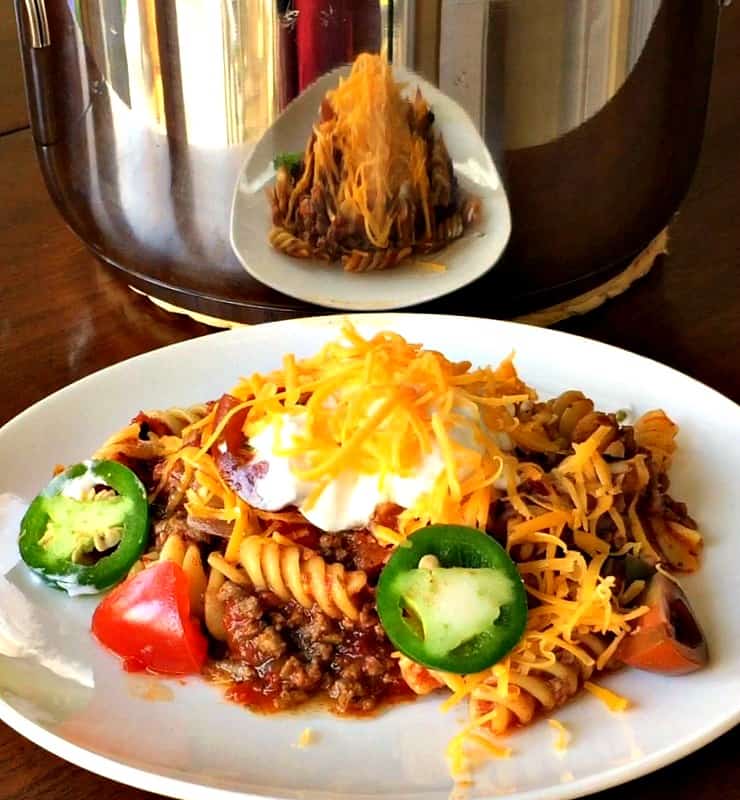 This yummy Rotini Pasta is packed with ground beef, onions, garlic, jalapenos and salsa style tomatoes. Top with all your favorites like sour cream, tomatoes, avocado, green onions and cheddar cheese.  If you have any leftovers use it in tortilla skins or pile on hash browns and top with eggs over easy.  The ideas are only as limited as your imagination. Put the ingredients for this recipe on your shopping list today and make your family an easy wholesome meal.
Other ground beef recipes your family will love!
This post was originally published March 23, 2017 and was republished December 22, 2019 with new content.
Print
One Pot Taco Rotini Pasta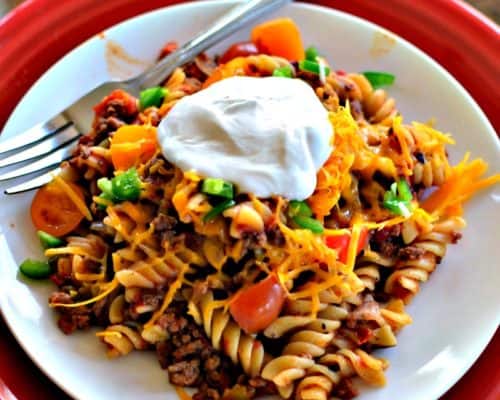 This family friendly recipe comes together in less than 30 minutes.  This recipe is filled with plenty of wholesome hearty ingredients like beef, onions, garlic and rotini pasta.
Author:
Prep Time: 5
Cook Time: 30
Total Time: 35 minutes
Yield: 4 servings 1x
Category: main meal pasta
Method: stove top
Cuisine: southwest
Scale
Ingredients
1 lb ground beef
1 small onion chopped
1/2 –1 small jalapeno finely chopped
2 cloves garlic minced
2 tablespoons taco seasoning
1 (14.5) ounce can salsa style tomatoes
2 cups beef broth (or chicken)
2 cups uncooked rotini pasta
Tomatoes
Sour Cream
Cheddar
Instructions
In large stock pot brown ground beef. About halfway through the browning process drain any excess fat; add onion and jalapeno. Over medium heat cook for 4-5 minutes. Lower heat; add garlic and cook for 1 minute. Add taco seasoning, salsa style tomatoes, beef broth and rotini pasta.
Cover and simmer for 15-20 minutes or until pasta is tender. Top with tomatoes, sour cream, cheddar cheese and if desired jalapeno slices.
Keywords: one pot dinners, one pot pasta recipe, one pot taco rotini pasta, recipes using ground beef, rotini pasta, rotini pasta recipes, southwest pasta, taco pasta, taco rotini pasta
,
https://www.smalltownwoman.com/wp-content/uploads/2019/05/Beth-1.pdf