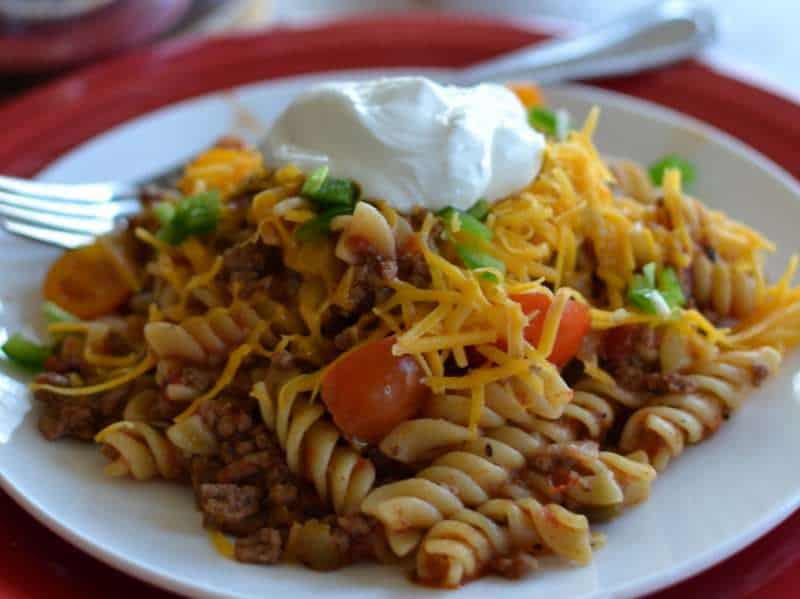 Boy there are those nights were there could be three of me and that is not enough! I am sure that you know exactly what I am talking about. Last night was just one of those nights.  We were trying to cut video and shoot still shots, get homework done, supervise the forever rabbit hunting dog and fight for wifi.  It is a good thing that this One Pot Easy Taco Rotini Pasta takes so little effort because after all of that we did not have any spark left. We were like that firecracker at the end of the night on the 4th of July  that you think is going to produce the biggest bang and instead it just slowly fizzles out.  LOL
It is a good thing that this One Pot Easy Taco Rotini Pasta packs a heck of a lot more punch than us.  It is packed full of flavor and requires just a small amount of effort.  You have can have this on the table in about 30 minutes and if you are clever and quick (like we usually are) you can even prep as you go!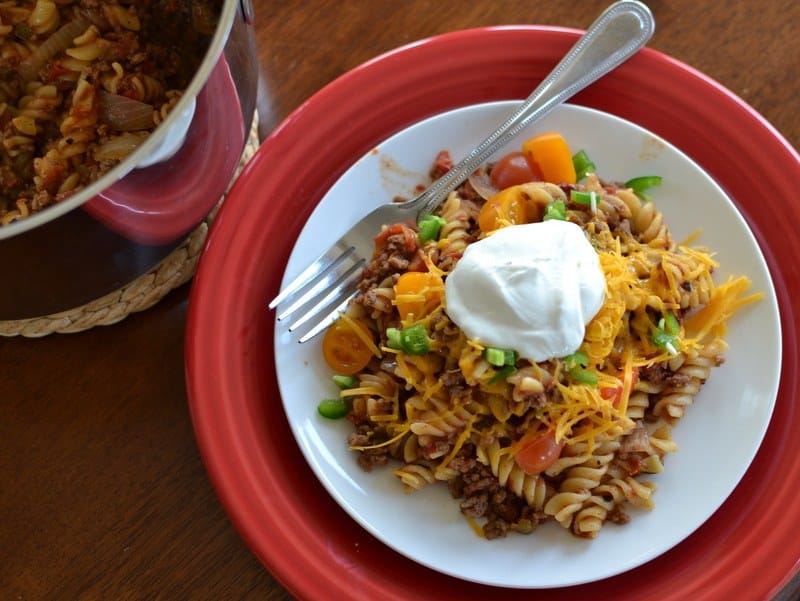 This yummy One Pot Easy Taco Rotini Pasta is packed with ground beef, onions, garlic, jalapeno, salsa style tomatoes and rotini pasta.  Top with all your favorites like sour cream, tomatoes and cheddar cheese.  If you have any leftovers (big if)  use in tortilla skins or pile on hash browns and top with eggs over easy.  The ideas are only as limited as your imagination.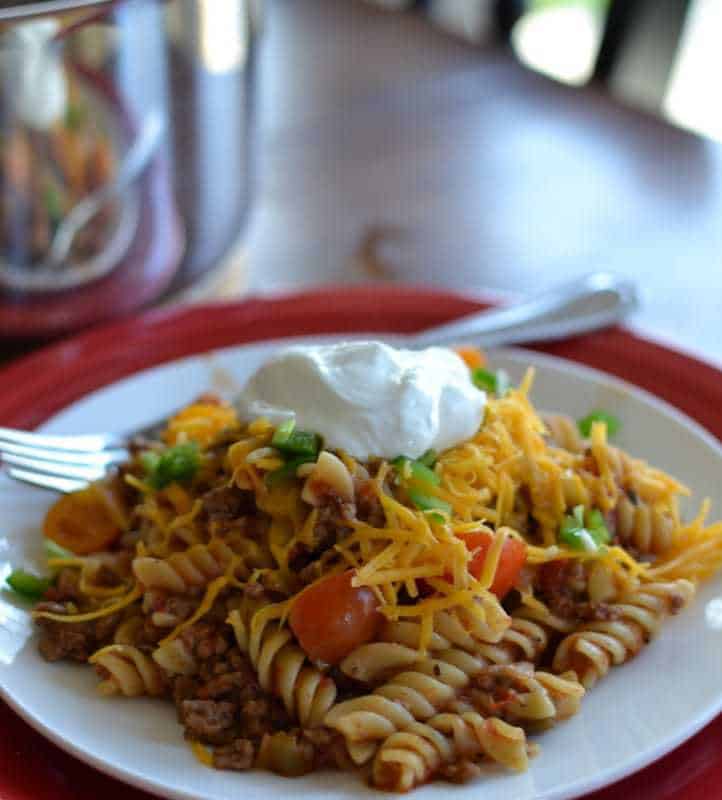 You have got to let your family try this one.  One Pot Easy Taco Rotini Pasta is so flavorful, dependable and easy.  What more could you ask for?  Well maybe for the dog to stop chasing rabbits.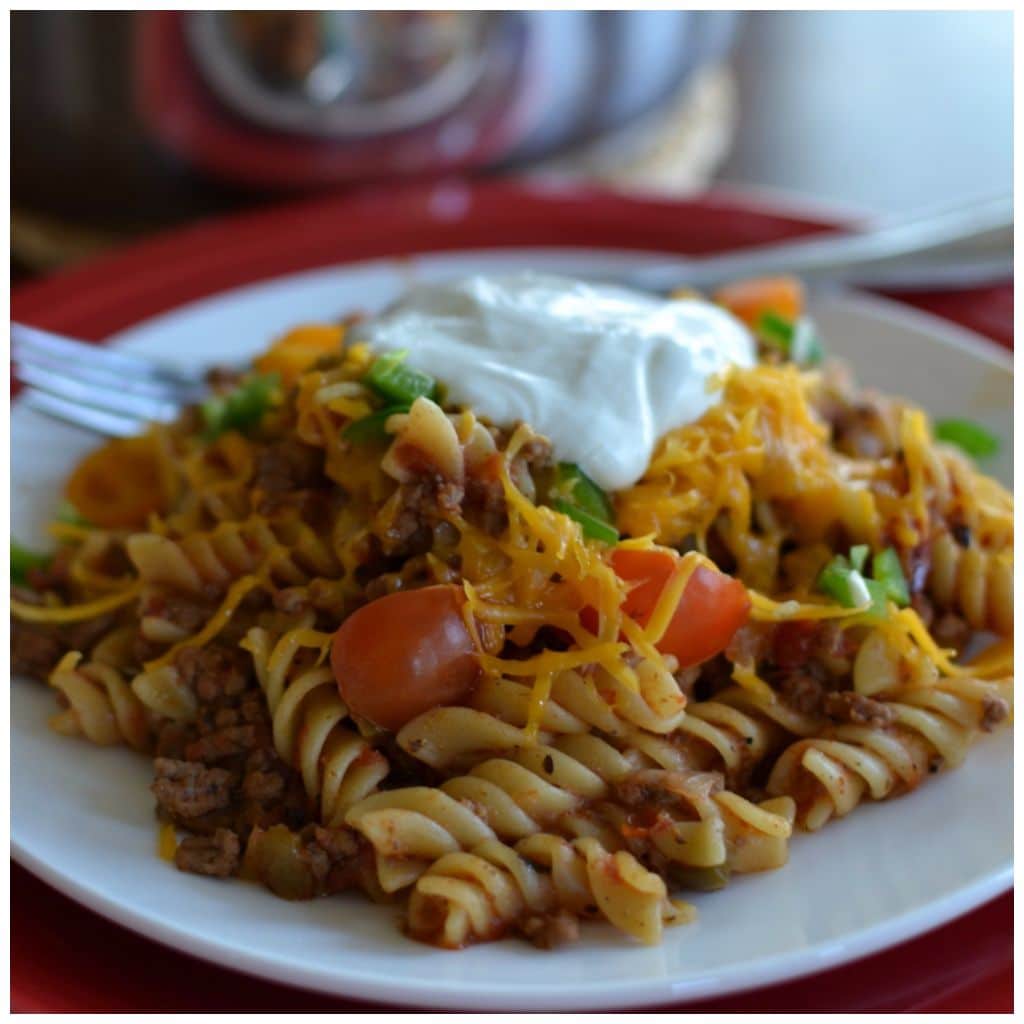 Print
One Pot Easy Taco Rotini Pasta
Scale
Ingredients
1 lb ground beef
1 small onion chopped
1/2 –1 small jalapeno chopped
2 cloves garlic minced
2 tablespoons taco seasoning
1 (14.5) ounce can salsa style tomatoes
2 cups chicken broth
2 cups uncooked rotini pasta
Tomatoes
Sour Cream
Cheddar
Instructions
In large stock pot brown ground beef. Drain any excess fat. Add onion and jalapeno. Over medium heat cook for 2-3 minutes. Lower head and add garlic and cook for additional minute. Add taco seasoning, salsa style tomatoes, chicken broth and rotini pasta. Cover and simmer for 15-20 minutes or until pasta is tender. Top with tomatoes, sour cream, cheddar cheese and if desired jalapeno slices.
Other recipes you will love!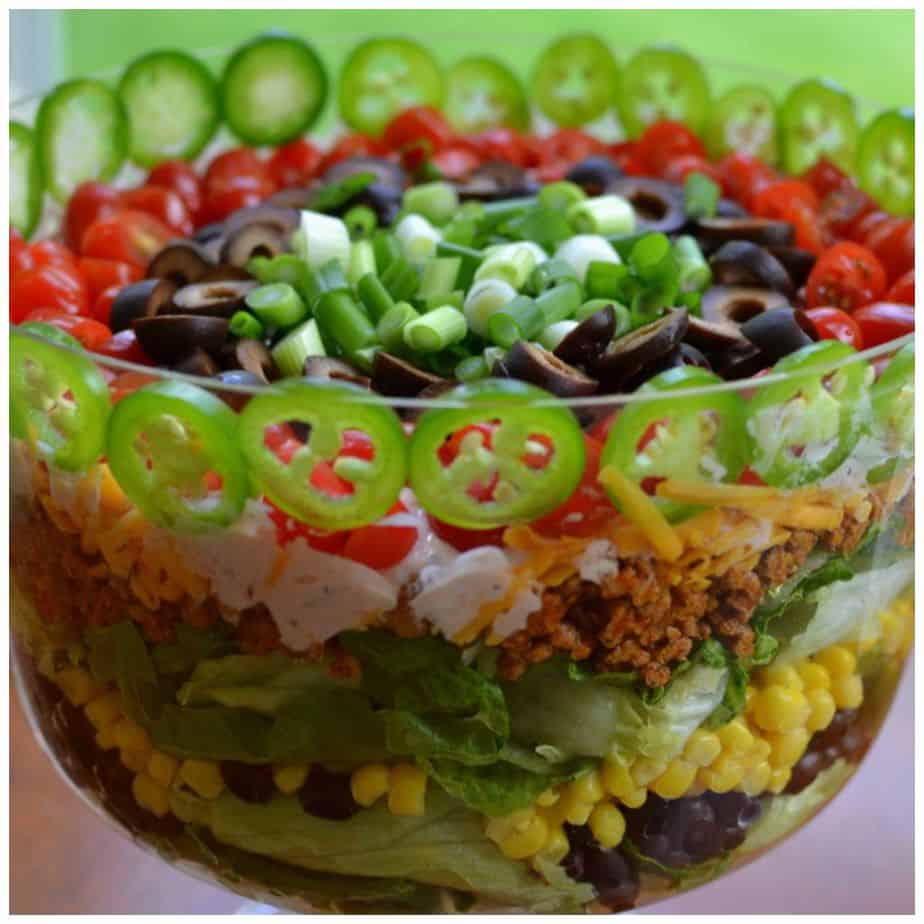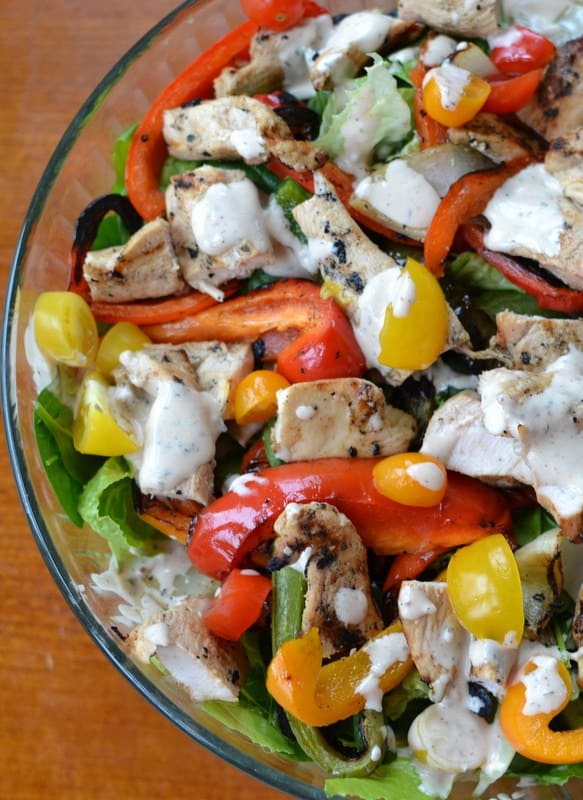 Chicken Fajita Salad with Chipotle Ranch
https://www.smalltownwoman.com/wp-content/uploads/2019/05/Beth-1.pdf