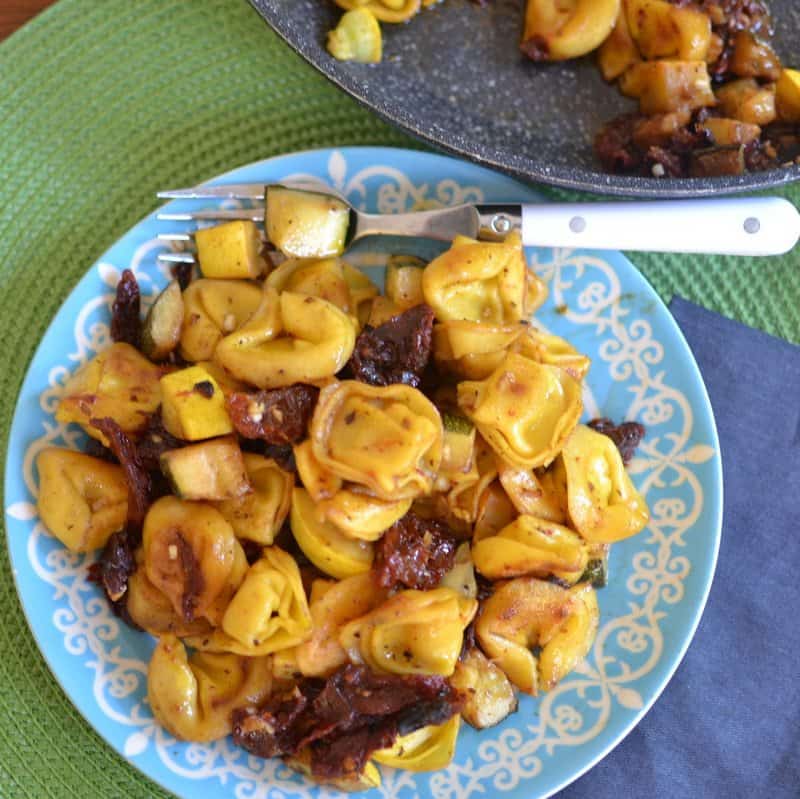 Well June is here and it seems like you guys are all ready tiring of seeing pasta salad recipes. They are everywhere on Facebook and Pinterest. There are so many and they look so delicious but how many can you look at and how many can you cook. We silly food bloggers like the clothing industry have managed to turn the seasons too fast. Much to my dismay I am already seeing pumpkin recipes on my Pinterest feed. Did you know that is kind of a running joke among food bloggers? Every year the envelope is pushed further and further on pumpkin. Pumpkin is probably the most overused cooking ingredient on the face of the earth.
I originally bought these tortellini with the plan of making a delicious pasta salad with Genoa salami, cucumbers and tomatoes but that kind of got completely quashed. I realized that everyone including myself have had their fill of summer pasta recipes…at least for now. So I created this delicious Pan Fried Crispy Tortellini and Zucchini. This fabulous recipe combines tortellini, zucchini, yellow squash and sun dried tomatoes seared in a light honey mustard vinaigrette. You did not know that you could cook tortellini in a pan and make it a little crispy did you? It turns out so amazing like the texture of delicious pan fried pot stickers!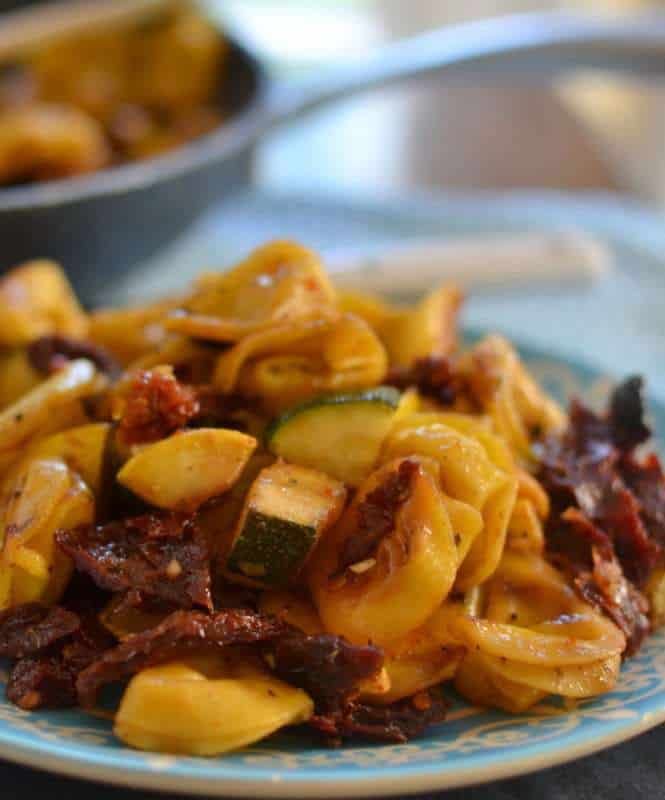 This delectable Pan Fried Crispy Tortellini and Zucchini is so quick to come together and only requires one large skillet and bowl. You can even prepare the sauce ahead of time and store in the fridge.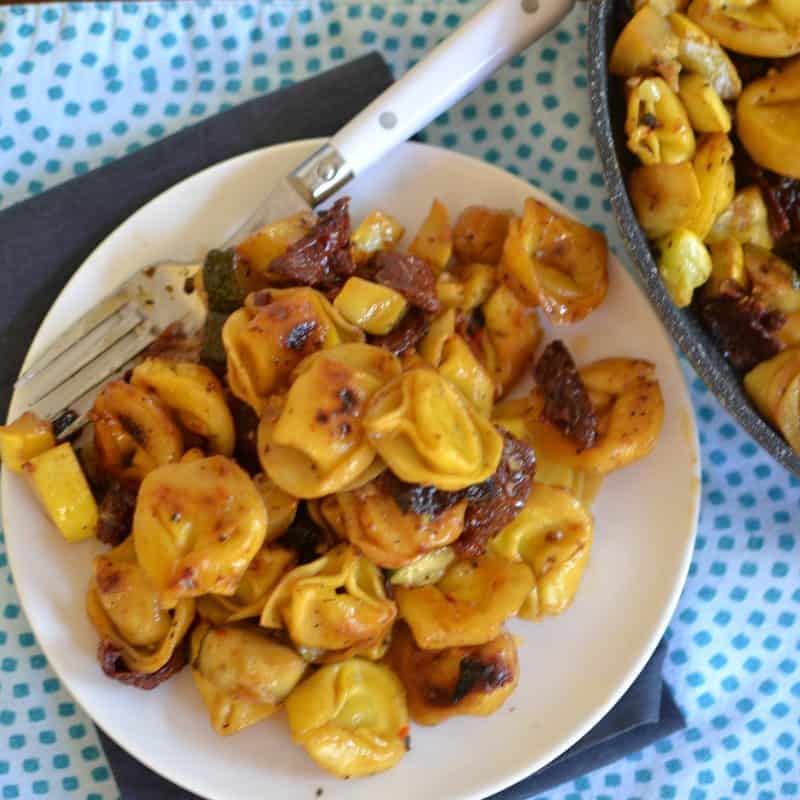 So if you had your fill of summer pasta salads and are looking for something tasty and different than Pan Fried Crispy Tortellini and Zucchini is your answer. Give this one a whirl and let me know what you think.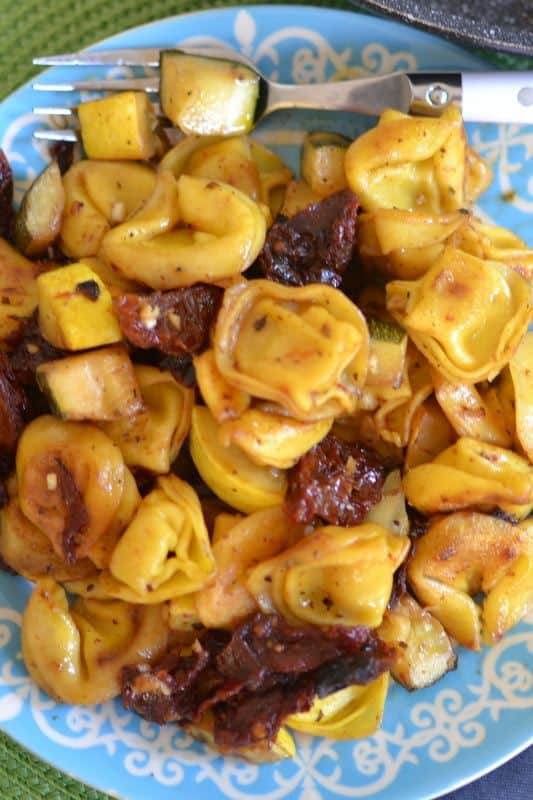 \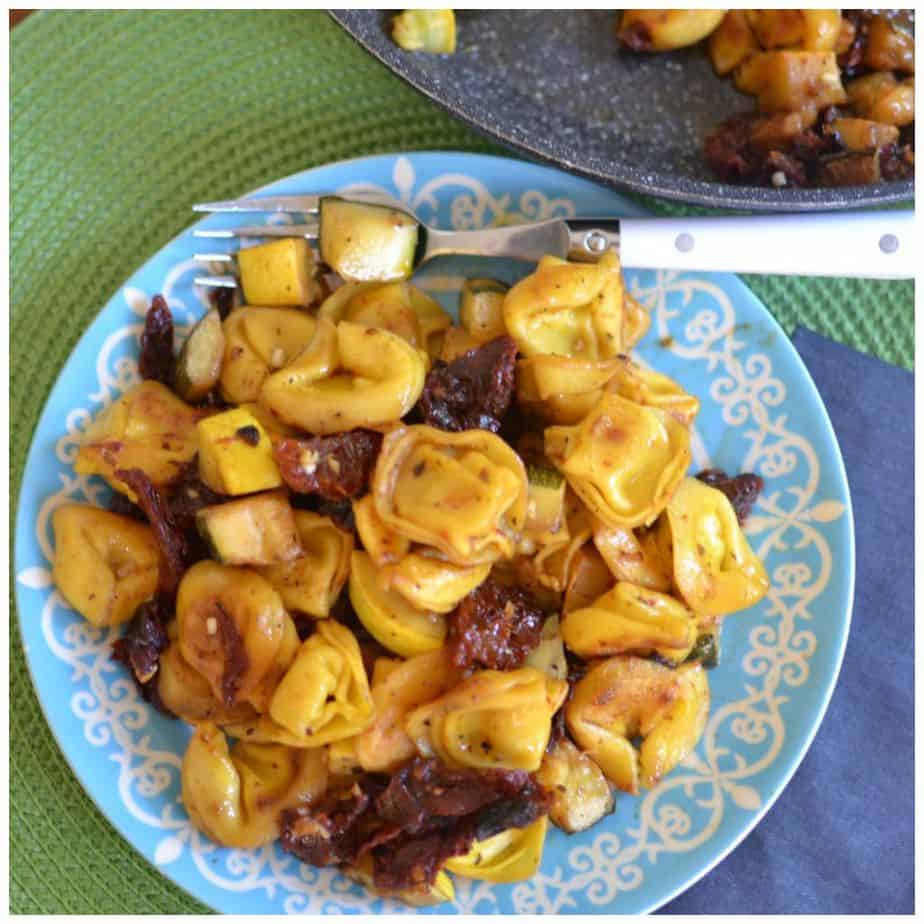 Pan Fried Crispy Tortellini and Zucchini
Ingredients
2 tablespoons red wine vinegar
1 tablespoon prepared Dijon mustard
2 tablespoons honey
1/4 teaspoon dried oregano
1/4 teaspoon dried basil
2 cloves garlic minced
1/4 teaspoon salt
1/4 teaspoon ground black pepper
1 tablespoon fresh lemon juice
1/3 cup olive oil
3 tablespoons olive oil
1 bag (19 ounces) frozen cheese tortellini
1/3 cup water
1 medium zucchini cubed
1 medium yellow squash cubed
1 cup sun dried tomatoes julienne cut
Instructions
In medium bowl whisk red wine vinegar, Dijon mustard, honey, oregano, basil, garlic, salt, pepper and lemon juice. Slowly whisk in 1/3 cup olive oil.
Heat 2 tablespoons olive oil in large skillet over medium high heat. Add frozen tortellini layering flat in the pan. Cook 2-3 minutes or until lightly browned. Flip and cook another 2-3 minutes to brown the other side. Pour in water, cover and cook an additional 3 minutes or until the water has evaporated. Remove cover and cook an additional 1 minute to re-crisp the tortellini. Remove from skillet and plate.
Add 1 tablespoon olive oil to skillet over medium heat. Add zucchini and yellow squash and cook 3-4 minutes or until crisp tender. Add sun dried tomatoes and add tortellini back to the pan.
Whisk the vinaigrette and pour over the tortellini and squash. Cook for 1 minute. Serve immediately.
Notes
You can substitute beef and pork tortellini.
https://www.smalltownwoman.com/pan-fried-crispy-tortellini-and-zucchini/
Other pasta recipes you will love!