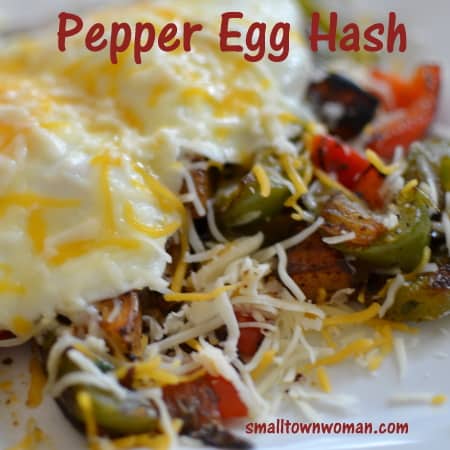 Weekends make for great breakfasts.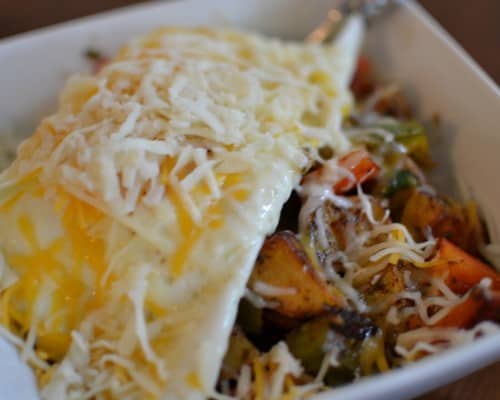 I love eggs.  I spend many a run with the dog creating egg recipes.  I don't think that she appreciates it as much as I do.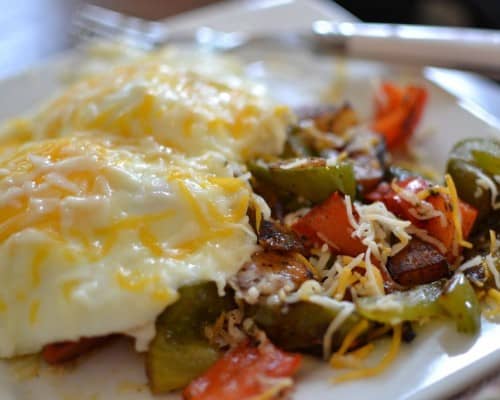 It is a good thing that she does not understand all the things I am talking about while we are running or she would be salivating all over the place.
Print
Pepper Egg Hash
Scale
Ingredients
1 large potato cut in 1/2 inch cubes
1/2 large onion diced
1 red pepper diced
1 green pepper diced
1 Serrano pepper very finely diced
1/2 teaspoon cumin
1/2 teaspoon garlic powder
1/2 teaspoon onion powder
1/2 teaspoon dried oregano
1/2 teaspoon chili powder
1 tablespoon dried cilantro
Pinch of crushed red pepper
Olive oil
Sesame oil
4 large eggs
1/2 cup shredded Monterrey Jack cheese
Instructions
Place diced potato in ziploc plastic bag. Add 1 tablespoon olive oil and shake to coat. Preheat large skillet or saute pan over medium heat. Add 1 tablespoon sesame oil. Place potato in skillet and cook for about 10 minutes turn and cook for another 5 minutes. Add onion, red pepper and green pepper. Cook for another 5 minutes on medium heat. Add the Serrano pepper, cumin, garlic, oregano, chili powder, cilantro and red pepper. Cook on low for 2 minutes.
Heat 1 teaspoon olive oil in smaller skillet. Add 2 eggs at a time and cook sunny side up or until whites are firm.
Arrange the potato hash on plates sprinkle with 2 tablespoons of cheese, Place two eggs on top and sprinkle with 2 tablespoons of cheese.
Cook second batch of eggs and repeat arrangement on plate.
Notes
This recipe is for 2 servings but you can easily double it or half it if you are going solo.
https://www.smalltownwoman.com/wp-content/uploads/2019/05/Beth-1.pdf
Reader Interactions