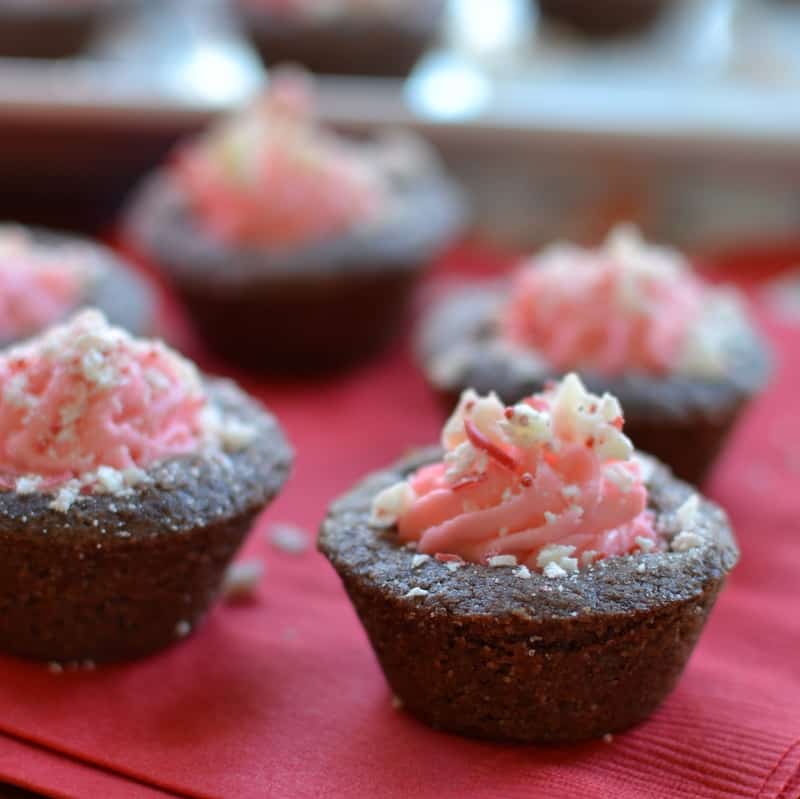 Calling all you peppermint fans and you know who you are!! I have never been a huge fan but I have lots of friends who are and my darling sweet second child is a huge peppermint fan.  She has and will always be the kid that chews up her candy cane as soon as she gets it.
These adorable Peppermint Cheesecake Chocolate Cookie Cups are sweet chocolate sugar cookie cups filled with peppermint cheesecake and topped with chopped candy cane Kisses.  They are absolutely perfect for your Christmas party, holiday office party or neighborhood cookie swap.  They come together fairly quickly and freeze well.   I pack all my cookies in doubled Ziploc freezer bags and place them in sturdy glad-ware containers.  When defrosting take them out of the containers frozen and place on serving trays or platters uncovered.  Never allow them to defrost in the plastic and the containers. The condensation that builds in there will ruin the cookies.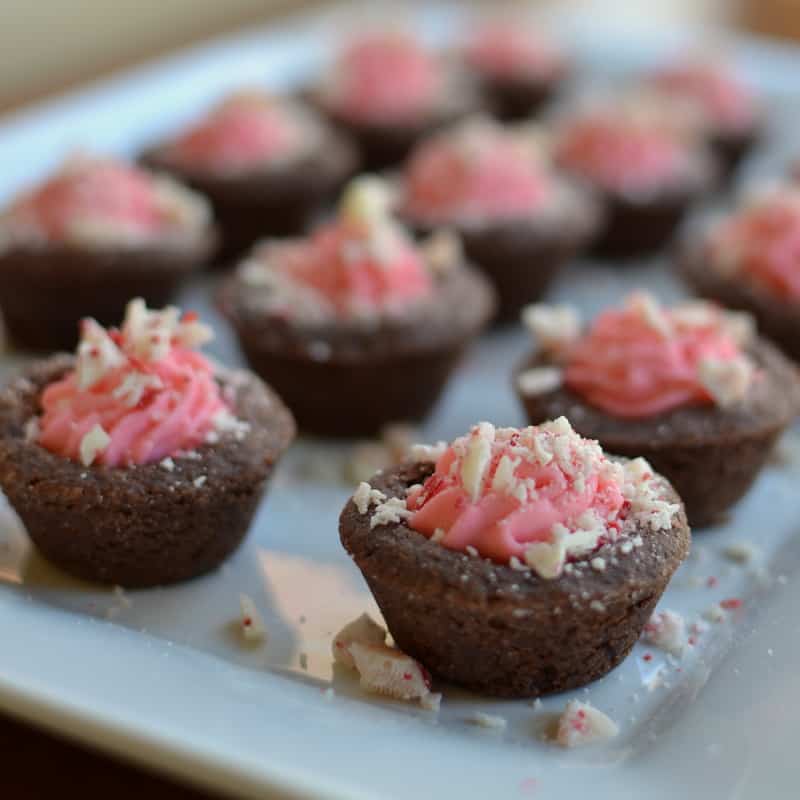 In a hurry make the cookie cups a day ahead of time or reverse and mix the cream cheese mixture and store in the fridge in an airtight container.  You are not a huge peppermint fan and you prefer mint instead.  Add mint extract to the cream cheese along with about 8 drops of green food coloring.  Top with chopped Holiday Kisses Mint Truffles Wrapped in Dark Chocolate (those kisses are mint green on the inside).
Have you tried any of my other Christmas cookies?  Buttery Pecan Snowball Cookies, Maraschino Cherry Almond Chocolate Cookies and Double Chocolate Cherry Cookies are just a few of my favorites.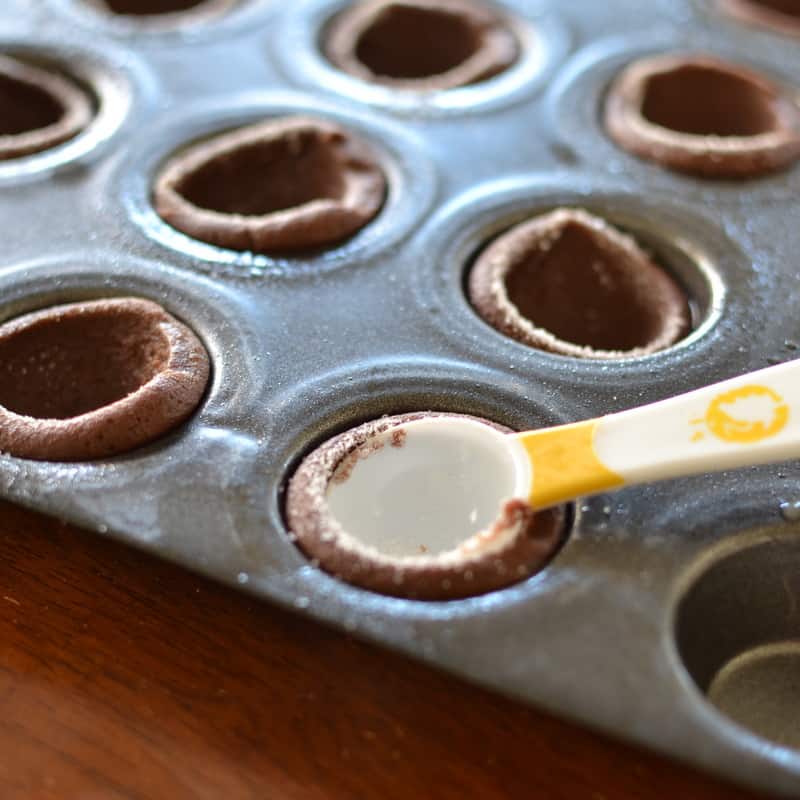 Sugar cookie cups are fairly easy to master with the aid of a rounded 1 1/2 teaspoon and a little extra sugar.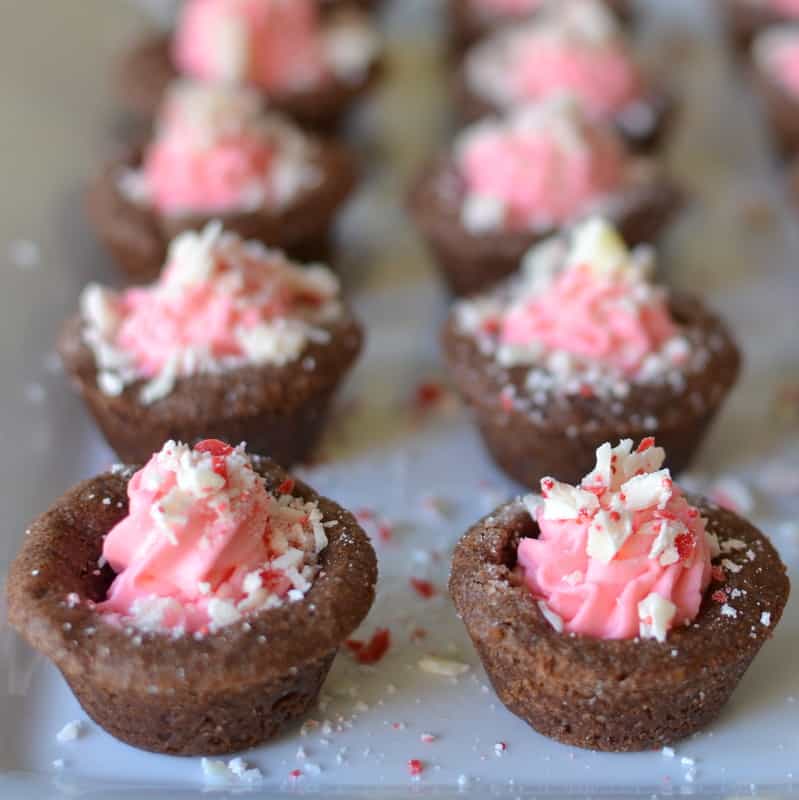 So if you love to bake and make delicious Christmas and holiday treats for you friends and family put the ingredients for these Peppermint Cheesecake Chocolate Cookie Cups on your shopping list. They will be showering you with complements in no time at all!!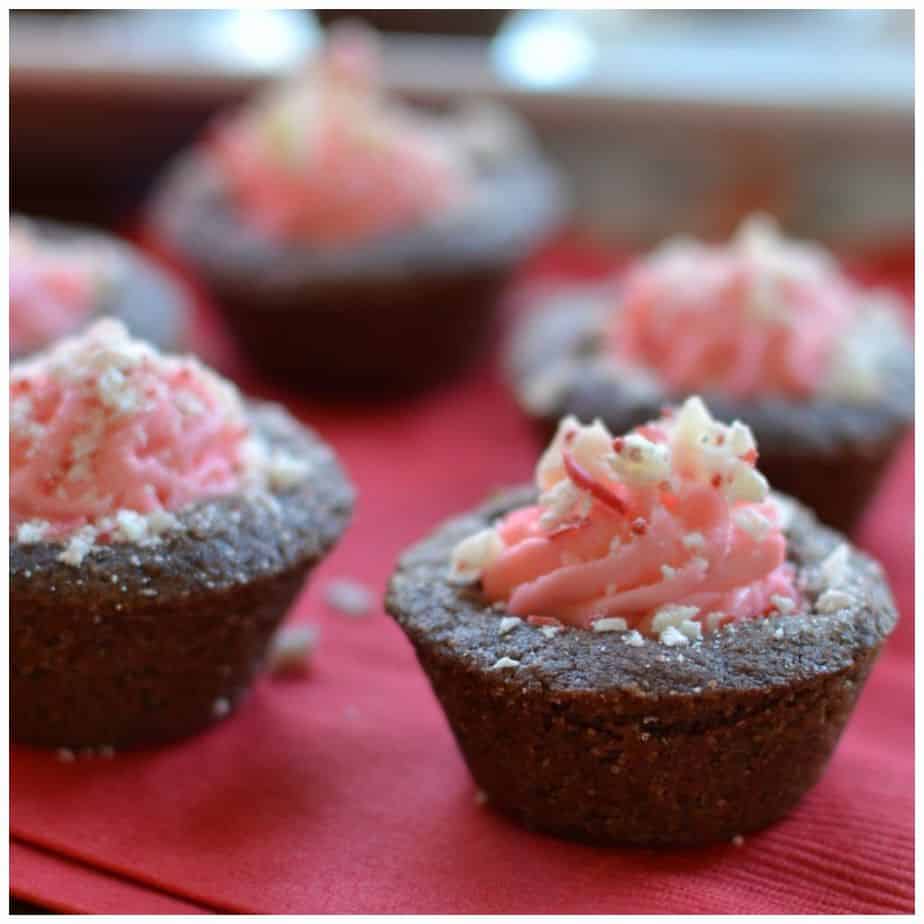 Print
Peppermint Cheesecake Chocolate Cookie Cups
Chocolate Sugar Cookie Cups
1 cup flour
1/4 cup cocoa
1/2 teaspoon baking powder
1/8 teaspoon salt
1/2 cup butter
3/4 cup sugar
1 egg
Cheesecake Filling
1 box (8 ounces) cream cheese
2 tablespoons sugar
1/2 teaspoon peppermint extract
Optional: 8 drops red food coloring
Topping
Finely chopped peppermint kisses
Instructions
Preheat oven to 350 degrees.
In small bowl mix flour, cocoa, baking powder and salt.
In separate bowl using mixer cream butter and 3/4 cup of sugar until fluffy; approximately 3 minutes. Add egg and mix on low just until incorporated.
Slowly beat dry ingredients into butter/sugar/egg mixture; scraping side of bowl and beater. Roll into 3/4 inch balls and roll in a little sugar. Place in MINI muffin pan. Using rounded 1 1/2 measuring teaspoon press in center of them to create cups. Dipping the spoon in sugar between each indent helps to keep the spoon from sticking.
Bake 11-13 minutes. Remove from oven and using same rounded spoon go back through the cups and push each back down. You do not need sugar this time.
In small bowl using mixer blend cream cheese and sugar until smooth. Add peppermint extract and food coloring; blend until the color is uniform. Pipe or spoon in cooled cookie cups.
Top with crushed peppermint kisses.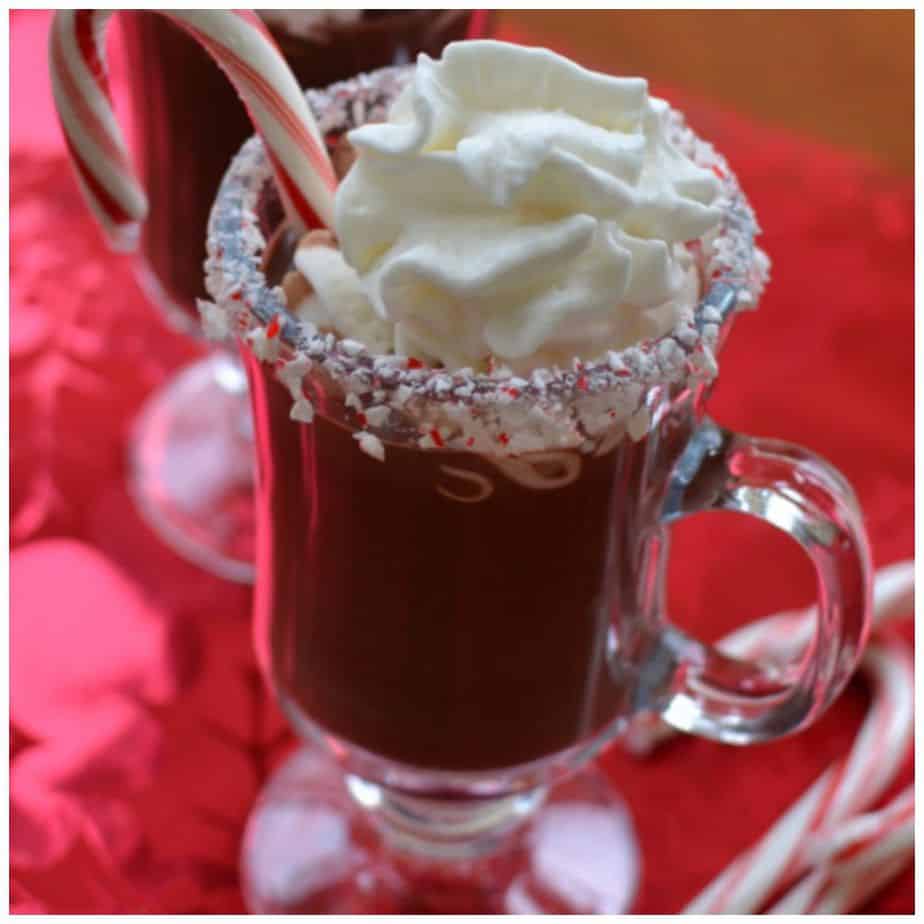 Quick Peppermint Hot Chocolate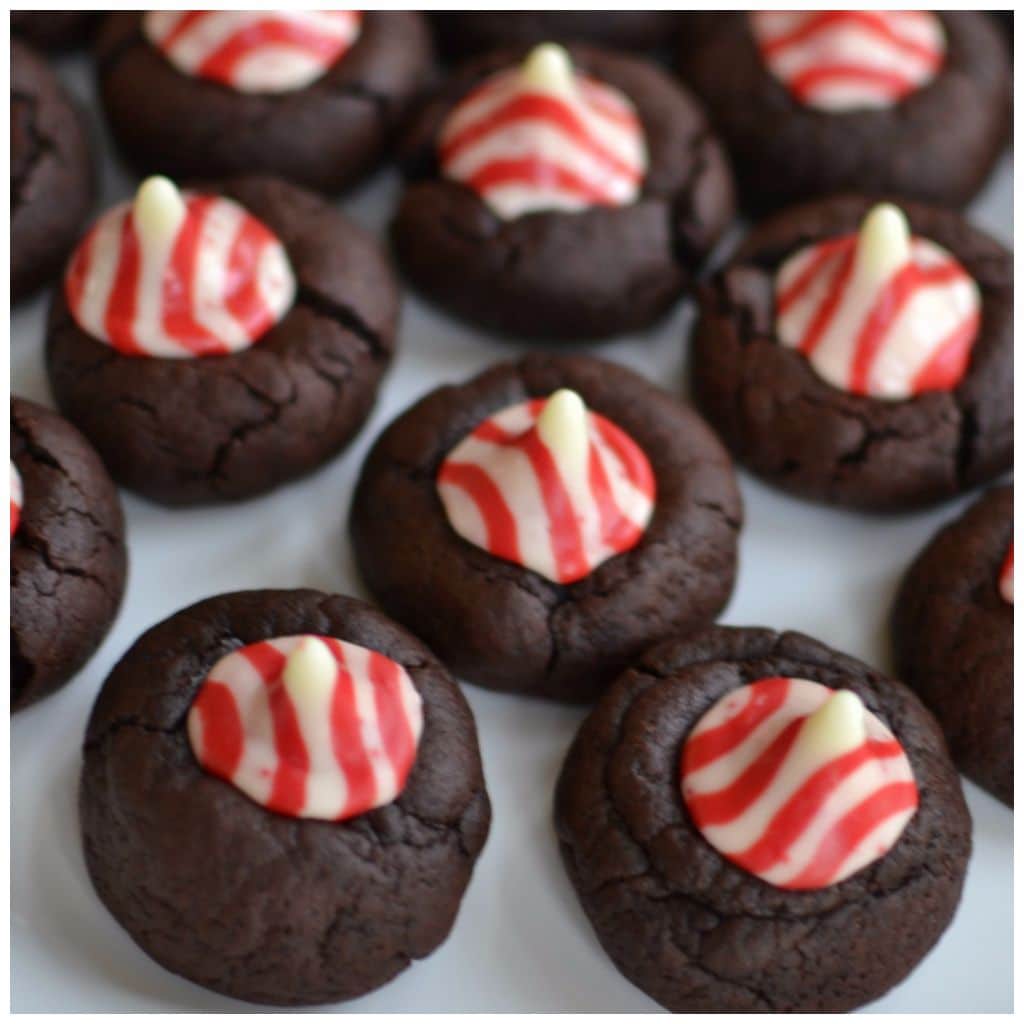 Peppermint Chocolate Thumbprint Cookies
https://www.smalltownwoman.com/wp-content/uploads/2019/05/Beth-1.pdf