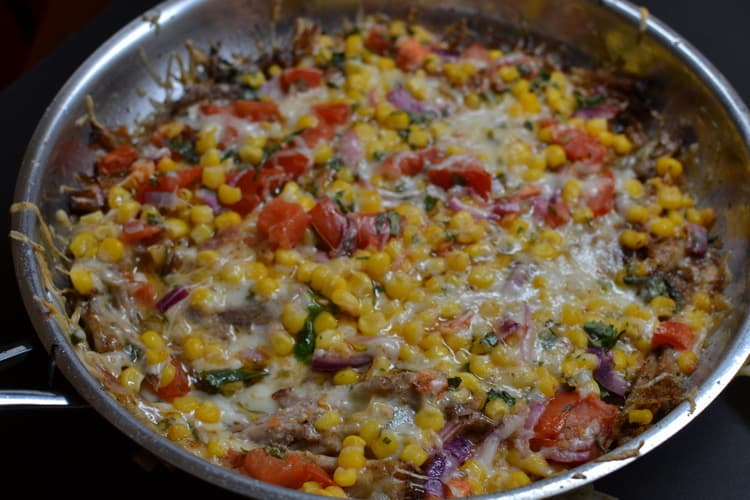 I have a wonderful pulled pork recipe that I make in my Dutch oven. I always make enough to do great things with the leftovers and when I say great things I am not exaggerating.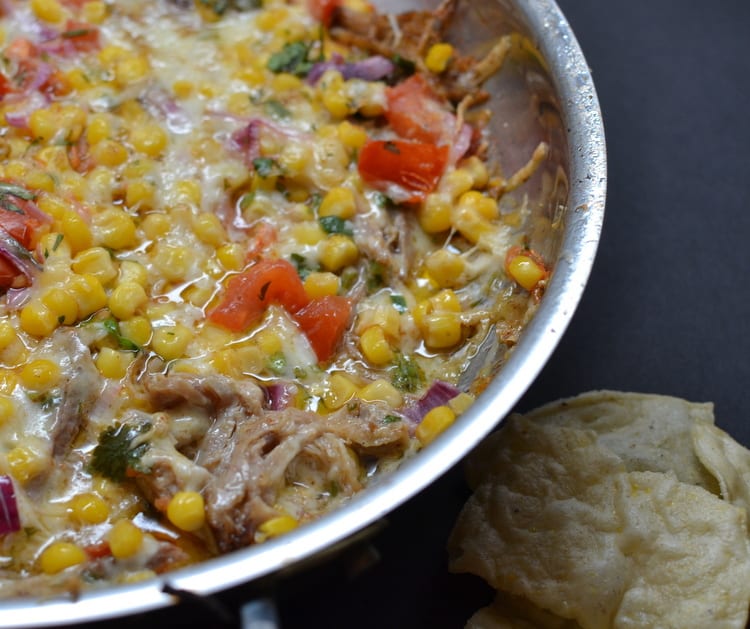 Pulled pork goes great with cheese, peppers, tomatoes, corn salsa & chips. Did I say cheese? Of course I think cheese goes great with everything. Don't you?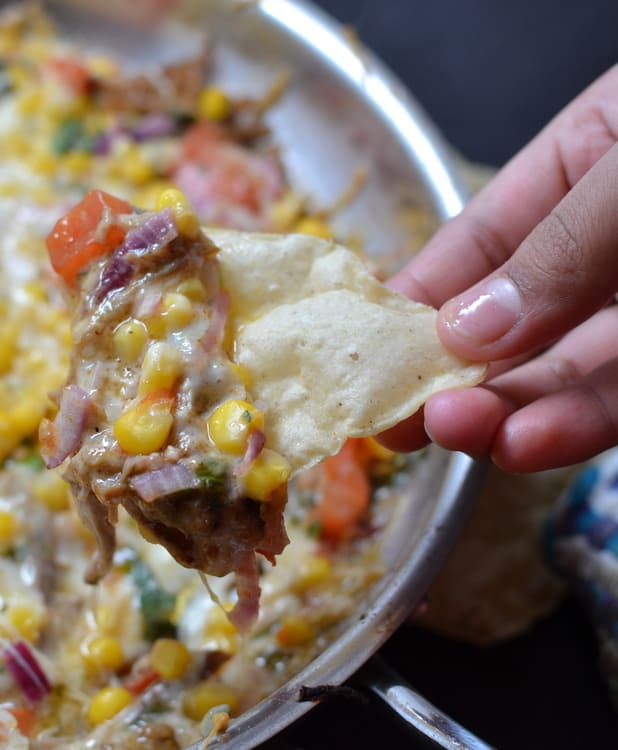 Look at all that delish melting cheese and seasoned pork positioned just right to go into my daughters mouth. I am jealous! Where's my chip! Better yet where are my chips….notice the plural tense.
Print
Pulled Pork Queso Fundido
Scale
Ingredients
Rub
1 tablespoon papricka
2 tablespoons brown sugar
2 tablespoons cumin
1 tablespoon chili powder
1 teaspoon cayenne pepper
Pulled Pork
1 4-5 lb. pork shoulder roast
2–3 tablespoons olive oil
1 large whole onion cut in 1/4 inch sliced rings
3–4 cloves garlic coarsely chopped
1/4 cup brandy
2 tablespoons Worcestershire sauce
2 tablespoons soy sauce
1/4 cup chicken broth
2 teaspoons liquid smoke
Queso Fundido
1 cup corn
1 Roma tomato chopped
2–3 tablespoons chopped red onion
1 small serrano pepper finally chopped
1/3 cup fresh chopped cilantro
1 tablespoon lime juice
2 1/2 cups Monterey Jack cheese
1 cup cheddar
1 teaspoon chili powder
1 teaspoon cumin
Tortilla chips
Instructions
Combine rub ingredients in sandwich bag. Shake to combine.
Spread rub all over pork shoulder and allow to sit for at least 30 minutes or overnight in the fridge.
Preheat oven to 300 degrees.
Heat 2 tablespoons olive oil in Dutch oven over medium heat and brown pork shoulder on all side. Remove from heat, place on plate and set aside. In same dutch oven heat 1 tablespoon olive oil over medium high heat. Add onions and cook for 10 minutes turning once or twice. Add garlic and cook for an additional 2 minutes. Add brandy and cook until reduced by half approximately 1 minute. Add Worcestershire sauce, soy sauce, chicken broth and liquid smoke. Stir to combine. Remove from heat. Add pork shoulder, cover and cook for 4-5 hours. Pork will pull apart very easily when forked. Allow to cool for 10 minutes then use two forks to shred the pork.
Preheat oven to 400 degrees
Combine corn, tomato, red onion, serrano pepper, 2 tablespoons cilantro and lime juice. Allow to sit for 15 minutes.
Grease 10 inch ovenproof skillet. Add 1 cup Monterey Jack Cheese and 1/2 cup cheddar. Layer with 1 cup pulled pork. Add 1 cup Monterey Jack Cheese and 1/2 cup cheddar. Layer with 1-2 cups pulled pork. Top with the rest of the Monterey Jack Cheese, chili powder, cumin and salsa.
Bake for 5-10 minutes or until hot and completely melted. Start checking on it after 5 minutes.
Serve with tortilla chips.
Notes
This makes a full pork shoulder which is enough for another meal or two. You could make pulled pork sandwiches topped with coleslaw or pulled pork pizza.
https://www.smalltownwoman.com/wp-content/uploads/2019/05/Beth-1.pdf