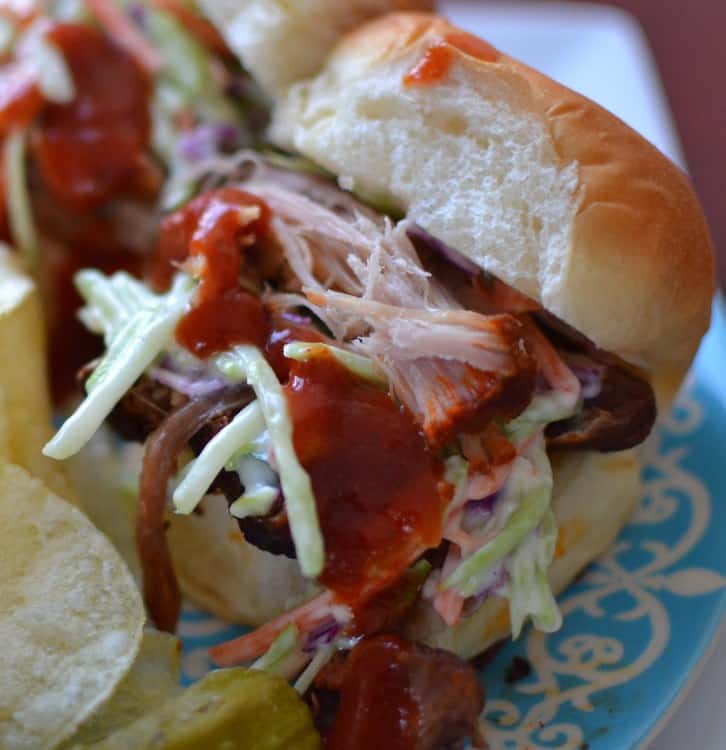 There is nothing better than a good pulled pork sandwich smothered with delicious tangy slaw. These delectable little treats are on Kings Hawaiian Sweet Rolls.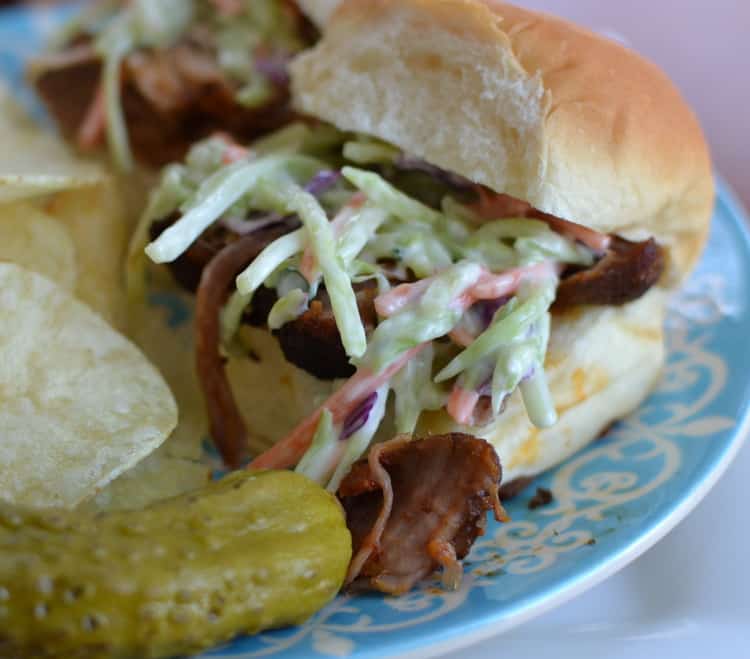 So much delicious flavor packed into one little slider! You will need several to satisfy your hungry appetite!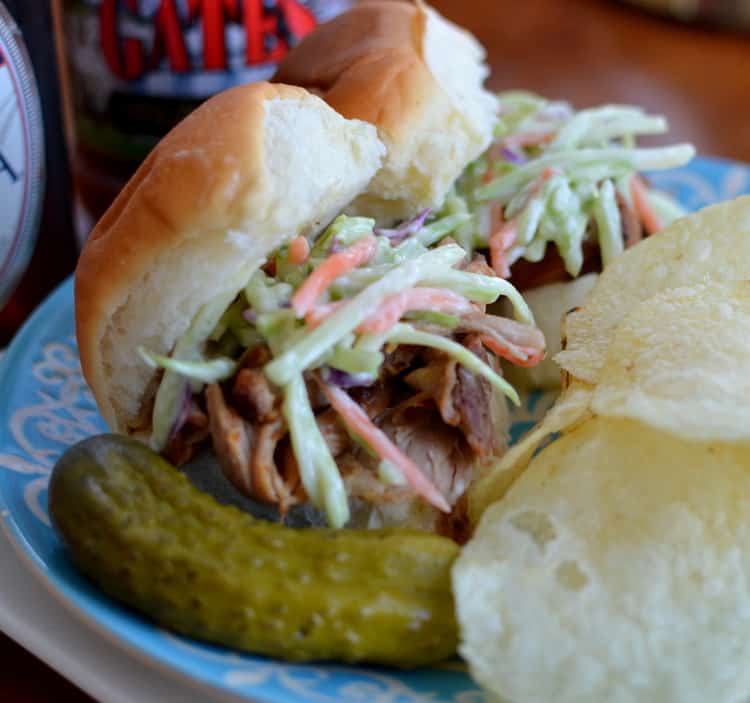 Enjoy your delectable little treats! Yummy!
Print
Pulled Pork & Slaw Sliders
Scale
Ingredients
Rub
1 tablespoon papricka
2 tablespoons brown sugar
2 tablespoons cumin
1 tablespoon chili powder
1 teaspoon cayenne pepper
Pulled Pork
1 4-5 lb. pork shoulder roast
2–3 tablespoons olive oil
1 large whole onion cut in 1/4 inch sliced rings
3–4 cloves garlic coarsely chopped
1/4 cup brandy
2 tablespoons Worcestershire sauce
2 tablespoons soy sauce
1/4 cup chicken broth
2 teaspoons liquid smoke
12 pack KIngs Hawaiian Rolls
Slaw
12 ounces broccoli cole slaw
1/2 cup mayo
2 tablespoons lime juice
1 large clove garlic minced
1 chipotle pepper in adobe sauce finally chopped
1 tablespoon of the adobe sauce from the same can
Instructions
Combine rub ingredients in sandwich bag. Shake to combine.
Spread rub all over pork shoulder and allow to sit for at least 30 minutes or overnight in the fridge.
Preheat oven to 300 degrees.
Heat 2 tablespoons olive oil in Dutch oven over medium heat and brown pork shoulder on all side. Remove from heat, place on plate and set aside. In same dutch oven heat 1 tablespoon olive oil over medium high heat. Add onions and cook for 10 minutes turning once or twice. Add garlic and cook for an additional 2 minutes. Add brandy and cook until reduced by half approximately 1 minute. Add Worcestershire sauce, soy sauce, chicken broth and liquid smoke. Stir to combine. Remove from heat. Add pork shoulder, cover and cook for 4-5 hours. Pork will pull apart very easily when forked. Allow to cool for 10 minutes then use two forks to shred the pork.
Combine mayo, lime juice, garlic, adobe pepper and adobe sauce in medium bowl. Add slaw and stir to combine.
Add several pieces of pork to each sweet roll & top with the tangy slaw. Serve with Kansas City style BBQ sauce.
https://www.smalltownwoman.com/wp-content/uploads/2019/05/Beth-1.pdf