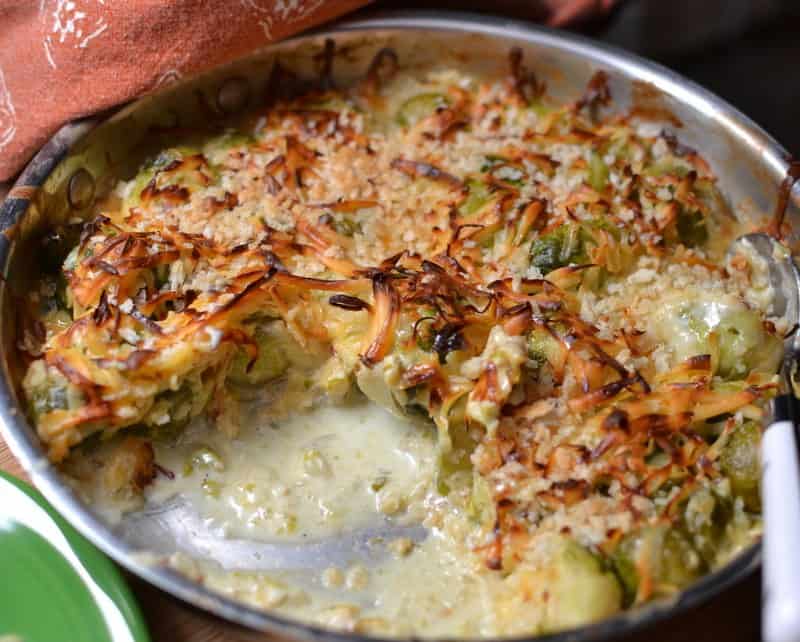 When I was a kid my parents would make me eat all my vegetables. Sound familiar to you? I remember sitting at the table for hours…long after my brothers and sisters had been excused. My Dad was insistent that I eat my Brussels sprouts. Oh mercy! Not such a great memory. I finally gave in to eating them. I remember how they were cooked. Nothing fancy that's for sure. My Mom was a very busy woman. Any woman that had seven children would be a busy woman. They were boiled and might have had a little butter on them. It took me decades after that to learn to like Brussels sprouts again. Now that I am more than five decades old I love them. This Quick Brussels Sprouts Au Gratin is one my favorite vegetable recipes!!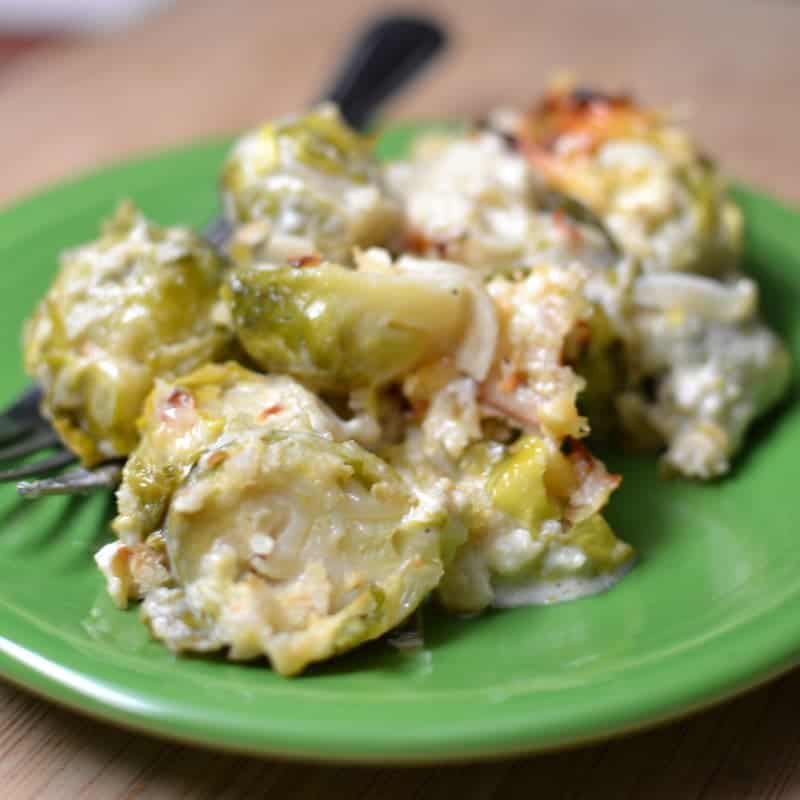 This delectable recipe combine Brussels sprouts, onions, garlic, cream, Parmesan, cheddar and Gouda in a quick to fix skillet to oven dish. If you've ever wondered why they're called Brussels sprouts, the answer has been right in front of you the whole time: they're from Brussels, silly. Well, sort of. While early versions of the vegetable are said to date back to ancient Rome, modern-day Brussels sprouts were embraced and widely cultivated in Belgium as early as the 16th century.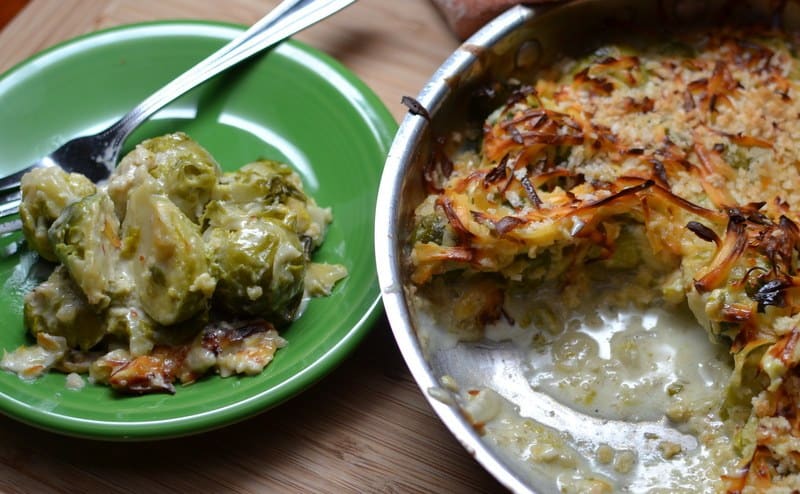 Brussels sprouts look like baby cabbages not because they are baby cabbages, but because they're part of the cabbage family. With cabbages, we eat the head that grows out of the ground. With Brussels sprouts we eat the buds that grow along the length of a thick, fibrous stalk. Brussels sprouts are an excellent source of vitamin A, vitamin C, vitamin K, as well as beta carotene, folic acid, iron, magnesium and fiber.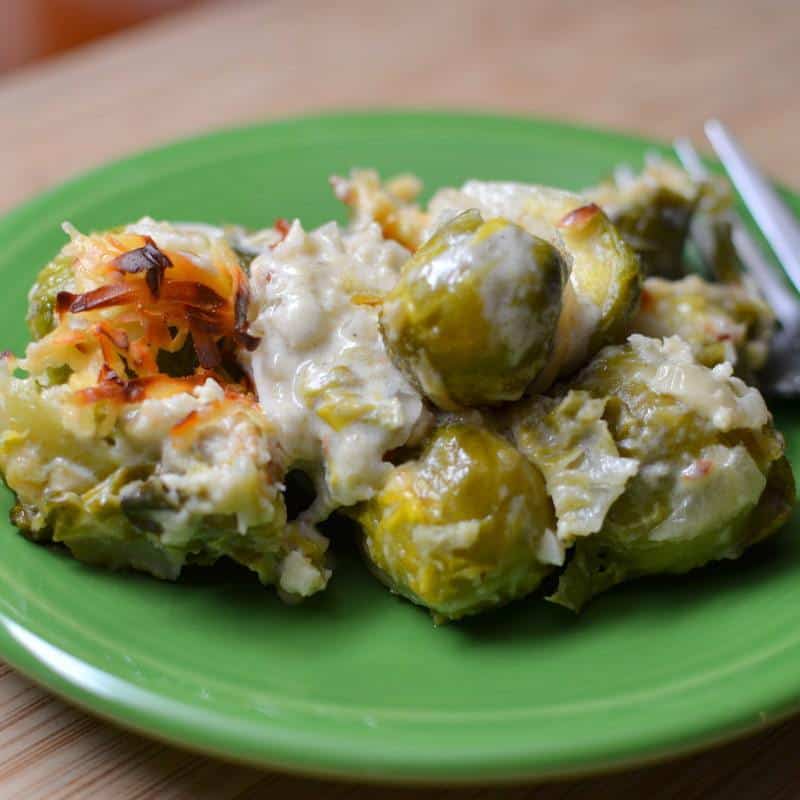 This Quick Brussels Sprouts Au Gratin dish comes together pretty fast as it only bakes for about 20-25 minutes. You can prepare ahead by boiling the Brussels sprouts for 10 minutes. They need to be tender enough to pierce with a fork. You need to give this recipe a whirl and keep in mind these hearty winter vegetables are usually in season from fall through late winter.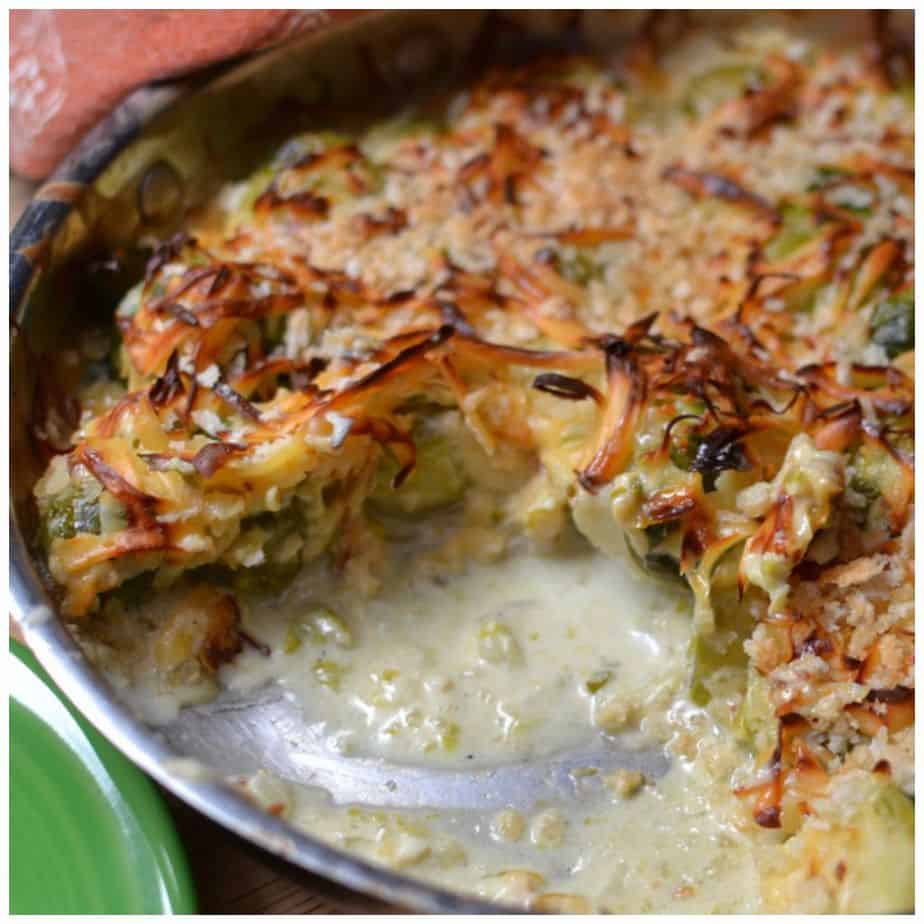 Quick Brussels Sprouts Au Gratin
Scale
Ingredients
1 lb Brussels Sprouts trimmed and outer leaves removed
2 tablespoons butter
1/2 onion thinly sliced
2 large cloves garlic minced
2/3 cup heavy cream
1/2 cup Parmesan
3/4 cup shredded smoked Gouda
3/4 cup shredded white cheddar
1 cup croutons crushed
Instructions
Bring large pot of lightly salted water to boil. Add Brussels sprouts to water and cook uncovered until tender; approximately 10 minutes. Drain in colander. When cool slice about 50% of them in half.
Preheat oven to 400 degrees
Melt butter in oven proof skillet over medium heat. Add onion and cook until the edges start to brown approximately 6 minutes. Add garlic and cook for additional 1 minute. Add cream and simmer until bubbly and starting to thicken. Slowly stir in parmesan. Add Brussels sprouts and cook an additional 2-3 minutes.
Sprinkle with smoked Gouda and cheddar. Top with crushed croutons. Bake in the oven for 15-20 minutes or until cheese is golden brown.
Other recipes you will love!!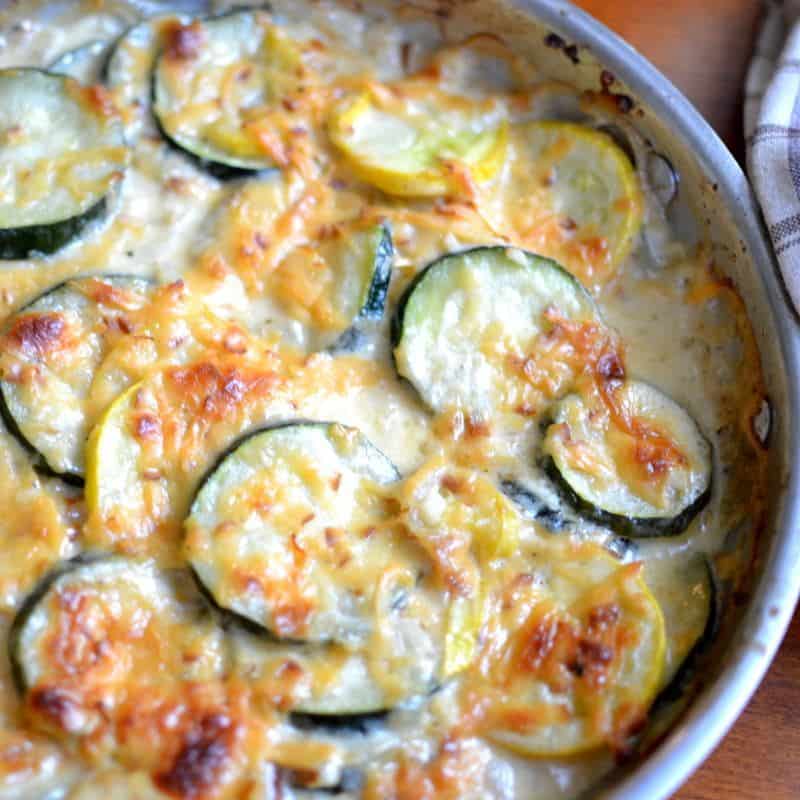 Zucchini and Yellow Squash Au Gratin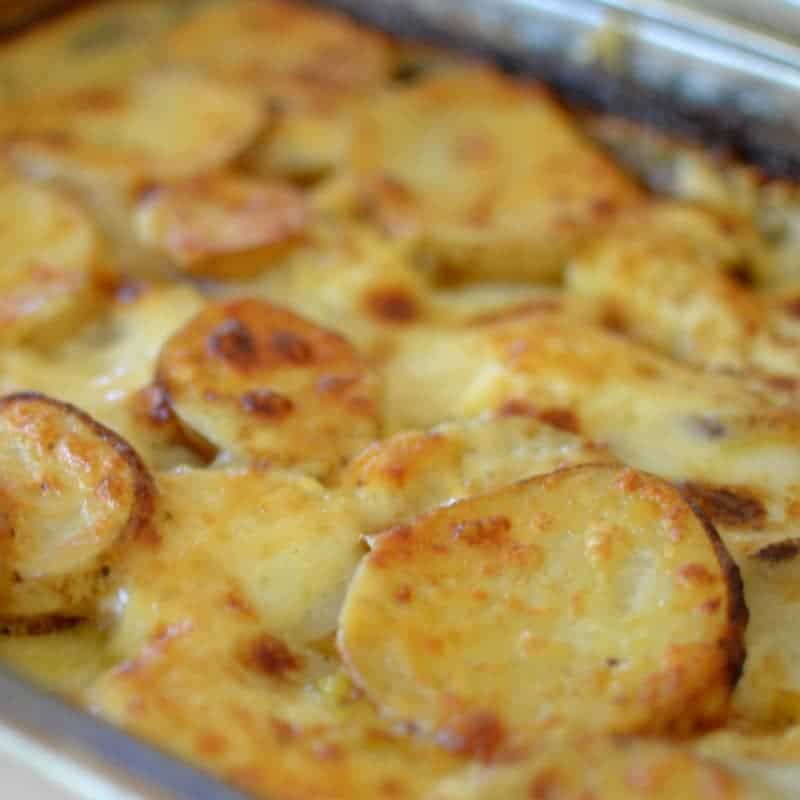 Potatoes Au Gratin
https://www.smalltownwoman.com/wp-content/uploads/2019/05/Beth-1.pdf