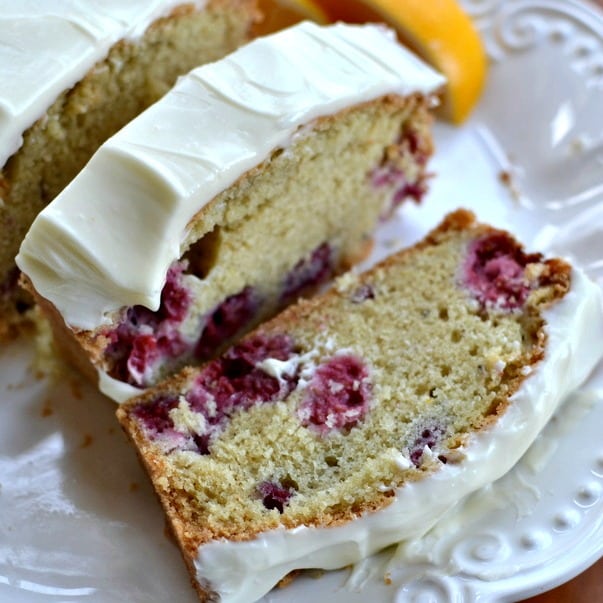 Life is full of adventures.  Some of them are good and some not so much!  Some will leave you wide awake at night staring into the darkness pondering every meaning to the day that just passed and some will leave you grinning like a Cheshire cat as you gaze out the window while cruising down the road.  No doubt that this sweet Raspberry Lemon Bread with Lemon Cream Cheese Frosting will make you smile!!   It is so amazing that you can't help but smile!
This delectable Raspberry Lemon Bread with Lemon Cream Cheese Frosting is plump full of fresh raspberries and fresh lemon.  It is topped with a to die for slightly sweet tangy lemony cream cheese.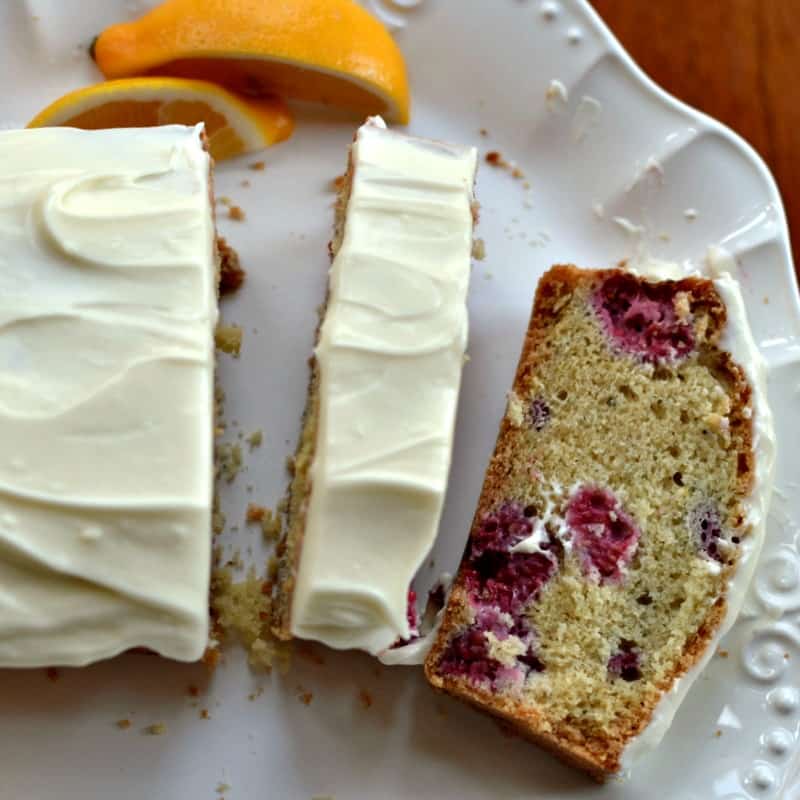 I love fresh berries.  You name them…blueberries, raspberries, blackberries.  I remember growing up in a neighborhood full of mulberry bushes.  We would  pull the semi-sweet berries off the bush,  run home, wash them and dunk them in a bowl of milk and sugar.  I can almost taste them now!  What a fond memory that I share with my brothers and sisters!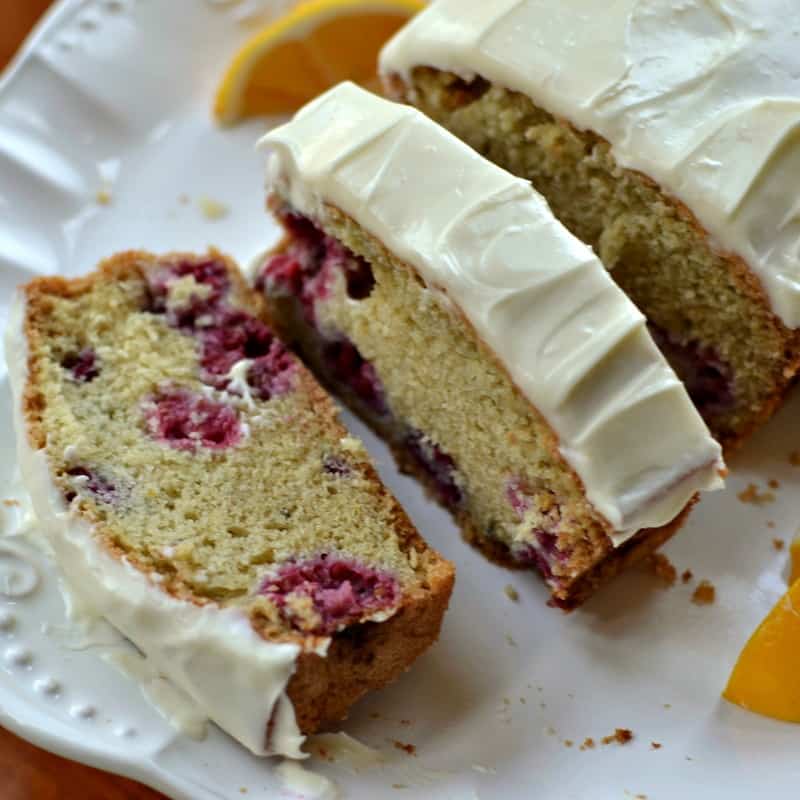 This beautiful Raspberry Lemon Bread with Lemon Cream Cheese Frosting is the perfect balance of tart and sweet.  This recipes calls for fresh raspberries and as you fold them in do so super gently so they remain intact.  That way you get a burst of fresh raspberry in almost every bite!  Did I mention that I am a berry lover?
Raspberry Lemon Bread with Lemon Cream Cheese Frosting
Raspberry Lemon Bread
1 1/2 cup fresh raspberries
1 1/2 cups all purpose flour
1/2 teaspoon baking soda
1/2 teaspoon baking powder
1/4 teaspoon salt
3/4 cup sugar
2 large eggs
1/2 cup vegetable oil
1 teaspoon vanilla
2 tablespoons fresh lemon juice
1 tablespoon lemon zest
Lemon Cream Cheese Frosting
4 ounces (1/2 box) cream cheese softened
2 tablespoons butter softened
1 cup powdered sugar
2 tablespoons lemon juice
Instructions
Preheat oven to 350 degrees. Spray 9 x 5 inch loaf pan with nonstick baking spray.
In medium bowl mix flour, baking soda, baking powder and salt. Set aside.
In large bowl with an electric mixer on low mix sugar, eggs, vegetable oil, vanilla, lemon juice and lemon zest. Slowly add flour mixture blending just until combined. Gently fold in raspberries, Pour in loaf pan and bake 50-60 minutes or until a toothpick inserted in the center comes out clean. Cool in the pan for 10 minutes before removing to wire rack. Cool completely before frosting.
Using a mixer cream butter and cream cheese until smooth. Slowly add powdered sugar while mixing and scraping the bowl. Add lemon juice and mix until fully incorporated. Spread over cooled loaf.
Notes
Refrigerate any leftovers
Other delicious recipes you will love!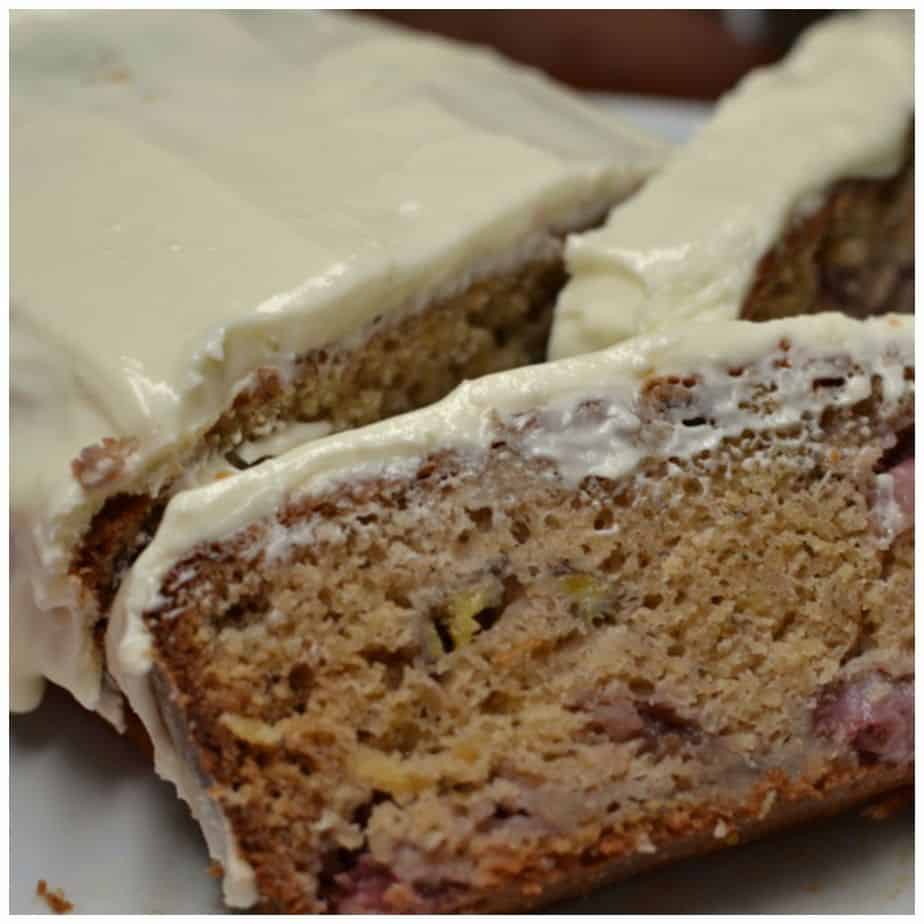 Strawberry Banana Pineapple Bread