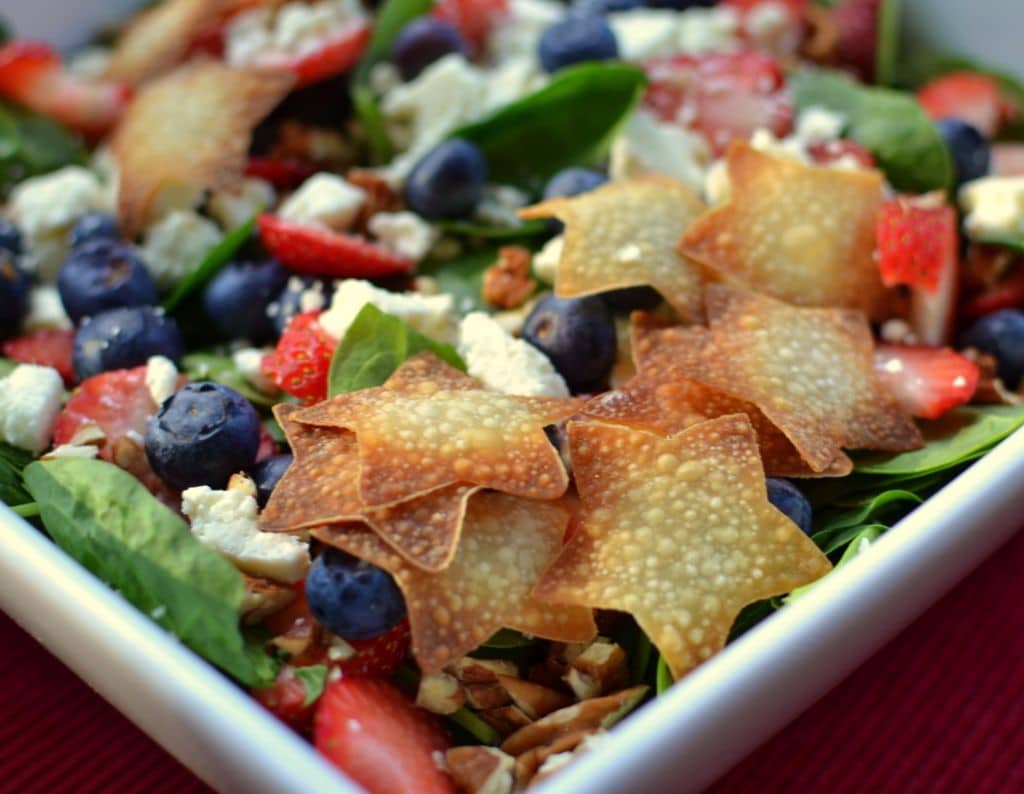 This beautiful Red White & Blue Patriotic Salad is perfect for your upcoming holiday parties!! So simple to make and yet so impressive. You can serve this with the dressing of your choice. A sweet honey poppy seed is delish but so is a balsamic vinaigrette. Leave the salad bare until you are ready to eat so the stars stay crisp and because this Red White & Blue Patriotic Salad is just so pretty!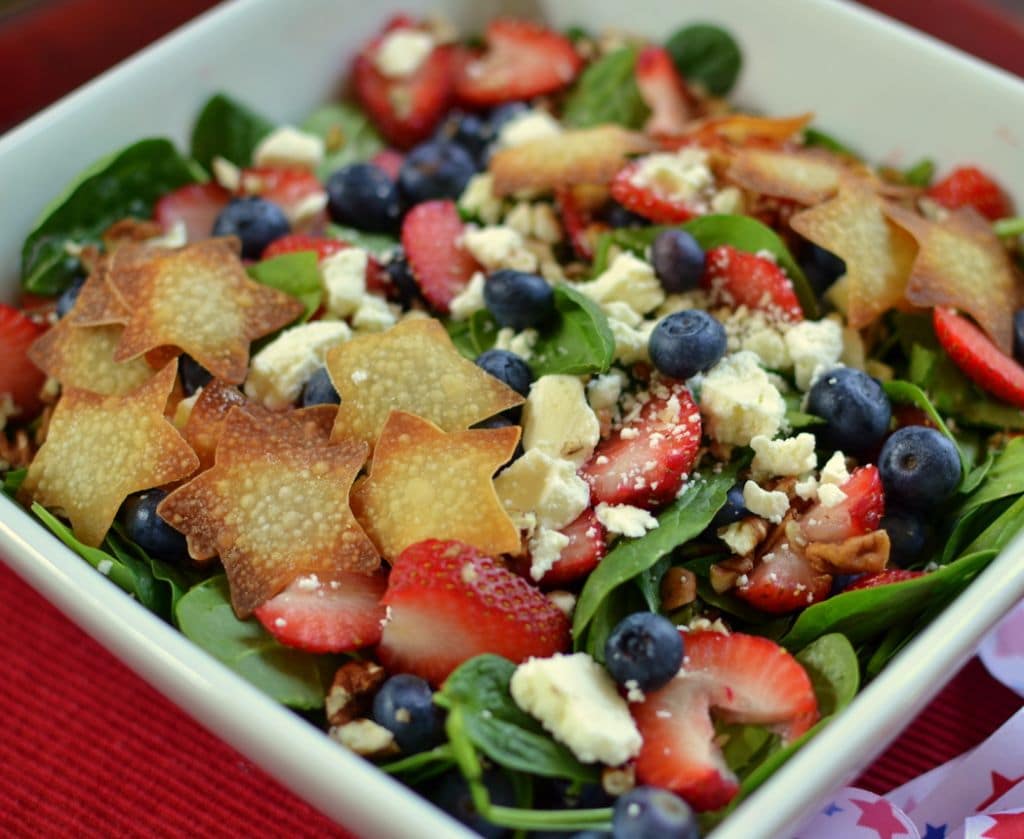 Your family and friends are going to be so impressed with your salad. No worries though about time constraints this is so simple to put together!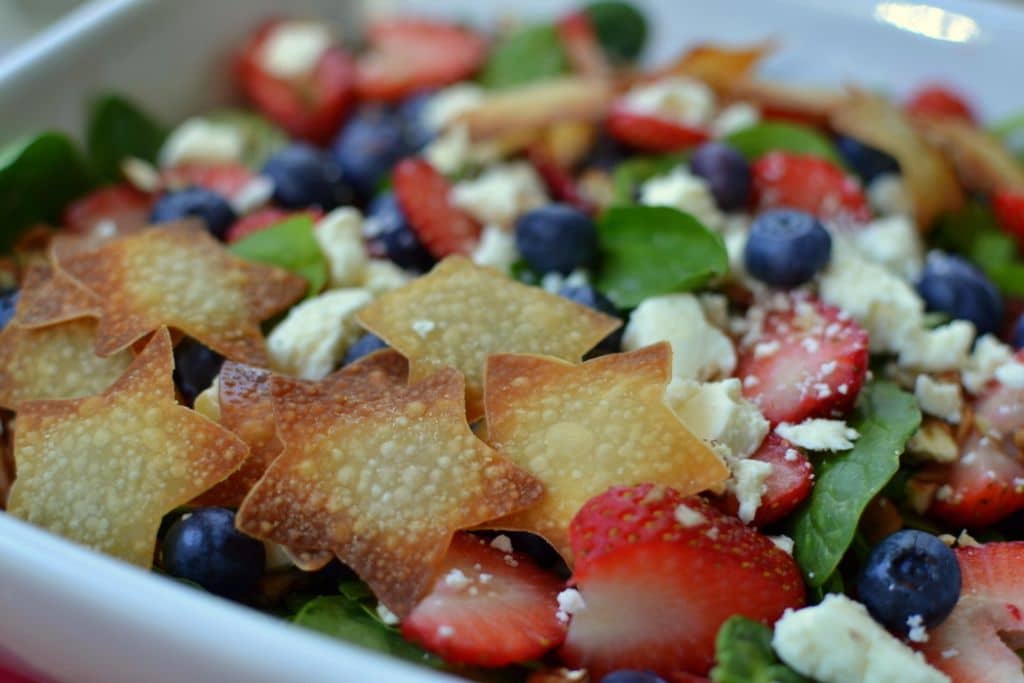 So put this Red White & Blue Salad on the list for all of your Patriotic holidays! You and your loved ones will adore it!
Red White & Blue Patriotic Salad
Scale
Ingredients
1/4 cup cider vinegar
1/4 cup honey
1 tablespoon plus 1 teaspoon Dijon mustard
1/3 cup vegetable oil
1 tablespoon poppy seeds
3 tablespoons mayo
Salt & pepper to taste
6–8 wontons skins
12 cups baby spinach
1 1/2 cups blueberries
1 1/2 cups strawberries
1/2 cup chopped pecans
1/2 cup feta cumbles
Instructions
Preheat oven to 350 degrees.
In medium nonreactive bowl whisk vinegar, honey, Dijon mustard, vegetable oil, poppy seeds and mayo. Add salt & pepper to taste.
Using star cookie cutter and one wonton skin at a time cut as many star shapes as possible. Place on cookie sheet brushed with butter. Brush the tops of the stars with butter. Bake for 5-6 minutes or until lightly browned.
In large bowl add spinach, blueberries strawberries, pecans and feta. Top with baked wontons, Wait until just before serving to toss with poppy seed dressing.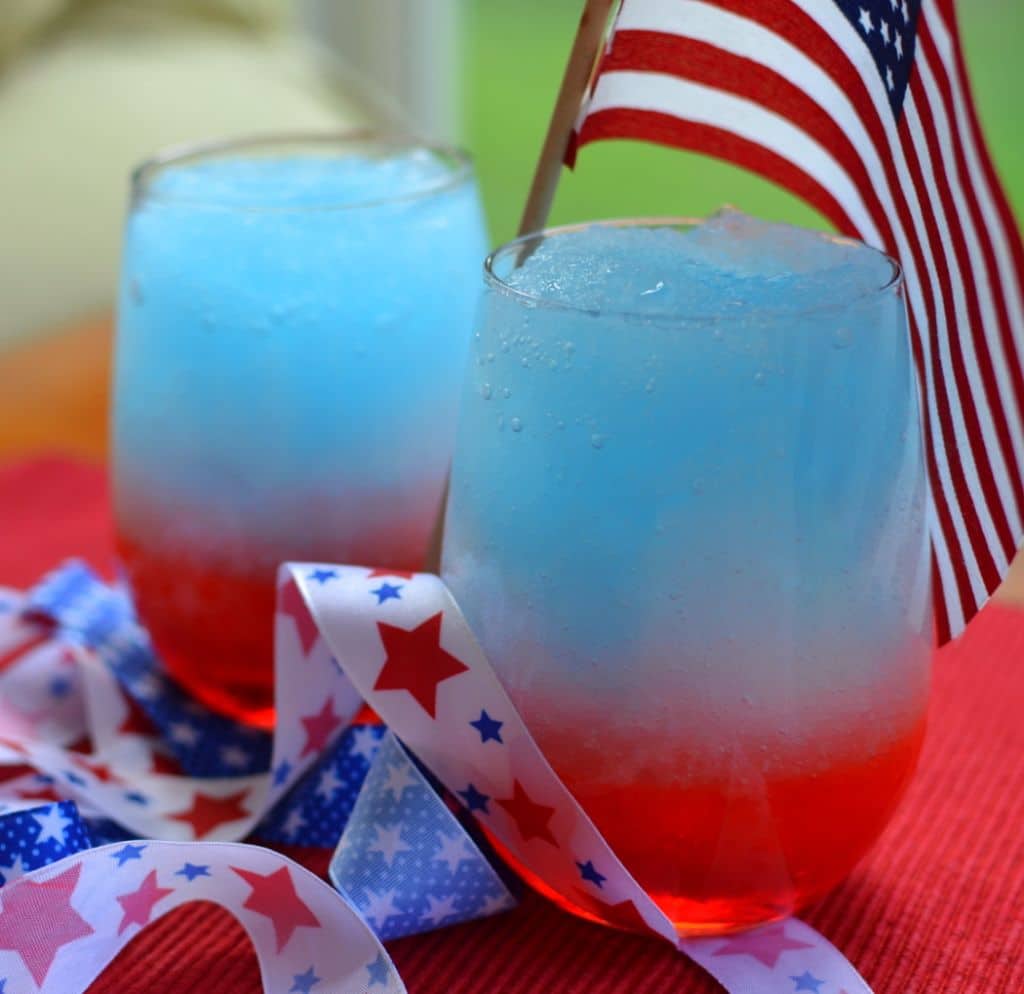 https://www.smalltownwoman.com/wp-content/uploads/2019/05/Beth-1.pdf