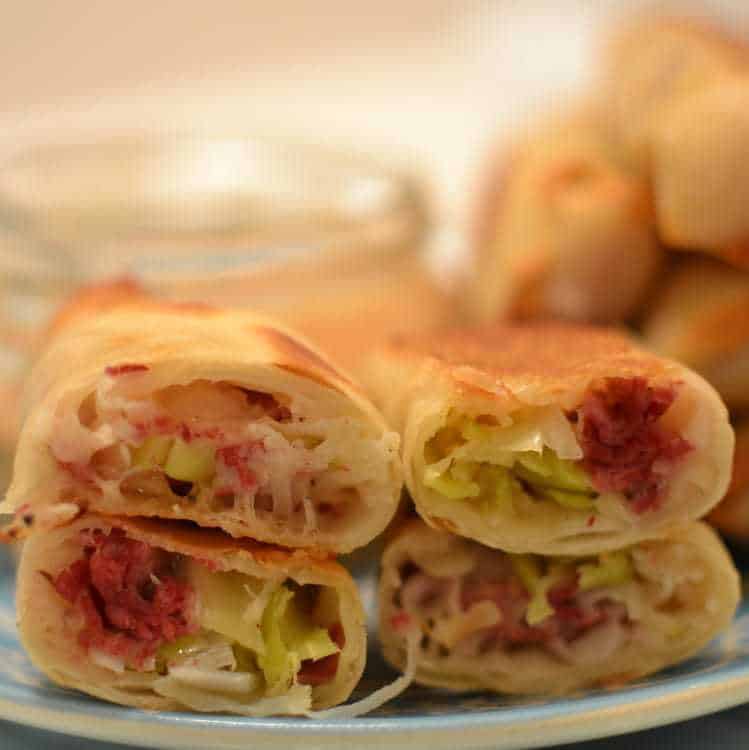 Do you like egg-rolls? Do you like Reuben sandwiches? I knew you would say yes to both of those questions? These egg-rolls are an absolute pinch to mix up and boy are they delicious. So if you have had one of those crazy days were you feel like you just can not get ahead of the eight ball. Relax! Whip these up and pour yourself a cold one!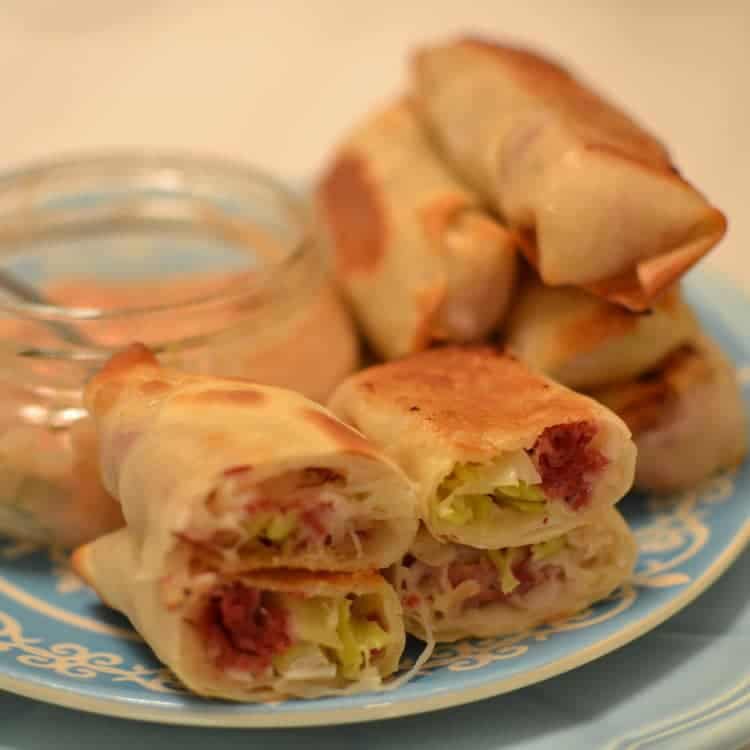 Remember there is nothing like a delicious egg-roll to cure those workday blues. They are easy to eat if you are still working!! Hang in there the weekend will be here before you know it!
Print
Reuben Egg Rolls
Scale
Ingredients
Egg Rolls
12–14 egg roll skins
3/4 cup jarred sauerkraut
1/4 cup diced peperoncinis
1/2 lb good quality deli corned beef sliced into bite size pieces
1 cup grated swiss cheese
Pinch of Pepper
Olive oil
Thousand Island Dressing
1/2 cup mayonnaise
1/4 cup ketchup
2 tablespoons sweet pickle relish
Instructions
Mix sauerkraut, peperoncinis, corned beef, Swiss cheese and pepper in a medium bowl.
Preheat oven to 400 degrees.
Lay out 1 egg roll at a time with point towards you like a diamond. Place 2-3 tablespoons of mixture in the bottom third. Fold point closest to you towards opposite point but bring it in about 1/2 inch from the edge of the bottom layer. Work the skin back tightening up the ingredients in the egg roll. Now fold the sides up sealing with a little bit of water. Place just a tiny but of water on the edge that is still flat on the surface and roll up tight. Place seam side down. Continue until your corned beef mixture is all gone. Coat cookie sheet with olive oil. Brush egg rolls with olive oil and bake for 10-12 minutes or until golden brown.
In separate bowl mix mayonnaise, ketchup and pickle relish. Serve with eggrolls.
Notes
Keep the egg rolls that you are not working with covered with a moist paper towel.
https://www.smalltownwoman.com/wp-content/uploads/2019/05/Beth-1.pdf