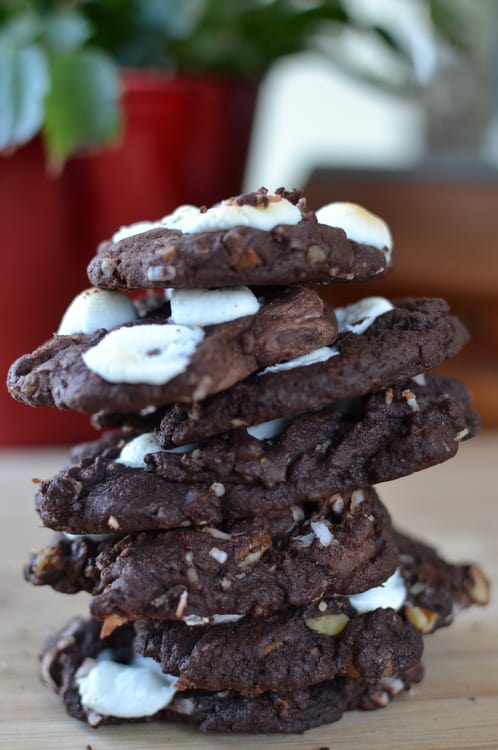 Do you like rocky road ice cream? Well this is the cookie version! Deliciously filled with pecans, walnuts, coconut, chocolate and marshmallows!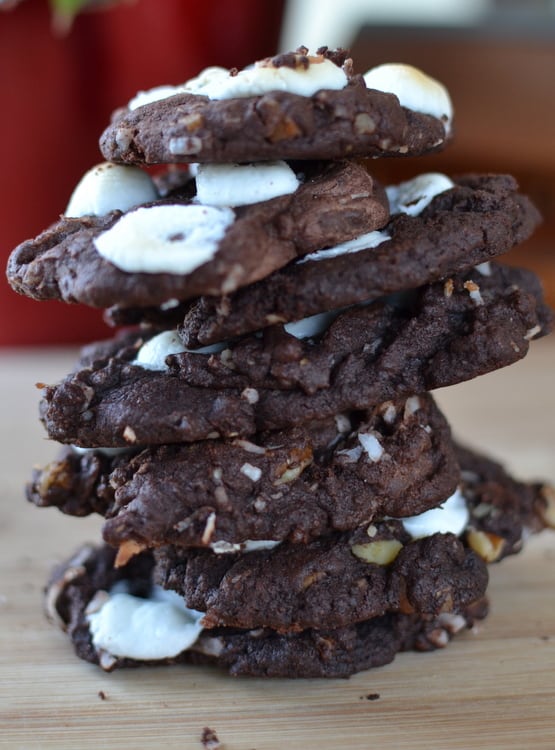 This will certainly satisfy even the most discriminating sweet tooth! The rich chocolate is decadent!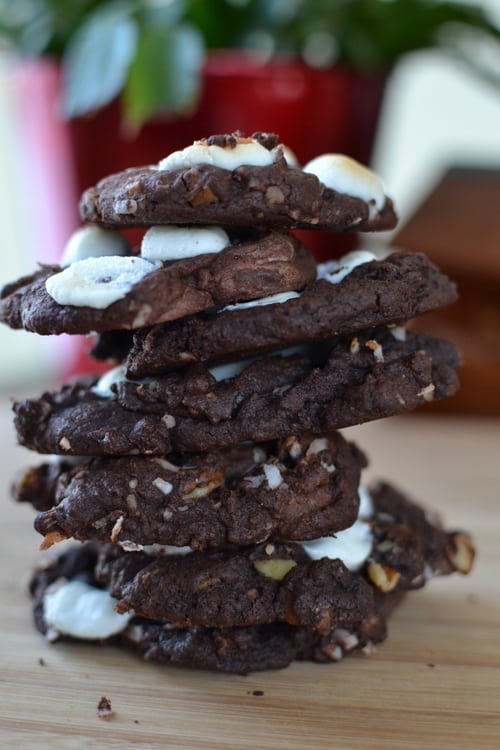 Now these cookies are just a pinch more work than the average Joe cookie because you have to add the marshmallows halfway through cooking but they are worth the effort. Oh did I mention that they are decadent?
Print
Rocky Road Cookies
Scale
Ingredients
1 cup butter softened
3/4 cup sugar
3/4 cup brown sugar
2 eggs
1 teaspoon vanilla
2 cups all purpose flour
1/2 cup cocoa powder
1 teaspoon baking soda
Pinch of salt
2 cups semisweet chocolate chips
1/2 cup chopped walnuts
1/2 cup chopped pecans
1 cup shredded coconut
2 cups mini marshmallows
Instructions
Preheat oven to 350 degrees.
In a large bowl or stand mixer cream butter and sugars. Add eggs one at a time until blended. Add vanilla and mix until light and creamy.
In a seperate bowl combine flour, cocoa, baking soda and salt. Add 1/3 cup of flour mixture to the butter/egg mixture at a time, mixing on low or stirring to combine. Mixture will be very thick.
Stir in chocolate chips, coconut and nuts until combined. Drop by rounded tablespoons onto parchment paper covered baking sheets.
Cook for 5 minutes remove from oven. Gently add 4-5 mini marshmallows to the tops of each cookie. You can press in ever so slightly to get them to stay on top. Return cookies to oven and bake for additional 4 minutes. Remove from oven and cool for 10 minutes before removing from cookie sheets.
Notes
Work in small batches so that you have time to add the marshmallow quickly.
https://www.smalltownwoman.com/wp-content/uploads/2019/05/Beth-1.pdf