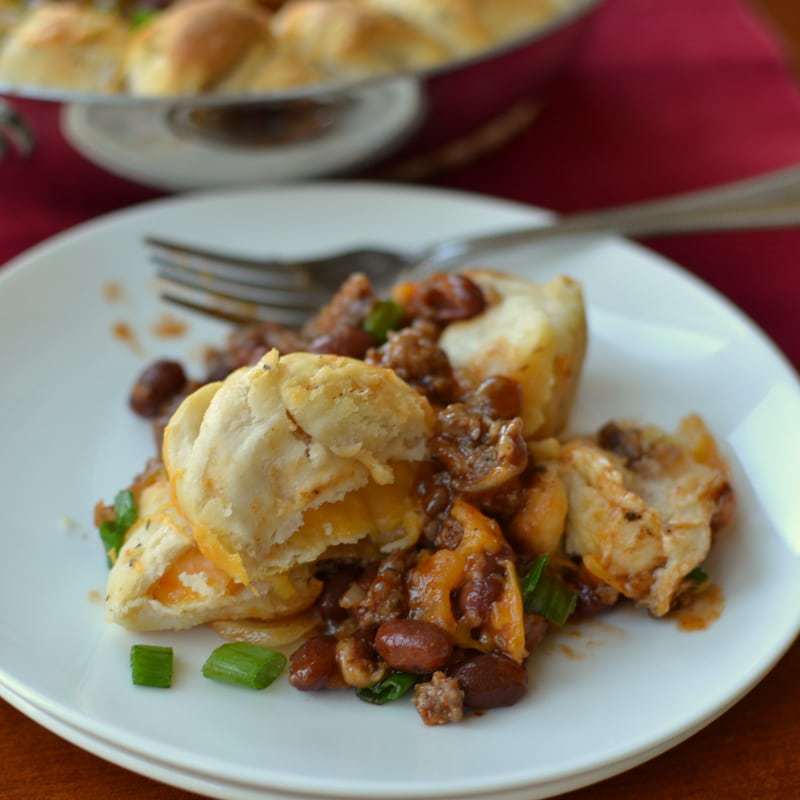 I love the weekends. I get the pleasure of creating new recipes and sharing them with family, neighbors and friends. It is always fun to have lots of taste testers around.
The family agreed just as I did that this Sausage Chili Cheesy Bomb Bake is a real keeper. It is so delicious! My daughter was trying to it eat while I was photographing the dish! It was hard to keep her at bay. You may experience the same difficulty in resisting all attacks until it is cool enough to munch on.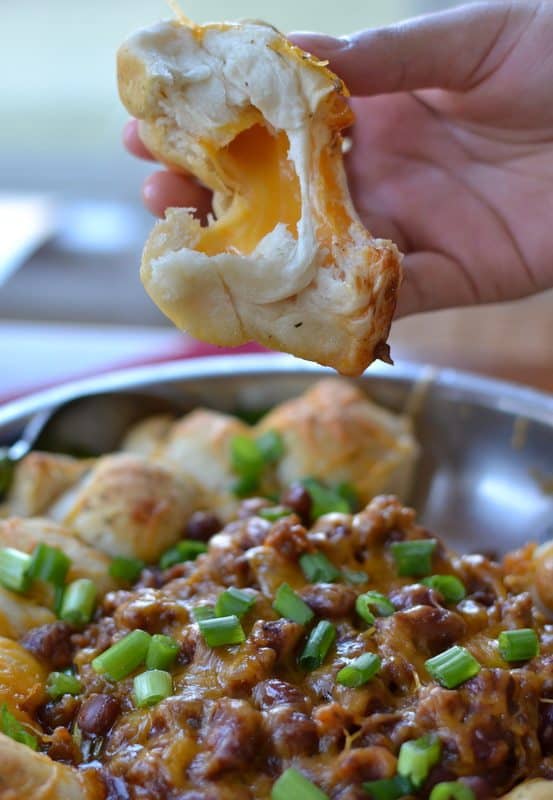 The biscuits are stuffed with cheddar & Monterey Jack cheese. They are placed on the outside ring of a large skillet and brushed with seasoning and butter! They are baked until golden brown and then a delicious easy to make chili is scooped into the middle. The whole bonanza is topped with finely grated cheddar cheese and green onions. You could even top with more goodies if you wanted to be a show off! It would look awesome with grape tomatoes halves and sour cream. I am going to try that next time!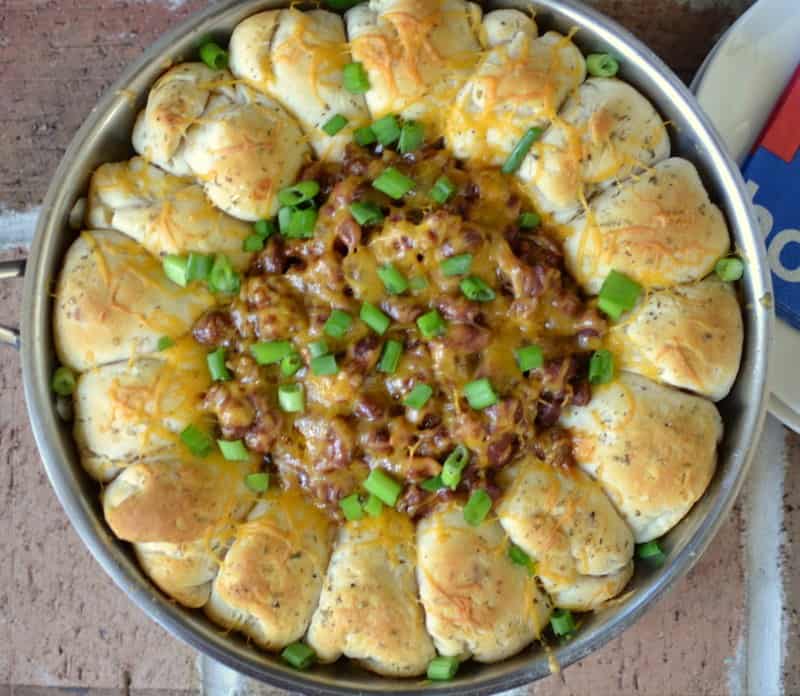 This recipe is quick to come together taking full advantage of refrigerated canned biscuit dough and canned ready chili beans. it makes a perfect lunch, dinner or appetizer. It would perfect for game day and could easily be doubled if you have two large skillets. You could even stagger them so the food is always warm!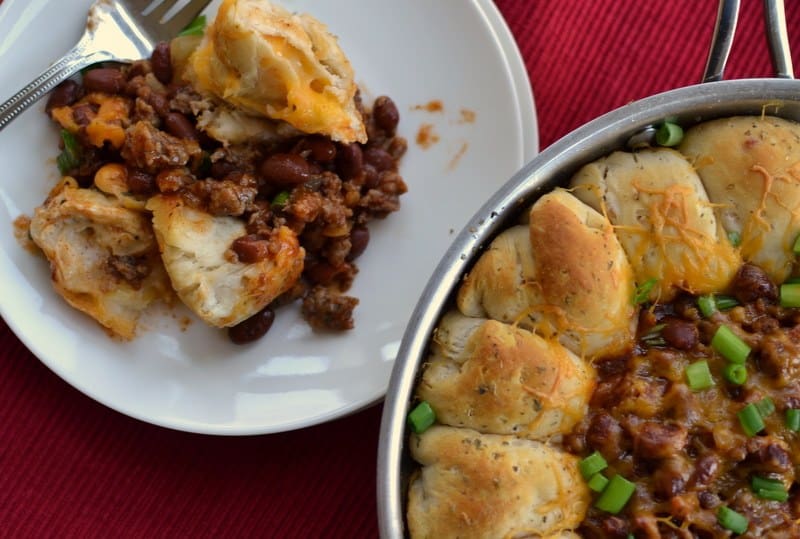 I sure hope you give this Sausage Chili Cheesy Bomb Bake a whirl. I think we are going to do a repeat real soon like maybe tomorrow! I wanted a little more of this but I turned my back and my daughter and husband wiped it out!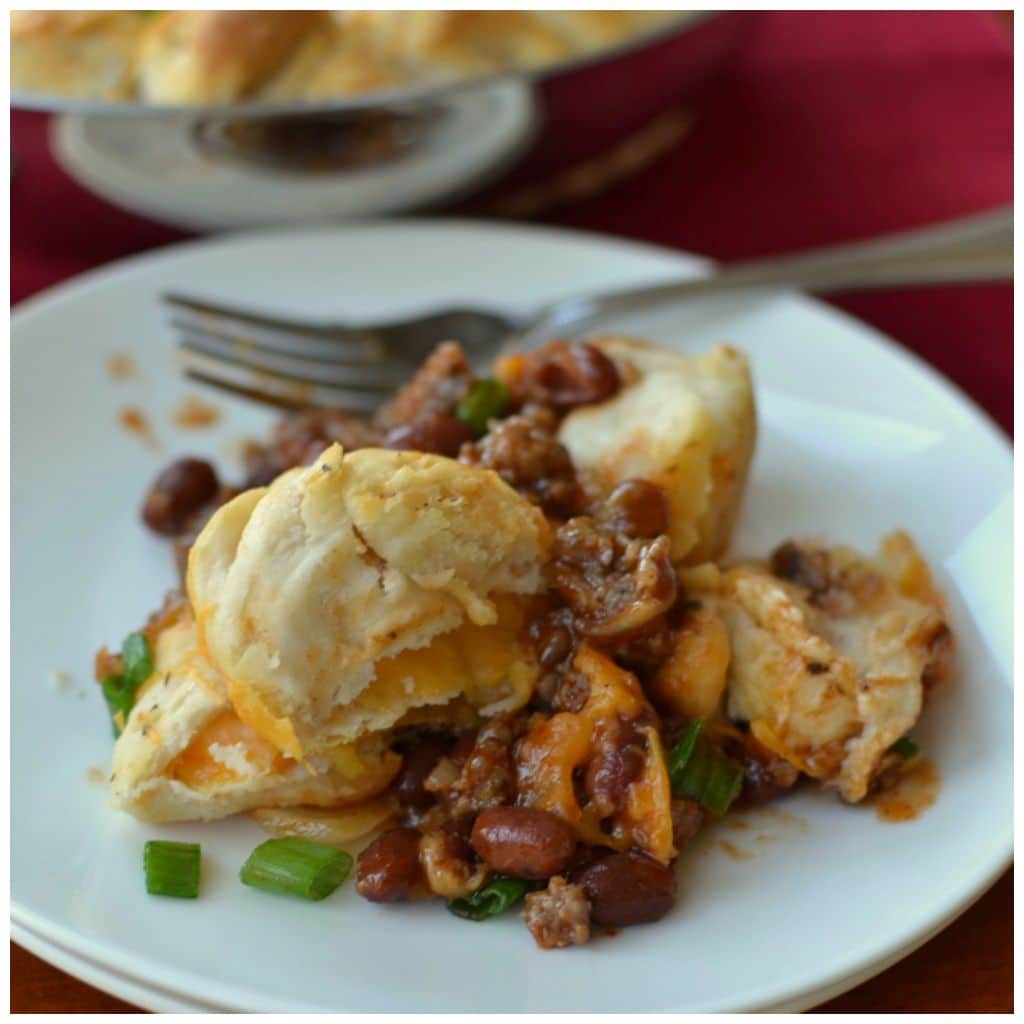 Sausage Chili Cheesy Bomb Bake
Scale
Ingredients
1/2 lb ground pork sausage
1/2 onion finely chopped
1/3 cup ketchup
1 teaspoon sriracha
1/4 teaspoon cumin
1 (16 ounce) can Bush's chili beans (med chili sauce)
1 (8 ounce) Monterey Jack/cheddar block cheese (cut in sixteenths)
1 (16 ounce) can refrigerated jumbo biscuits
1 tablespoon butter
1/4 teaspoon garlic powder
1/4 teaspoon oregano
1 cup shredded cheddar
2 sliced green onions
Instructions
Preheat oven to 400 degrees!
In skillet over medium heat brown sausage. Add onion and cook for 3-4 minutes. Add ketchup, sriracha, cumin and beans (do not drain). Simmer over low heat for 10 minutes.
Spray 12 inch skillet with nonstick baking spray. Split each biscuit in half and roll out each half. A little flour may help keep it from sticking to your work area and the rolling pin. Put one piece of Monterey Jack/cheddar in each biscuit half. Bring up the sides sealing the cheese in there. Using both palms shape into a ball. Place on the outermost part of the skillet to form a ring. Repeat with all the biscuits. In small microwavable bowl melt butter; add garlic powder and oregano. Brush butter mixture over rolls. Bake for 25 minutes.
Remove from oven and spoon chili mixture in the middle. Sprinkle the top with cheddar and bake an additional 10 minutes. Remove from oven and sprinkle with green onions. Serve immediately.
Notes
If biscuits start to brown too much cover loosely with aluminum foil.
More recipes you will love!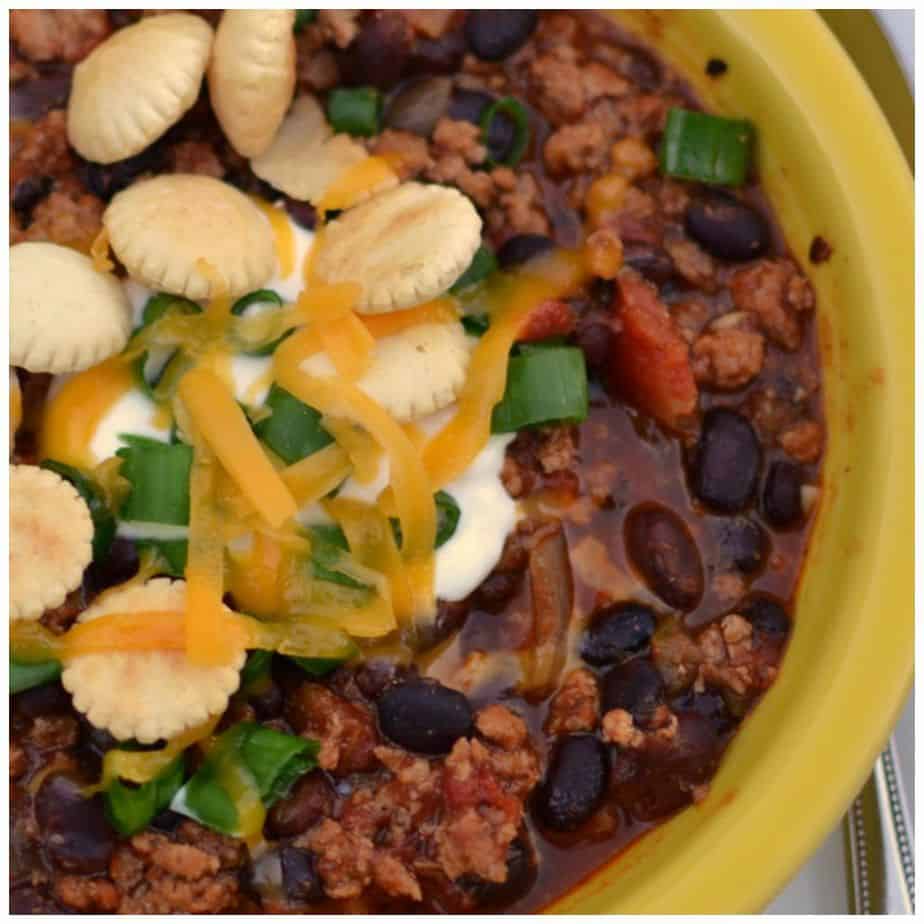 Thick Hearty Crock Pot Black Bean Chili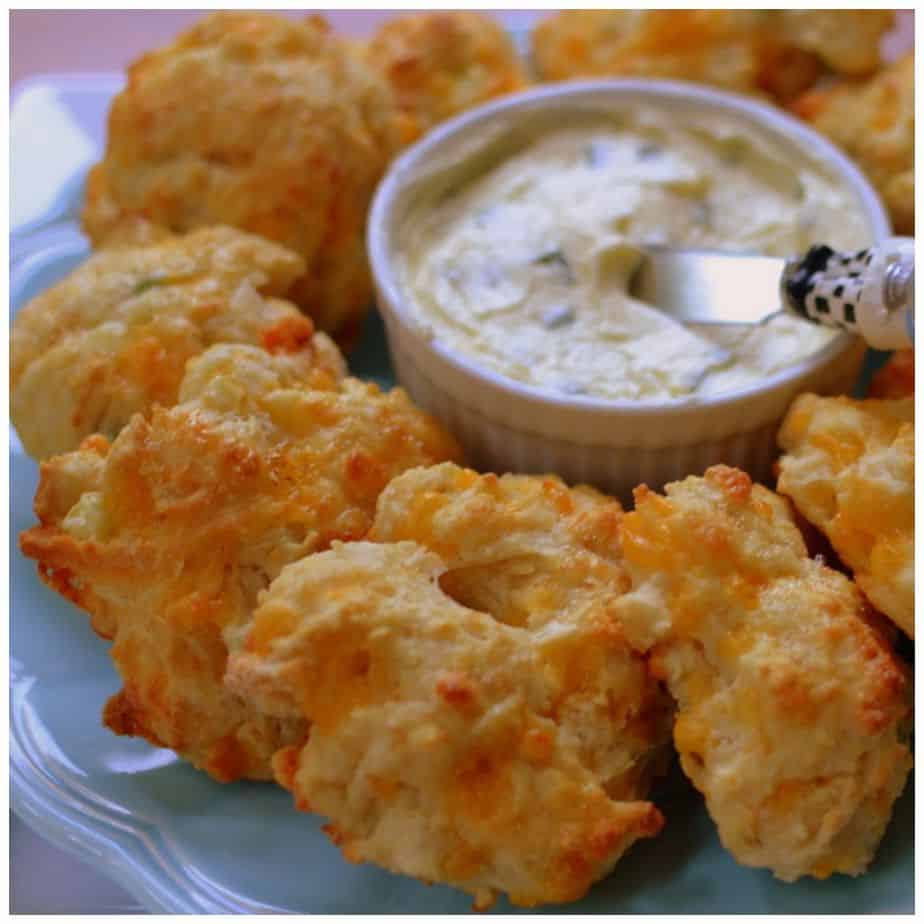 Cheddar Drop Biscuits with Chive Butter
https://www.smalltownwoman.com/wp-content/uploads/2019/05/Beth-1.pdf