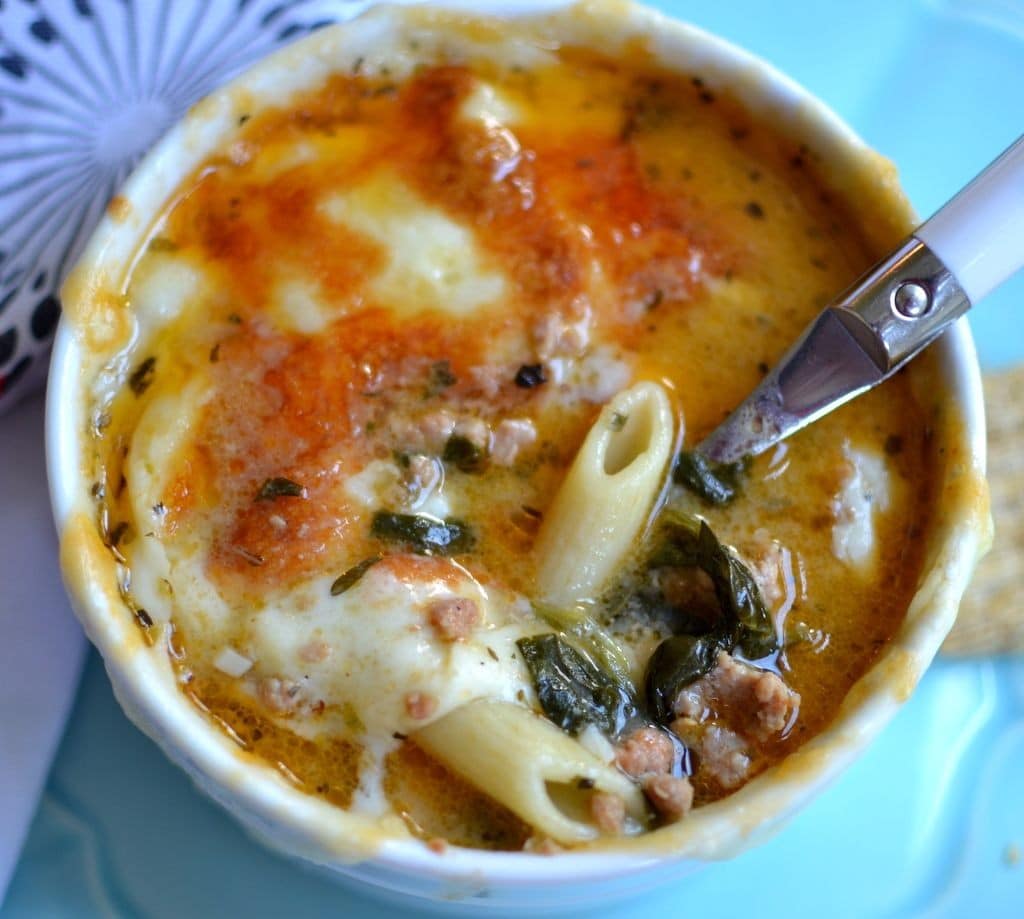 This soup is so delicious you will find yourself trying to get that little tiny bit out at the end of the bowl. You know the tiny bit that you have to tilt the bowl for and then tilt the spoon and you can never get every last drop.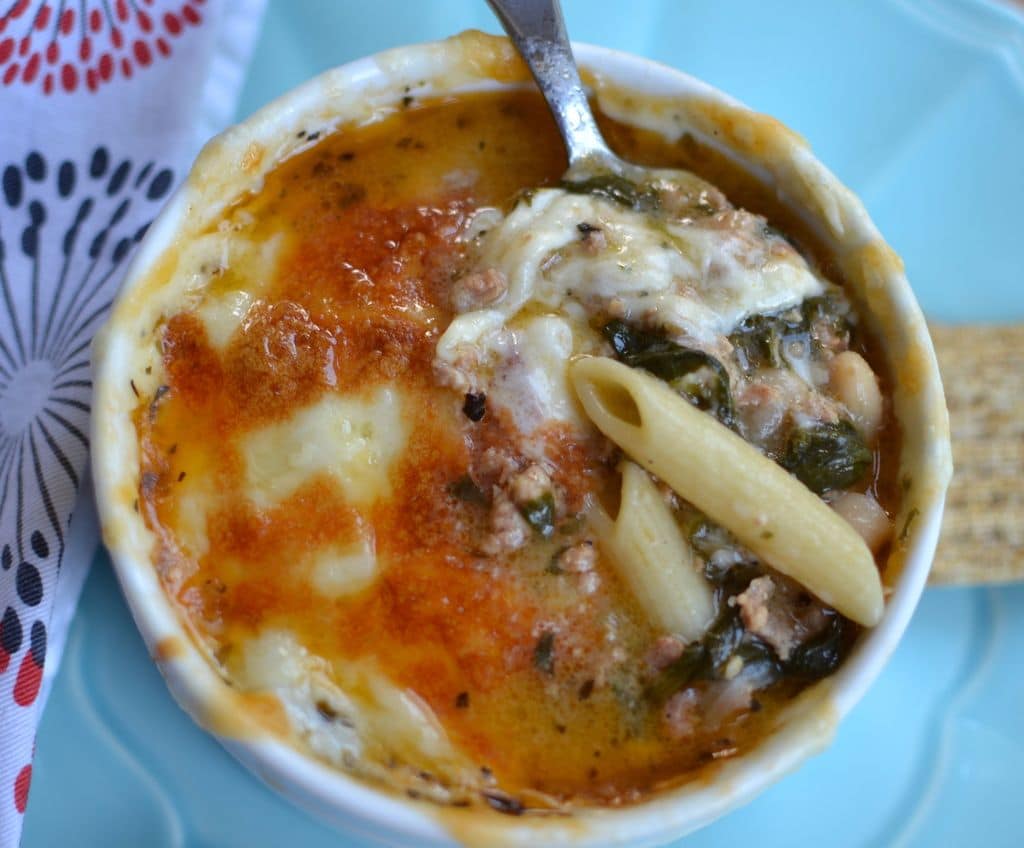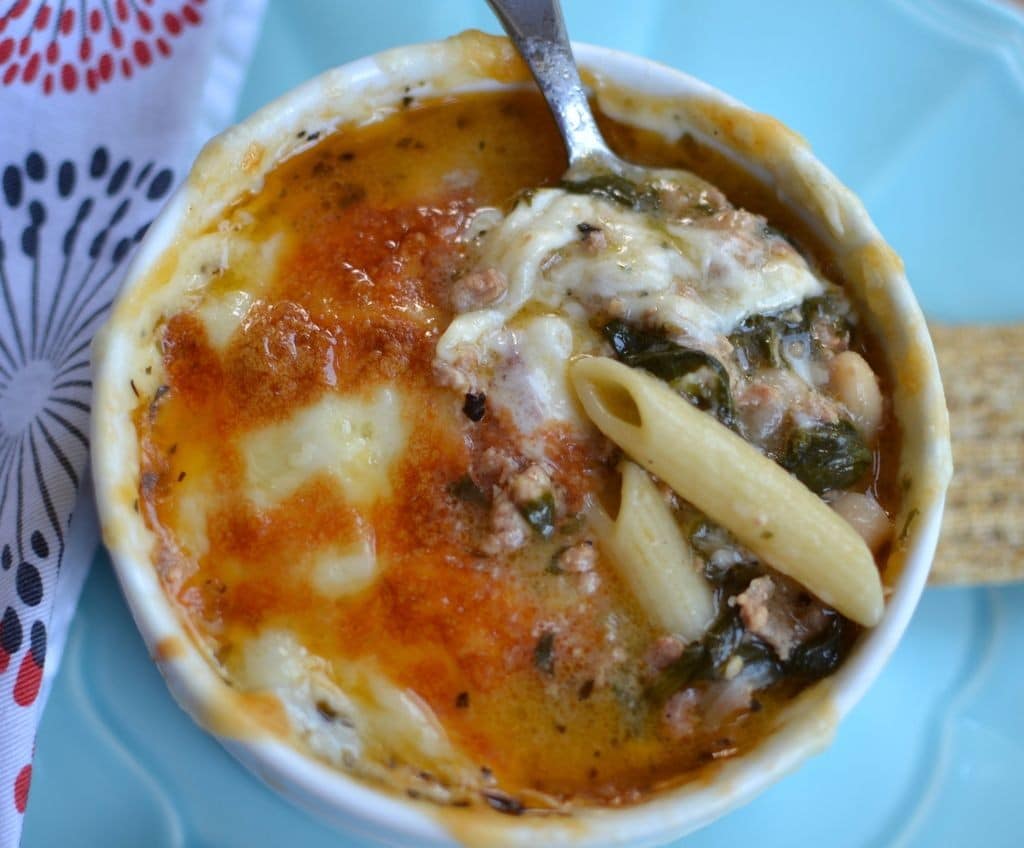 This beautiful bowl of goodness combines Italian sausage, onions, garlic, spinach and penne pasta with a rich broth spiced just perfectly.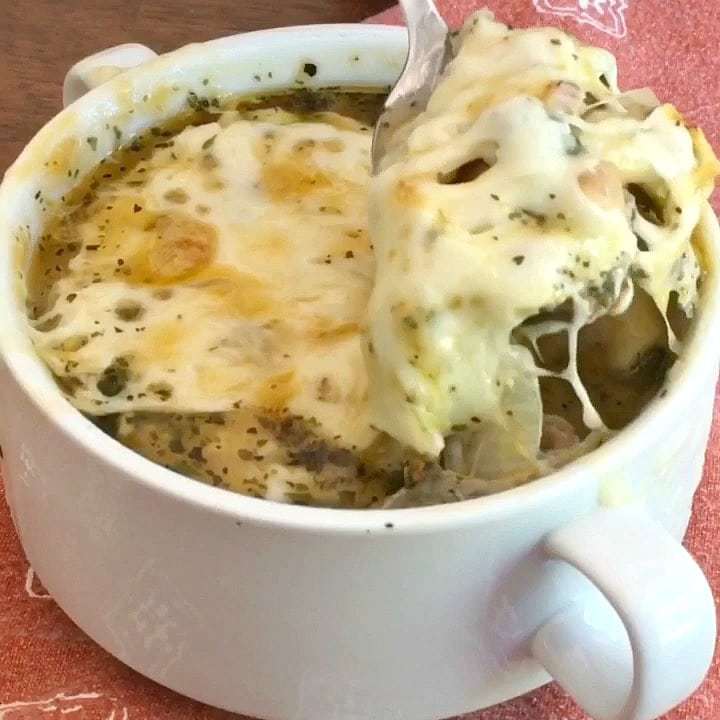 If that doesn't tantalize your taste buds enough than it is topped with Swiss and provel (or mozzarella if you can't get provel) and placed under the broiler until it is all gooey and golden brown.
Print
Sausage & Penne Soup
1 lb Italian sausage
1/2 medium onion chopped
2 large cloves garlic minced
6 cups spinach
6 cups low sodium chicken broth
1 can cannellini beans (15.5 ounce) drained and rinsed
1 teaspoon dried oregano
1 teaspoon dried basil
1 tablespoon dried parsley
1 cup water
1 cup uncooked penne pasta
2 tablespoons butter melted
2 tablespoons flour
4 slices Swiss cheese
1 cup shredded provel
Instructions
Brown sausage in large saucepan. Add onion and cook until soft; approximately 3-4 minutes. Add garlic and cook additional 1 minute. Add spinach and cook until wilted; approximately 3-4 minutes. Drain any excess grease. Add chicken broth and simmer 20-30 minutes.
Add beans, oregano, basil, parsley and water. Bring to a low boil. Add penne pasta and cook for about 15 minutes or until pasta is tender. Turn soup to low.
Preheat oven to 400 degrees.
Combine melted butter with flour creating smooth paste (also known as a roux). Add slowly to the soup and stir. Continue cooking on low until slightly thickened.
Divide soup between 4 ovenproof bowls. Top with slice of Swiss cheese and 1/4 cup provel. Bake on cookie sheet for 5-7 minutes or until cheese is melted. Turn oven to broil and cook for an additional 1-2 minutes or until lightly browned.
Notes
I have modified this recipe to make it more friendly.
I removed the whiskey.
I increased the beans to a full can.
I replaced the provel with mozzarella since it is so hard to find.
https://www.smalltownwoman.com/wp-content/uploads/2019/05/Beth-1.pdf