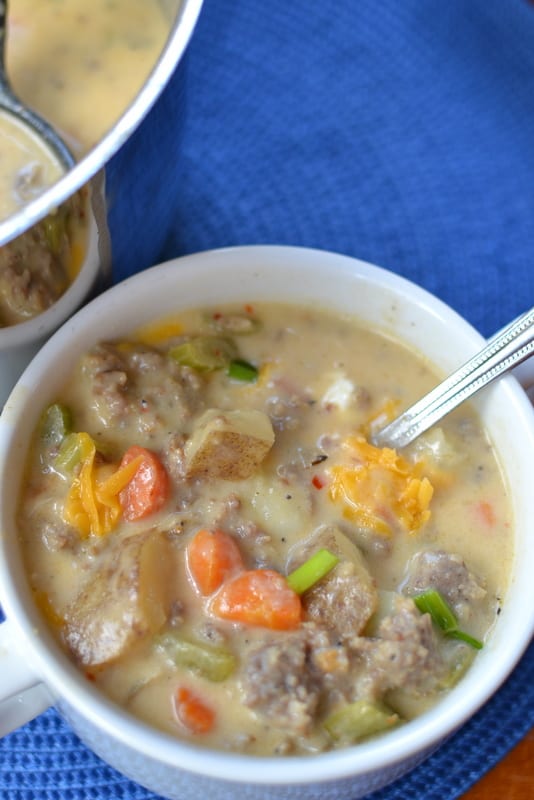 This is the time of year for all things soup! Of course I am a huge year round soup lover but this time of year I am particularly fond of it!! This amazingly easy Sausage Potato Cheddar Soup is a tried and true family favorite. It is so good that you will be tilting that bowl to get the last drop onto that spoon. Or if you are like my husband you will just lift it up to your face and slurp it right out of there.
This lip smacking Sausage Potato Cheddar Soup is a combination of lean pork sausage, chunks of russet potatoes, onion, carrots and celery in a creamy cheddar broth. For added deliciousness top with a dollop of sour cream, shredded sharp cheddar and chopped green onions. This pot of heavenly goodness comes together in about forty-five minutes which includes some simmer time.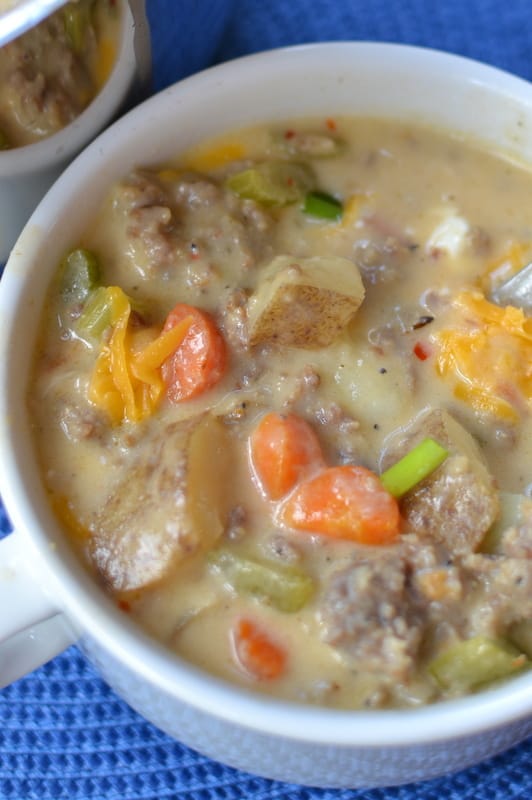 Have you tried any of my other delicious soups! 30 Minute Stuffed Pepper Soup, Creamy Alfredo Lasagna Soup and Savory Cabbage Roll Soup are just a few of our favorites. In my opinion you can never have too many great soup recipes.
"Worries go down better with soup than without." Jewish Proverb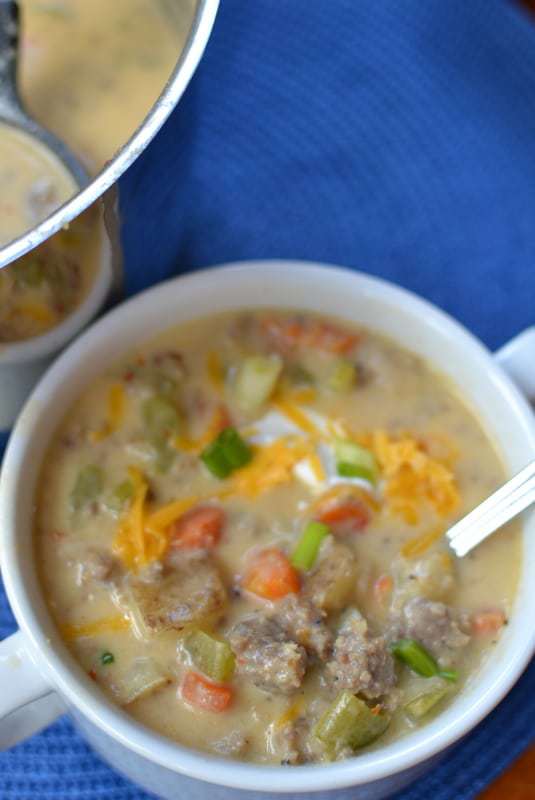 So put the ingredients on your grocery list and fix you and your loved ones an amazing pot of soup. It will make you and your family feel all warm and cozy.
"Soup is a lot like a family. Each ingredient enhances the others; each batch has its own characteristics; and it needs time to simmer to reach full flavor. " Marge Kennedy
You can check out all kinds of fun soup quotes at BrainyQuote!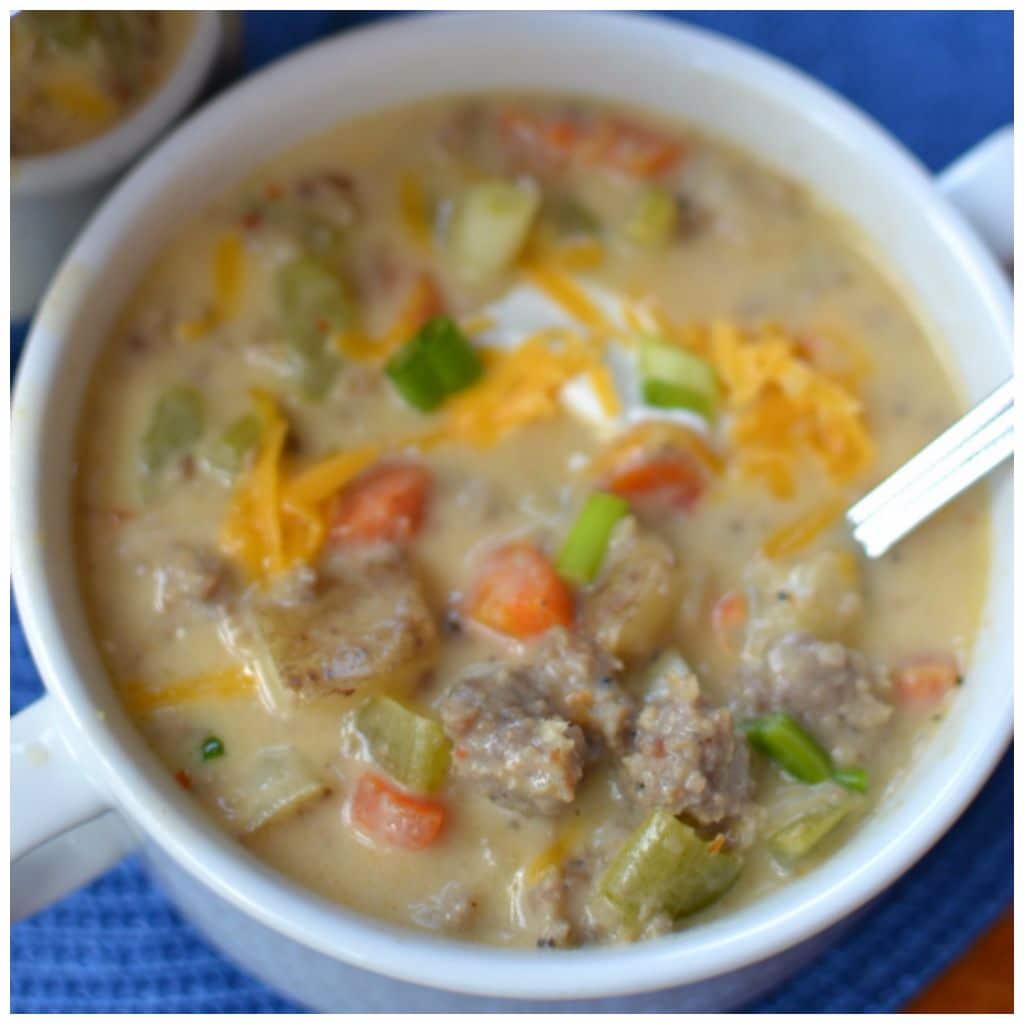 Sausage Potato Cheddar Soup
Ingredients
1 lb lean ground sausage
2 russet potatoes cut in small cubes
1 small onion chopped
2 stalks celery chopped
2 large carrots chopped
1/2 teaspoon garlic powder
1/2 teaspoon onions powder
1/4 -1/2 teaspoon crushed red pepper (to taste)
1/4 teaspoon cayenne pepper
1/4 cup flour
4 cups chicken broth
1 cup whole milk
2 cups finely shredded cheddar cheese (NOT lowfat)
Salt & pepper to taste

Toppings

Sour cream
Shredded cheddar
Chopped green onions
Instructions
In large stock pot over medium low heat brown sausage. When sausage is close to being browned add potatoes, onions, celery, carrots, garlic powder, onion powder, crushed red pepper and cayenne pepper. Continue cooking stirring frequently to make sure nothing burns to the bottom; approximately 12-15 minutes. Or until the potatoes and carrots begin to soften.
Sprinkle flour over the meat and vegetables and stir to coat. Continue cooking for 2 minutes; stirring constantly. Slowly stir in 2 cups of chicken broth, then 1/2 cup of milk. Stir in the rest of the chicken broth and the remaining milk. Simmer for 15-20 minutes. Slowly add 2 cups shredded cheddar in small increments stirring to melt between increments. Salt & pepper to taste. If desired top with a dollop of sour cream, a sprinkle of shredded cheddar and chopped green onions.
https://www.smalltownwoman.com/sausage-potato-cheddar-soup/
More soup recipes you will love!!