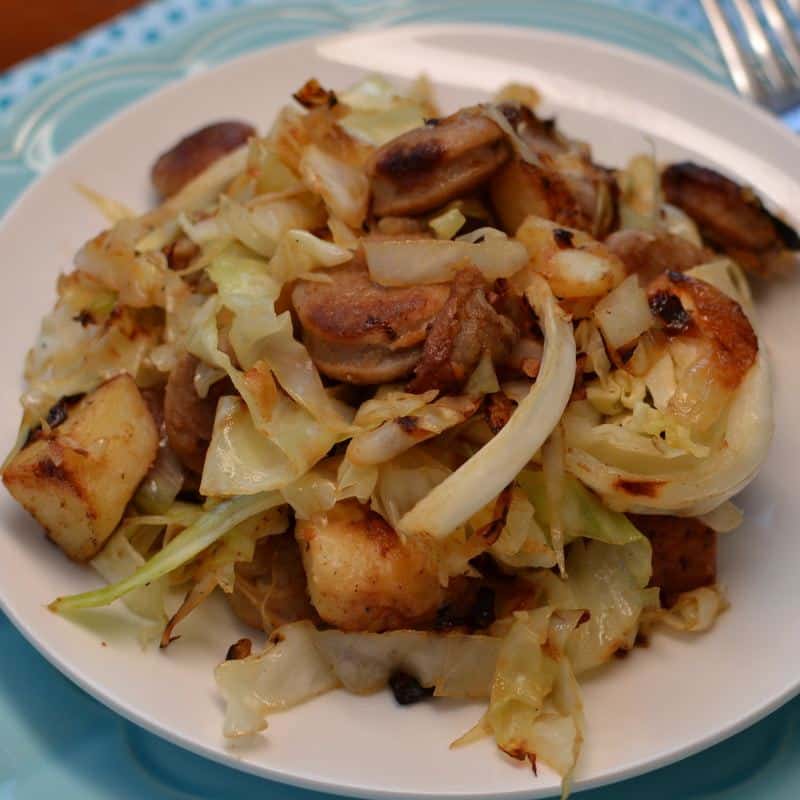 Have you ever tried bangers? So you say what is a banger.  It is a traditional Irish sausage that combines pork, spices and cracker crumbs.  They have a mild peppery flavor and you can serve them with eggs, in a potato casserole or your favorite skillet recipe like Savory Bangers Cabbage Skillet.  After all St. Patricks Day is right around the corner and what better way to celebrate than to cook a skillet full of bangers, potatoes, onions and cabbage that have been perfectly seasoned.
For over a millennium, the Irish have celebrated St. Patricks Day on March 17th.  In Ireland it is a national holiday celebrating the life of St. Patrick, one of Ireland's patron saints, who ministered Christianity in Ireland during the fifth century. The most common St Patrick's Day symbol is the shamrock. The shamrock is the leaf of the clover plant and a symbol of the Holy Trinity. Many people choose to wear the color green and the flag of the Republic of Ireland is often seen in St Patrick's Day parades around the world.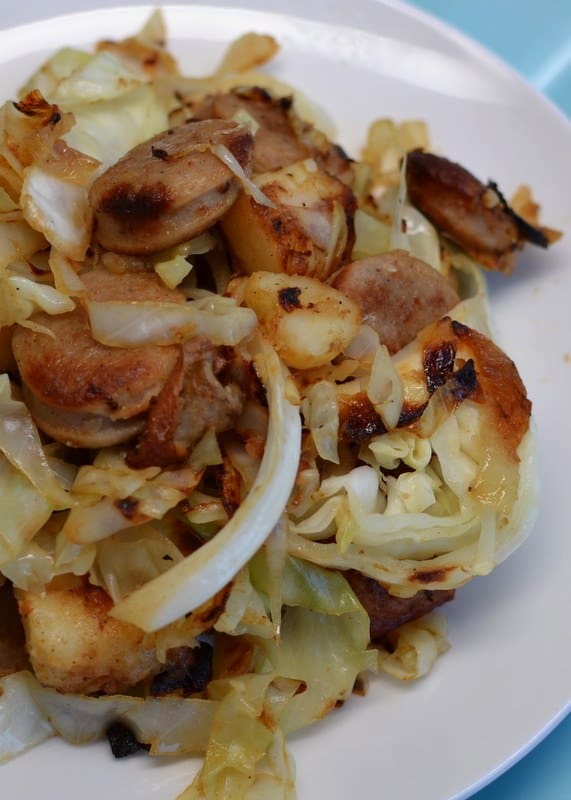 The whole family loves this easy Savory Bangers Cabbage Skillet. How can you argue with fresh irish sausage, crispy potato cubes, sweet onions, garlic and lightly browned cabbage?  It is prepared in one large skillet and it takes less than 30 minutes to prepare.  The smells from the kitchen will bring the family a calling.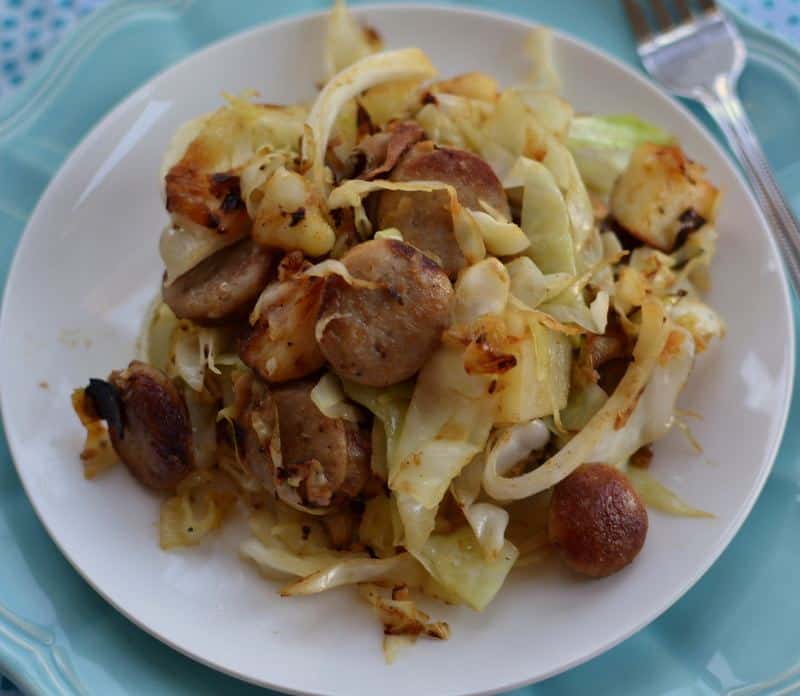 Hubby loves it with sweet mustard but I enjoy it just the way it is …right out of the skillet. This delight is delicious, quick to put together and consistent every time.  I hope you love this Savory Bangers Cabbage Skillet as much as we do.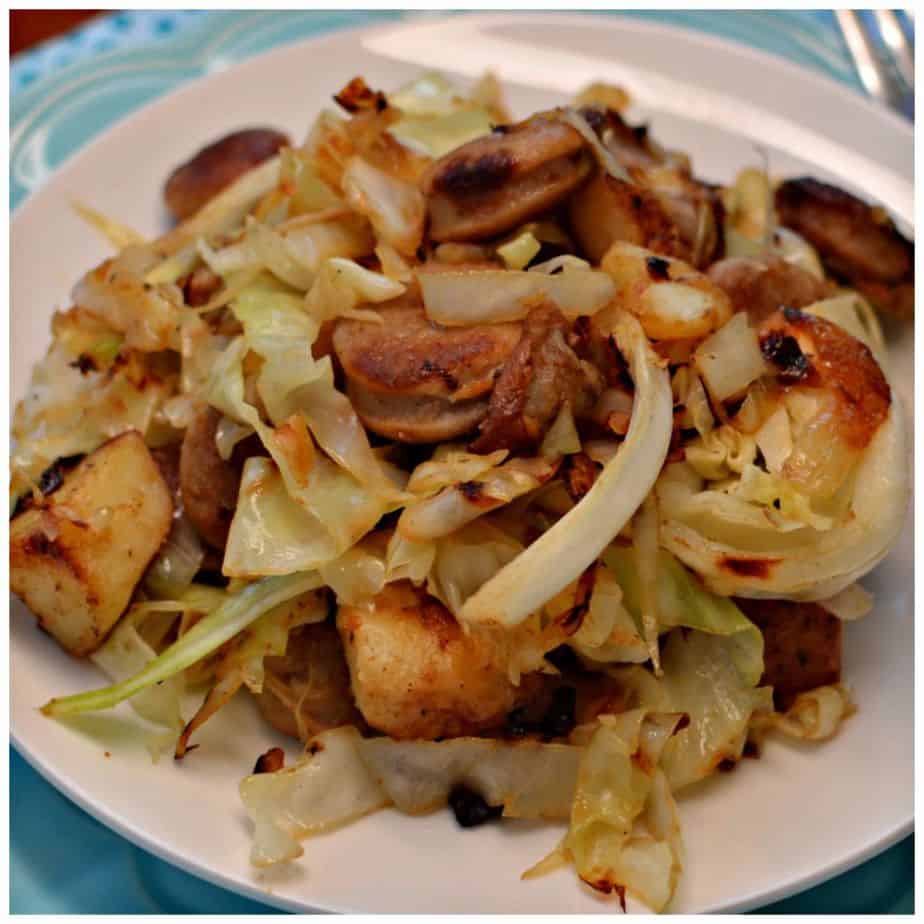 Print
Savory Bangers Cabbage Skillet
Scale
Ingredients
1.5 lbs small red potatoes
2 tablespoons olive oil
1 large onion diced
1 lb Irish style banger sliced
Salt & pepper to taste
1 teaspoon onion powder
3 large cloves garlic minced
1/2 large cabbage shredded
Instructions
Place potatoes in large pot of cool water. Bring to low boil and cook until just barely fork tender; about 10 minutes. Remove from heat and place under cold running water to stop the cooking process. When cool cut in large cubes.
Heat 1 tablespoon olive oil in large skillet.over medium heat. Add onions and bangers; cook for 2-3 minutes stirring several times. Add another tablespoon of olive oil to skillet. Add potatoes and cook another 5-7 minutes or until the sausage and the potatoes are golden brown; stirring several times. Add salt, pepper, onion powder and garlic. Add cabbage and cook uncovered for 10 minutes or until cabbage is lightly browned and slightly softened.
Other cabbage recipes you will love!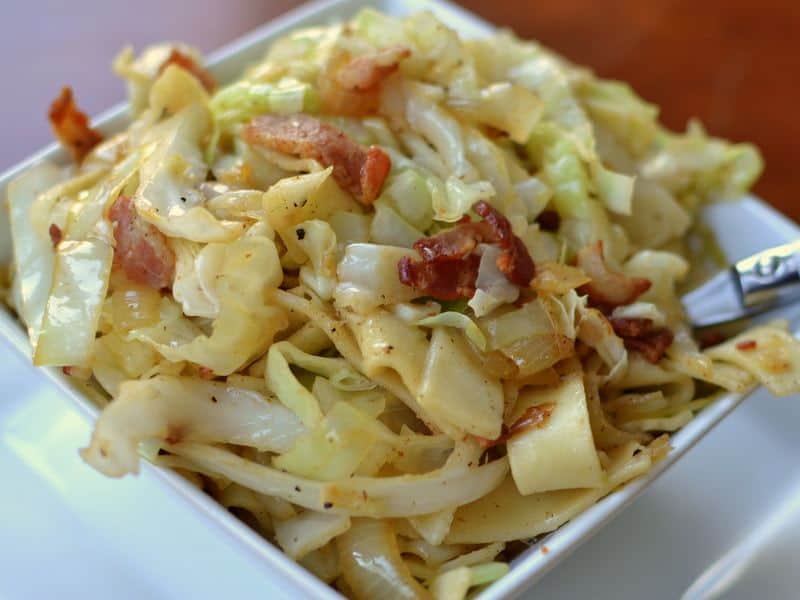 Savory Bacon Cabbage and Noodles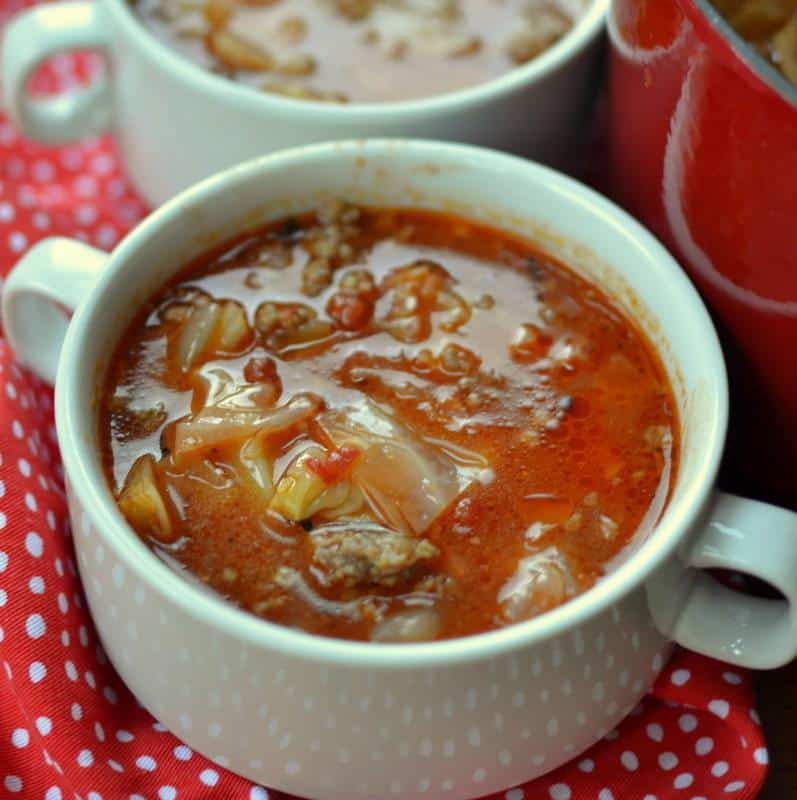 https://www.smalltownwoman.com/wp-content/uploads/2019/05/Beth-1.pdf
Reader Interactions