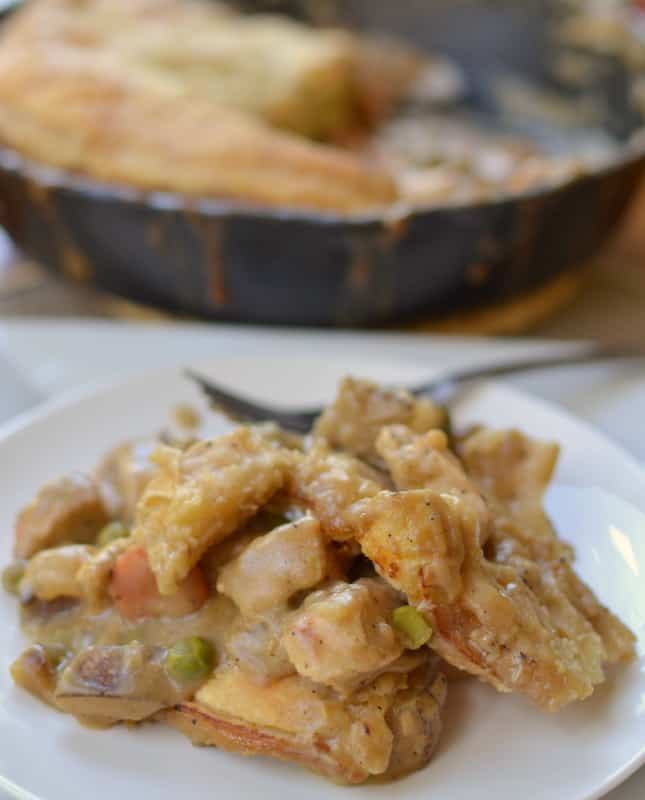 This is the time of year for all things warm and comfortable.  This my friends is especially true when it comes to recipes.  I mean honestly who doesn't love soups, stews, casseroles and mac n cheese.  Perfect time of year for Chicken Green Bean Stuffing Casserole, Barbecue Pork Topped Gouda Mac N Cheese and Crock Pot Chuck Roast and Vegetables.  Those are just a few of my favorites but feel free to go to the search bar at the top of my page and put in comfort food.
This Skillet Puff Pastry Chicken Pot Pie is a new family favorite.  It can be made in your cast iron skillet or other large deep oven proof skillet.  It comes together real fast and is topped with puff pastry making it even more convenient and quick.  This is a busy time of year and I am sure that you could use another easy one skillet recipe that comes together easily.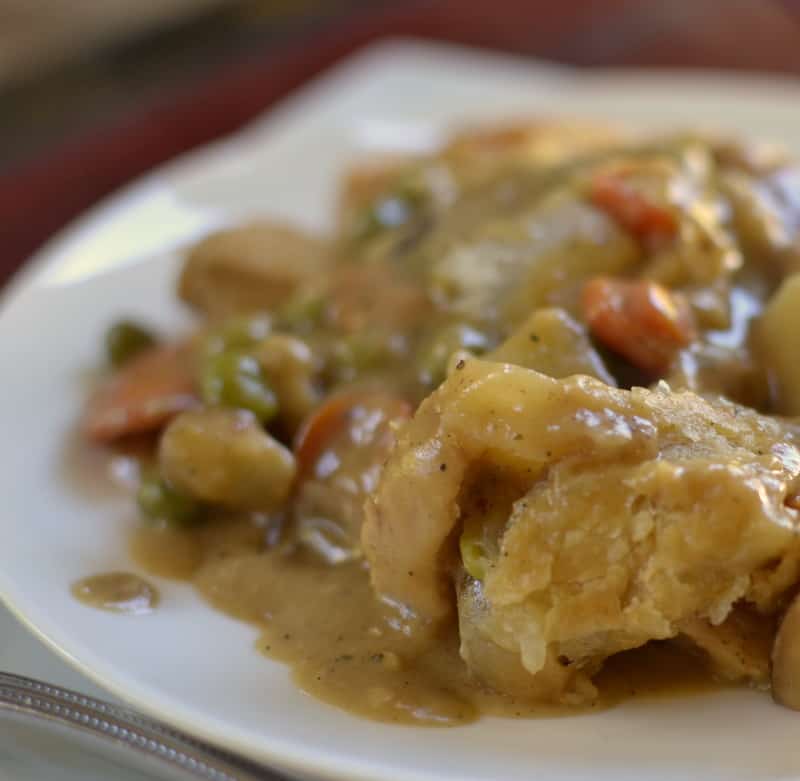 Skillet Puff Pastry Chicken Pot Pie combines chicken breast carrots, onions, baby peas and potatoes into a rich creamy gravy.  It is then topped with a flaky light pastry containing several layers of butter.  Do I have your attention now?  To make it easier I don't peel the potatoes or the carrots. You can get this ready for the stove in about 30 minutes.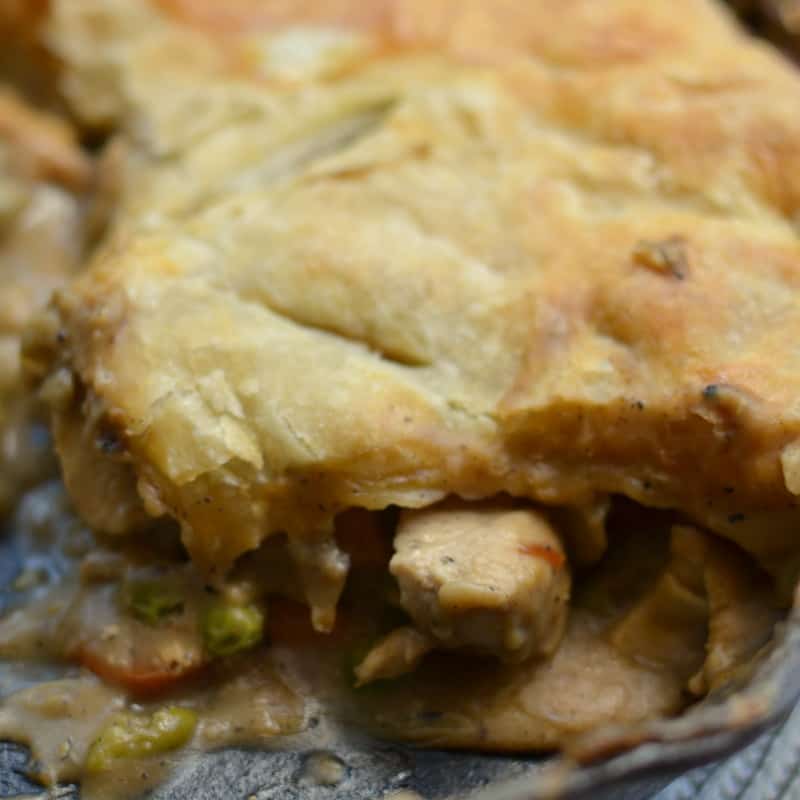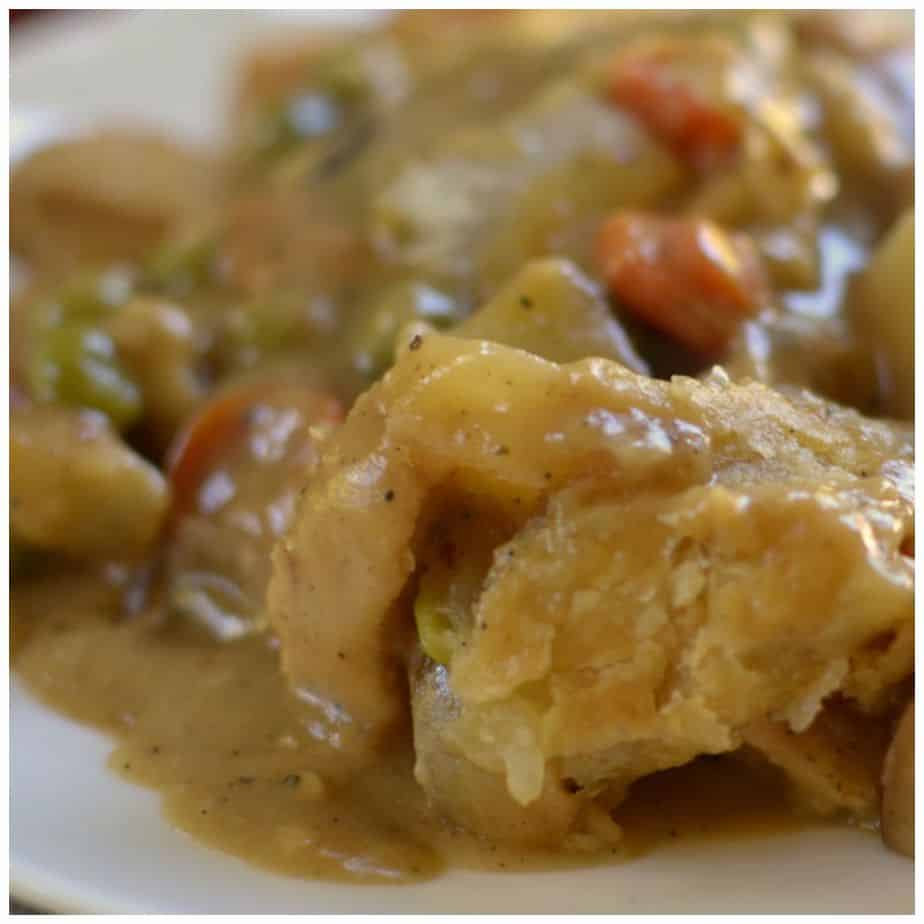 Print
Skillet Puff Pastry Chicken Pot Pie
This recipe was modified from the original recipe. The original recipe contained 3/4 teaspoon poultry seasoning. We felt that was a little too much and 1/2 teaspoon served the recipe better.
Scale
Ingredients
3 tablespoons butter
1 tablespoon olive oil
1 1/4 lbs chicken breast tenderloins
1 small onion chopped
2 large carrots cut in thin rounds
1 large russet potato cut in small cubes
2 cloves garlic minced
1/3 cup flour
1/2 teaspoon poultry seasoning
2 1/4 cups low sodium chicken broth
3/4 cup heavy cream
1 cup frozen baby peas
Salt & pepper to taste.
1 sheet puff pastry (thawed; follow directions carefully on box to thaw)
1 egg white
Instructions
Preheat oven to 400 degrees.
In cast iron skillet or large deep round skillet over medium low heat add one tablespoon of butter and one tablespoon of olive oil. Sprinkle chicken lightly with poultry seasoning; just a couple of pinches. Brown chicken on both sides. Set aside.
Melt remaining butter in skillet. Add onions, carrots and potatoes. Cook for approximately 8-10 minutes or until onions and potatoes are just starting to brown on the edges, Add garlic and cook for additional minute. Turn heat to low and sprinkle flour and remaining poultry seasoning over vegetables; continue cooking for 90 seconds stirring continuously. Add chicken broth and stir; cooking for 1-2 minutes. Add cream and baby peas stirring gently to combine. Slice cooked chicken into bite size pieces and return to skillet. Salt & pepper to taste.
If necessary roll out the puff pastry sheet to cover the skillet. Roll out on flour covered surface. Cover skillet and tuck in any overhanging puff pastry. Cut slits in top crust to help with venting. Beat egg white in small bowl. Lightly brush over the top of the puff pastry using pastry brush. You will not need all of the egg white.
Bake 45-50 minutes or until golden brown. Place piece of aluminum foil in rack under skillet for drips.
Notes
This recipe is best served right away. It does not do well being prepared ahead of time.
After much family debate I am reducing the amount of poultry seasoning in this recipe to 1/2 teaspoon.
Other recipes you will love!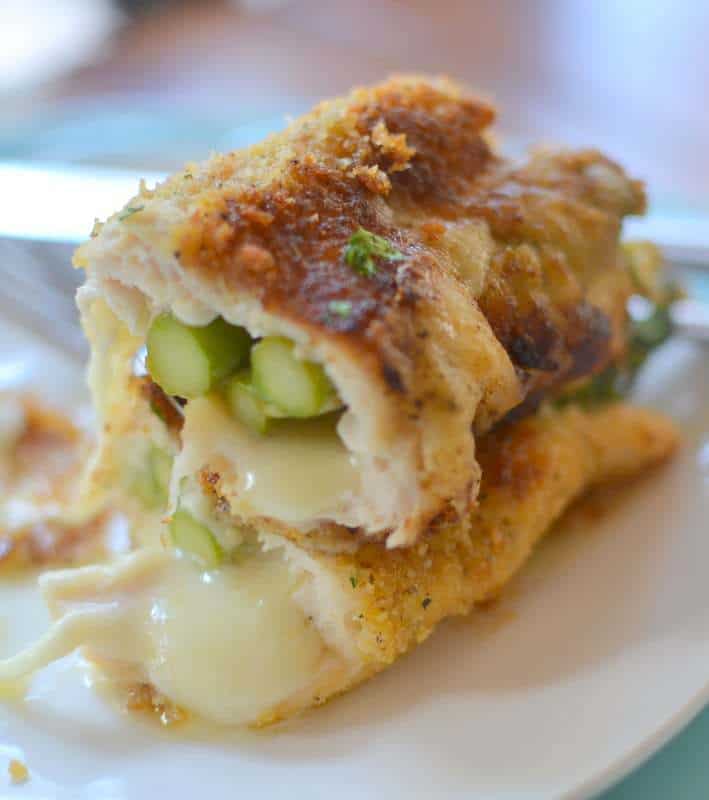 One Skillet Asparagus Stuffed Parmesan Chicken