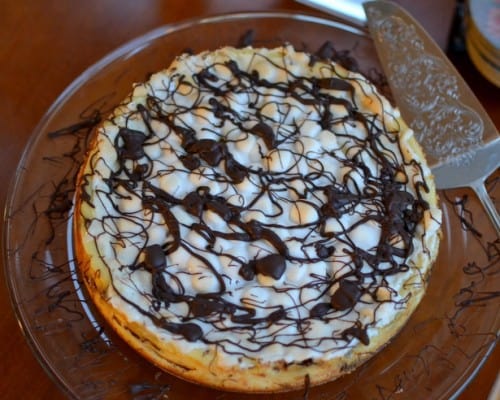 This cheesecake is a cinch to make and tastes fantastic! Are you having company over for the holiday? This makes for a wonderful presentation.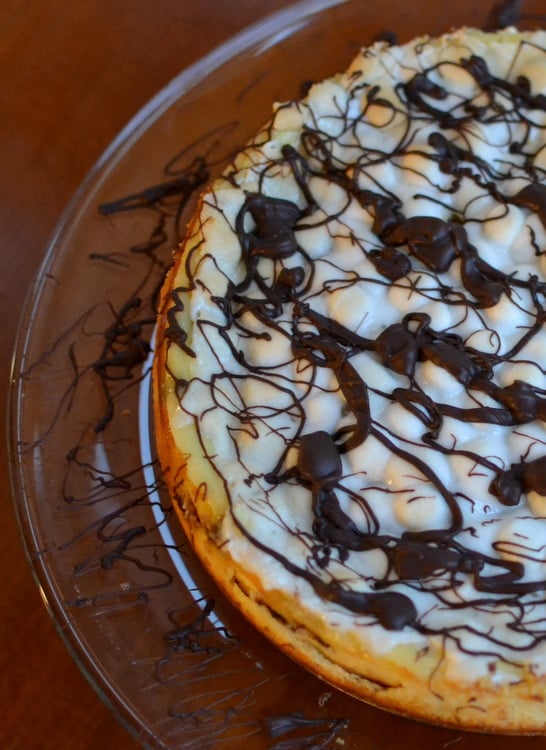 Am I making you hungry yet? I am making myself hungry just posting the pictures!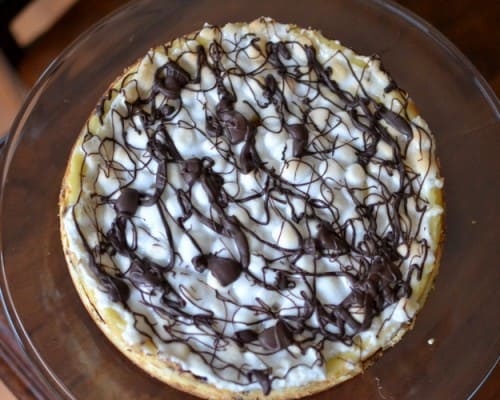 I know you want some so go ahead put the ingredients on your shopping list! You can burn it off in January!!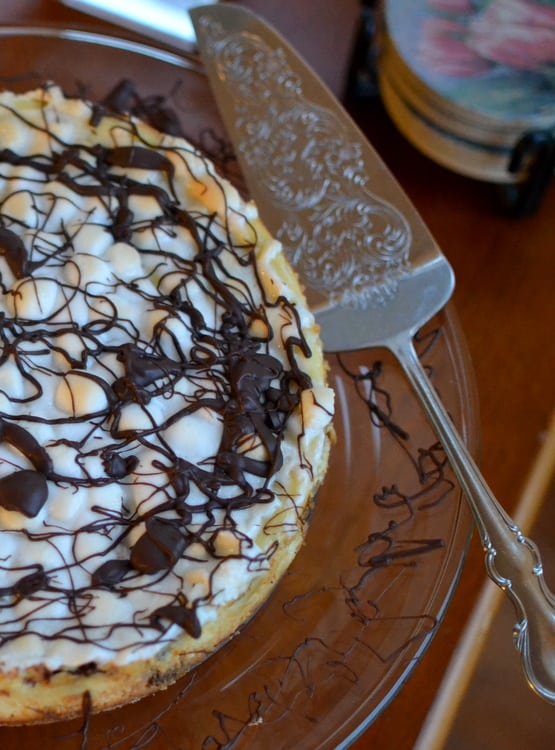 You can literally have this cake in the oven in 15-20 minutes! Go for it!
Print
Small Town Woman
Author:
Prep Time: 15
Cook Time: 50
Total Time: 1 hour 5 minutes
Scale
Ingredients
1 1/4 cup graham cracker crumbs
1/4 cup sugar
5 tablespoons butter melted
3 eight ounce boxes of cream cheese
1/2 cup sugar
1 1/2 teaspoons vanilla
3 eggs
1 1/2 cups chocolate chips
2 cups mini marshmallows
Chocolate almond bark
Instructions
Spray 10 inch spring form pan with nonstick cooking spray.
Preheat oven to 290 degrees.
Mix graham cracker crumbs, sugar and butter in small bowl. Press into bottom of spring form pan.
Mix cream cheese and sugar in stand mixer until smooth and creamy scraping the bowl to make sure all cream cheese is blended. Add vanilla and mix 1 minute. Add eggs one at a time. Mixing just until combined on low speed before adding another.
Remove from mixer and fold in chocolate chips.
Pour over graham cracker crumbs and bake for 40 minutes.
After 40 minutes raise oven temp to 325 degrees. Remove cake from oven and place mini marshmallows on top in single layer. Cook until the marshmallow are puffy and just slightly browned not more than 10 minutes.
Allow cake to cool.
Melt almond bark according to directions and drizzle on top. Using knife that can be rinsed under hot water, circle around pan to loosen.
Cool overnight before removing sides of spring form pan.
Notes
Rinsing the knife in hot water prevents you from inadvertently removing some of the marshmallows because they can not stick to each other if you are rinsing the knife frequently.
https://www.smalltownwoman.com/wp-content/uploads/2019/05/Beth-1.pdf