Spicy Beef Pepper Stir Fry is a healthy dinner choice full of red and green bell peppers, broccoli, onions and steak in a slightly spicy ginger garlic soy sauce.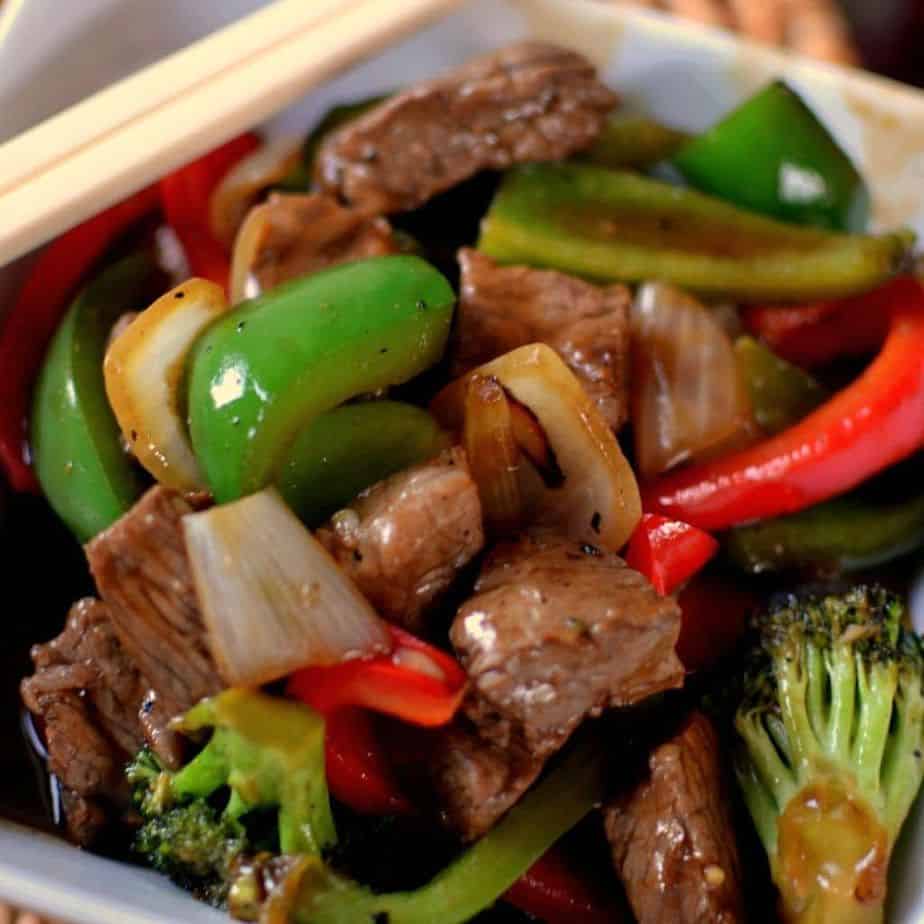 I love stir-fry. Weekends are the perfect time to prepare stir fry.  This Spicy Beef Pepper Stir Fry also referred to as pepper beef stir fry is an easy recipe with just the right amount of spice. With a little practice anyone can make perfect stir fry at home.
How to make stir fry at home
The key to excellent stir fry is heat.  The oil should be almost to smoking point when you add the meat and veggies.  Canola, peanut and vegetable oil are all good choices because they have a high smoke point.  The key to good stir fry is high heat for short periods of time making your vegetables crisp tender.  I cook my stir fry in at least three batches meat, veggies and sauce.  I cook it in four batches if I have a large amount of veggies.  You never want to crowd the wok or skillet.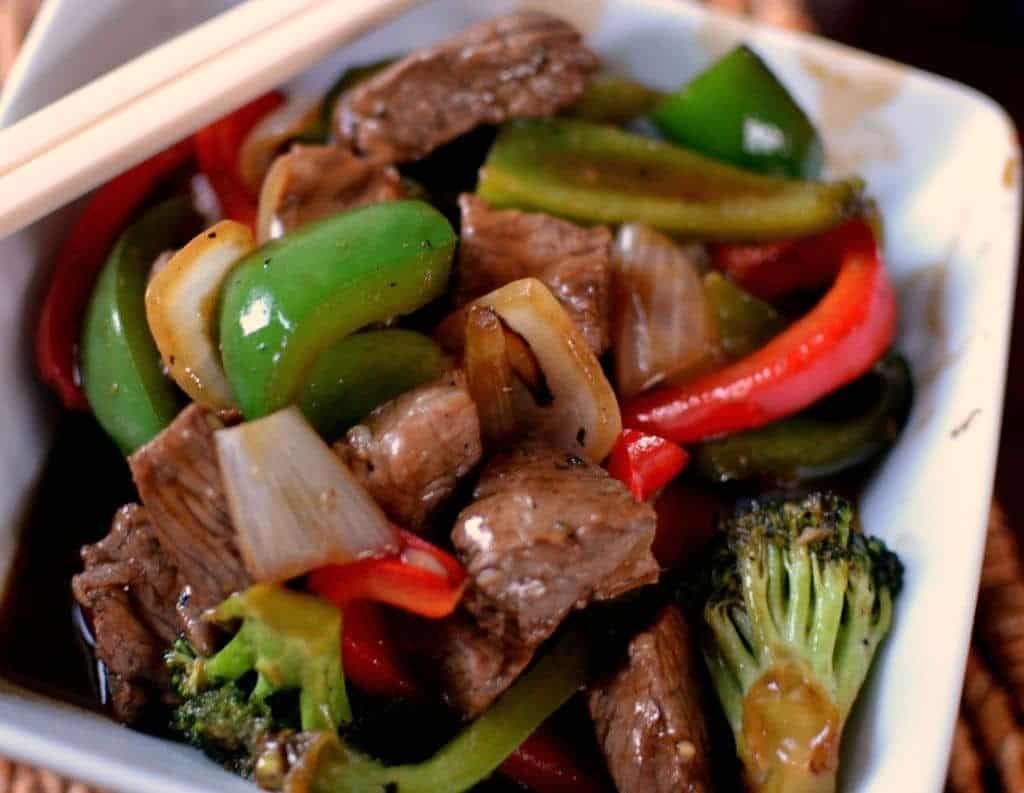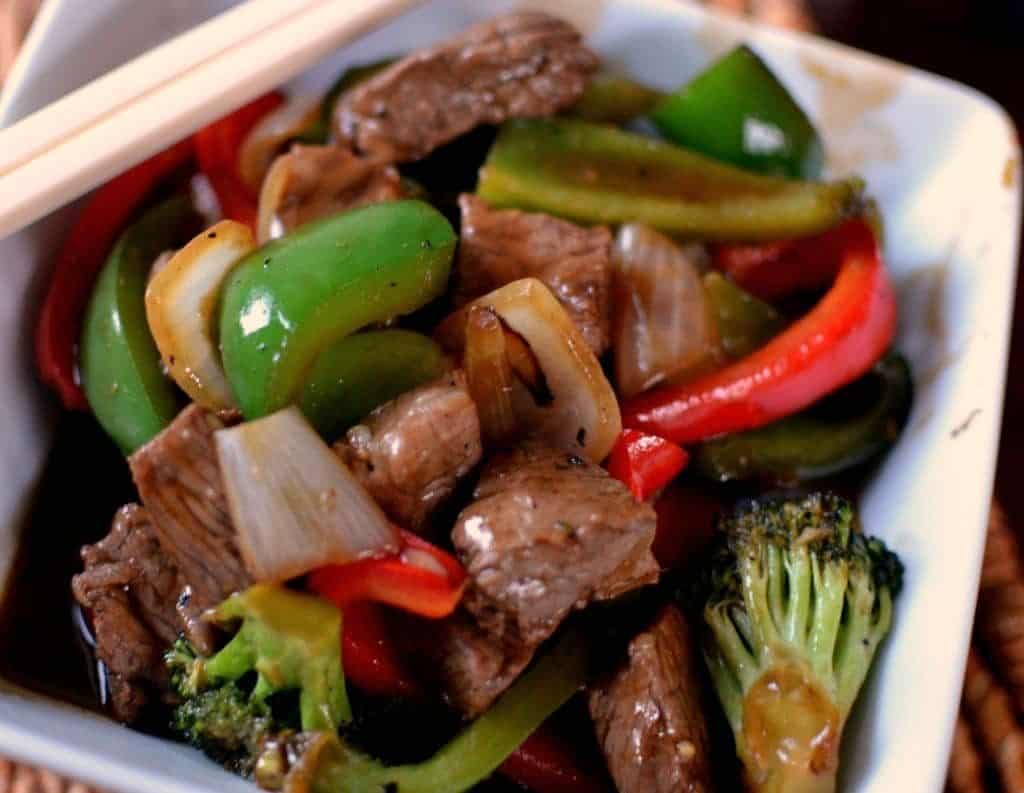 We love stir fry! It is really not that time consuming if you prep and cut your veggies ahead of time.  In fact the time in front of the wok is very brief and goes quite quickly.  That wok will need your full attention for a few minutes.  Here are some more excellent stir fry recipes!
Other stir fry dishes you will love.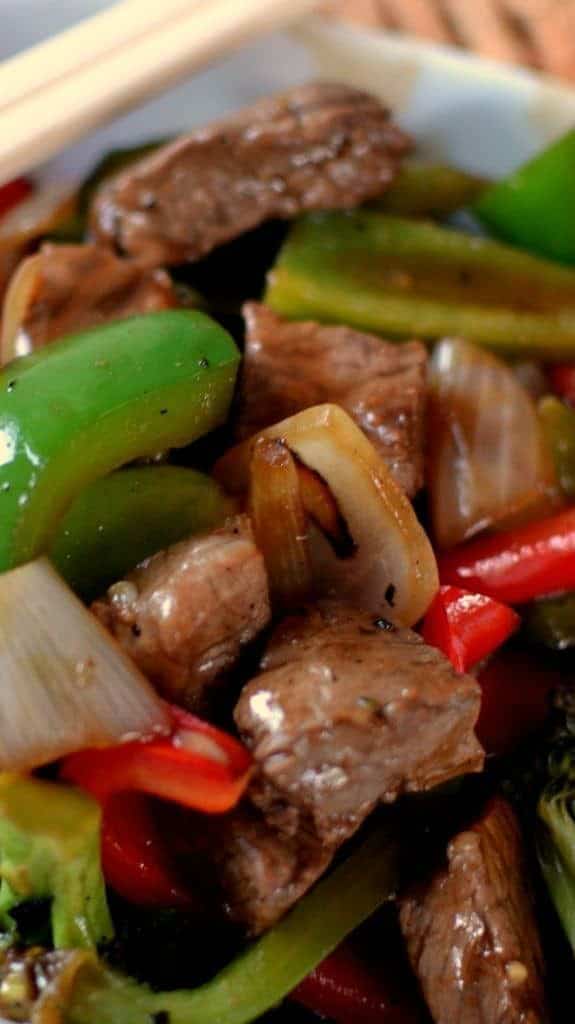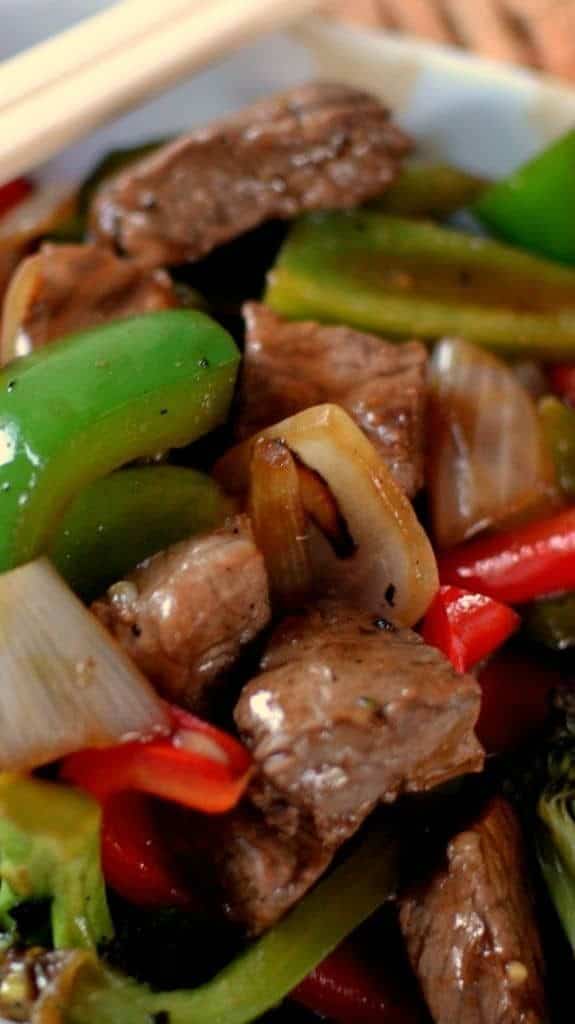 Just to recap on some helpful hints to make this Spicy Beef Pepper Stir Fry magnificent!
Here are some helpful hints for cooking stir fry!
Use oil with a high smoking point like canola, peanut or vegetable oil.  Get the wok really hot.
Don't crowd the wok or skillet. Cook in batches and plate the veggies and meat.
If your meat has a lot of moisture in it and it looks like your chicken or beef is boiling get the moisture out of the pan.  You don't want it to boil, you want it to stir fry.
Cook the sauce last and add everything back to the pan for a quick warm up.
Garlic can not be cooked at high heat as it will burn.  Add it to wok with a larger group of vegetables that are done or almost done. Turn the heat down for thirty seconds and cook and then remove with rest of the veggies.
Stir fry moves very fast and needs your full attention.  This is not the time to call your bookie and place a bet.
This scrumptious Spicy Beef Pepper Stir Fry is so easy to make at home, tastes so much better and costs less than take out.  All you really need is the ability to work your chop sticks well!
This post was originally published July 24, 2014 and was republished June 14, 2018 with new relevant information and helpful hints.
Print
Spicy Beef & Pepper Stir-Fry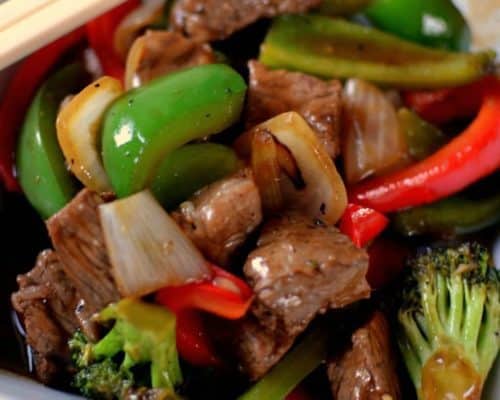 Spicy Beef Pepper Stir Fry is a healthy dinner choice full of red and green bell peppers, broccoli, onions and steak in a ginger garlic soy sauce.
Author:
Prep Time: 25
Cook Time: 20
Total Time: 45 minutes
Yield: 4 servings 1x
Category: Main meal
Method: Stir Fry
Cuisine: Asian
Scale
Ingredients
1 lb strip steak trimmed and cut in bite size pieces.
2/3 cup low sodium soy sauce
2/3 cup water
3 tablespoons mirin
3 tablespoons Worcestershire sauce
1 tablespoon fresh ginger
1/2 teaspoon garlic powder
3 teaspoons cornstarch
1 large red pepper cut in at least 1/2 inch strips
1 large green pepper cut in at least 1/2 inch strips
1 large onion diced
1 broccoli crown separated into large bite size pieces
3 garlic cloves finely minced
canola oil
3–4 teaspoons sriracha
Instructions
Combine soy sauce, water, mirin, Worcestershire sauce, ginger, garlic powder and cornstarch in a medium ceramic bowl. Mix with whisk. Pour half of the mixture into a large Ziploc bag and add beef strips and allow to marinade for 30-90 minutes. Refrigerate while marinating.
Heat wok with 1 – 2 tablespoons canola oil until smoking. Your wok should be very hot. Swirl to coat the wok. Shake the beef in the marinade to get the cornstarch mixed again. Remove the beef from the marinade and carefully add to the wok. Discard the marinade. Cook for about 3-4 minutes stirring halfway through. Remove the steak, cover and keep warm.
Add another tablespoon of canola oil over high heat. Swirl again to coat the wok. Add the broccoli and cook for about 1-2 minutes stirring once. Add the peppers and onions and cook for 2-3 minutes stirring once or twice. Reduce heat to low and add the garlic and cook for 30 seconds.. Remove all veggies from wok, cover and keep warm.
Whisk the the remaining soy sauce mixture and add to the wok and bring to a lowl boil. Stir until slightly thickened. Add the cooked beef and vegetables back to the wok. Add 3-4 teaspoons of sriracha to taste. Stir and heat for 1-2 minutes and serve,
Notes
Add the sriracha 1/2 teaspoon at a time and taste. Everyone's heat tolerance is different.
At the request of readers I have modified this recipe to split the marinade. The half that is soaked with the meat is discarded and the other half is cooked with the meat and veggies at the end.
Keywords: how to make beef stir fry, beef stir fry marinade, beef stir fry sauce
https://www.smalltownwoman.com/wp-content/uploads/2019/05/Beth-1.pdf