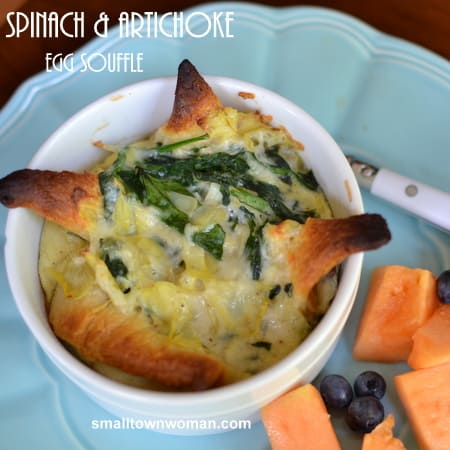 I made these Sunday for the crew that lives at my house aka my family.  They were so darn easy and simply delicious.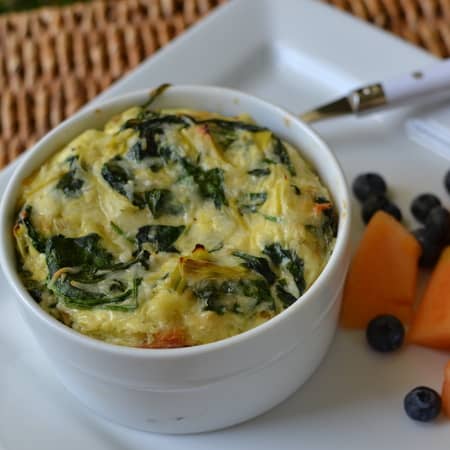 You should make some for your crew.  Easy enough to put together before church and tastes like you have been slaving for hours.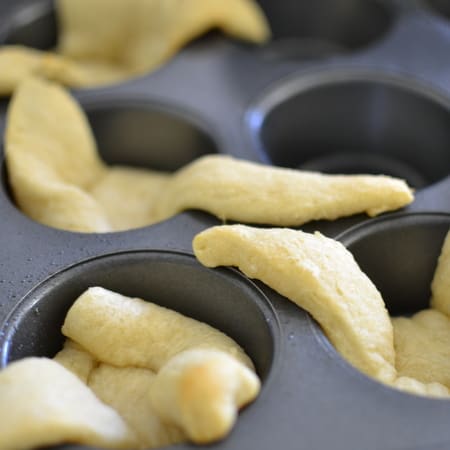 Wrap the crescent rolls in a cupcake pan and pre-bake for 6 minutes.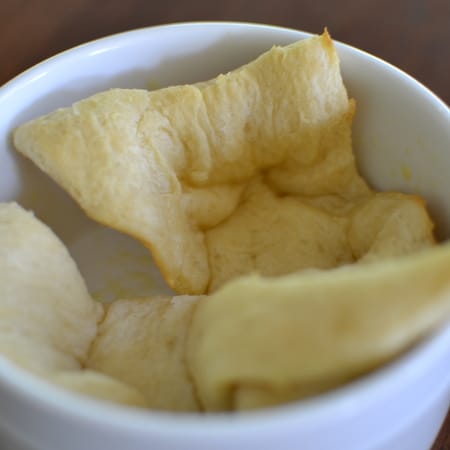 Arrange 2 of the crescent roll cups in each souffle bowl.   These pre-baked cups are perfect as they will not get soggy when you finish cooking the souffles and because of their shape you will have a bite of croissant through out your souffle.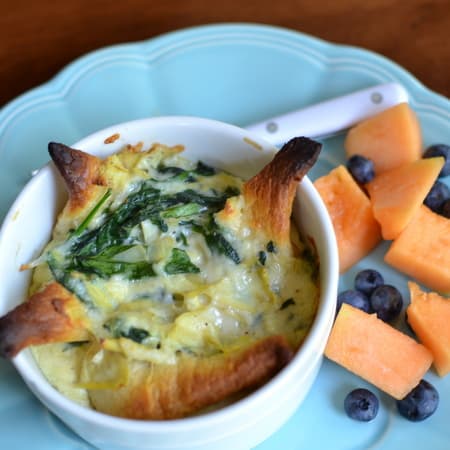 Enjoy my breakfast savoring friends.   Bon Appetit!
Print
Spinach & Artichoke Breakfast Souffles
Scale
Ingredients
1 can crescent roll dough
1 can artichoke hearts chopped
2 cloves garlic minced
6–8 cups baby spinach
5 eggs
5 egg whites
1 cup half n half
1 cup Parmesan cheese
1/2 cup shredded gouda
Salt & Pepper
Instructions
Preheat oven to 350 degrees
Wrap the eight crescent rolls over the cupcake pan to create a little bit of a cup. Bake for 6-7 minutes at 375 degrees.
Spray 4 individual souffle bowls with nonstick cooking spray.
Saute spinach, artichoke hearts and garlic in one tablespoon olive oil for 2-3 minutes or until spinach begins to wilt. Remove from heat and allow to cool.
Mix, eggs, egg whites, half n half, Parmesan cheese, Gouda cheese, 1/2 teaspoon of salt and 1/4 teaspoon fresh ground pepper.
Mix the spinach & artichoke mixture in the with the egg mixture.
Arrange 2 crescent rolls in each souffle bowl. Ladle the egg mixture over the crescent rolls dividing it equally between the four bowls.
Bake for 25 minutes. Cool for 10 minutes before serving.
https://www.smalltownwoman.com/wp-content/uploads/2019/05/Beth-1.pdf
Reader Interactions