Triple Berry Cobbler combines fresh strawberries, blueberries and blackberries under a buttery flaky pie crust that can be cut into any kind of shape to match your holiday fun.
Consider yourself clearly warned. This Triple Berry Cobbler is addicting and I mean a serious intervention might be necessary. Now I particularly love this recipe because it has a buttery pie crust that is to die for. I cut the crust into star shapes for the summer holidays. It is perfect for the 4th of July patio party you are planning. However you could adapt this cobbler by cutting the crust into other shapes. I have seen some of the most beautiful pies cut with leaves, flowers and hearts. The ideas for decorating this way are limitless.
How to make Triple Berry Cobbler.
This fantastic Triple Cobbler requires a little bit of time as the dough must chill for about 4 hours. In food processor pulse together flour, salt and butter. Stir in ice water a little at a time until a ball forms. Wrap in plastic wrap and store in the refrigerator for about 4 hours.
In large bowl combine berries, sugar, lemon juice, instant tapioca, and cornstarch. Let it sit for a bit so the tapioca softens. Flour surface and roll out dough to about 1/4 inch thickness. Using cookie cutters cut into whatever shapes you want. Brush with egg whites and bake. Delicious!!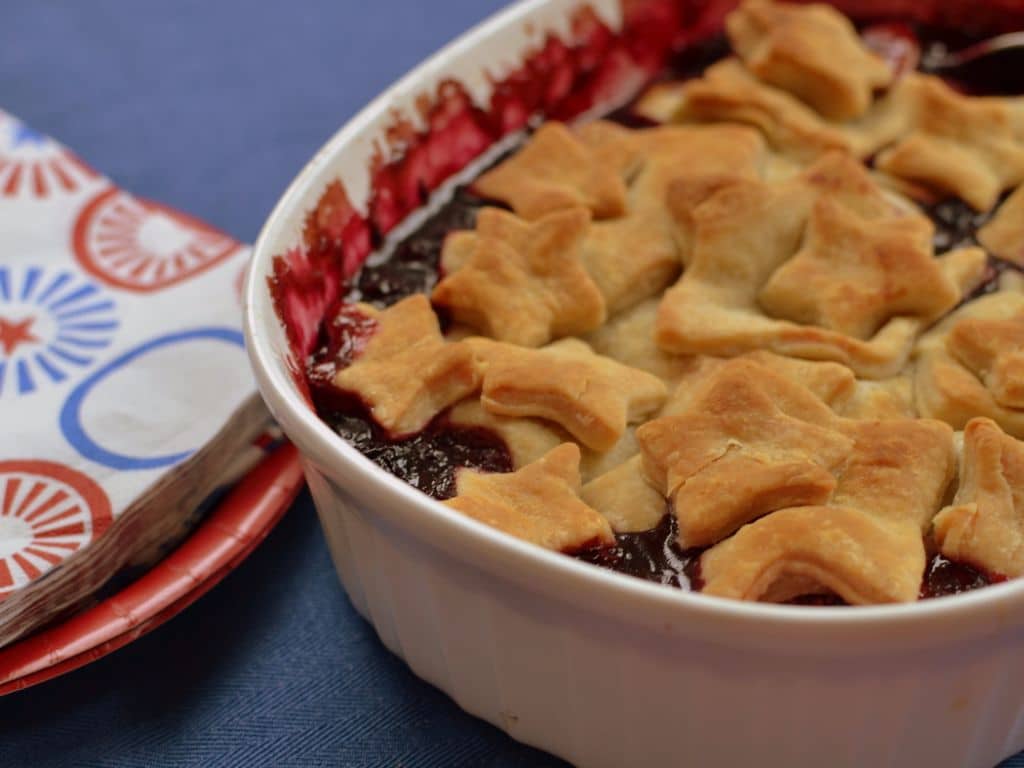 Not only is this Triple Berry Cobbler beautiful but the combination of strawberry, blueberry and blackberry is so divine. These berries play very well together and they seem to complement each other in perfect taste tantalizing harmony. I use a combination of cornstarch and tapioca to thicken the fruit. It seems to be a perfect combination and thickens the triple berry combo just right.
Are you huge berry lovers like we are? Here are some more delectable berry recipes for you to try!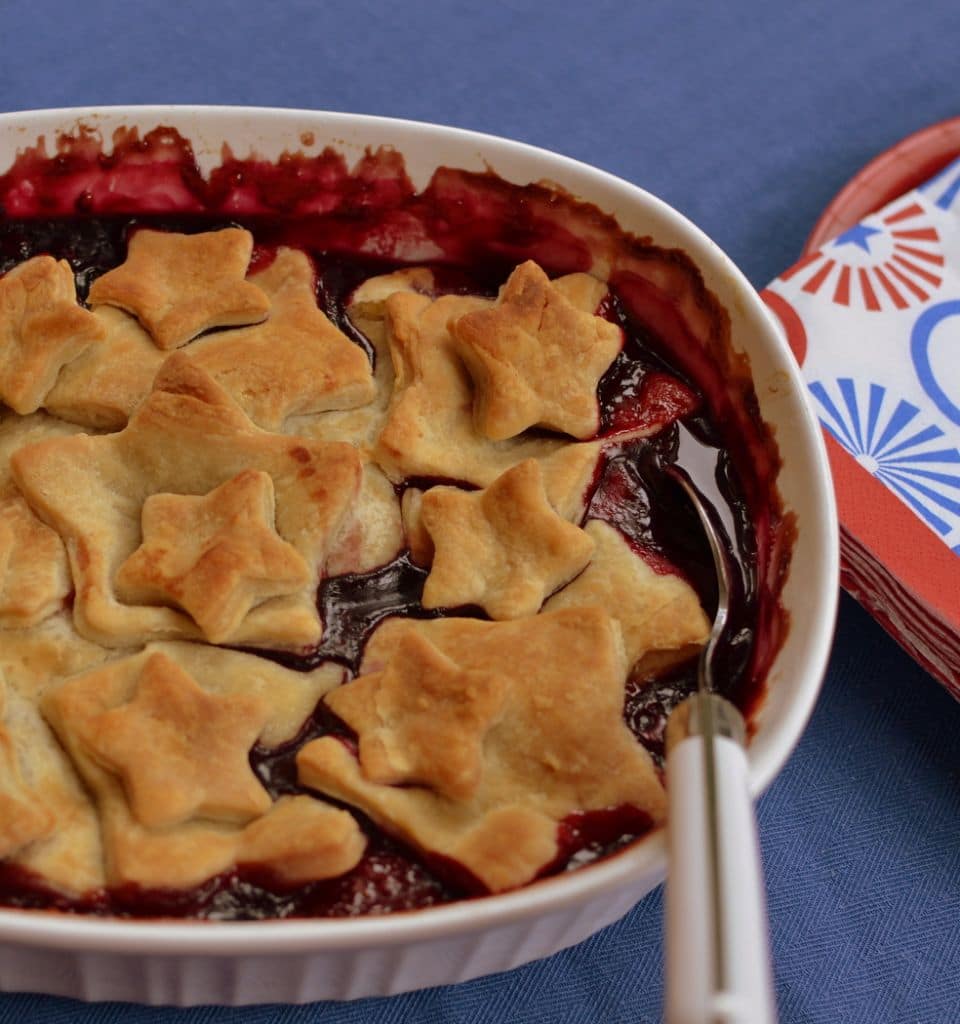 So treat your guests to this wonderful goodness and enjoy all the health benefits and delectable flavors that summer berries have to offer. You will not be disappointed at all!
This post was originally published June 27, 2016 and was republished July 3, 2018.
Strawberry Blueberry Blackberry Pie Cobbler
I would not stack the stars more than 2 -3 thick as they will not cook properly.
Ingredients
1 1/4 cups all purpose flour
1/4 teaspoon salt
1/2 cup butter unsalted cut into 1 tablespoon increments chilled
1/4 cup plus 2 teaspoons ice water
8 cups mixed strawberries blueberries blackberries
2/3 cup sugar
2 tablespoons lemon juice
2 tablespoons instant tapioca
1 tablespoon cornstarch
1 beaten egg white
Instructions
In food processor pulse flour, salt and butter 3-4 times just until mixture starts to resemble coarse crumbs. Remove from food processor and place in large bowl. Stir in ice water, a teaspoon at a time, until mixture forms a ball. Wrap in plastic and refrigerate for 4 hours or overnight.
In large bowl combine berries, sugar, lemon juice, instant tapioca, and cornstarch. Allow to sit for 15-20 minutes to soften tapioca.
Place cobbler in 1 1/2 quart baking dish.
Flour working surface and roll out dough to a little less than a quarter inch thick. Using various size star cookie cutters cut into shapes and place on cobbler. Brush with egg white.
Bake at 350 degrees for 45-55 minutes or until the stars are lightly browned. Cooking time will vary depending upon how thickly stacked the stars are.
https://www.smalltownwoman.com/strawberry-blueberry-blackberry-pie-cobbler/