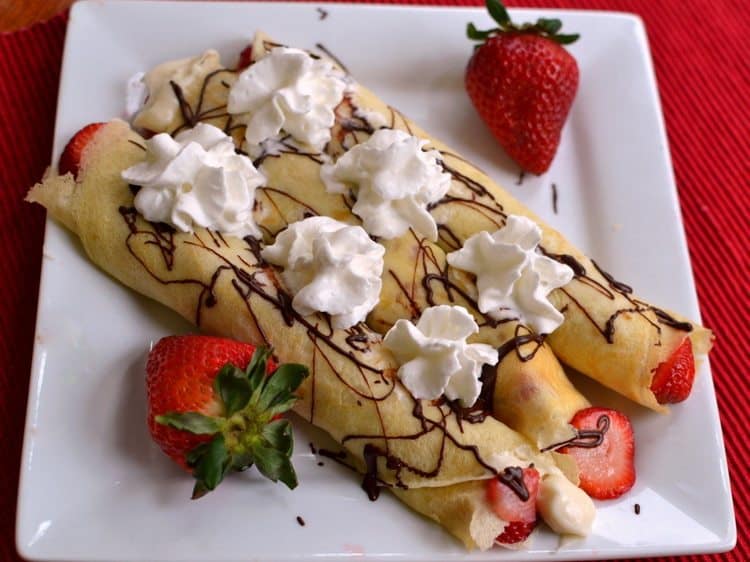 On Sunday I set out to bake something special for my daughter. This is the final result but it did not remain exclusive to Lilly. We all ended up with chocolate and whipped cream on our chins! My son ended up with some on the tip of his nose!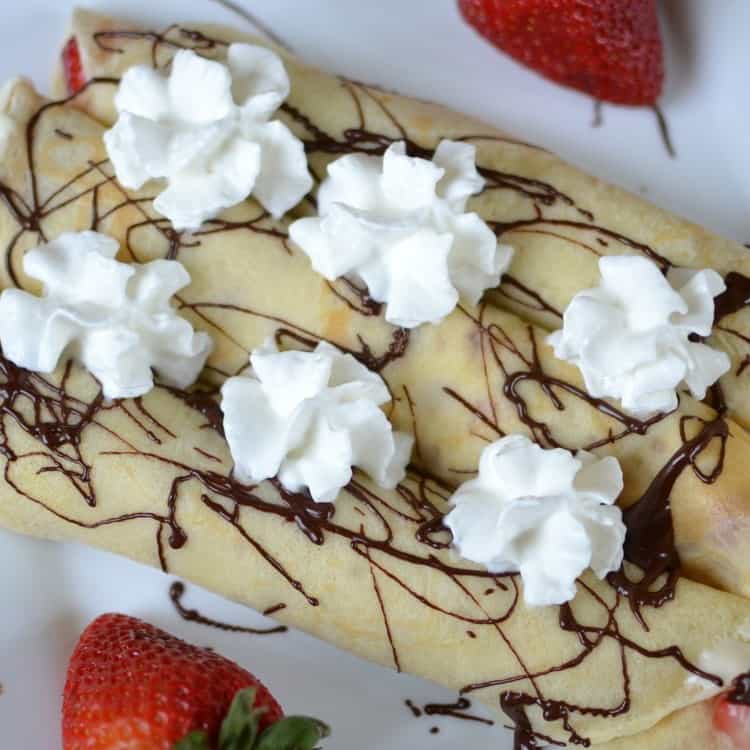 Look at that. These are as delicious as they are beautiful. Now they take a little more time than your average pancake recipe however each bite will remind you that all your work was so worth it.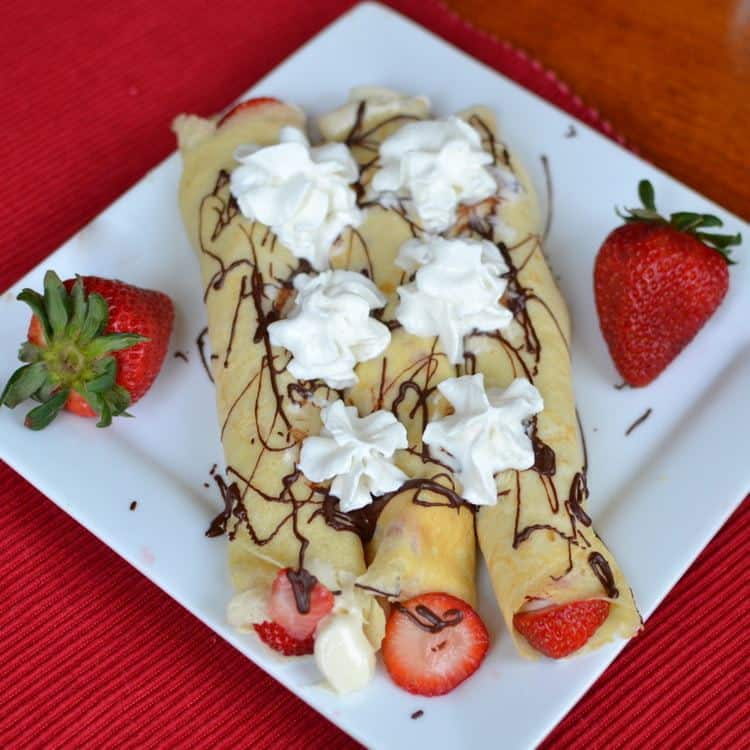 Not to mention all the brownie points you will score with your loved ones. These are a little piece of heaven in an otherwise chaotic world! Enjoy my friends as I did every bite!
Print
Strawberry Cream Crepes
Author:
Prep Time: 30
Cook Time: 20
Total Time: 50 minutes
Yield: 10 1x
Scale
Ingredients
1 lb strawberries
1/2 cup sugar
1 cup all-purpose flour
2 teaspoons sugar
1/4 teaspoon salt
1 cup milk
1/2 cup water
2 tablespoons butter, melted
2 large eggs
8 ounces cream cheese
1 tablespoon lemon juice
1 teaspoon lemon peel
1 cup powdered sugar
1 teaspoon vanilla
Rediwhip
1 cup Ghirardelli bittersweet chocolate chips
Instructions
Wash and slice strawberries. Place in bowl and sprinkle with 1/2 cup sugar. Set aside.
Combine flour, 2 teaspoons sugar and salt in small bowl. Combine milk, water, butter and eggs in blender. Slowly add four mixture to milk mixture and blend until smooth. Refrigerate for at least 1 hour.
In stand mixer beat cream cheese until smooth. Add lemon juice, lemon peel, vanilla and powdered sugar. Mix until smooth. Set aside.
Heat a 10 inch nonstick skillet over medium heat. Add approximately 1/4 cup batter. Quickly swirl and tilt to spread batter evenly over the skillet. Cook until brown; approximately 1 minute. Flip and brown on other side. Remove to plate; placing wax paper between crepes.
Melt chocolate chips according to instructions on bag.
To construct crepes spread 1 1/2 tablespoons of cream mixture down the center of each crepe. Add several tablespoons of cut strawberries. Roll the crepe. Top with whipped cream and drizzle with melted chocolate. Repeat until all the crepes are assembled.
https://www.smalltownwoman.com/wp-content/uploads/2019/05/Beth-1.pdf