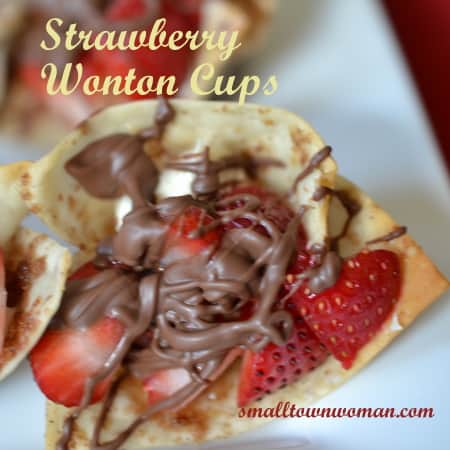 My daughter and I made these and they are absolutely delicious and so darn easy. Perfect party food!! Easy to make and easy to eat. My daughter could make them all by herself!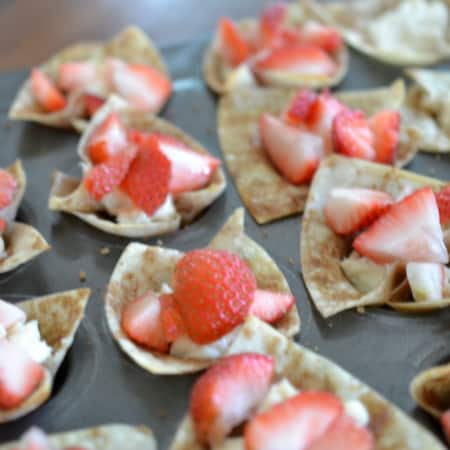 My lovely daughter and I whipped these up in about 30 minutes. I am sure you can do the same!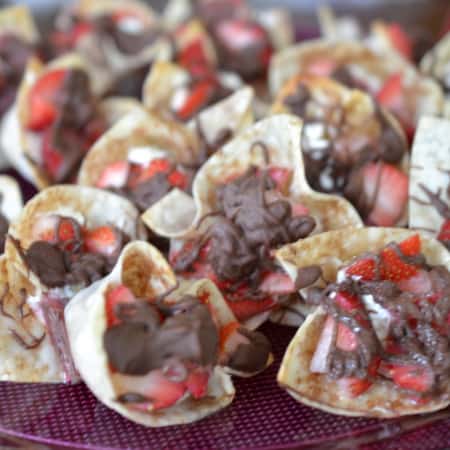 Oh my. These are so good. I wish you luck. You will need it to keep from eating the whole shebang!
Print
Strawberry Wonton Cups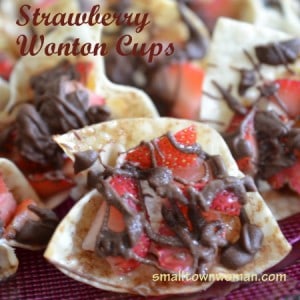 Scale
Ingredients
1/2 package wontons
2 tablespoons butter melted
1/3 cup brown sugar
1 teaspoon cinnamon
1 box cream cheese softened
6 tablespoons powdered sugar
1 teaspoon vanilla
3 cups sliced strawberries
2 squares chocolate almond bark
Instructions
Preheat oven to 325 degrees. Coat mini muffin pan with nonstick spray.
Combine brown sugar and cinnamon on shallow plate. Brush one side of wonton skin with melted butter. Press that side down into the brown sugar/cinnamon mixture. Gently press in mini muffin pan sugar coated side up. Repeat until the muffin pan is full. Bake for 7-9 minutes until golden brown. Allow to cool.
Mix cream cheese, powdered sugar and vanilla until nice and creamy. Divide among the wonton cups. Divide the sliced strawberries amongst the wonton cups. Microwave the almond bark according to the directions. Drizzle the melted chocolate over the wonton cups.
Notes
These are best prepared the day they are eaten as leftovers will need to be refrigerated.
https://www.smalltownwoman.com/wp-content/uploads/2019/05/Beth-1.pdf