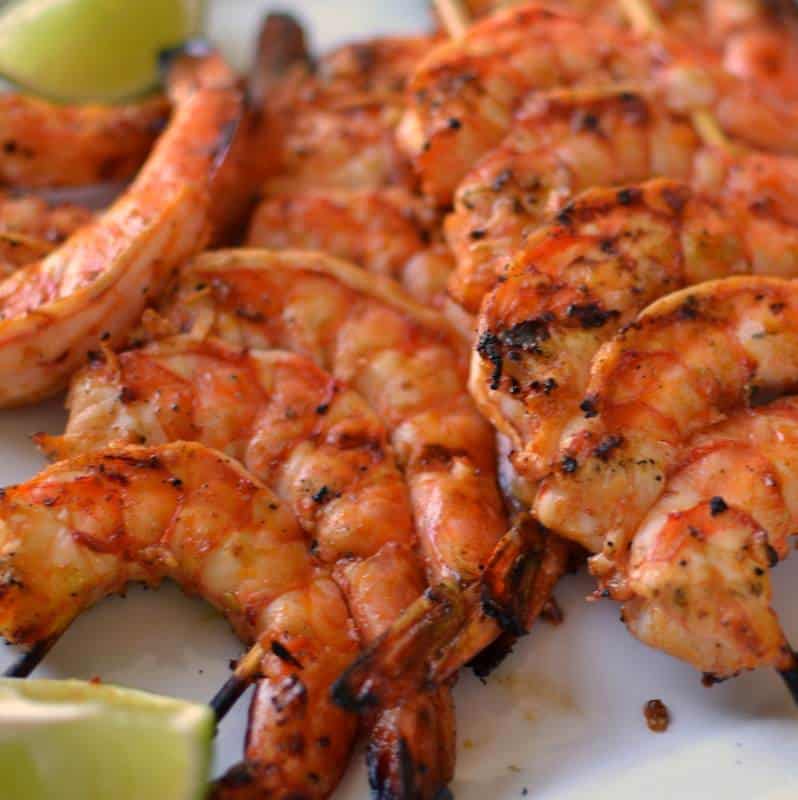 Are you a seafood lover like me? I love shrimp! These days I can not seem to get enough of them. They are just so delicious! It is Lent and the seafood is abundant. Costco makes it so easy. Their big beautiful shrimp are always so fresh, deveined and reasonably priced, My only job is to take them home and cook them within a couple of days!! Any good cook knows that shrimp can go from delectable to hardly worth eating real quick so do not overcook them. This Succulent Grilled Chili Lime Shrimp recipes calls for marinating the shrimp in a delicious chili lime marinade that helps the shrimp stay moist for the short period that it is on the grill.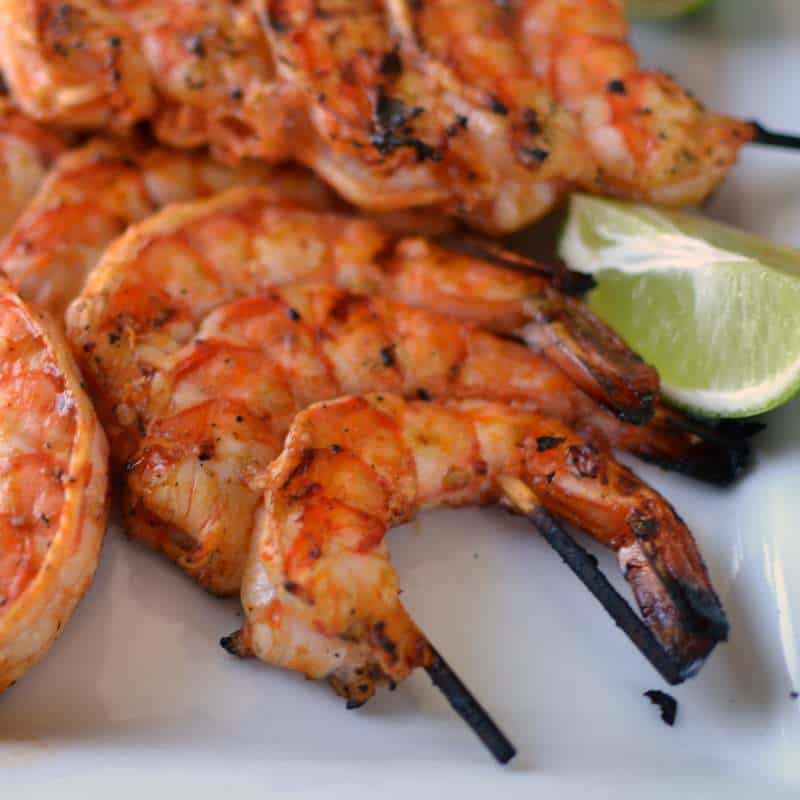 Please purchase the large shrimp so that they have a chance of staying moist. These beauties are 15 count and they grill up nicely. The little shrimp cook so quickly that you can not keep them moist. You will also need some bamboo skewers so that your precious little angels do not fall through the grill. You can double thread them so they are easier to handle on the grill. I like threading them right on top of each other as it seems to keep them moist….snug as a bug in a rug.
These Succulent Grilled Chili Lime Shrimp are marinated in an olive oil based marinade that is seasoned with ground fresh chili paste, garlic and fresh lime juice. The result is slightly spicy moist succulent shrimp that leaves you longing for the next shrimp dinner!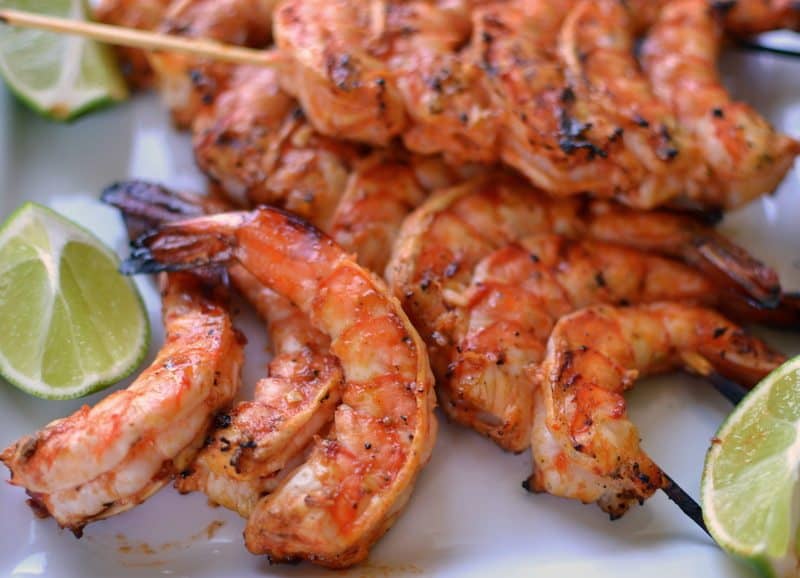 Look at those big beautiful mouth watering shrimp. Prep time on these tasty numbers is only about 5-10 minutes and cook time is under 5 minutes. Bring home a pound or two of shrimp and treat your family to this delectable dish tonight!
I sure hope you enjoy this Succulent Grilled Chili Lime Shrimp as much as we do!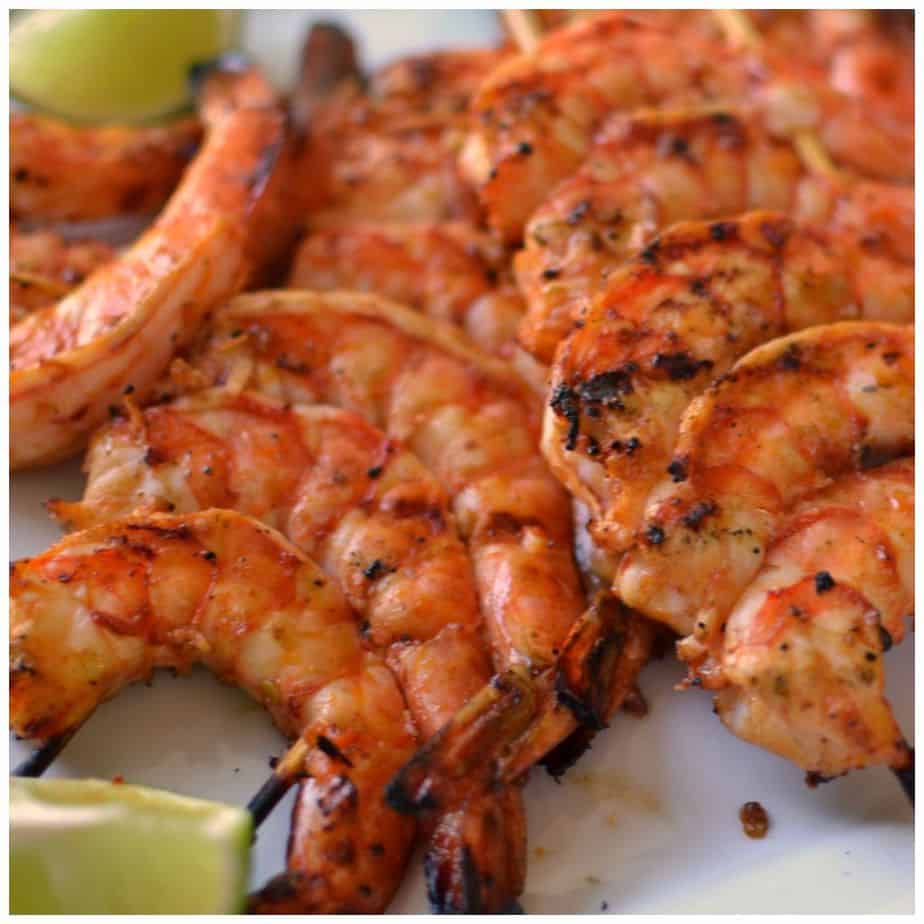 Succulent Grilled Chili Lime Shrimp
Scale
Ingredients
2 lbs large shrimp peeled and deveined
3 cloves garlic minced
1/3 cup olive oil
3 tablespoons red wine vinegar
3–4 tablespoons ground fresh chili paste
1/2 teaspoon salt
1/4 teaspoon fresh ground pepper
1 1/2 tablespoon lime juice
8 lime wedges for garnish
Instructions
In large bowl mix garlic, olive oil, red wine vinegar, chili paste, salt, pepper and lime juice.. Add shrimp and stir. Place in refrigerator and allow to marinate for 1-2 hours; stirring several times.
Brush grill with oil. Preheat grill to about 500 degrees. Grill 2 minutes on each side, until shrimp is opaque. Serve with lime wedges.