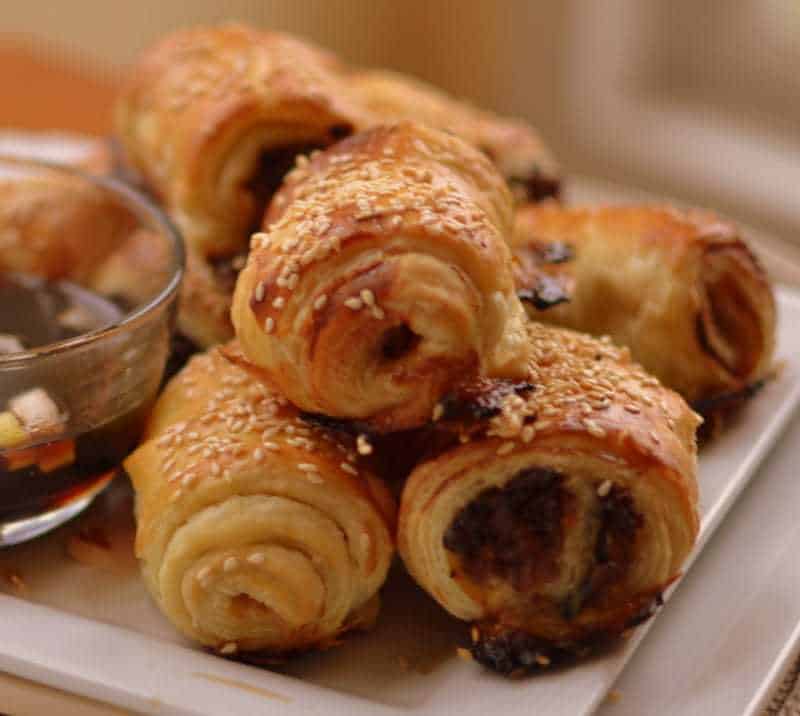 Anytime of the year is a great time for some delicious appetizers.  Whether it is the Christmas holidays, football season or 4th of July!!  Shot it could even be a Saturday evening with you and your loved one.  In my book there is never a bad time for appetizers!!  NEVER!!!  These Sweet Asian Pork Rolls are no exception to that rule.  They are so delectable.  Lightly sweetened yet slightly salty pork wrapped in tender pastry puff dough that has been cooked to a light golden brown and  topped with toasted sesame seeds.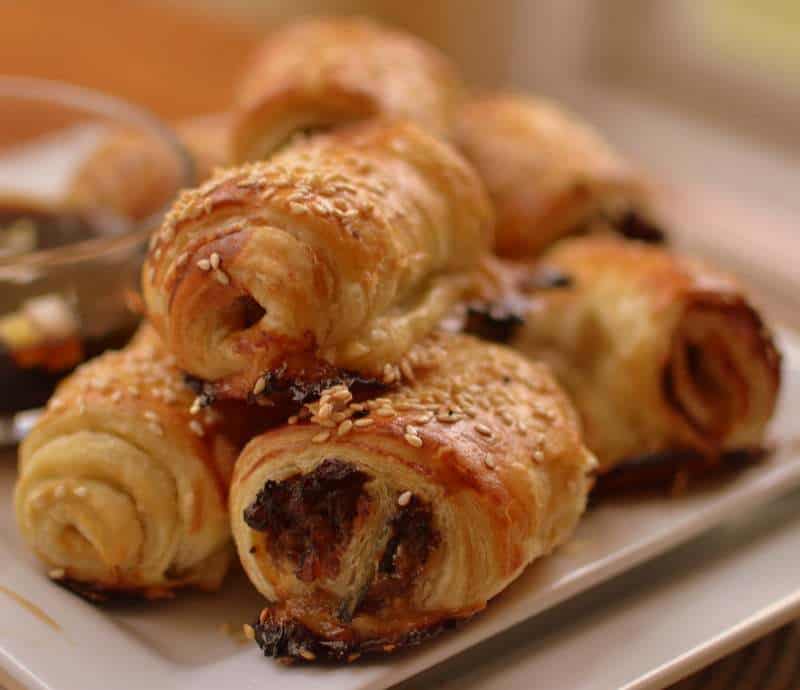 You can serve these delectable beauties with my Asian dipping sauce or Hot Chinese Mustard.  Both only contain three ingredients and can be made in a matter of minutes.  You can even make the filling ahead of time and store in the fridge.  Puff Pastry is fairly easy to work with.  The hardest part is following the directions for defrosting.   The directions should be followed carefully to ensure that the dough rises properly.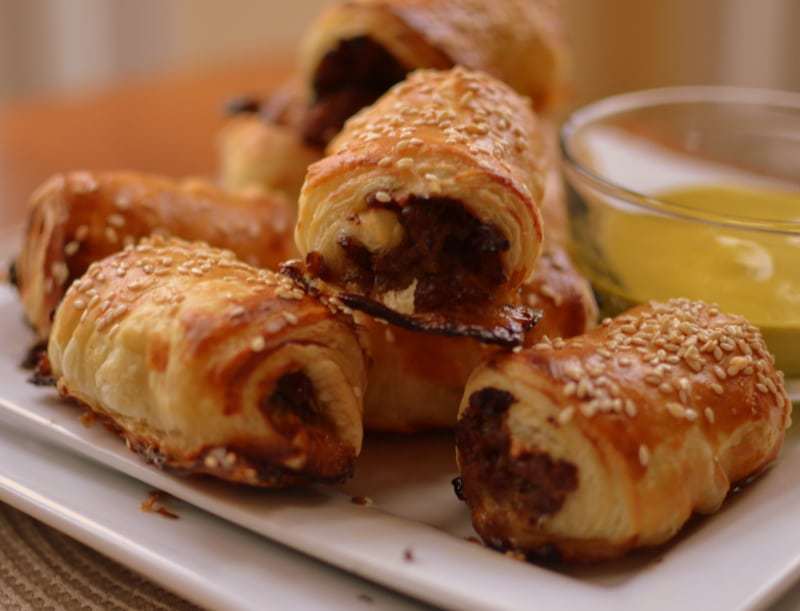 So if you are looking to impress your friends these Sweet Asian Pork Rolls are a must!!  Your friends will be singing accolades and asking when you are going to throw your next shindig.  Trust me!  I know how it works!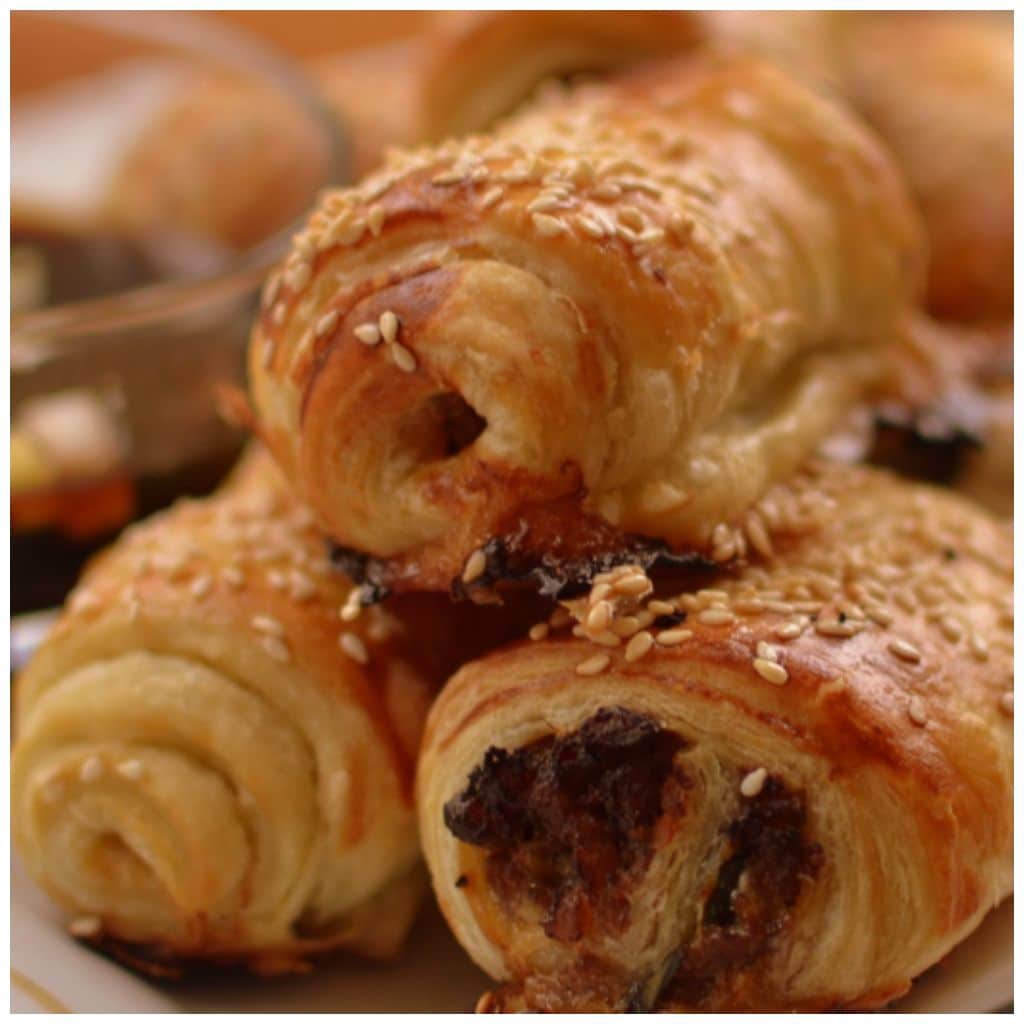 Print
Sweet Asian Pork Rolls
1 teaspoon sesame oil
1 lb ground pork sausage
2 cloves garlic minced
2 tablespoons fresh grated ginger
2 tablespoons low sodium soy sauce
1 tablespoon mirin
1/4 cup chopped scallions
3 tablespoons fresh chives
1 egg beaten
1 box puff pastry
1 egg
1 tablespoon cool water
Toasted Sesame Seeds
Hot Chinese Mustard
1/2 cup prepared mustard (the hot dog kind)
2 tablespoons cold water
1/4–1/2 teaspoon white pepper (to taste)
Asian Dipping Sauce
1/2 cup low sodium soy sauce
2 tablespoons mirin
1/8 teaspoon sesame oil
Instructions
In large skillet over medium heat add sesame oil. Add pork sausage and cook until browned.. Add garlic and ginger and cook for additional 1 minutes. Remove from heat and cool; stir in soy sauce, mirin, scallions, chives, and egg.
Split each defrosted puff pastry sheet in thirds. Cut along the fold marks. Roll each piece out to about 6 inches wide. Spread sausage mixture over the bottom 2 1/2 inches. Creating a rectangle of approximately 5 inches wide by 2 1/2 inch tall and not too thick. Tightly roll up starting with the sausage end. Cut in half with sharp knife and place on parchment covered baking sheets.
Beat egg and 1 tablespoon cold water. Brush tops of rolls with egg wash and sprinkle with toasted sesame seeds.
Bake at 400 degrees for 20-25 minutes or until golden brown.
For either dipping sauce just combine ingredients in a small bowl. Serve Sweet Asian Pork Rolls warm with dipping sauce.
Notes
Mirin is sweetened sake available in Asian markets. You can substitute 3 parts brandy to 1 part sugar.
Other delicious recipes you will love!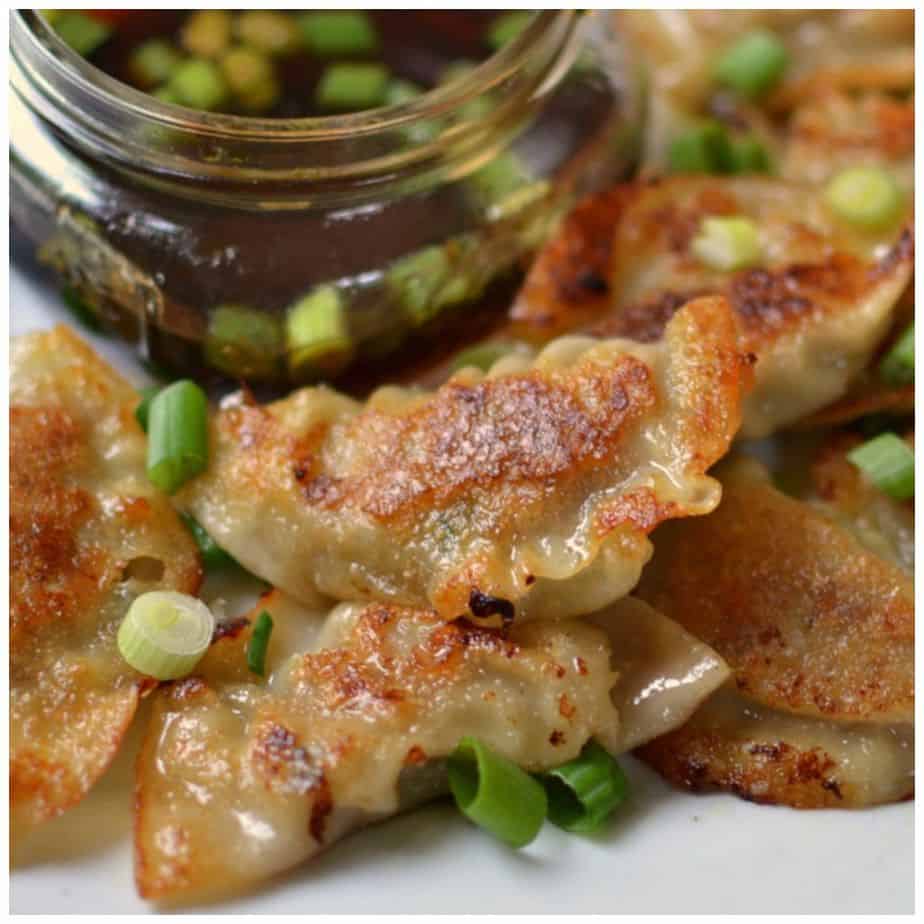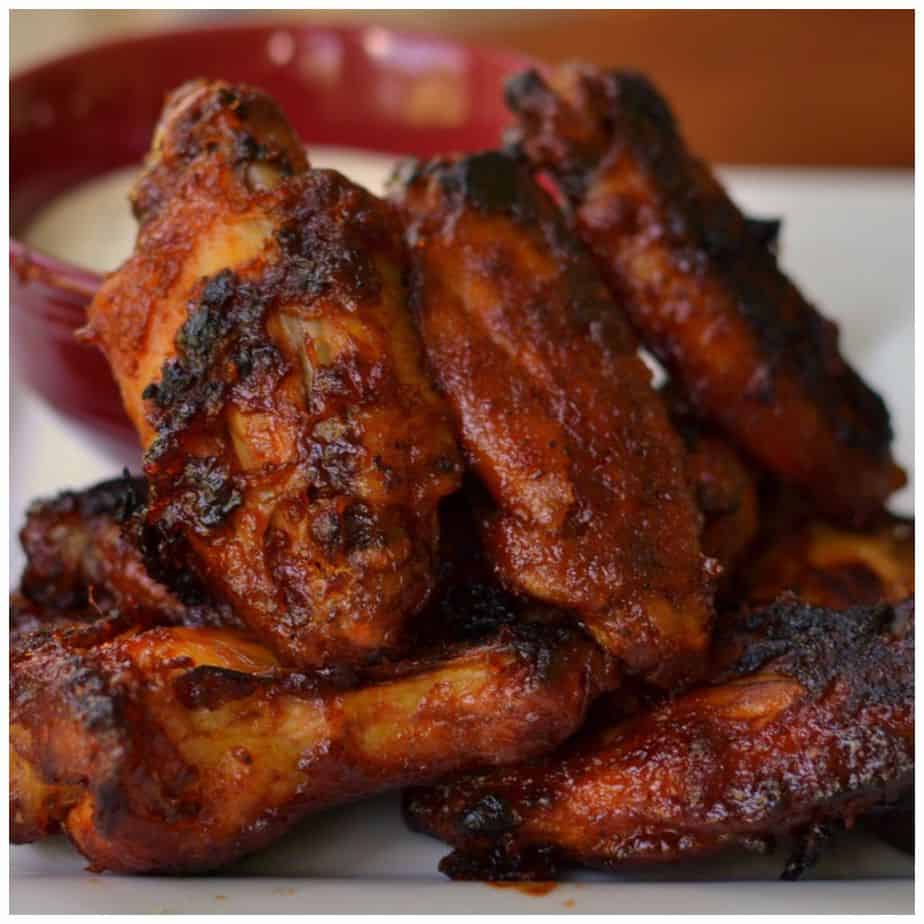 https://www.smalltownwoman.com/wp-content/uploads/2019/05/Beth-1.pdf