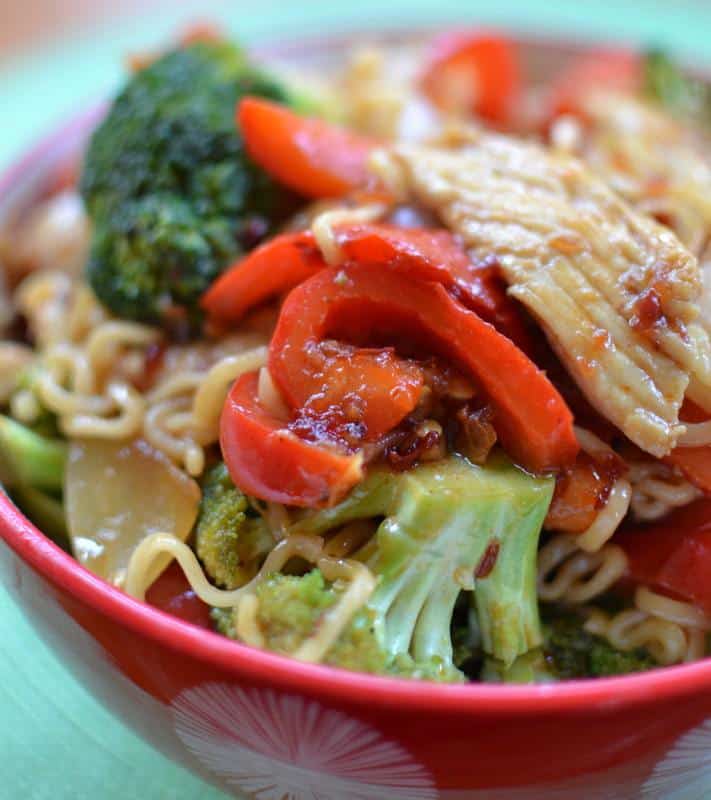 I think I have mentioned a few times that I love stir fry.  It is the best and full of such good for you nutrition that tastes amazing!!  Of course school is back in session so you need something that really steps up to the plate fast (no pun intended). This Sweet Chili Chicken Ramen Stir Fry comes together so quickly and you can even mix the sauce in the morning (except for the cornstarch) store in a airtight container in the fridge.  When you are ready to add the sauce to the pan simply whisk in the cornstarch and presto …you are ready to go.  The sweet chili sauce is so delicious that I use it often when cooking.  As a matter of fact I think I could just drink it from the bowl.
Have you tried any of my other stir fry recipes?  Cabbage Bacon Sausage Stir Fry, Better Than Takeout Chicken Fried Rice and Cajun Stir Fry are just a few of my favorites.  Stir Fry is so versatile with so many great food and sauce combinations.  You don't always have to grab that big old wok either.  As long as you have a heavy skillet some canola or vegetable oil and some heat you can prepare stir fry.  Remember the key to excellent stir fry is cooking at high temperatures and to keep it moving.  You want your vegetables to be crisp tender.  Here is a great article on Stir Frying from Cooking Light.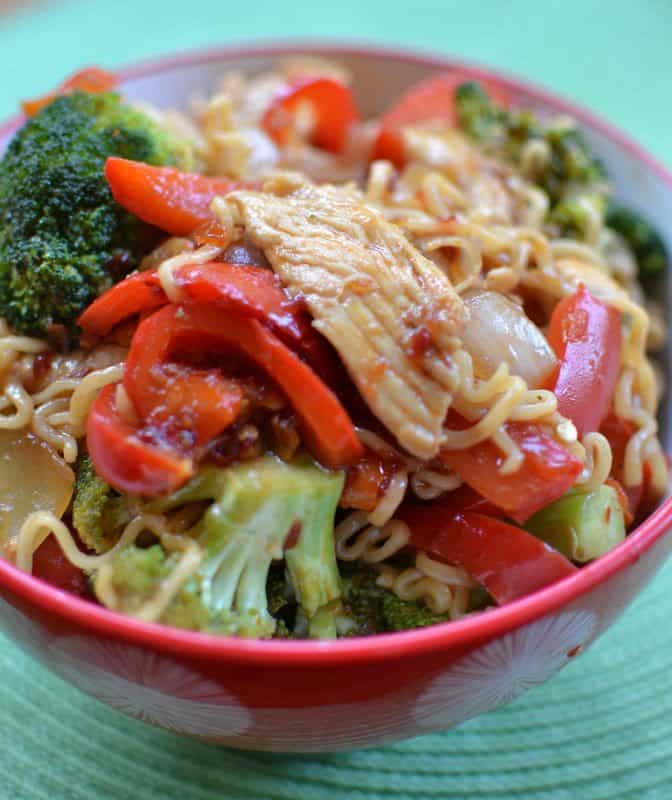 This Sweet Chili Chicken Ramen Stir Fry is delicious.  It combines succulent chicken with broccoli, red pepper and onions in a lip smacking sweet chili sauce.  You can add or substitute whatever veggies are in season or what you like best.  Are you garlic nut? By all means add some minced garlic to the sauce.  As I always say wear what you dig!!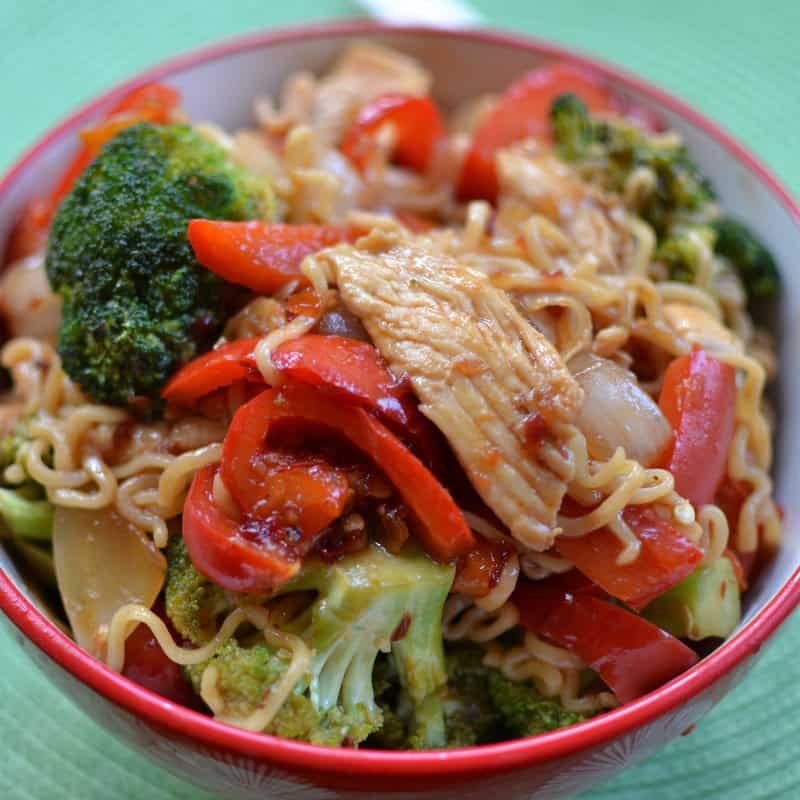 So if you love quick delicious recipes that you can feel good about feeding your family than this Sweet Chili Chicken Ramen Stir Fry is for you!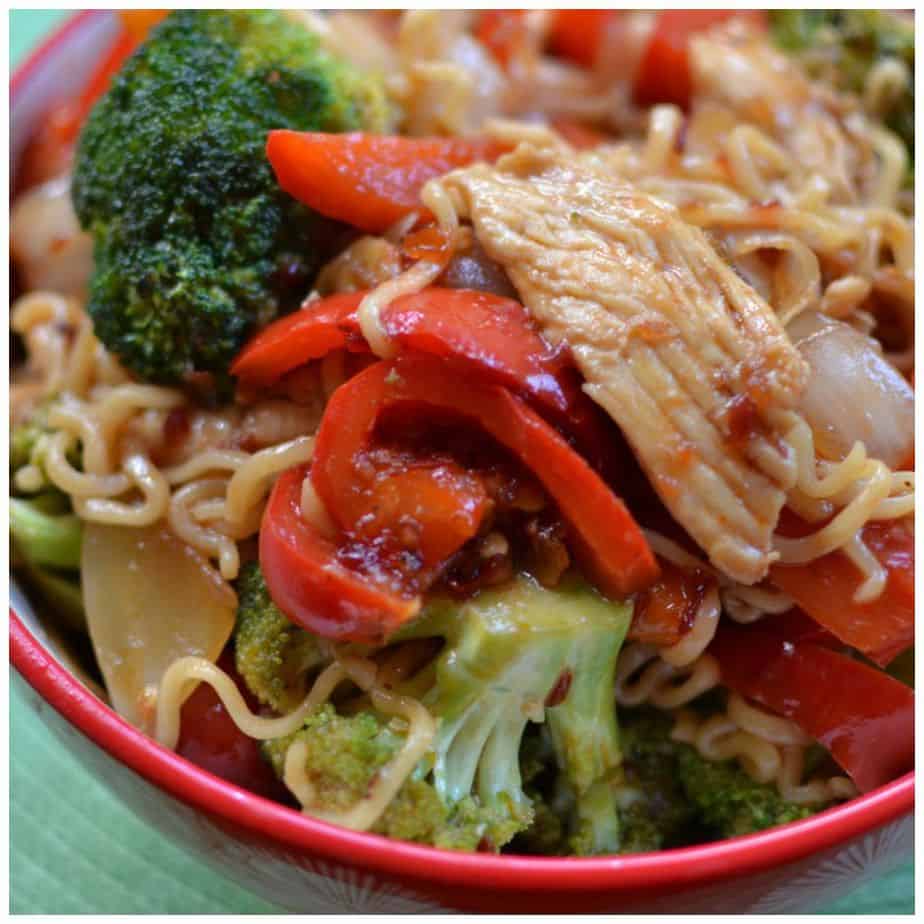 Print
Sweet Chili Chicken Ramen Stir Fry
Scale
Ingredients
3 tablespoons brown sugar
2 tablespoon low sodium soy sauce
1 1/2 tablespoons of rice vinegar
1 1/2 tablespoons ground fresh chili paste (sambel oelek)
1 teaspoon sesame oil
2 tablespoons cold water
1 teaspoon cornstarch
2 (3 ounce) packets of ramen noodles (any flavor discard seasoning packet)
2 tablespoon canola oil
1 1/4 lbs chicken breasts cut in to bite size pieces (about 2 large)
1 medium broccoli crown (1/2 –3/4 lb) cut in bite size pieces
1 large red pepper julienne
1/2 medium onion chopped
Instructions
In small bowl whisk together brown sugar, soy sauce, rice vinegar, chili paste, sesame oil, water and cornstarch. Set aside.
Cook ramen noodles in bowling water for 3 minutes; drain well.
In large skillet heat one tablespoon canola oil over medium high heat. Add chicken and cook for 3-4 minutes; stirring frequently. Remove chicken from pan; plate and cover. Add 1 tablespoon oil to pan over medium high heat. Add broccoli, red pepper and onion. Cook for approximately 2 minutes stirring frequently. Remove vegetables to plate and cover.
Reduce heat to low. Whisk sauce one more time. Pour into the pan and whisk until slightly thickened; approximately 1 minute. Add cooked ramen noodles, chicken and veggies back to pan. Stir to coat and serve immediately.
More recipes you will love!