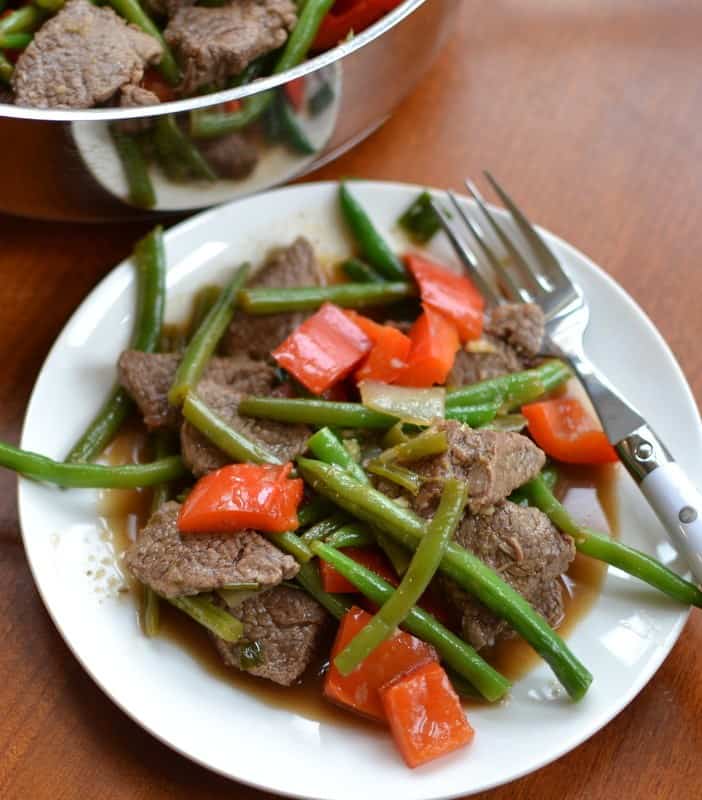 Well the days are getting colder and the nights are getting longer.  Sometimes you just have to stay indoors. I have grown much too old to step out into the frozen tundra to light the barbecue pit.  The sidewalks are slippery and the barbecue pit is covered in ice.  I don't need to have a second fall after I broke my hand back in October.  Let me assure you that vodka had nothing to do with that fall.
 It is the perfect time of year to break out the skillet and see what kind of goodies a bit of health and happiness can create.  This Sweet Ginger Beef and Beans is sure to become one of your absolute favorites.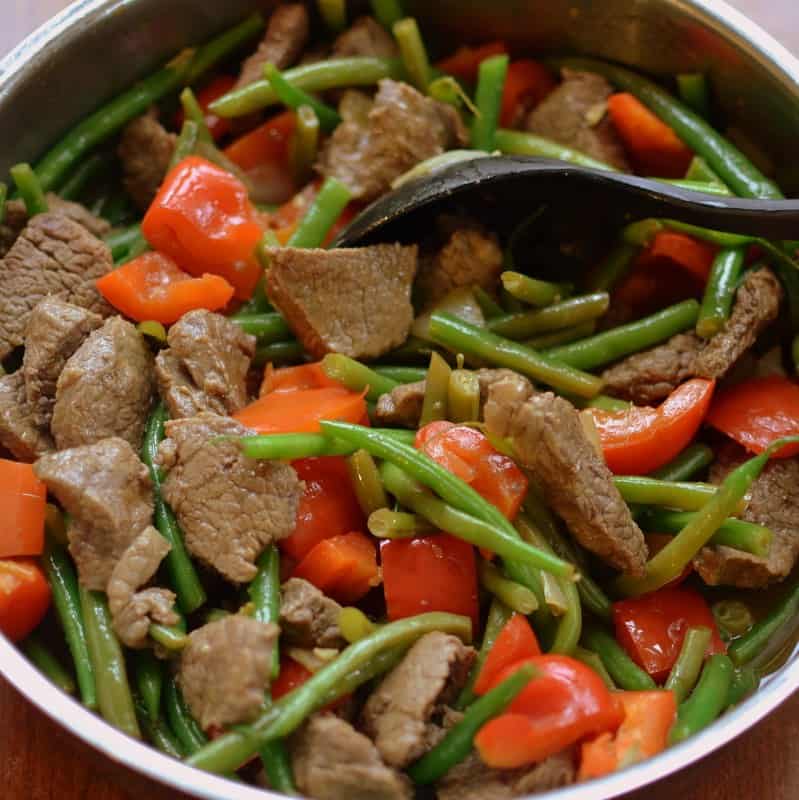 There is nothing difficult about this deliciously sweet skillet meal   It comes together in a matter of about twenty minutes.  If you blanch your green beans ahead of time you can even trim a few more minutes off of that!  If you are like me than you are always trying to stay ahead of the eight ball.  Now I am really showing my age by using sayings like that one.  Sweet Ginger Beef and Beans is chock full of beef steak, green beans, red pepper and onions in the most amazing sweet yet savory garlic ginger sauce!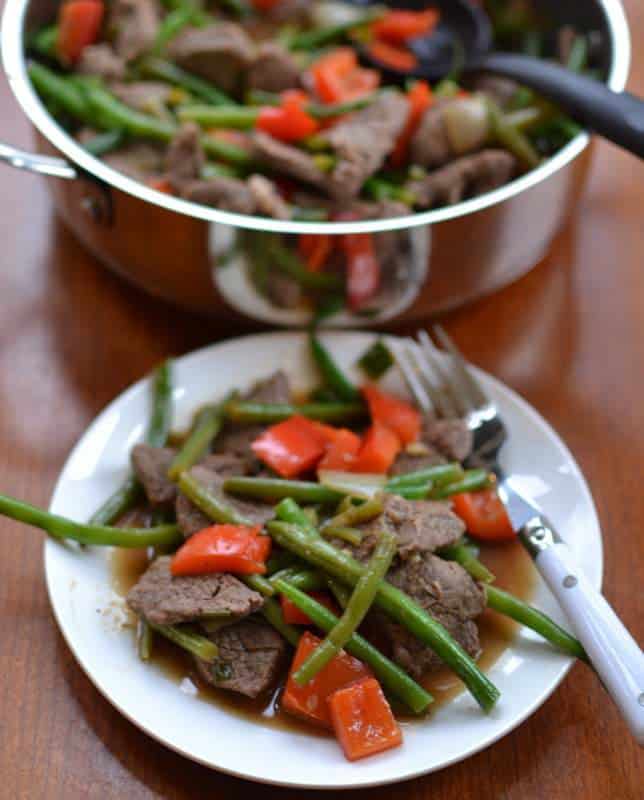 So if you have twenty minutes and a desire to eat a savory healthy meal that cooks up in one skillet than this is your number.  I hope you enjoy this as much as my hubby and I do.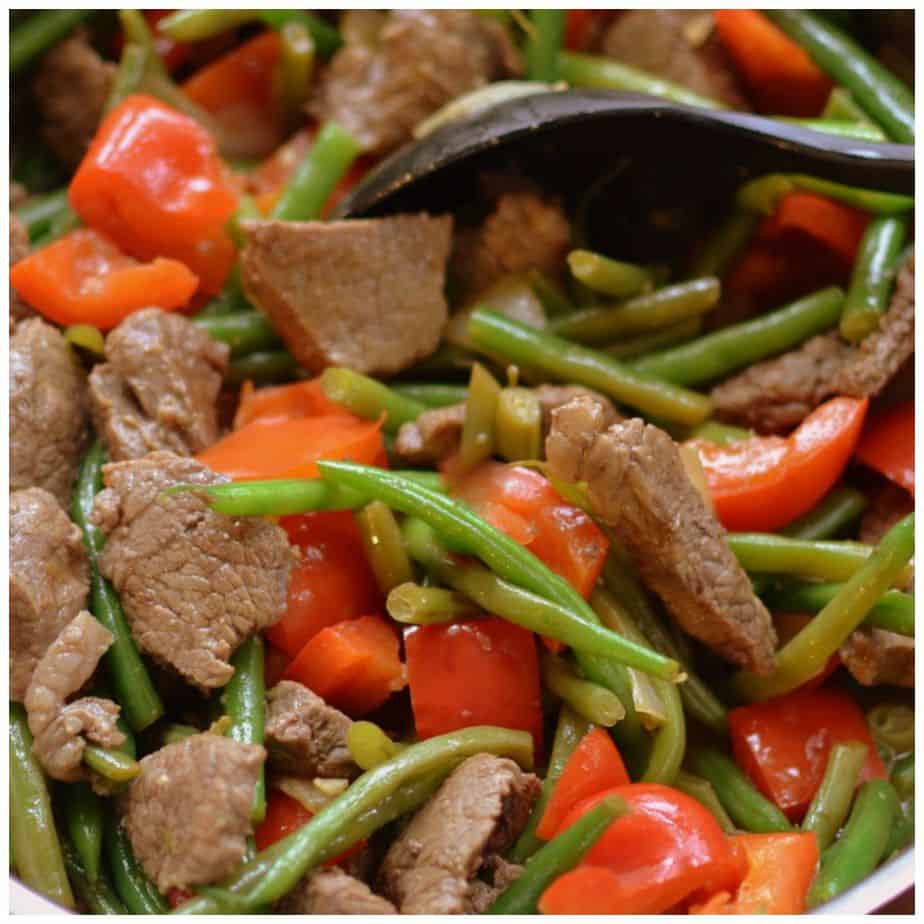 Sweet Ginger Beef and Beans
Scale
Ingredients
1 lb french green beans
1/4 teaspoon salt
1/3 cup low sodium soy sauce
1/4 cup rice vinegar
2 cloves garlic minced
2 teaspoons ginger
2 teaspoons sesame oil
1/3 cup water
1 1/2 tablespoons cornstarch
1 1/4 lbs beef steak (I use petite shoulder
1 tablespoon olive oil
1 red pepper chopped
1 green onions chopped
Cooked white rice or Chinese noodles
Instructions
In large saucepan full of water add salt and bring to low boil. Add green beans and cook 4-6 minutes or until crisp tender. Plunge beans into ice water to stop the cooking process. Once cooled drain, cut in half and set aside.
In small bowl mix soy sauce, rice vinegar, minced garlic, ginger, 1 teaspoon sesame oil, 1/3 cup water and cornstarch. Set aside.
In large skillet over medium high heat. add 1 teaspoon sesame oil, 1/2 tablespoon olive oil and beef steak. Cook beef 5-7 minutes; stirring frequently. Add 2 tablespoons of the ginger sauce the last minute of cooking. Remove from skillet, plate and keep warm.
Add remaining olive oil to skillet over medium heat. Add onion and pepper and cook 3-4 minutes or until crisp tender. Add green beans and cook for additional 1 minute. Add beef and sauce (stir sauce again before pouring in the skillet) to skillet and cook until the sauce is slightly thickened 2-3 minutes. If desired serve over rice or Chinese noodles.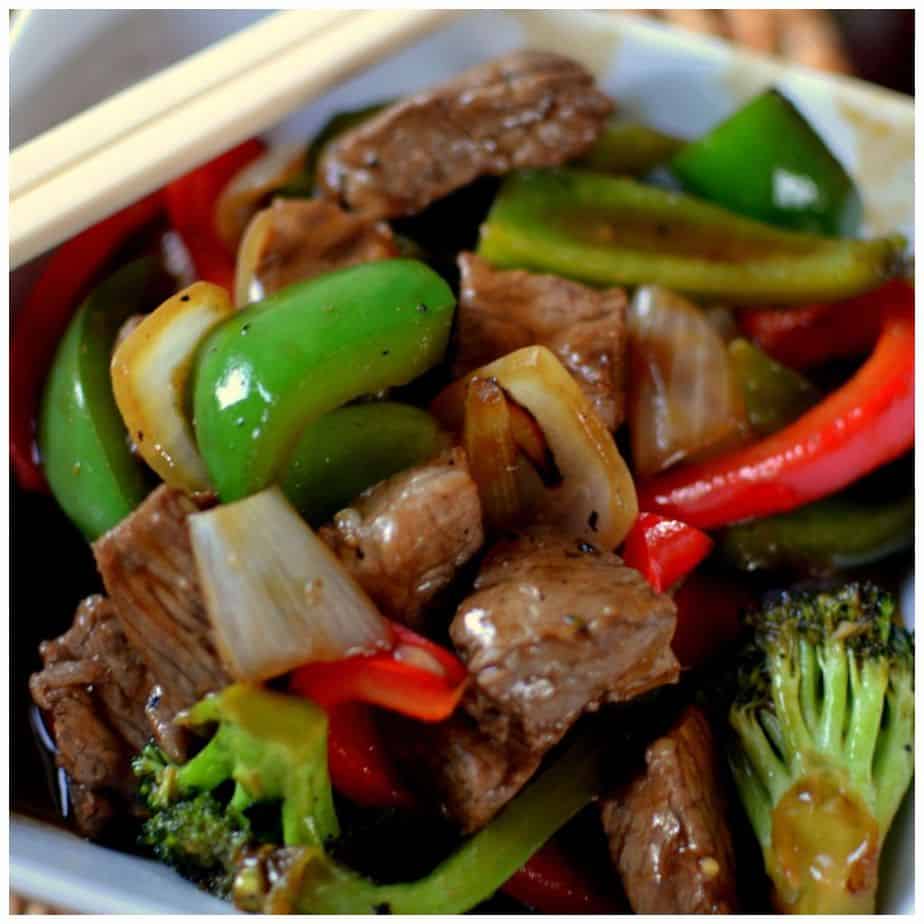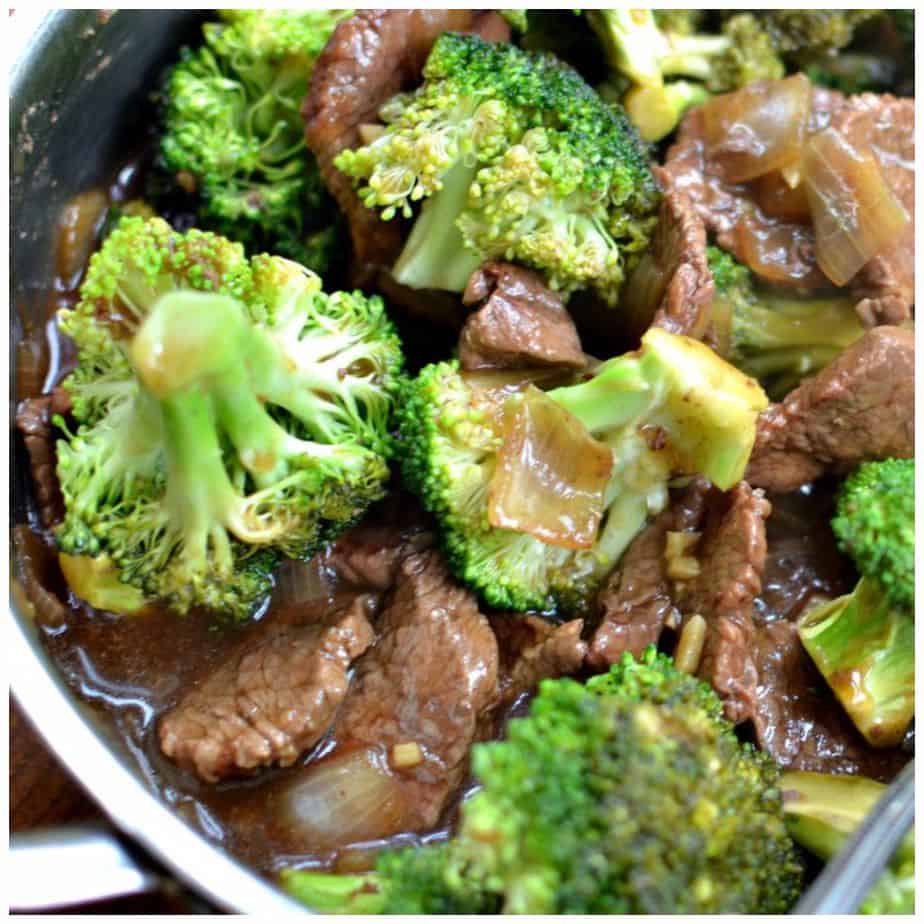 Easy Beef and Broccoli Skillet
https://www.smalltownwoman.com/wp-content/uploads/2019/05/Beth-1.pdf