Sweet Potato Pie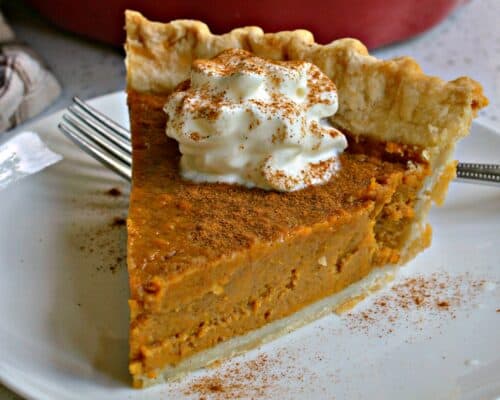 A Southern Sweet Potato Pie made with a flaky buttery crust brimming with a creamy sweet potato filling with cinnamon, ginger, nutmeg and cloves.
PIE CRUST
1/2 cup

 chilled butter cut in small cubes

1 1/2 cups

 flour

1/2 teaspoon

 salt

5

–

6

tablespoons chilled water
Sweet Potato Filling
1 1/4

lbs sweet potatoes

1/2 cup

unsalted butter

1 cup

brown sugar

2

large eggs

1/2 cup

whipping cream

2 1/2 tablespoons

flour

1 1/2 teaspoons

vanilla extract

1 1/2 tablespoons

ground cinnamon

1/2 teaspoon

ground ginger

1/4 teaspoon

ground nutmeg

1/4 teaspoon

ground cloves
Egg Wash
1

large egg

1 tablespoon

water
Combine butter, flour, and salt. Using a pastry blender cut in the butter until very crumbly. Add chilled water a few tablespoons at a time mixing with a fork until the dough pulls together.  Cover and chill for at least 2 hours.
Boil the sweet potatoes until soft.  Allow to cool and gently peel their skins with your fingers.  Using a handheld or stand mixer beat sweet potatoes with butter, brown sugar, eggs, cream, vanilla, cinnamon, ginger, nutmeg and cloves until blended and creamy.
Gently roll the piecrust out to a 12 inch circle on a lightly floured surface.  Fold the piecrust or roll it around your rolling pin to move it to the pie plate.  Gently tuck the crust into the pie pan, trim the edge about an an inch over the side, tuck the excess dough in along the edge and flute it.
Spread the sweet potato mixture into the prepared pie crust.  Beat the egg and water together. Brush the edges of the crust with the egg wash. Bake at 350 degrees for 55-60 hour or until set. Cool for at least 2 hours before slicing.
Notes
The pie dough can be made up to 3 days in advance.  Store disk shaped mounds in the fridge covered thoroughly with plastic wrap.
There is no need to peel the sweet potatoes prior to boiling.  Once boiled the skins will easily peel right off.
Always in a hurry?  Use a frozen ready made pie crust or even a Graham Cracker Crust.
This delicious pie is even better the second day after all the flavors have co-mingled for a while.  So feel free to make it 1-2 days in advance.
Just like pumpkin this pie needs to chill for several hours to cut well.
Top with homemade whipped cream and very light dusting of cinnamon.
Leftovers should be covered with wrap and stored in the refrigerator.
This pie will still have a little wiggle to it when it is done.
Keywords: how to make sweet potato pie, southern sweet potato pie, homemade sweet potato pie