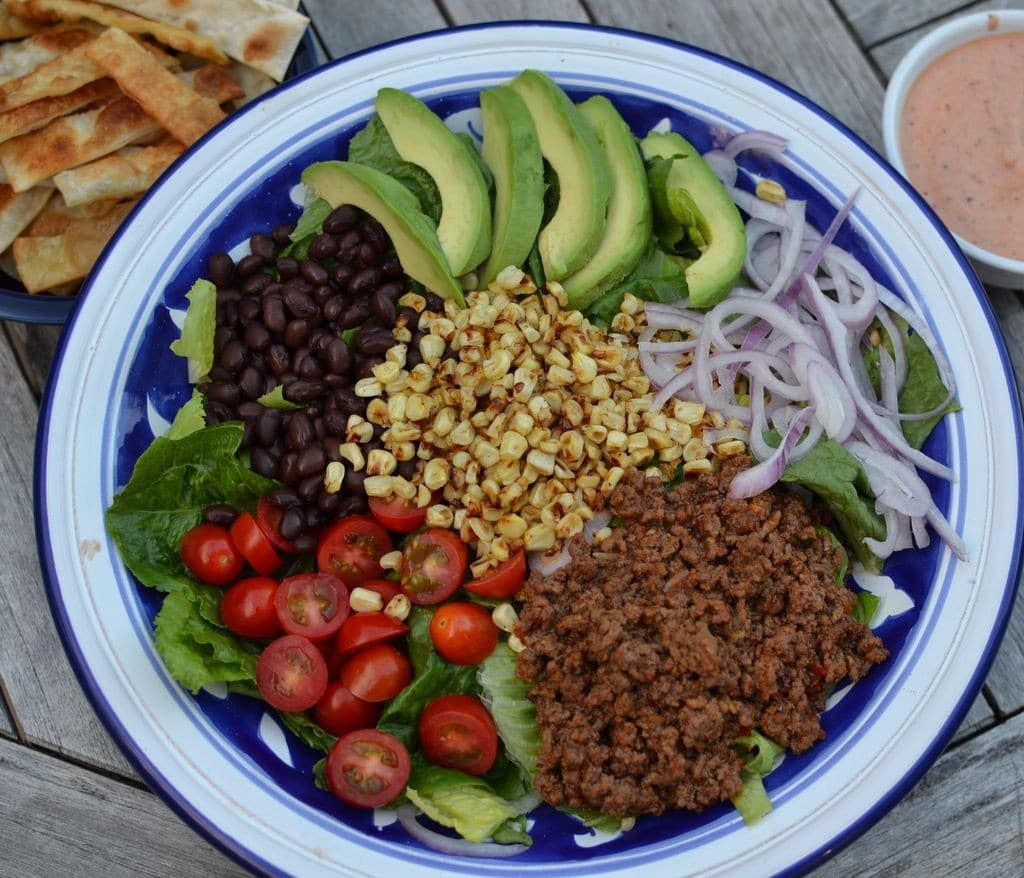 This salad is so beautiful.  It is hard to eat it but I am sure you will find a way just as I did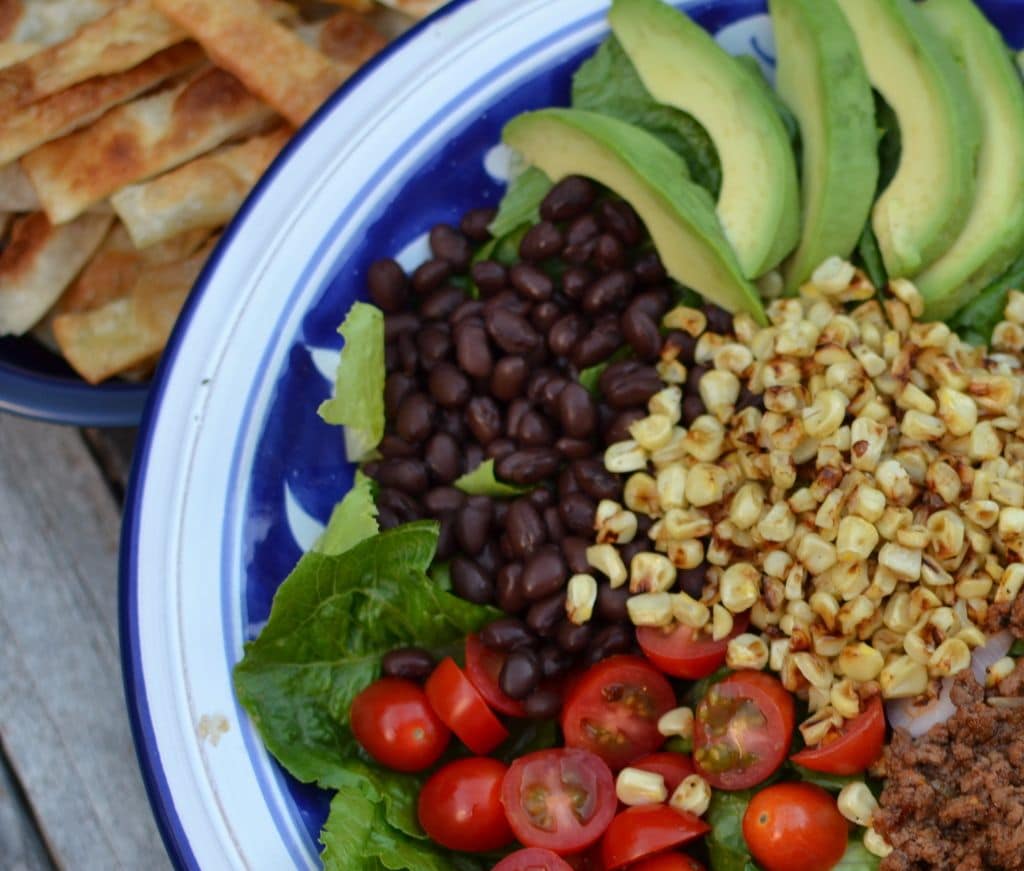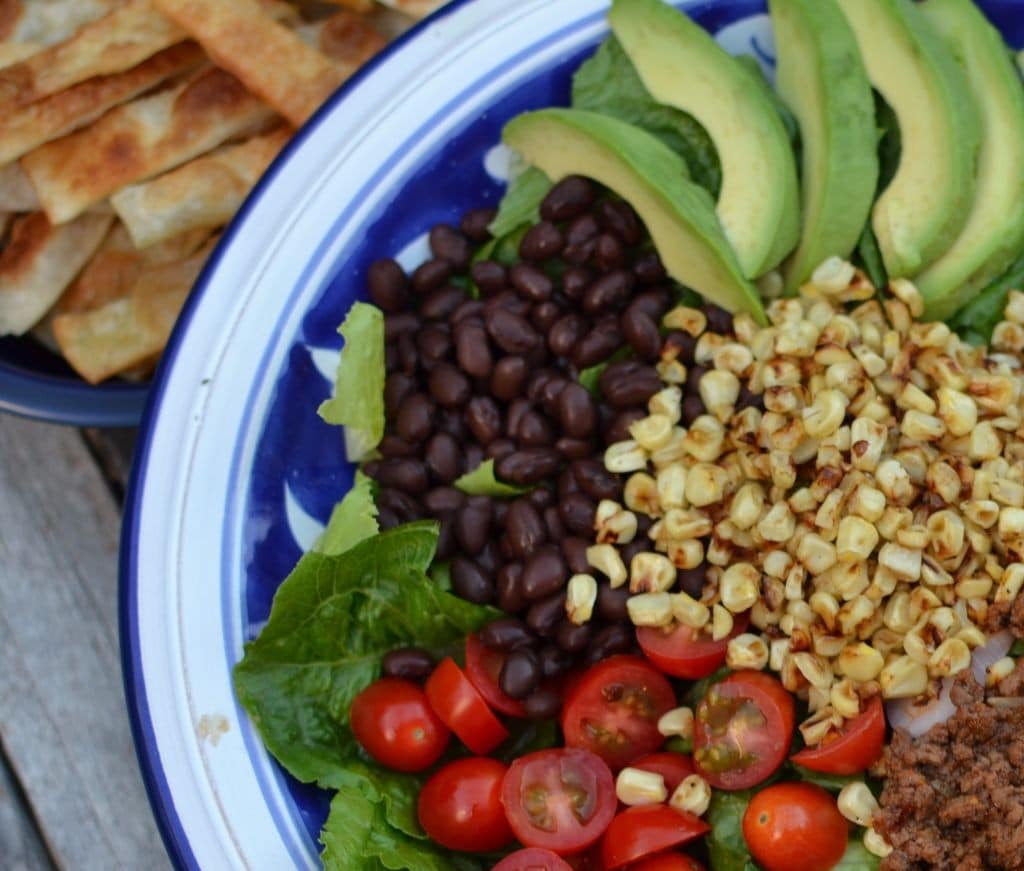 It combines blackened corn , perfectly seasoned ground beef, grape tomatoes, avocado, sweet red onions, black beans and pan friend tortilla strips!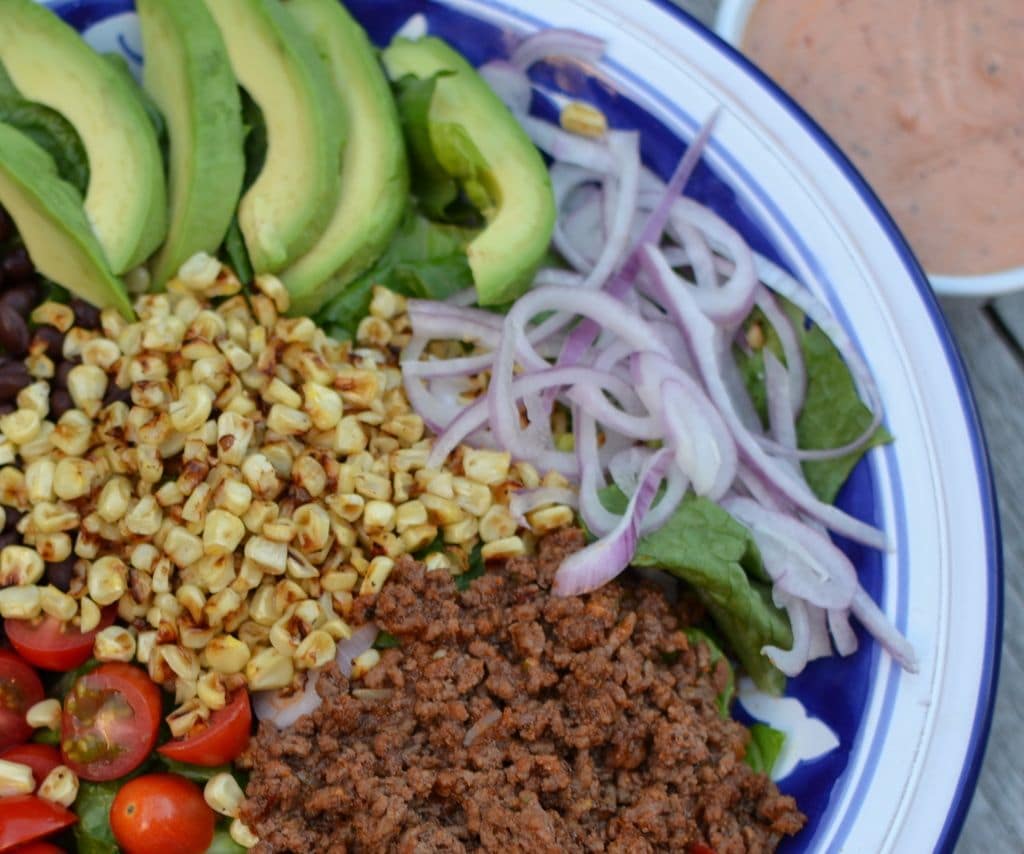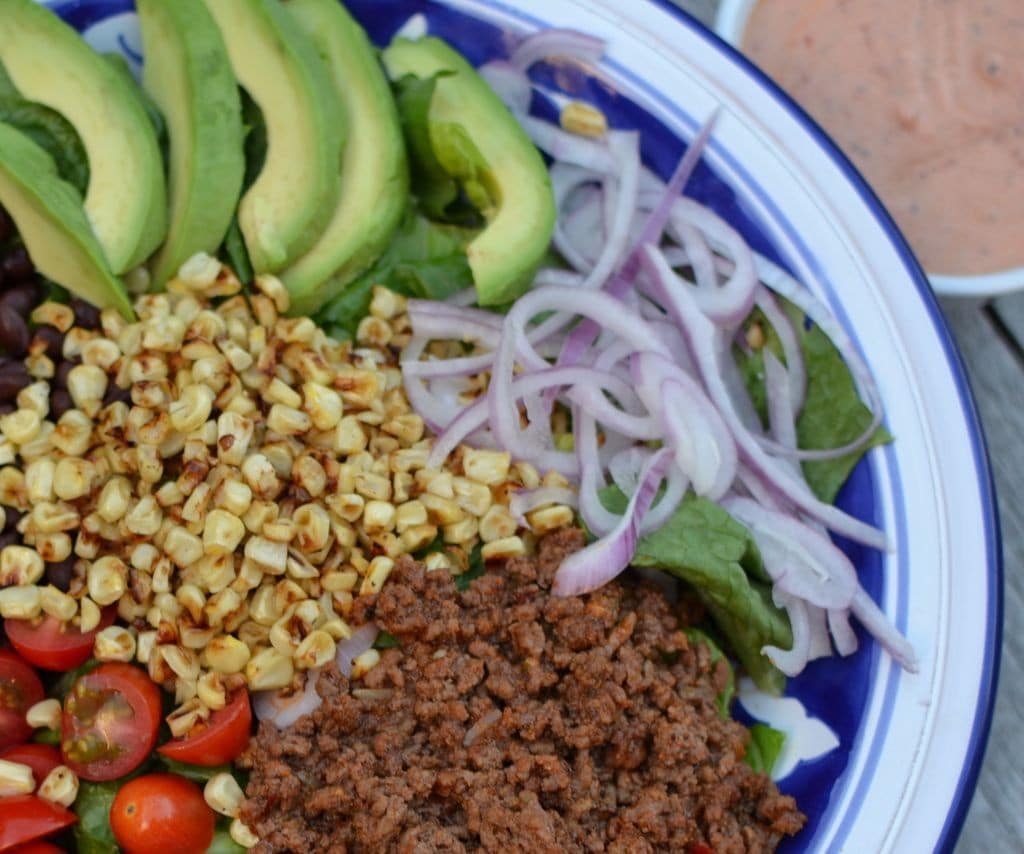 Now top that all off with a smoky chipotle salsa dressing and your taste buds will be bursting with flavor!  I promise!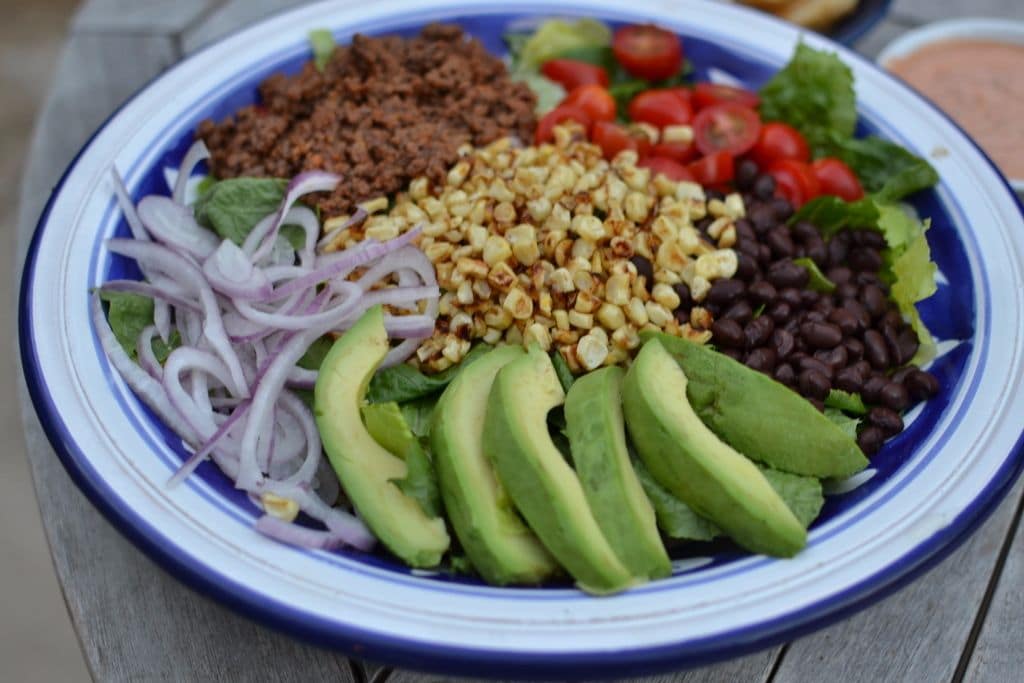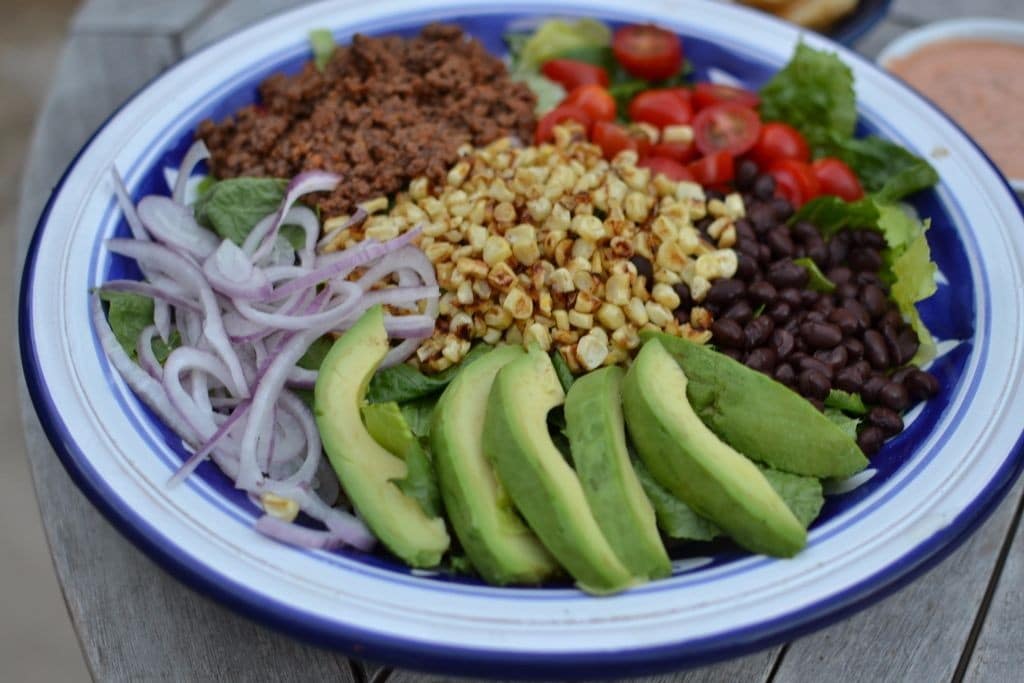 Print
Taco Salad with Chipotle Salsa Dressing
Scale
Ingredients
1 lb ground beef
3 tablespoons taco seasoning
3/4 cup water
Romaine lettuce (large head) torn or chopped into bite size pieces
1 ear corn
1 avocado thin slices
Red onion thin sliced
Grape tomatoes sliced in 1/2
1 can black beans drained and rinsed
Cheddar cheese shredded
2 tortillas cut in strips
Olive oil
1/3 cup salsa style tomatoes
1/3 cup mayo
1/3 cup Greek Yogurt
1/2 chipotle pepper minced
1 tablespoon white vinegar
3 tablespoons milk
Instructions
Brown ground beef. Drain fat, add water and taco seasoning and simmer for 15 minutes.
Remove corn from stalk. Add the corn to a skillet over high heat. Turn corn after you hear it snapping and popping. Cook until slightly blackened. Remove from heat.
Add 1 tablespoon olive oil to skillet over medium heat. Add tortilla strip and cook on each side until lightly browned. It takes less than 1 minute on each side. Drain on paper towels.
Combine salsa style tomatoes, mayo, yogurt, chipotle pepper, vinegar and milk in food processor and pulse a few times until smooth and combined.
Arrange romaine in large bowl. Arrange beef, corn, avocado, red onions, grape tomatoes, black beans and cheddar on top of lettuce. Add tortilla strips or serve on the side. Toss with dressing or serve in small bowl on the side.
https://www.smalltownwoman.com/wp-content/uploads/2019/05/Beth-1.pdf