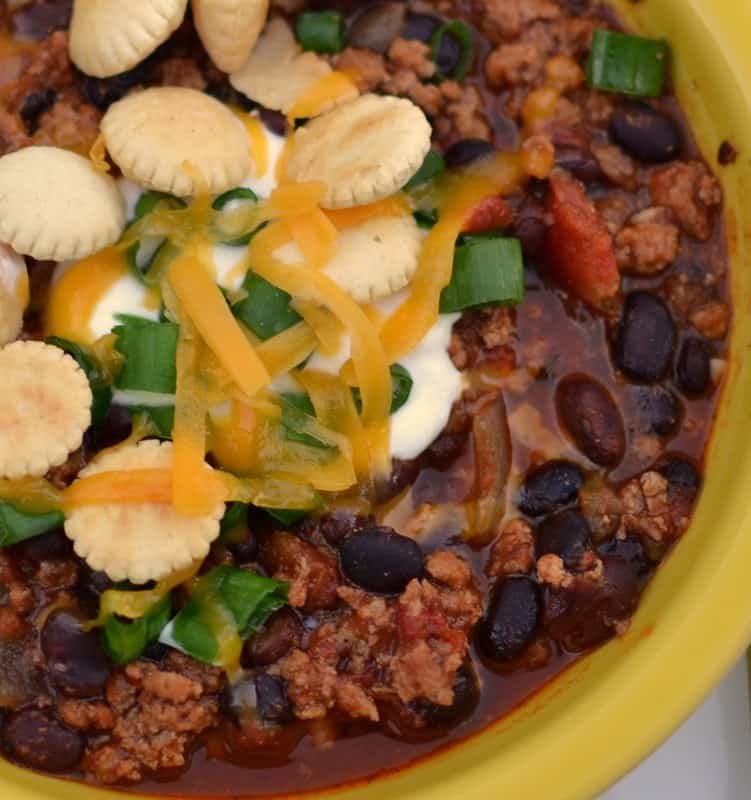 Either you are a chili lover or you are not!!  I am a chili lover…no doubt at all.  I have so many great chili recipes and this is the perfect time of the year to break them out!!  Of course I could eat a great bowl of chili in the middle of a hot sweltering summer.  This Thick Hearty Crock Pot Black Bean Chili will hit the spot just right!!!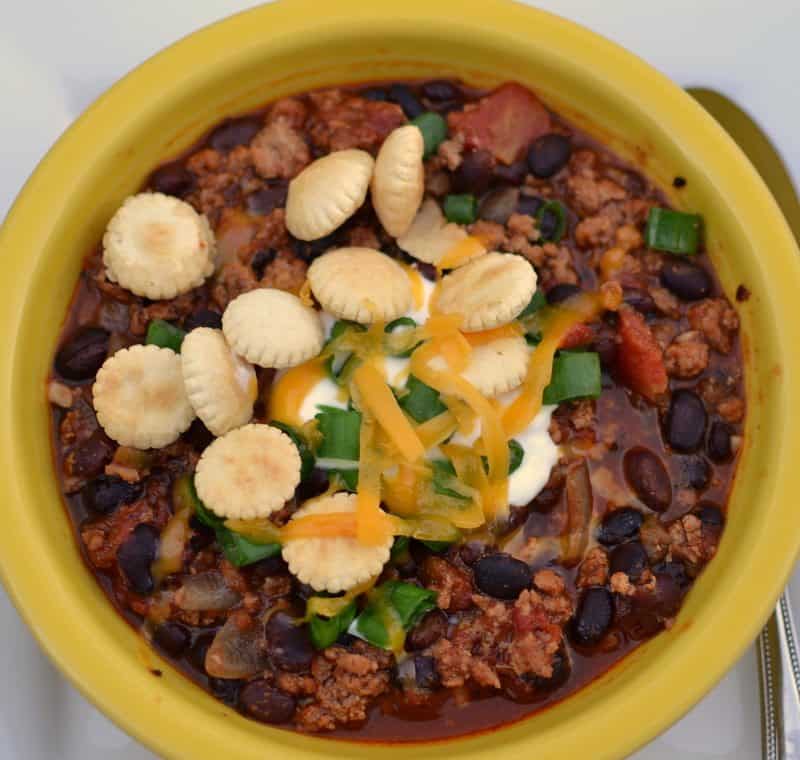 It combines ground turkey, onions, fire roasted salsa & tomatoes, black beans, jalapenos and a perfect blend of spices.  You can turn up the heat or turn it down.  This is written as a crock pot recipe however the first step is done in a skillet so you could just get out a heavy stockpot or dutch oven if you are going to be around and you want to simmer on the stove.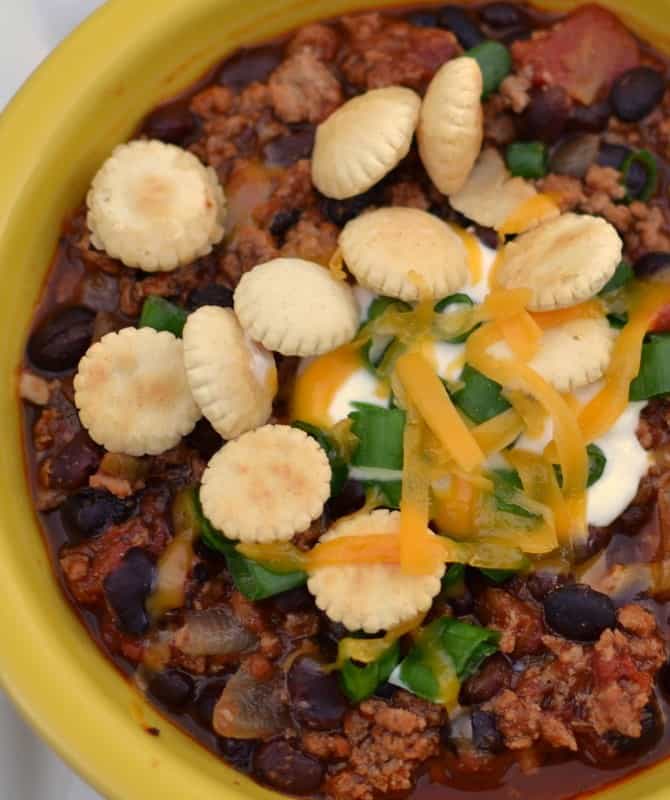 I love this chili and I wish I had a bowl of this right now.  This Thick Hearty Crock Pot Black Bean Chili is so full of flavor and a must try.  Perfect for your game day meal!!!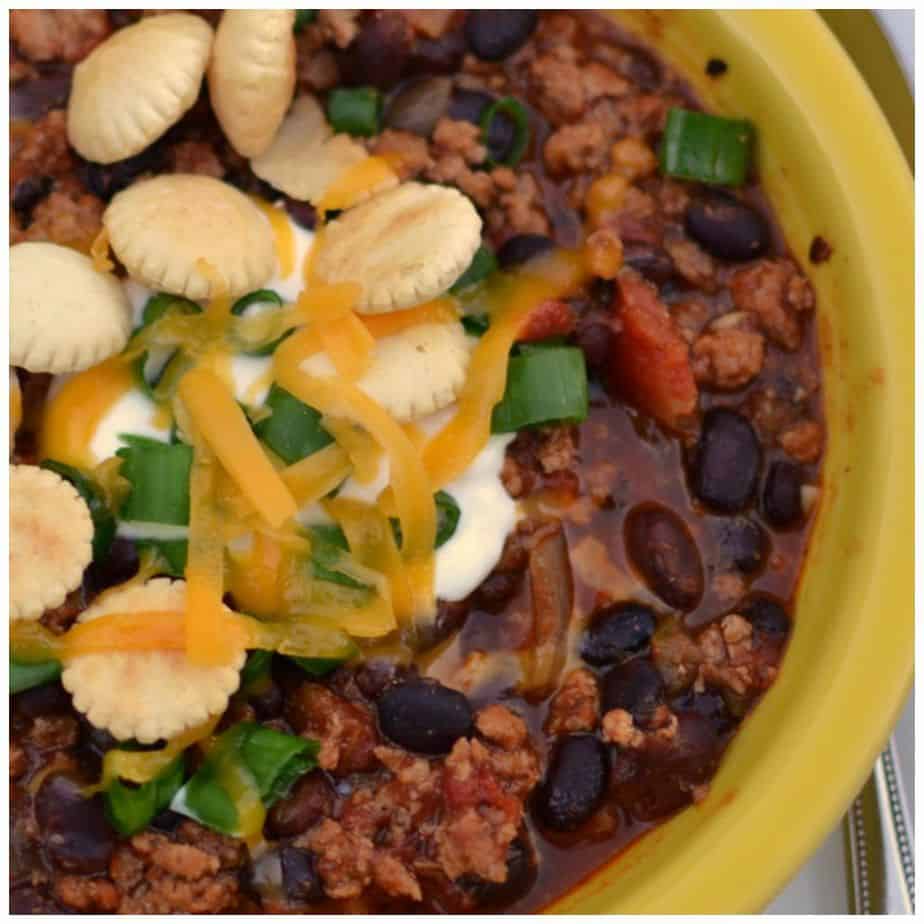 Thick Hearty Crock Pot Black Bean Chili
Scale
Ingredients
1 1/4 lbs ground turkey
1 medium onion chopped
2–3 cloves garlic minced
1 can (14.5 ounce) diced tomatoes
1 can (14.5 ounce) fire roasted salsa style tomatoes
2 cans (15.25 ounce) black beans drained and rinsed
1 1/2 tablespoon chili powder
1 tablespoon oregano
1 tablespoon cumin
2–3 tablespoons adobo sauce (see notes)
1/2–1 jalapeno seeded and vein removed finely minced (to taste)
Instructions
In large skillet over medium heat brown ground turkey. Add onion and cook for additional 4 minutes. Turn heat to low and add garlic and cook for additional 1 minute, Drain any grease.
Move contents to crock pot over low heat. Add both cans of tomatoes, black beans, chili powder, oregano, cumin, adobo sauce, and jalalpeno.
Cook over low heat for 5-7 hours.
Notes
You can find chipotle peppers packed in adobo sauce in the Mexican section of your local grocery. It is a small can and you can use these peppers in all kinds of recipes. They will stay for weeks in the ice box in an airtight sealed container. For this recipe you just want a few tablespoons of the sauce. If you are still hesitant about purchasing the can they do sell dry adobo seasoning.
Here is an article about freezing chipotle peppers. They are so good in so many things.
http://ourbestbites.com/2011/04/how-to-work-with-canned-chipotle-peppers-in-adobo-sauce/
https://www.smalltownwoman.com/wp-content/uploads/2019/05/Beth-1.pdf