Scrumptious Tortellini Pasta Salad is a quick and easy veggie filled flavor packed side that goes with all your grilled favorites. We love it with Dry Rub Grilled Pork Tenderloin and Marinated Herb Butter T Bone Steaks.  This pasta salad holds up very well and can be made up to twenty four hours in advance of serving. But please hold the basil and about half the dressing until about twenty minutes prior to serving.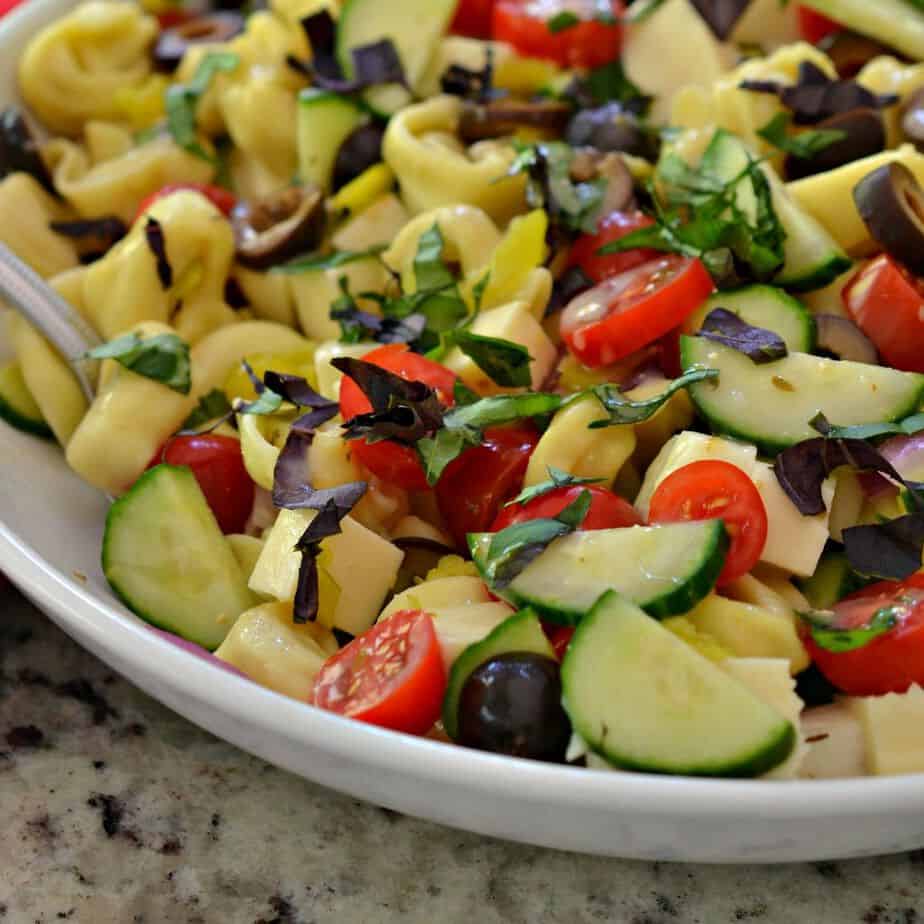 Pasta salad is just so versatile and incredibly easy to put together.  A little boiling (of the pasta), a little chopping and a little mixing and you have yourself a tasty side dish or vegetarian main course. Do you see something in this Tortellini Pasta Salad that your family may not like.  Do not fret my friends simply substitute something they do like.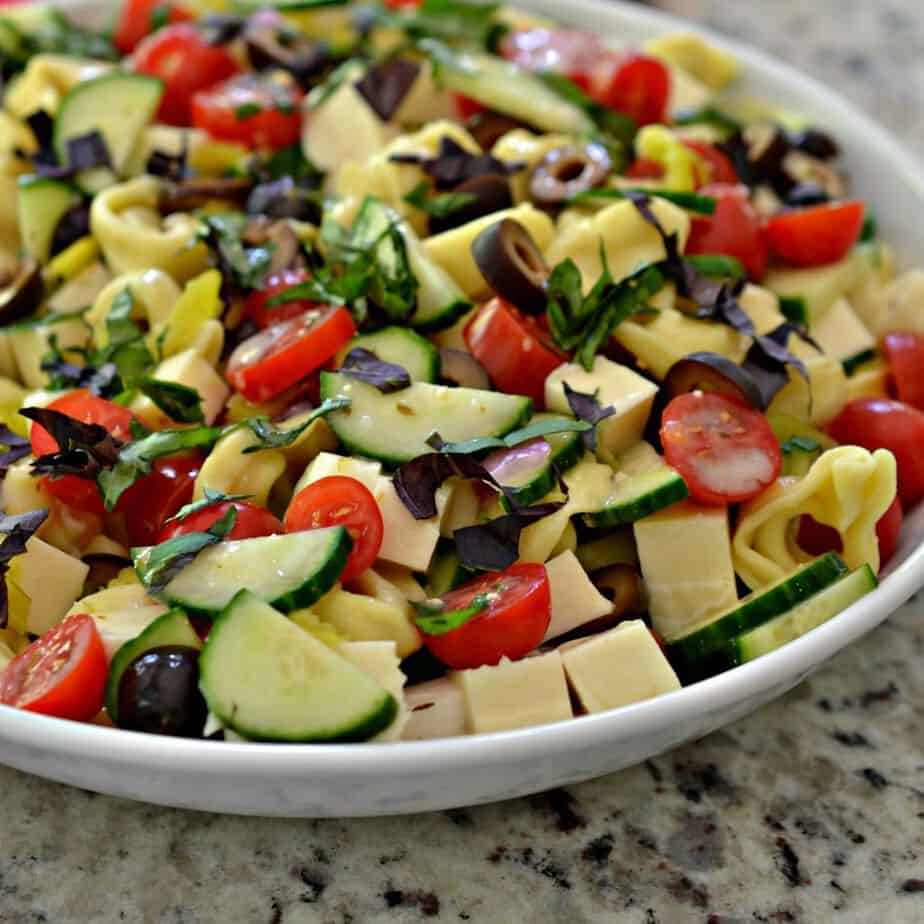 How do you make Tortellini Pasta Salad?
First boil the cheese tortellini noodles according to package directions and drain well.  Meanwhile chop your cucumbers, tomatoes, black olives, peperoncinis, red onion and mozzarella cheese. Next in a large bowl combine the cooled tortellini noodles, all your chopped vegetables and Italian dressing.  Sprinkle with fresh snipped basil.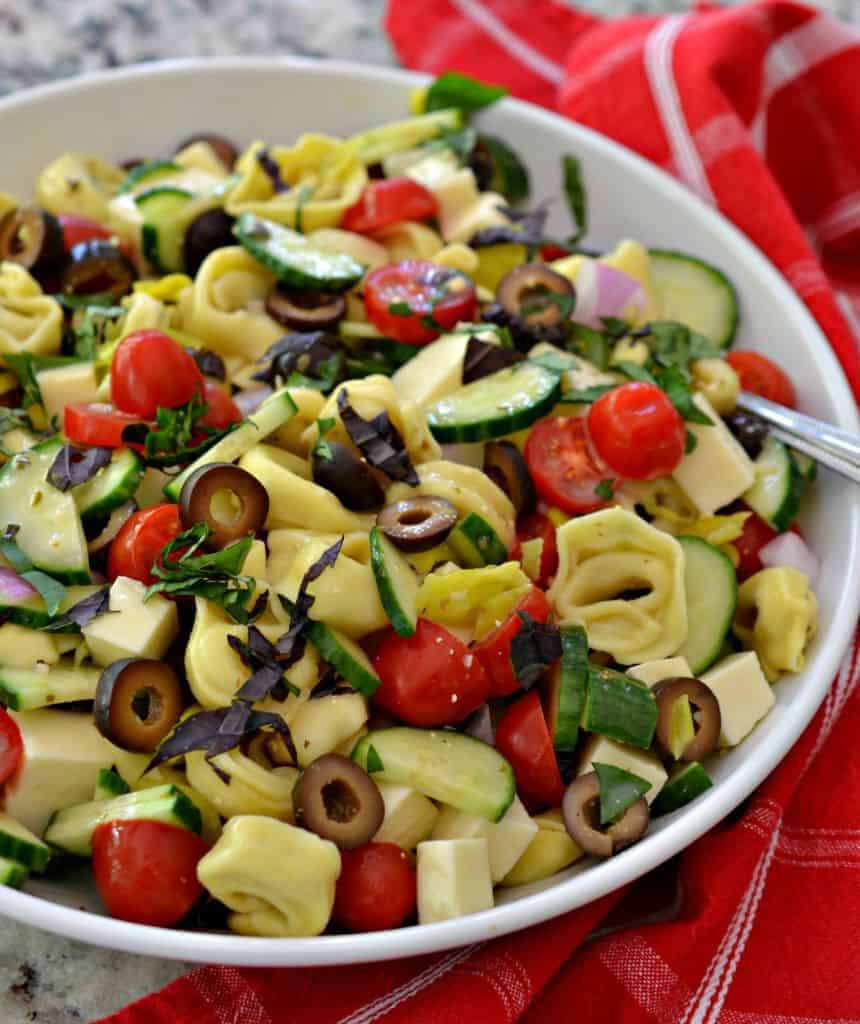 Tips for making Tortellini Pasta
Do not overcook the pasta.  Pasta salads hold up better when the pasta is cooked slightly al dente.
Chop your vegetables slightly small to complement the size of the tortellini.
If there is a vegetable that you do not like substitute one that you do.  For instance if you do not like black olives use a different olive or capers.
Fresh mozzarella is best in this pasta salad however I have also used low moisture whole milk mozzarella as well.
You can prepare this pasta salad up to a day in advance. However do not add the basil until just a few minutes before serving and reserve half the dressing for tossing right before serving. Pasta salads tend to absorb dressing when prepared in advance.
Feel free to use your favorite bottled Italian dressing or mix one up from scratch.
This pasta salad is best refrigerated for 30 minutes up to overnight.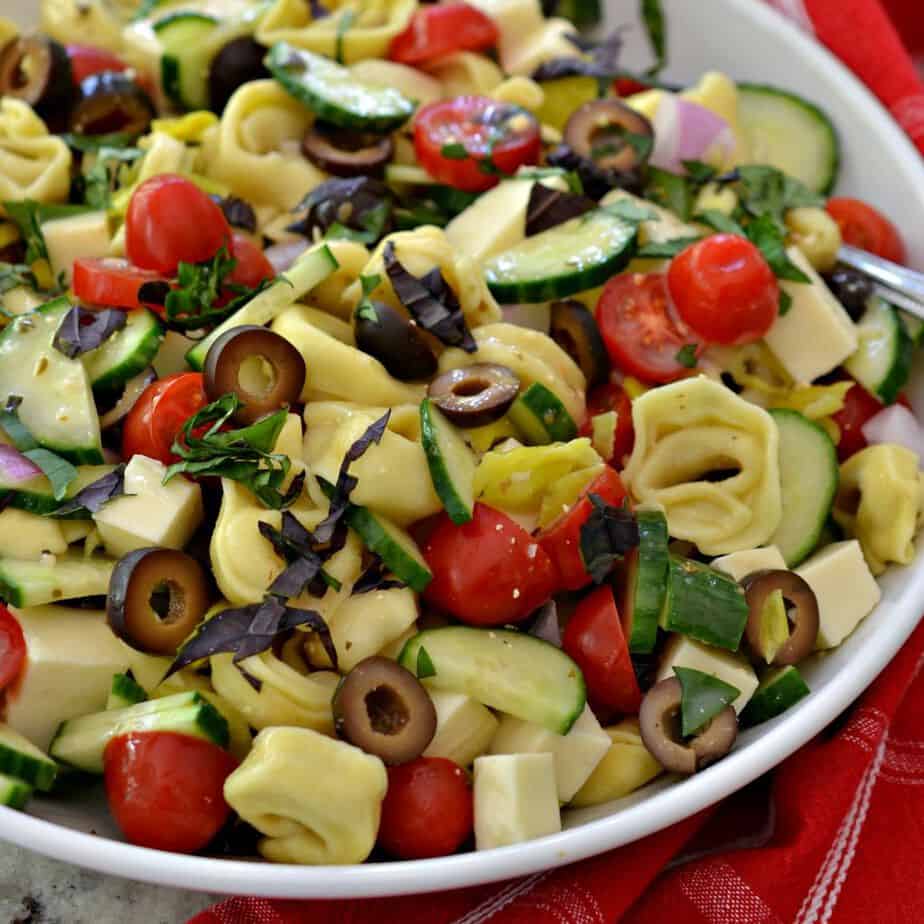 Working with and prepping fresh basil
Every year we grow herbs in our flower beds so when I need some for a recipe I am cooking I simply walk outside and cut some.  Basil adds so much flavor to fresh pasta and vegetable salads.  It is so incredibly fragrant and tasty.  This year hubby planted me sweet basil and purple basil.  Purple basil is a little less sweet with more of a spicy peppery taste.
To prep basil simply rinse with cold water and shake dry.  Gather leaves up in a layer and either snip with kitchen shears to make ribbons or gently tear small pieces off.  I find that the basil holds up much better than slicing with either of these methods.  I also find that fresh basil is usually best added to pastas, pasta salads, vegetables right before serving unless it is major ingredient in a recipe like pesto or Creamy Tomato Basil Soup.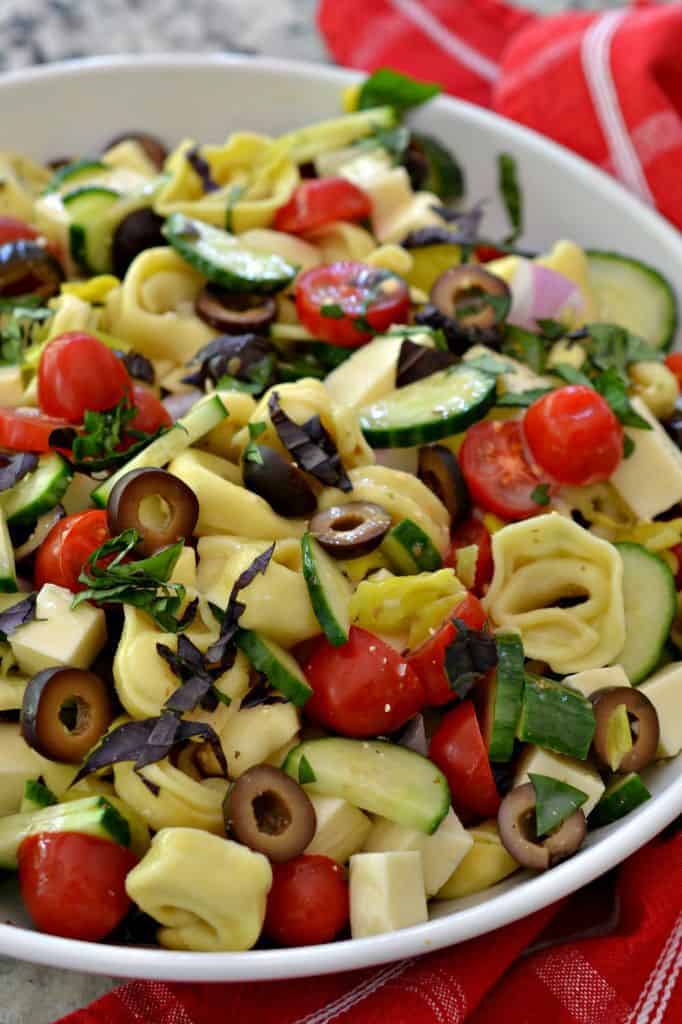 Other easy salad recipes you will love!
Print
Tortellini Pasta Salad (Vegetarian)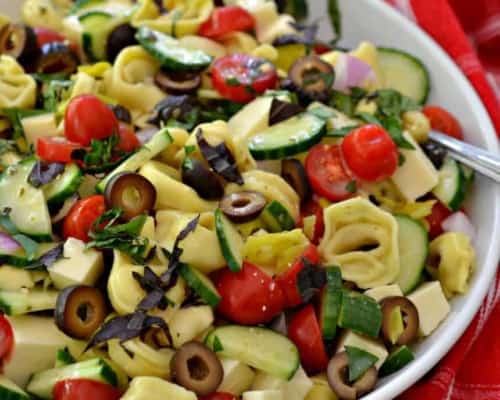 A quick and easy pasta salad combing cheese tortellini, cucumbers, tomatoes, black olives, peperoncinis, red onion and fresh mozzarella in a tasty Italian dressing.
Author:
Prep Time: 15
Cook Time: 5
Total Time: 20 minutes
Yield: 10 servings 1x
Category: pasta salad
Method: stovetop
Cuisine: Italian
Scale
Ingredients
20 ounces fresh refrigerated cheese tortellini
1 English Cucumber sliced in half lengthwise and then thinly sliced
1 1/2 cups grape or cherry tomatoes sliced in half
1/2 cup sliced black olives
1/2 cup deli sliced peperoncinis
1/3 cup small diced red onion
8 ounces fresh mozzarella cut in small cubes
2/3 cup your favorite bottled Italian dressing or  Fresh Italian Dressing
1/4 cup fresh basil snipped or torn
Instructions
Boil cheese tortellini noodles according to package directions and drain well.
In a large bowl combine the cooled tortellini noodles, cucumbers, tomatoes, black olives, peperoncinis, red onion, mozzarella and Italian Dressing. Refrigerate for 30 minutes up to overnight.
Before serving sprinkle with fresh snipped basil
Keywords: cheese tortellini pasta salad, Italian tortellini pasta salad, cold tortellini pasta salad
https://www.smalltownwoman.com/wp-content/uploads/2019/05/Beth-1.pdf