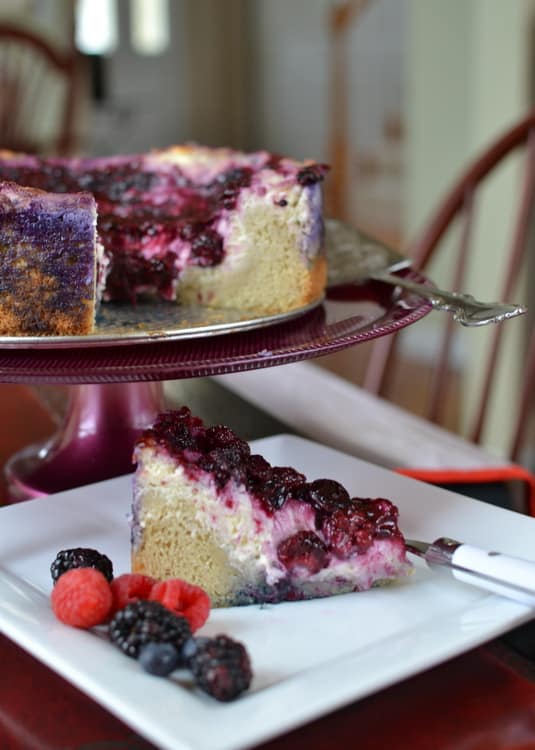 Look at those luscious berries and cream cheese filling.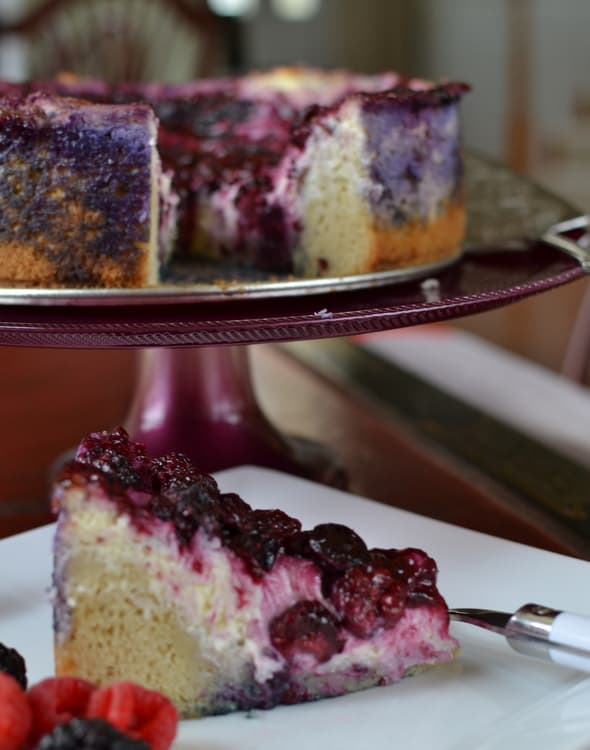 The perfect treat for the end of a hectic week! My whole family loves this and so will you!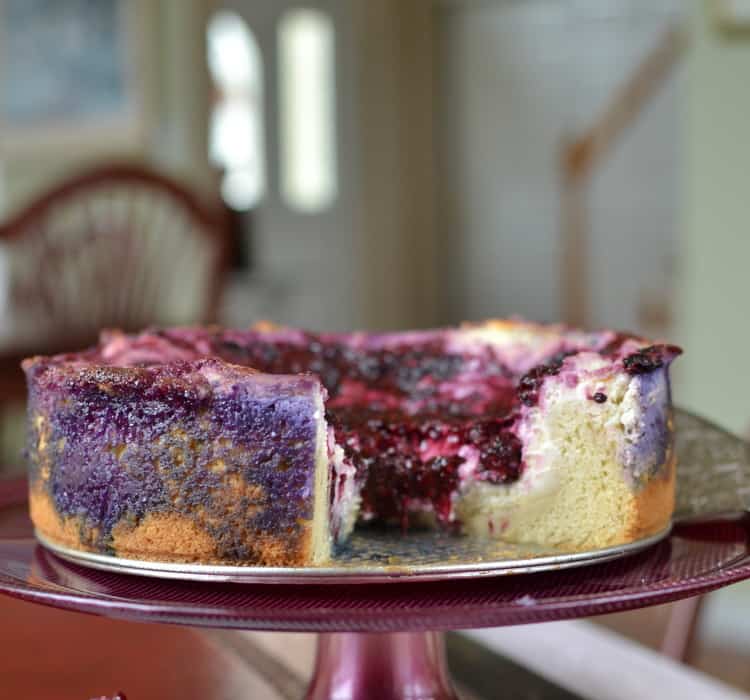 You can pour the berry sauce on before baking or you can add it after baking. Both are delicious!
Print
Triple Berry Cream Cheese Coffee Cake
Scale
Ingredients
4 cups mixed berries (blueberries, blackberries and raspberries)
1/2 cup sugar
2 cups all purpose flour
1 teaspoon baking soda
1 teaspoon baking powder
3/4 cup sugar
1/3 cup butter
1 egg
3/4 cup sour cream
1 teaspoon vanilla
8 ounces cream cheese
8 ounces ricotta cheese
1/2 cup sugar
1 egg
Instructions
Preheat oven to 350 degrees. Spray 9 inch spring form pan with nonstick cooking spray.
Simmer berries and sugar over low heat until slightly thickened. Remove from heat and allow to cool.
In small bowl sift together flour, baking soda, and baking powder.
Using stand mixer cream butter and 3/4 cup sugar until smooth. Add 1 egg. Add sour cream and vanilla and blend just until combined. Add 1/2 cup of flour mixture at a time blending just until combined between each 1/2 cup; approximately 30 seconds. Pour into spring form pan.
Using stand mixer cream cream cheese, ricotta cheese and 1/2 cup sugar until smooth. Add 1 egg. Add to the top of the cake in the spring form pan.
Top with berry sauce.
Bake for 40 minutes.
Notes
You can also add the berry sauce after the cake bakes. This creates a little more appealing appearance but the berry flavor does not penetrate the cake as much!
https://www.smalltownwoman.com/wp-content/uploads/2019/05/Beth-1.pdf