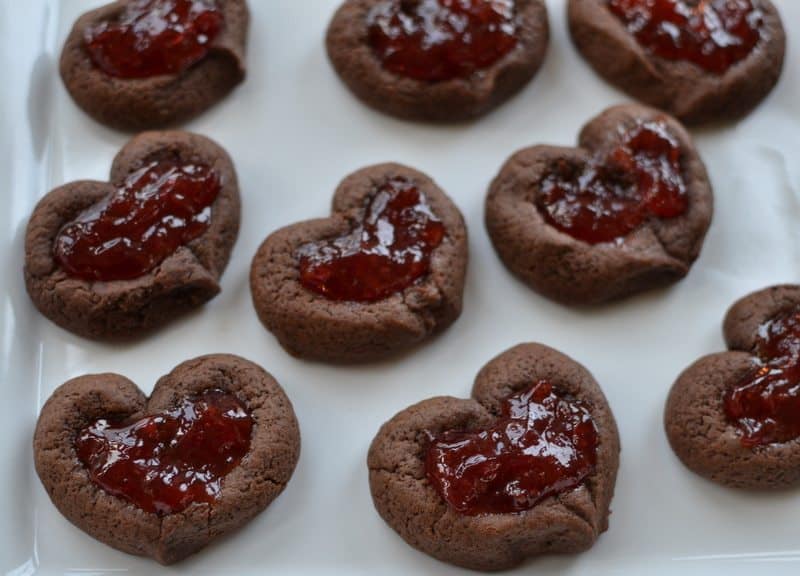 Well Valentines Day is a coming.  You know that mushy holiday where lovers are spreading their love and joy everywhere! LOL!  Obviously not my most favorite holiday of the year but you may be a Valentines Day nut.  You may be the kind of hopeless romantic that plans flowers, candy and a romantic dinner for two.  Or you may be that special kind of Mom that goes out her way every Valentines Day to surprise her children with cards, homemade candies and treats!  These scrumptious Valentine Chocolate Strawberry Thumbprint Cookies could be your cat's meow.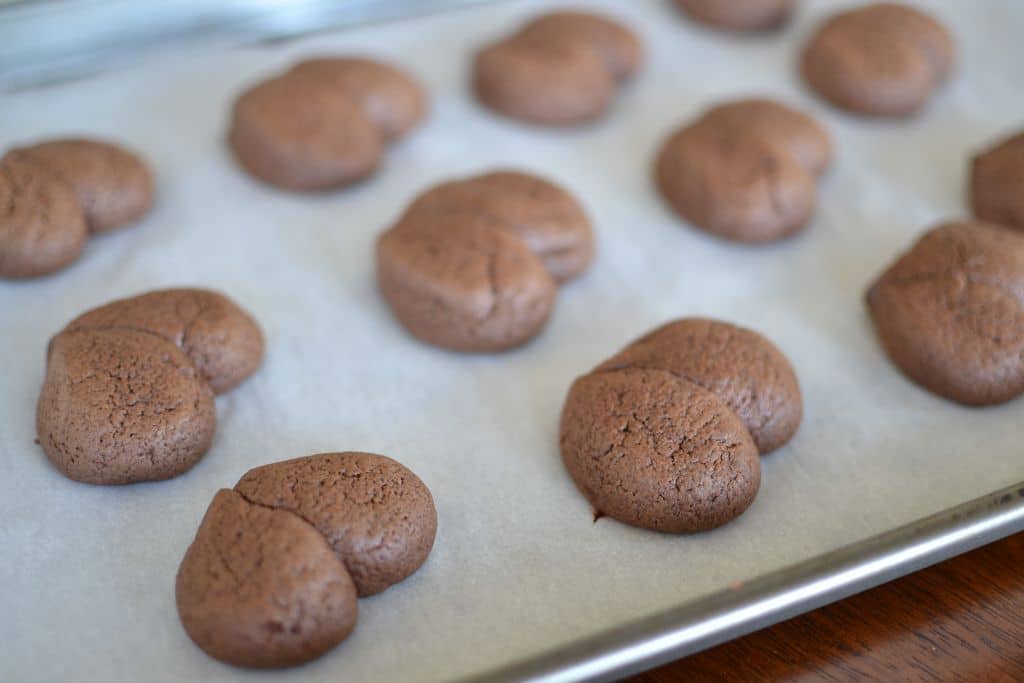 Don't let these little goodies fool you!!  There is nothing difficult about them at all.  You simply roll the balls a little smaller than a standard thumbprint cookie and merge them together and taper at the bottoms.  When they come out of the oven you simply tilt your thumb a little this way on one side and a little that way on the other side.  Think of the shape of a heart and it is so easy.  This recipe make full use of jarred strawberries preserves.  Get the one that is just fruit.  This cookie is sweet enough without adding more sugar.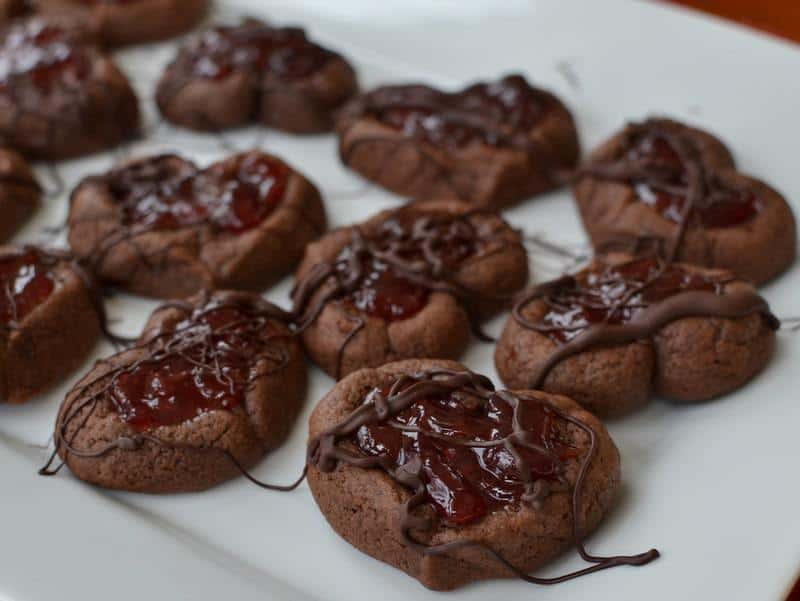 Put these Valentine Chocolate Strawberry Thumbprint Cookies on your list and you are sure to score some serious brownie points (no pun intended) with your lover and your loved ones!  Enjoy your mushy holiday!!  LOL!!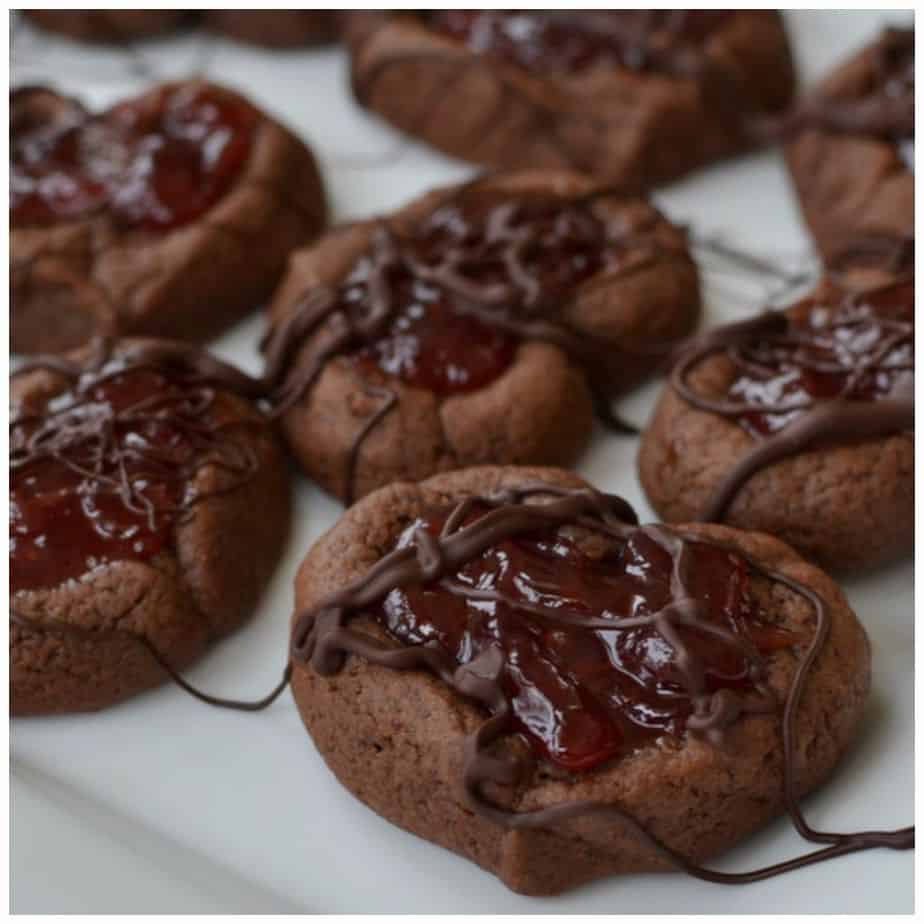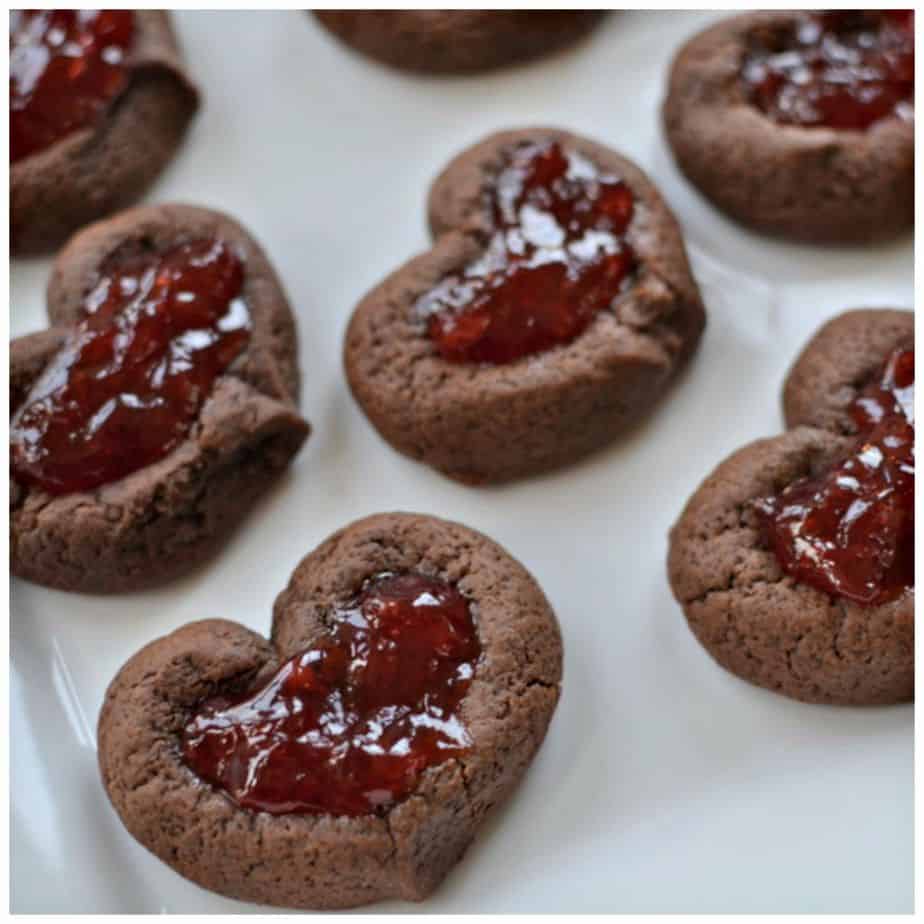 Print
Valentine Chocolate Strawberry Thumbprint Cookies
Scale
Ingredients
1/2 cup butter softened
1/2 cup sugar
1/2 cup brown sugar
2 eggs
1 teaspoon vanilla extract
1 1/2 cups all purpose flour
2/3 cup cocoa
1/4 teaspoon salt
1/4 teaspoon baking powder
1/4 teaspoon baking soda
1 (10 ounce) jar strawberry preserves (you will not need all of this, if there is a smaller jar get it)
1/4 cup chocolate chips
1/2 teaspoon coconut oil
Instructions
Preheat oven to 350 degrees.
Cream butter & both sugars with mixer. Add eggs one at a time and mix in.
Combine flour, cocoa, salt, baking powder and baking soda in a medium bowl. Add 1/2 cup dry mixture to butter mixture. Blending after each addition just until combined and scraping side of mixer bowl as needed. Add vanilla and mix just until combined. Remove bowl from mixer and refrigerate for 10 minutes.
Butter hands and roll dough into 3/4 inch balls. Place two balls on cookie sheet covered with parchment paper and press together and taper at the bottom to form a heart Press down just slightly to flatten the top; just a smidgen. Repeat with the rest of the dough
Bake for ten minutes. Remove from oven and cool 1 minute. Using thumb gently press at a slight angle on each side of the cookie creating a heart shape with your thumb; see picture. Fill each cookie with one teaspoon strawberry preserves.
Melt chocolate and coconut oil in microwaveable safe bowl on 50% power for 1 minute. Stir until the bowl is longer warm. Continue microwaving for 30 second 50% power intervals until melted. Stirring between each interval. Drizzle over cookies.
Notes
You can make these cookies with or without the chocolate drizzle. Both are tasty and pretty!
Other recipes you will love!!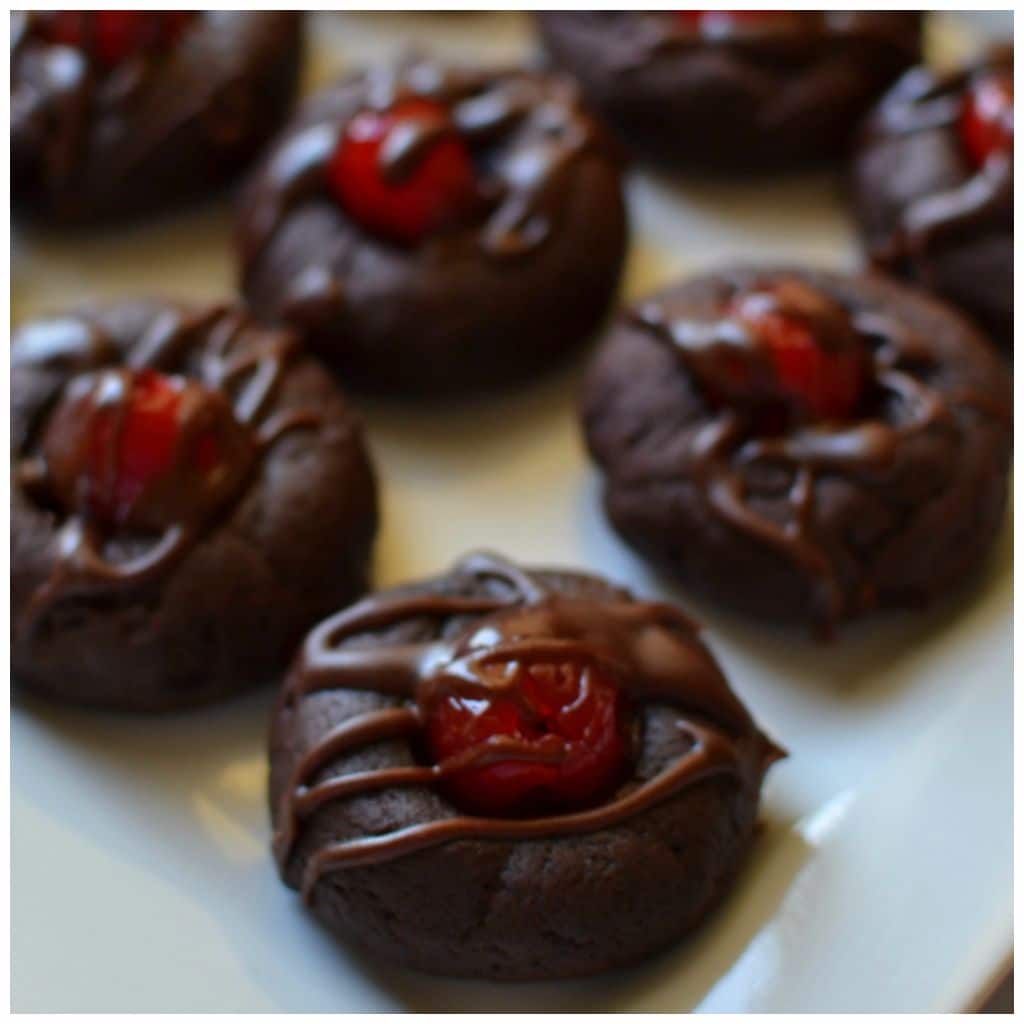 Double Chocolate Cherry Cookies
https://www.smalltownwoman.com/wp-content/uploads/2019/05/Beth-1.pdf