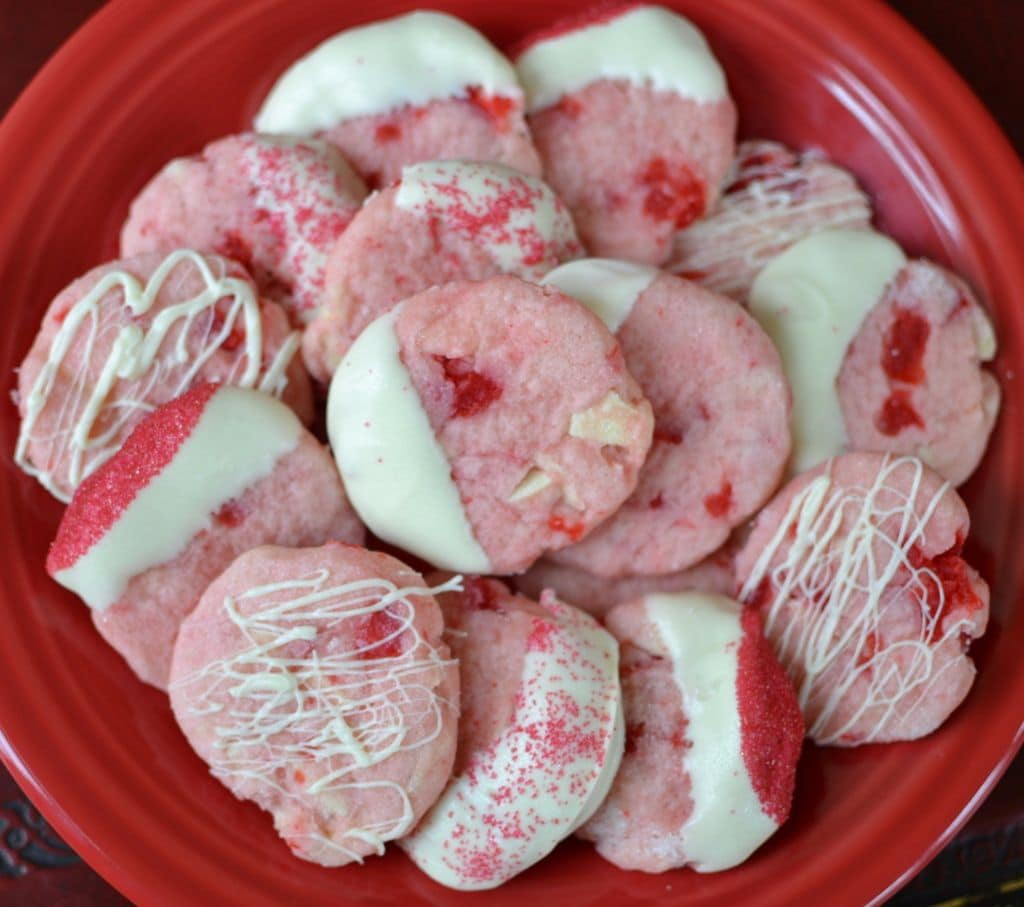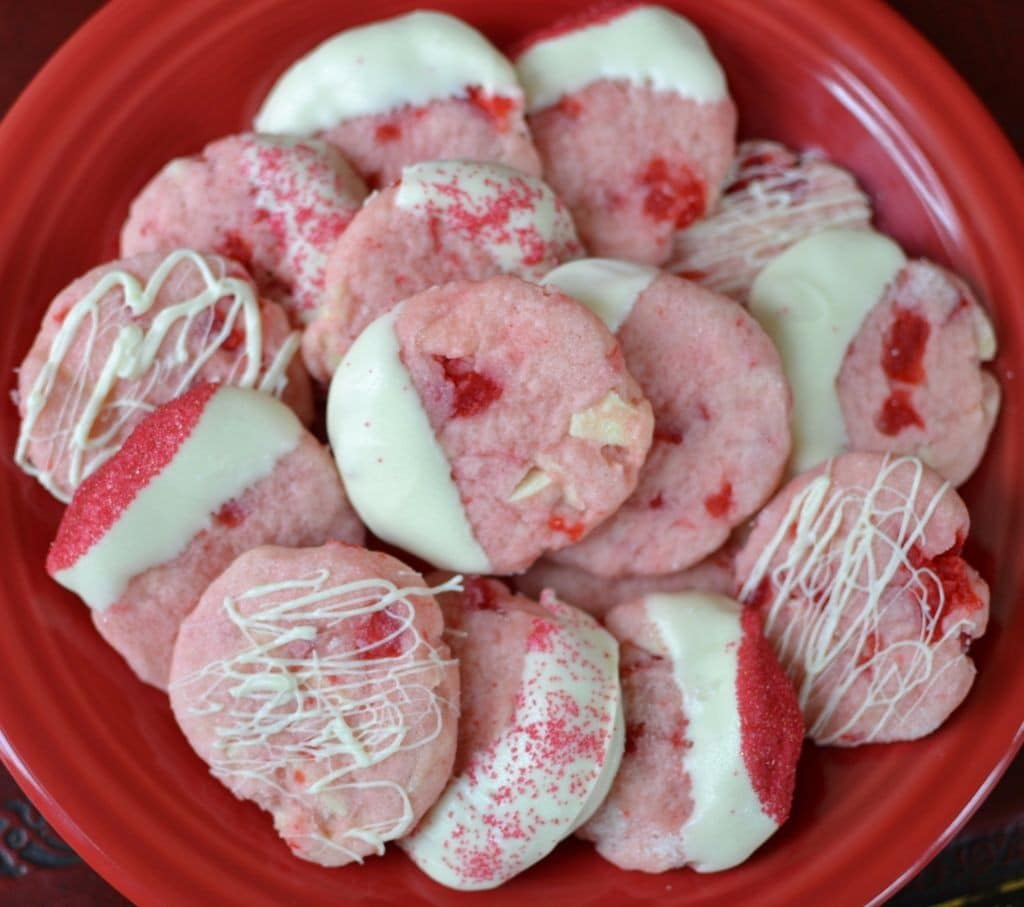 Better Homes & Gardens turned me on to a great recipe a few years ago. I modified it a bit to suit my own taste but it is a great cookie recipe and everyone should have this on their cookie list.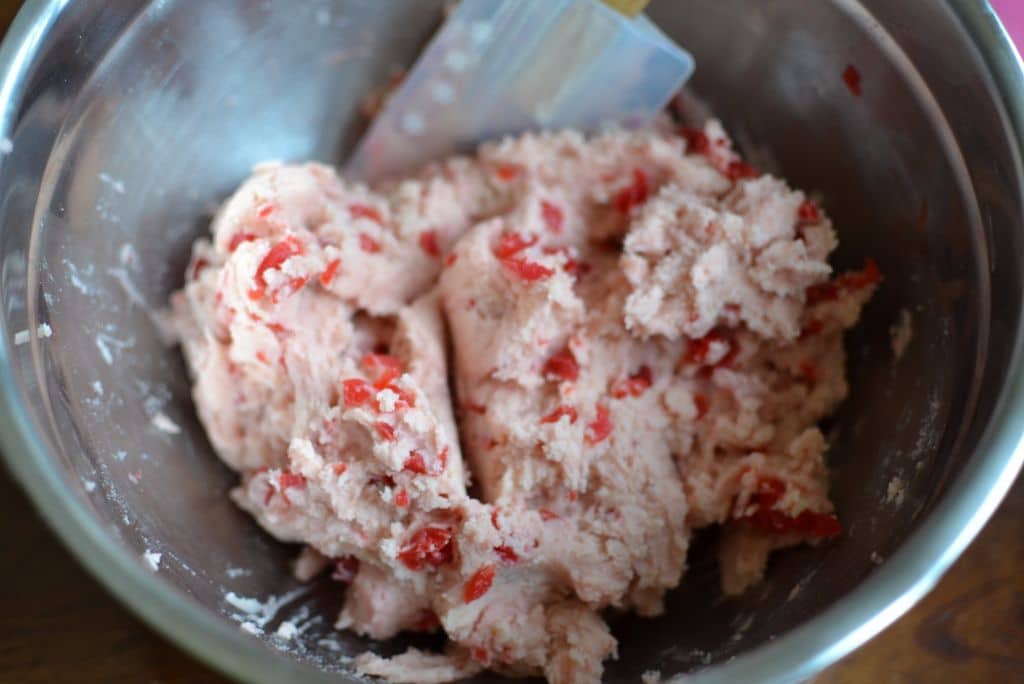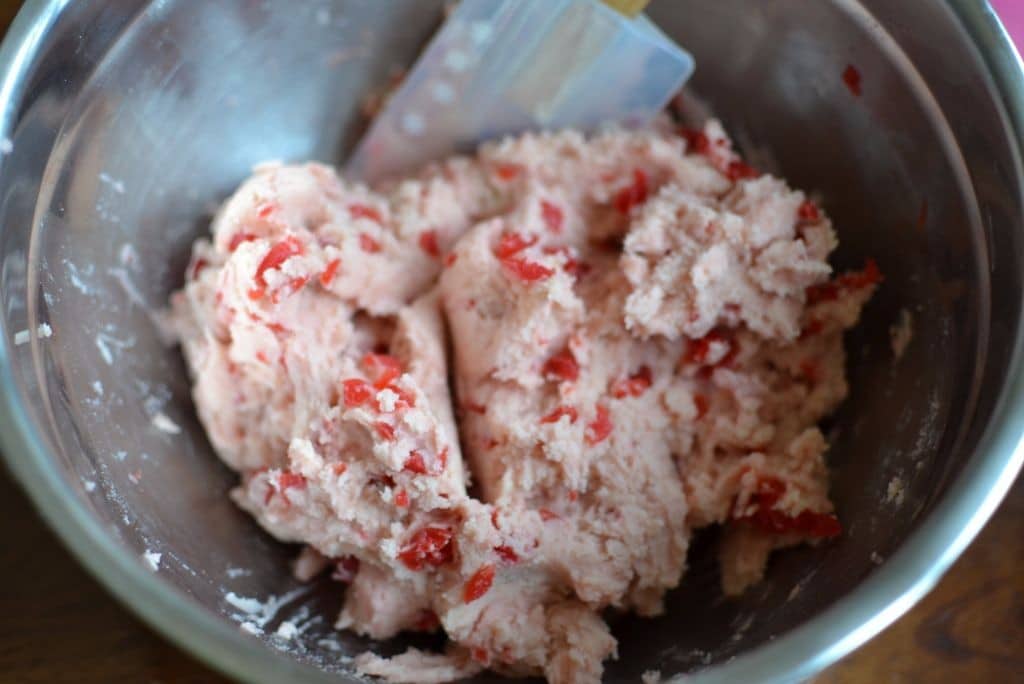 The dough can be whipped up in a food processor in no time at all.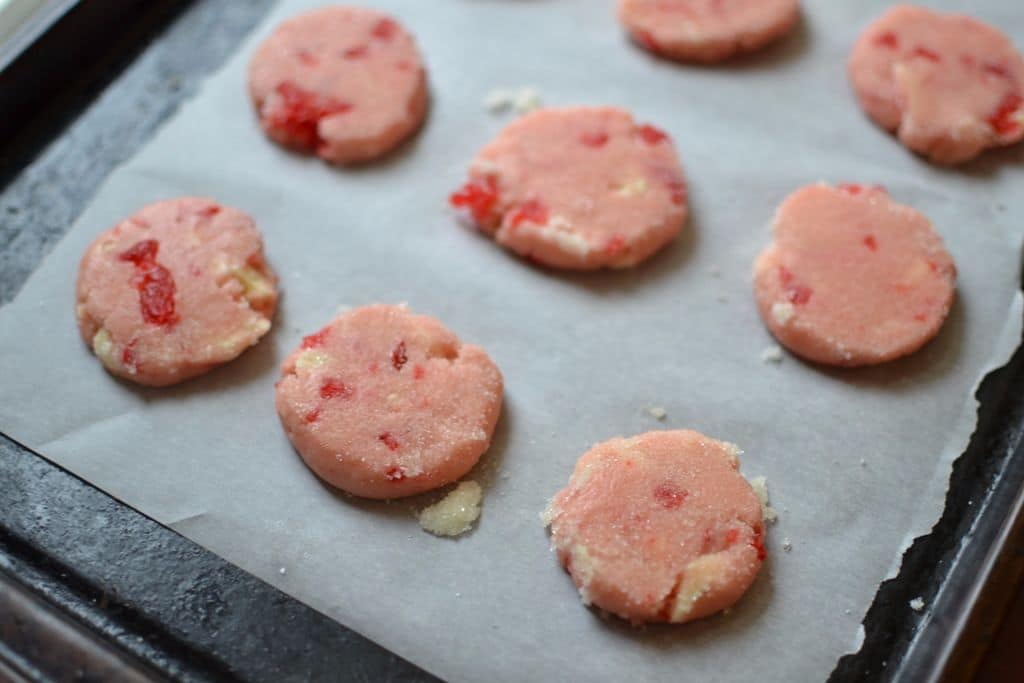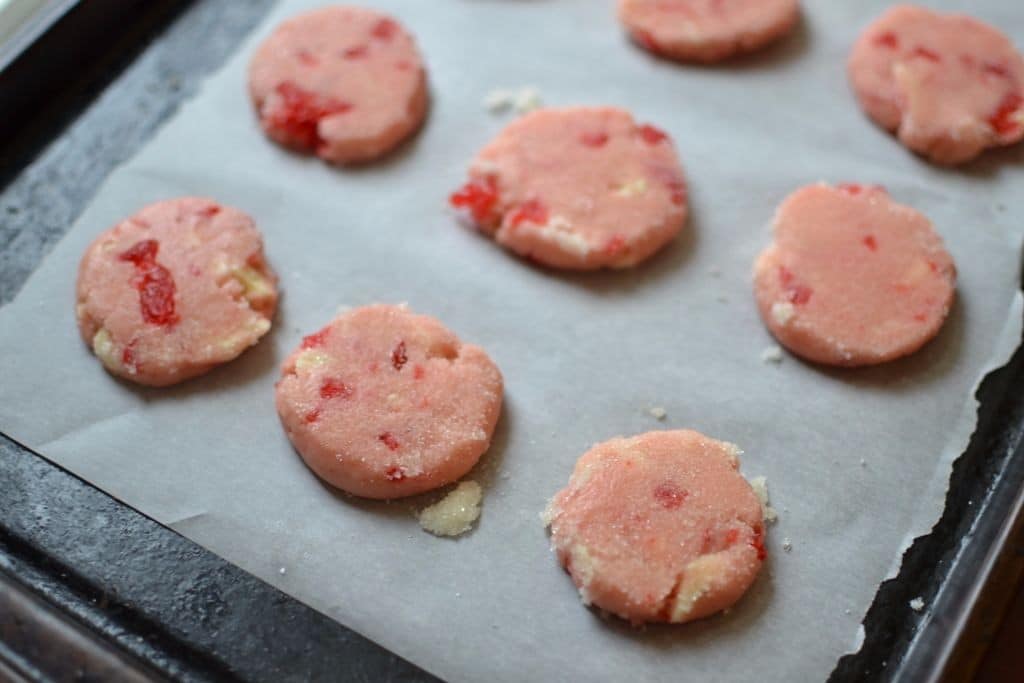 I like to refrigerate the dough for a period before rolling it into balls and smooching them!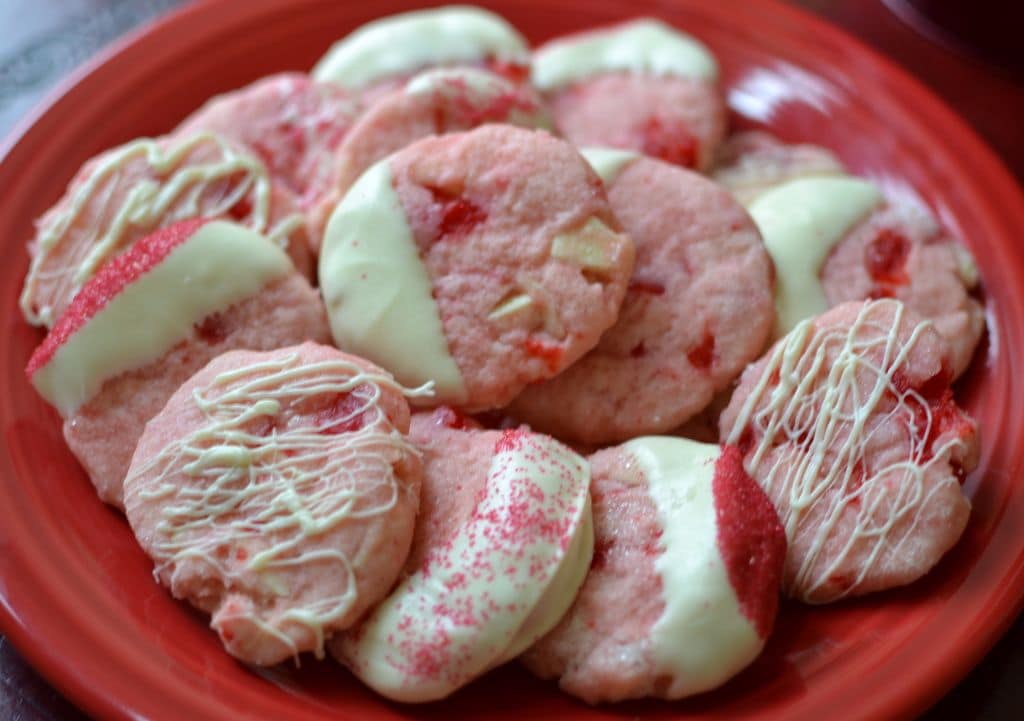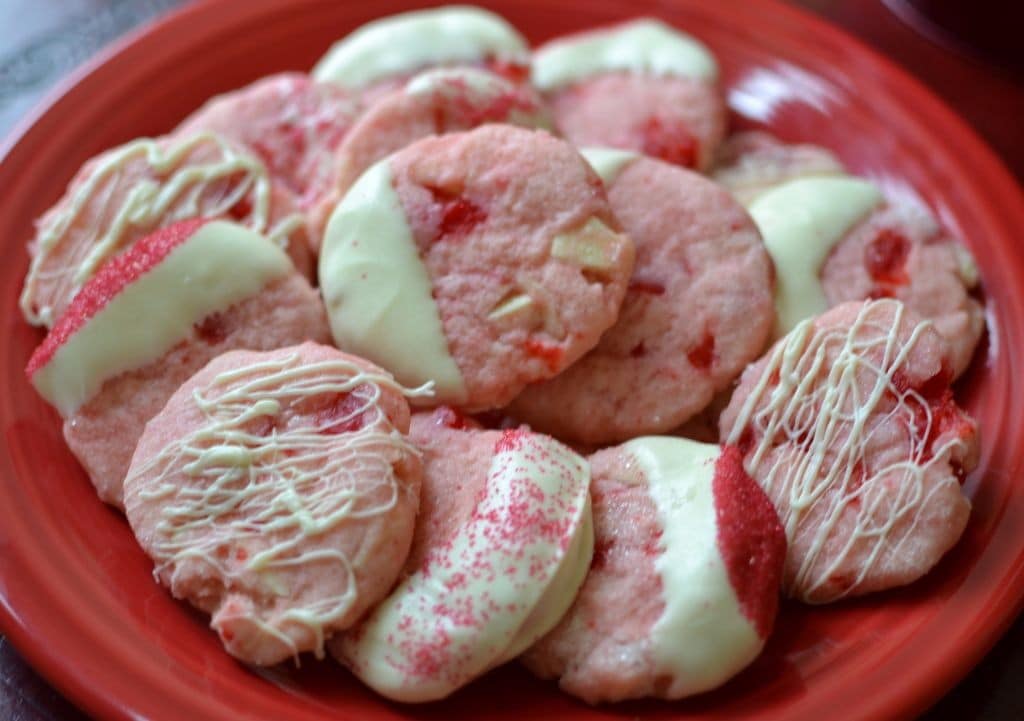 I also like to add a little variety when decorating them.  I like to dip a few , I like to drizzle a few and I like to dip and sprinkle some.  For goodness sake have fun with it.  Cookies are all about fun.  These cookies freeze well for your holiday party.  Just store them in airtight containers with wax paper between the layers and they will be good for about 2 months!
More scrumptious cookies you will love!
Print
White Chocolate Maraschino Cherry Cookies
1/2 cup maraschino cherries, drained
2 1/2 cups all-purpose flour
1/2 cup sugar
1 cup cold butter sliced into tablespoons
1 Tablespoon maraschino cherry juice
1/2 teaspoon almond extract
1 (4 ounce) bar Ghirardelli white chocolate premium baking bar finely chopped
1 1/3 cups white chocolate chips (I use Ghiriardelli)
Red sprinkles
Instructions
Pulse cherries in food processor until coarsely chopped. Set aside.
Add flour, sugar, butter, cherry juice and almond extract to food processor. Pulse until dough is formed. Remove from processor and place in large bowl. Using your clean hands knead in chopped cherries and chocolate. Cover & chill until dough is firm. This can be anywhere from 1-4 hours.
Preheat oven to 350 degrees. Roll dough into 1 inch balls. Place on cookie sheets covered with parchment paper. Using the bottom of a drinking glass dipped in sugar, flatten the balls to about 1/4 to 1/2-inch thick. Bake for 10-12 minutes or until cookie centers are set. Cool for 2-3 minutes. Transfer to wire rack.
When cookies are completely cool melt white chocolate chips in microwave according to manufacturers instructions. Dip some of the cookies corners in white chocolate. Shake red sprinkle over some of them. Drizzle some of them with the melted chocolate. Be creative.
https://www.smalltownwoman.com/wp-content/uploads/2019/05/Beth-1.pdf