This delicious Zucchini Casserole combines fresh grated zucchini with eggs, cheese, cream, onions, garlic and chives. It is perfect served with any grilled entrees, baked fish or roasted chicken. Last night I served it with Grilled Marinated Chicken and Summer Fruit Salad. It was a deliciously simple meal.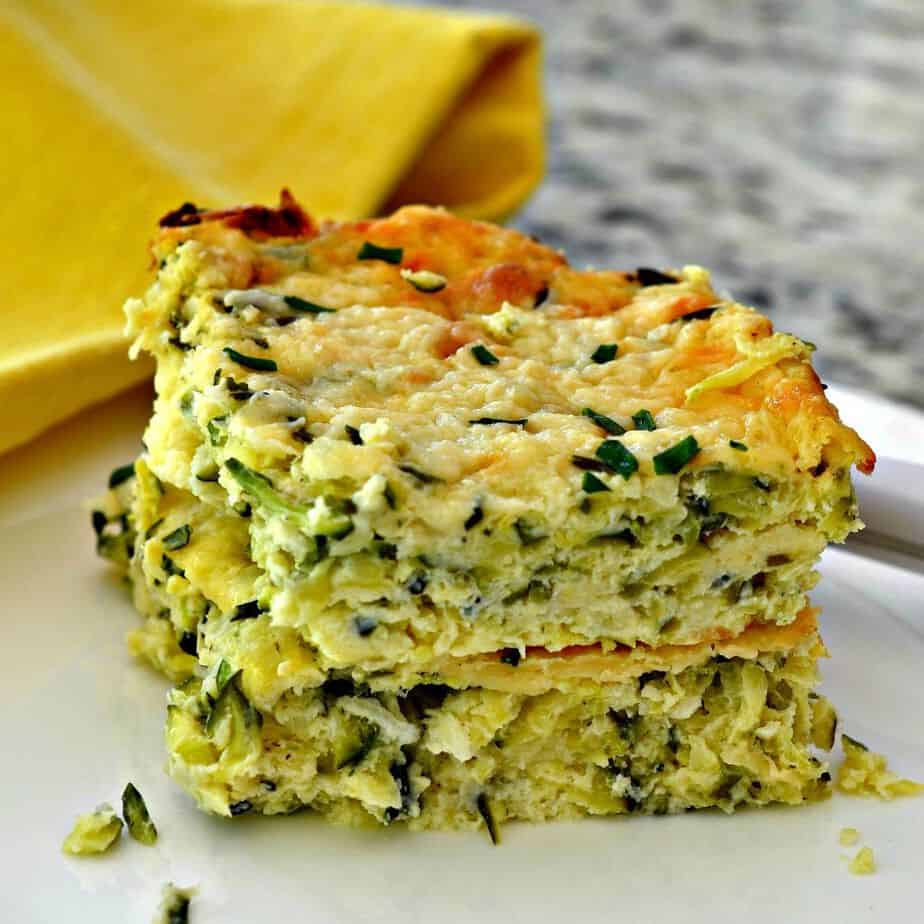 If your summer is anything like ours than zucchini is fresh and plentiful. Chances are likely that your garden has zucchini, your neighbors garden has zucchini and your farmer's market is overloaded with zucchini. That is not such a bad place to be because I have plenty of zucchini recipes for you! This Zucchini Casserole is an easy kid friendly family favorite and it uses 5-6 large zucchinis! So now you have purpose for all those bushels and bushels of squash. In addition to all of that it is low carb and keto friendly.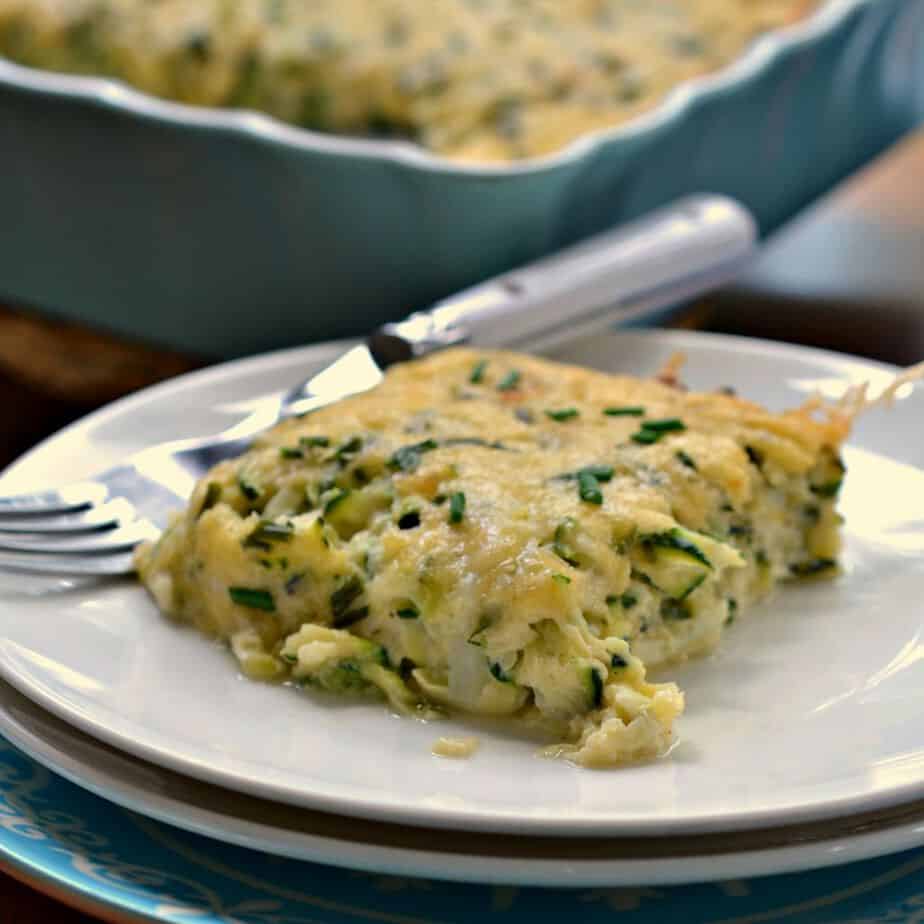 How do you make Zucchini Casserole?
Prepping the zucchini
Start by grating your zucchini with the largest section of a box grater or a food processor with the shredding attachment. I personally like the box grater for this recipe because zucchini is very easy to grate and I don't like washing and drying all the food processor parts. Now after you grate each zucchini place it in a colander (that is in the sink) and sprinkle with salt. Now repeat grating the next zucchini and place in the colander on top of the first grated zucchini and sprinkle with salt. Repeat this process until all the zucchini are grated and salted.
Let the zucchini sit for about 20 minutes while you get the rest of the ingredients ready to go. Now comes the fun part. Grab a clean cotton kitchen towel (I think cotton works better) and place a handful of that grated salted zucchini in the middle. Working over the sink, twist and squeeze that towel as tight as you can to get out as much water as possible! This step is the most important part in making a scrumptious zucchini casserole. As you finish each handful drop the squeezed zucchini in a large bowl.
Preparing the Zucchini Casserole
Now add the eggs, Gouda, cheddar, Parmesan, cream, onions, garlic, chives, salt and pepper to the zucchini in the bowl. Stir to combine and spoon into a well greased casserole dish. I use a 9×9 inch dish but you can also use an 8×8 and just increase the baking time by a few minutes. Place the casserole in the middle of the oven and bake for about 45 minutes. Let cool for 15-20 minutes before slicing.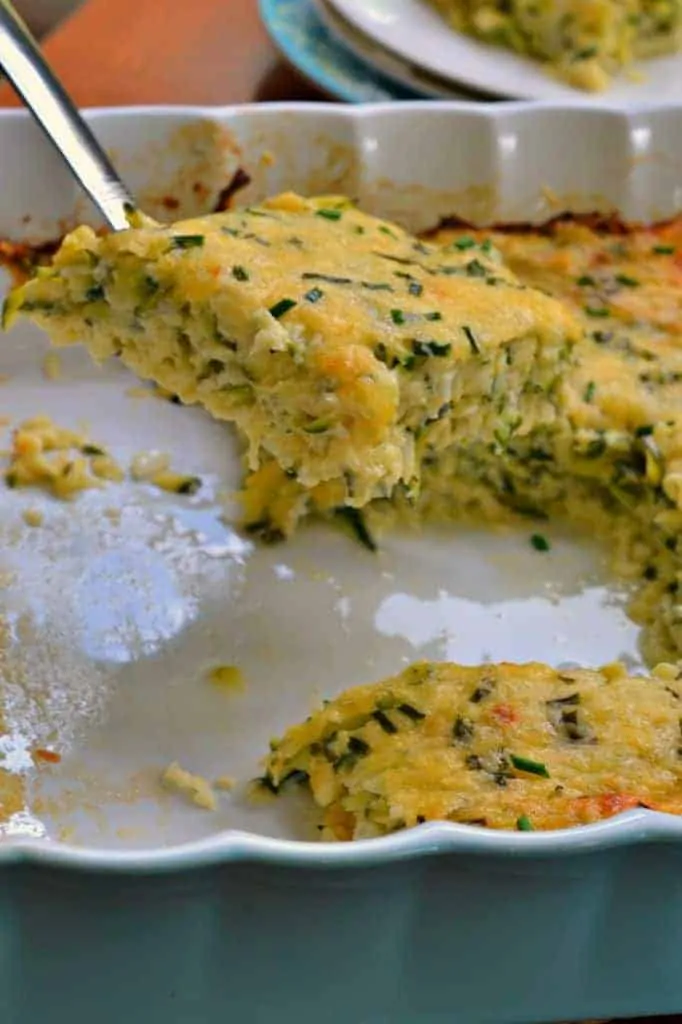 Tips for making this Zucchini Casserole
Squeeze as much moisture as possible out the grated zucchini.
Bring your eggs to room temperature so they mix better and rise more evenly.
Chop your onion well or grate it. You want the onion to blend in with the zucchini.
Spray or grease your casserole dish well to avoid pieces that stick on the edges.
Feel free to vary your cheese with sharp cheddar, colby, fontina, Provolone, Gruyère, Monterey Jack or Muenster.
Although this is not low carb or keto friendly you can add 2 cups of cooked rice to the mix before baking,
If desired (also not low carb or keto friendly) mix 2/3 cup Panko Breadcrumbs with 3 tablespoons of melted butter and sprinkle over the top of the casserole before baking.
Bake until set and lightly browned.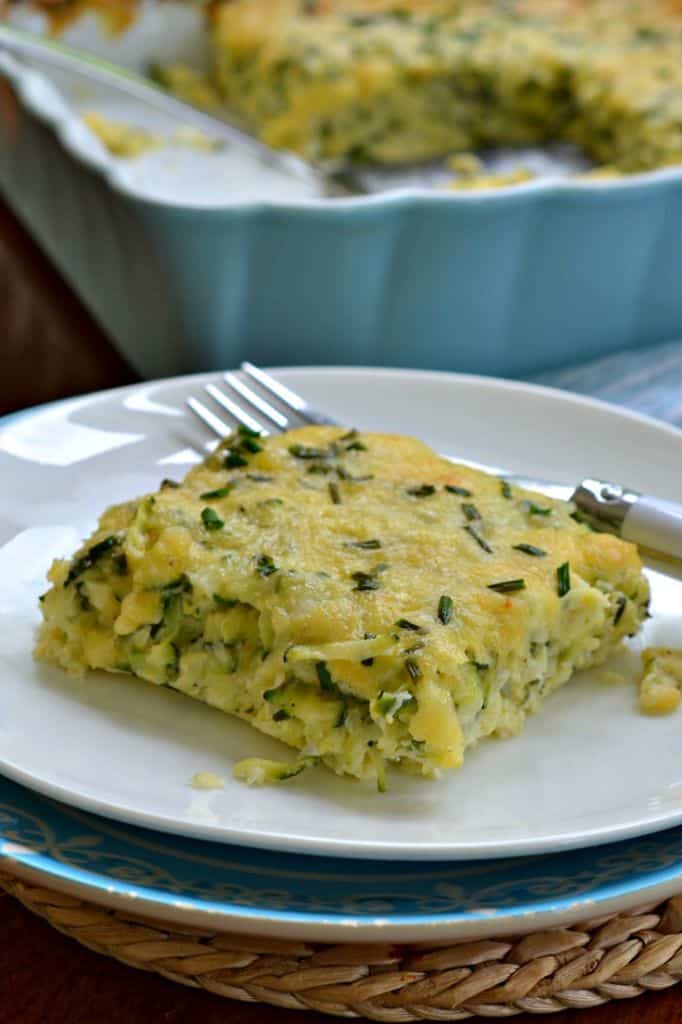 Fear not my food loving friends Zucchini Casserole has never tasted so good. Put the ingredients on your shopping list today and treat your family! They will be singing your accolades!
Other zucchini recipes to try
Print
Zucchini Casserole
This super easy delicious casserole is filled with garden fresh zucchini, farm fresh eggs, creamy Gouda, sharp white cheddar and sweet Parmesan with a generous helping of fresh minced garlic.
Author:
Prep Time: 15
Cook Time: 45
Total Time: 1 hour
Yield: 9 servings
Category: vegetable casserole
Method: bake
Cuisine: American
5 large zucchini shredded
1 1/4 teaspoons salt
4 large eggs
1 1/2 cups finely shredded Gouda Cheese
1/2 cup finely shredded white cheddar
1/2 cup grated Parmesan
3/4 cup heavy cream
1/2 medium onion finely chopped
3 cloves garlic minced
1/4 cup fresh chopped chives
1/4 teaspoon salt
1/4 teaspoon fresh ground black pepper
Instructions
Preheat oven to 375 degrees.  Grease 9×9 inch baking dish.
Place 1 cup grated zucchini (1 zucchini) in a colander in the sink and sprinkle with 1/4 teaspoon salt. Repeat with another cup of zucchini and 1/4 teaspoon of salt.  Repeat until all the zucchini is salted. Let set for 20 minutes.
Add 1 cup grated zucchini to center of clean kitchen towel.  Twist up and squeeze as much of the moisture out of the zucchini as possible.  Add squeezed zucchini to large mixing bowl.  Repeat until all the zucchini has been twisted and squeezed.
In same large mixing bowl add eggs, Gouda, cheddar, Parmesan, cream, onions, garlic, chives, salt and pepper. Stir to combine.  Pour into casserole dish.  Bake for 45 minutes or until set and lightly browned. Cool for 15-20 minutes before slicing.
Keywords: zucchini casserole, cheese zucchini casserole, vegetable casserole, casserole, zucchini casserole recipe, zucchini recipe
On the hunt for more delicious recipes? Follow Small Town Woman on Facebook, Pinterest, and Instagram.
https://www.smalltownwoman.com/wp-content/uploads/2019/05/Beth-1.pdf