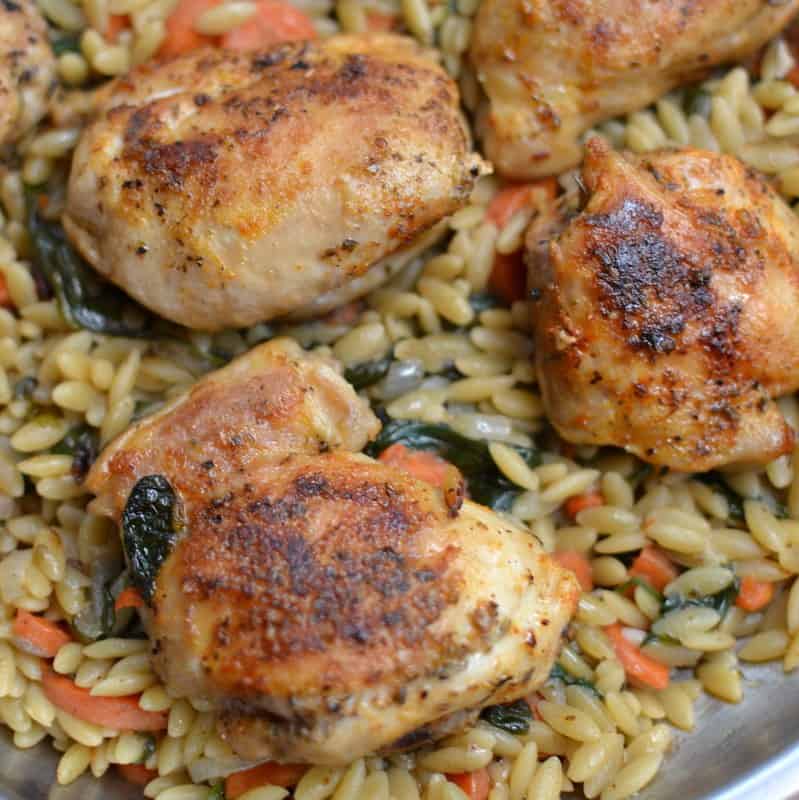 Well the holidays have long since passed and now we need to get down to some serious recipes that taste good, can be made in a relatively short period of time and are healthy for us. I am creating some high protein low carbohydrate recipes that are full of flavor. Food that is good for you can and should taste good. This One Skillet Savory Chicken and Orzo takes full advantage of chicken thighs. I personally love cooking with thighs as they allow for a little bit of error in cooking time versus the chicken breast that can dry out very quickly. The chicken thigh will remain moist even through an additional couple of minutes. It is much more forgiving of kids and their questions.
One Skillet Savory Chicken and Orzo combines chicken thighs, orzo, spinach, carrots, garlic and shallots in a perfect blend of spices. It can be prepared in about thirty minutes. Leftovers heat up well in the microwave at 50% power and they taste just as delicious as the first time. Do you need to watch your carbs even closer? Have just a small helping of orzo with your chicken and add a side of fresh sauteed mushrooms or steamed broccoli.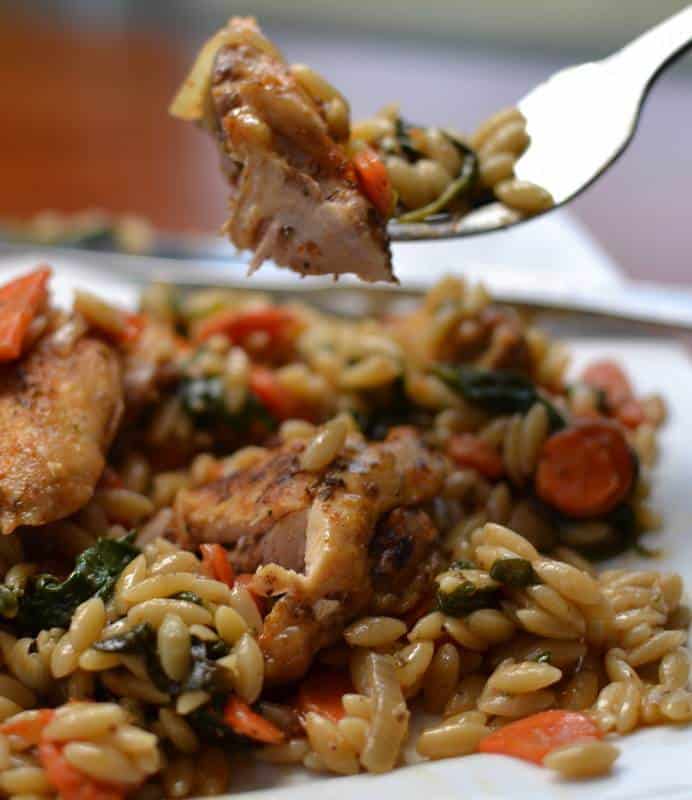 My kids are a in favor of cleaning up our diets. We will be consuming a few more pieces of fresh fruit instead of chips and crackers and substituting more fresh veggies in place of noodles. It is a difficult concept to explain to kids that simple carbs and starches actually raise your blood sugar and can make you feel hungry instead of satisfied. We will still partake of some delicious sweet goodies but in moderation. I think the key to life and food happiness is moderation!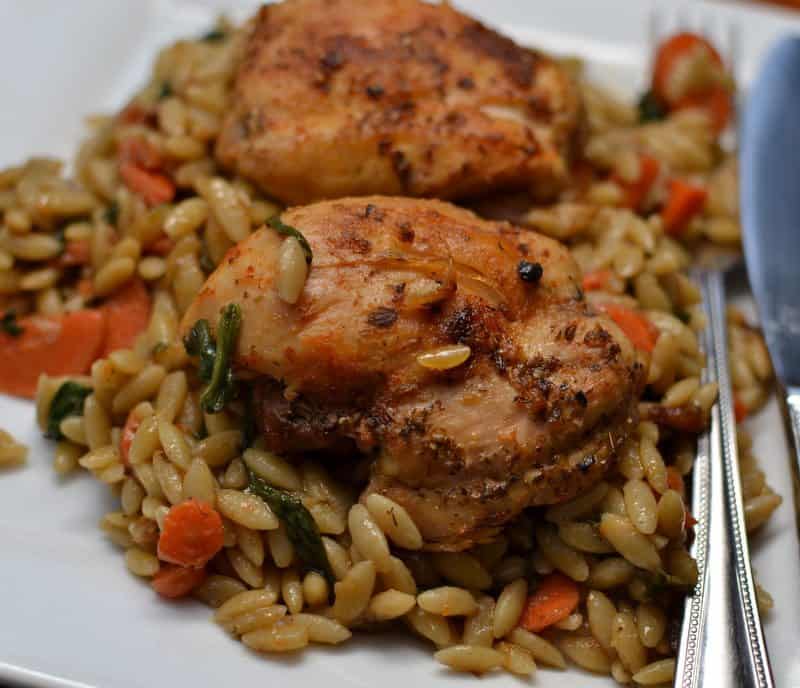 Don't waste anytime. Put the ingredients on your grocery list for the upcoming weekend and make yourself a spectacular meal that you can really feel good about eating and serving. Remember that food that is good for you can and should taste good.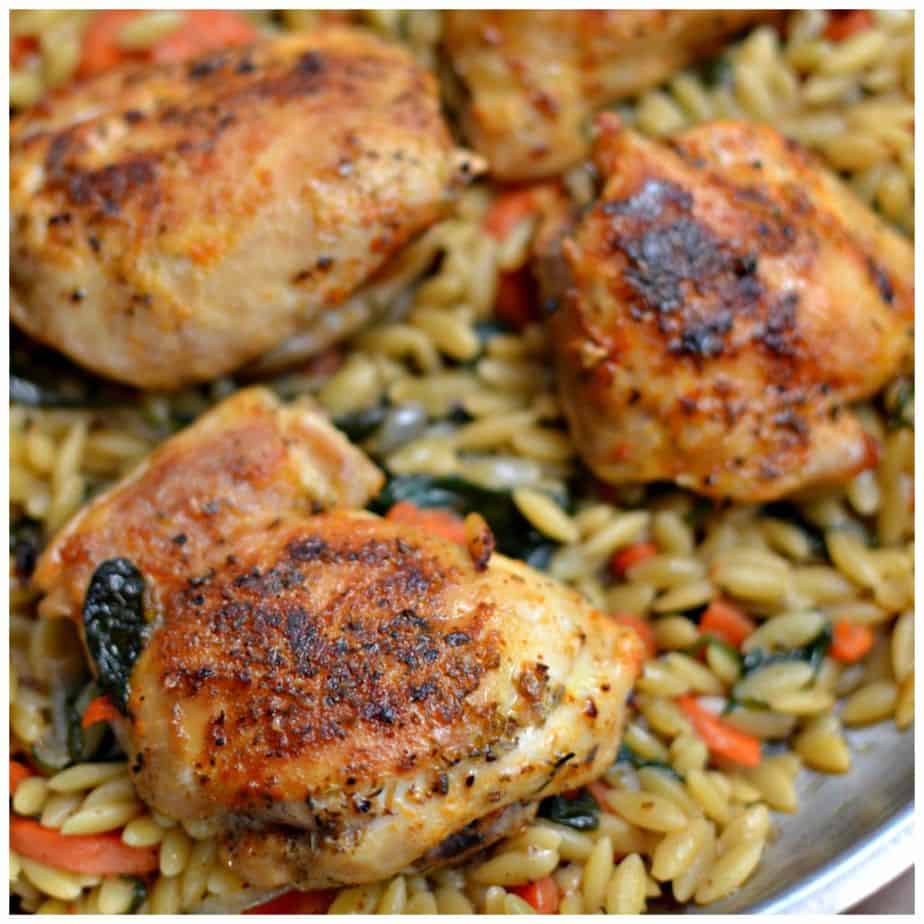 More chicken recipes you will love!
Print
One Skillet Savory Chicken and Orzo
This one-skillet chicken and orzo dish is a savory, satisfying dinner that's easy to make! Juicy, perfectly seasoned chicken thighs atop of bed of tender orzo rice with vegetables.
Author:
Prep Time: 10 minutes
Cook Time: 20 minutes
Total Time: 30 minutes
Yield: 2 servings 1x
Category: Dinner
Method: Stovetop
Cuisine: American
1/2 teaspoon salt
1/2 teaspoon fresh ground black pepper
1/4 teaspoon garlic powder
1/4 teaspoon onion powder
1 teaspoon oregano
1 teaspoon paprika
2 tablespoons olive oil
6 boneless skinless chicken thighs (approximately 1.5 lbs)
1 large shallot chopped
2 carrots chopped
6 cups baby spinach
4 cloves garlic chopped
2 cups low sodium chicken broth
1 cup uncooked orzo
Instructions
In small bowl mix salt, black pepper, garlic powder, onion powder, oregano and paprika. Sprinkle over both sides of chicken thighs.
Heat 1 tablespoon olive oil in skillet over medium heat. Cook chicken thighs until golden brown on both sides; approximately 5 minutes each side. Remove thighs to plate. Add 1 tablespoon olive oil to pan and reduce to medium low. Add carrots and cook for 5 minutes stirring and scraping the pan frequently. Add shallots and cook for 2-3 minutes stirring twice, Add spinach and cook 1 minute. Add garlic and cook additional 1 minute. Add chicken broth and orzo. Bring to low boil. Cover and turn to simmer for ten minutes. Remove lid and add cooked chicken thighs. Cover and simmer for additional 10 minutes.
Keywords: Chicken and orzo, one skillet chicken and orzo, one skillet chicken recipe, chicken and orzo recipe, how to cook orzo, chicken rice, orzo with vegetables
On the hunt for more delicious recipes?  Follow Small Town Woman on Facebook, Pinterest, and Instagram.
https://www.smalltownwoman.com/wp-content/uploads/2019/05/Beth-1.pdf