This cool and refreshing Mango Lassi Recipe is made quick and easy in the blender with just five ingredients. Fresh or frozen mango can be used making it the ideal quick on the go breakfast treat. It is also ideal for those after school hunger pains. A favorite refreshing treat at Indian restaurants this quick drink is made easy in your own kitchen.
Cool refreshing treats are perfect for those late summer blahs when you wish fall would get here but summer is hanging on and on. Italian Cream Sodas, Orange Julius, and Strawberry Milk are some of our other go to cold favorites.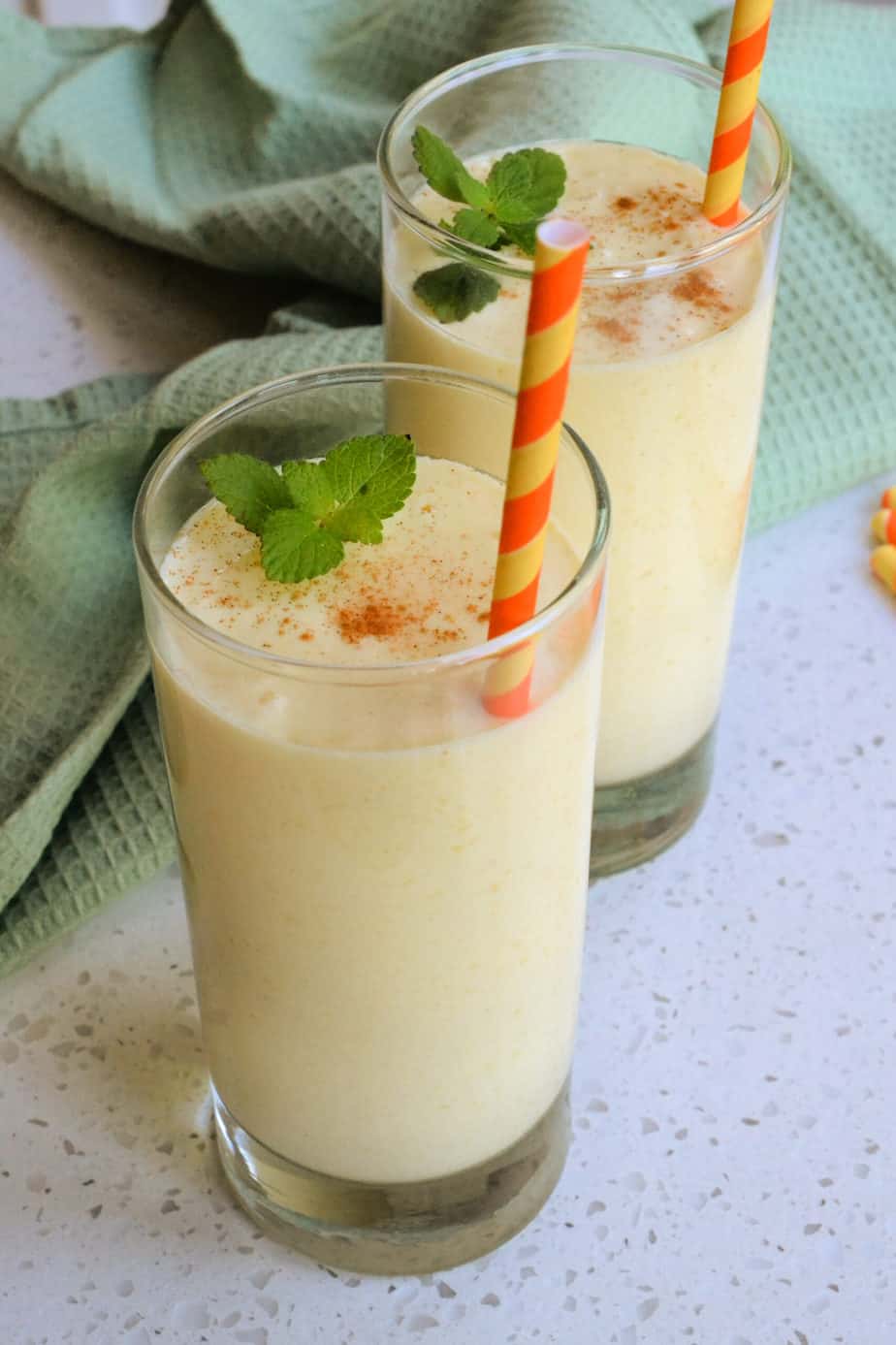 How to make a Mango Lassi
Simply put the mango, yogurt, milk, honey, and cardamom or cinnamon in a blender. Then blend until smooth. Now pour mango lassi into serving glasses and top with mint sprig and a pinch of cardamom or cinnamon.
How to cut a mango
Start by peeling the mango. Then standing the mango upright simply cut four slices of fruit from around the pit rotating the fruit as you go. Now cut your fruit into the desired size or chop for this recipe.
You can also leave the skin intact and cut the flesh away from the pit. Then score your fruit with a sharp knife on the flesh side without cutting all the way through the skin. Then flip the skin inside out like an umbrella with too much wind. Now use a sharp knife and cut the fruit away from the skin. Sometimes if the fruit is ripe enough you can even scoop it out with spoon. For a video tutorial click here.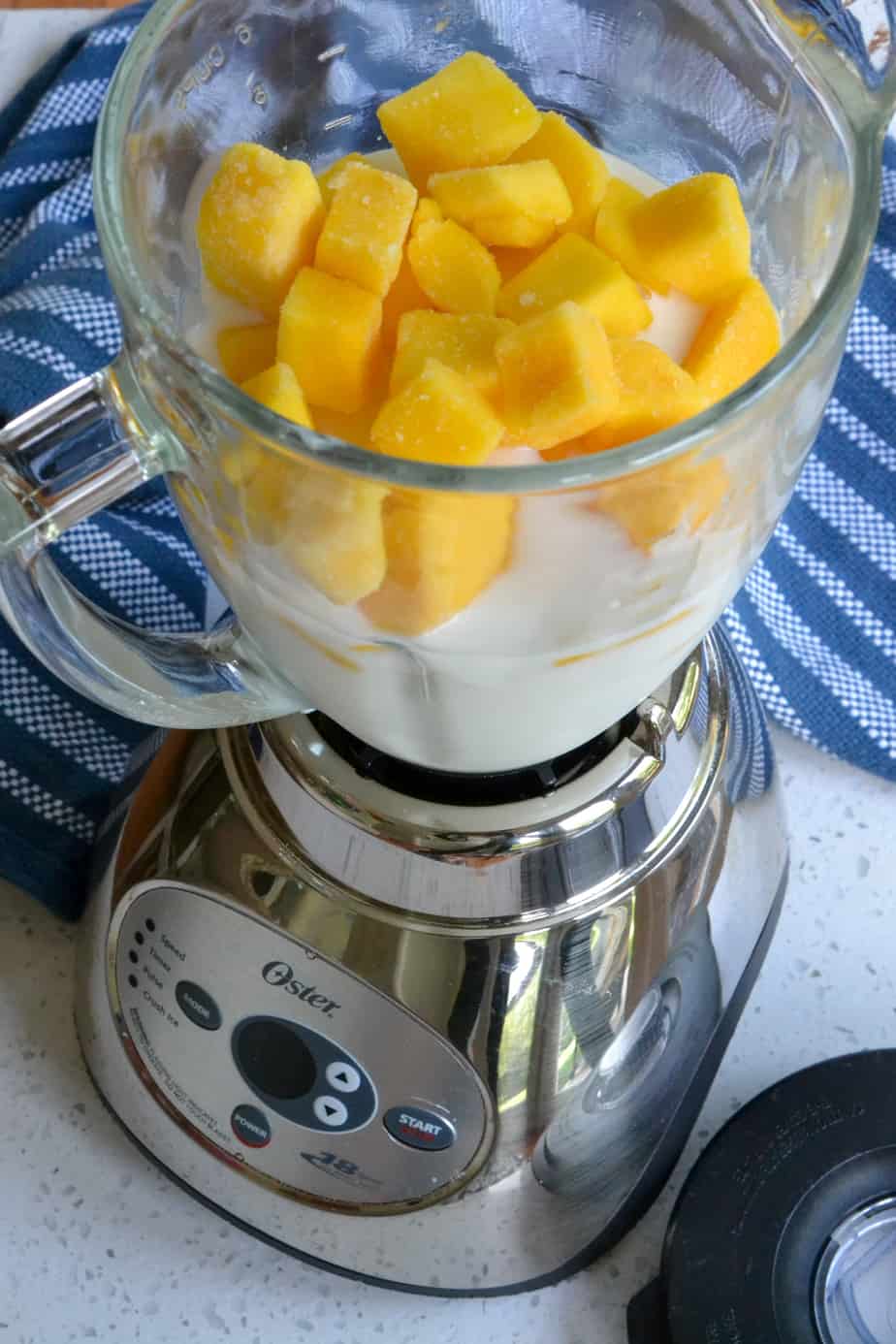 Recipe notes and helpful tips
Frozen mango, fresh mango. or canned mango pulp can be used. Some frozen fruits are better than fresh in blender recipes because they are flash frozen at their peak of ripeness.
For a creamy consistency and the best flavor use whole milk full fat yogurt. Full fat Greek yogurt is a great option.
Alternate sweeteners include granulated sugar, maple syrup, and agave. They can be substituted for honey at a 1:1 ratio.
For a mango milkshake like consistency add a cup of ice cubes.
For a dairy free or vegan mango lassi substitute coconut milk for the cow's milk and coconut yogurt for whole milk yogurt.
This Indian recipe is generally topped with with cardamom or saffron strands. Both of those spices are difficult to find and can be fairly pricey. For a pretty comparable substitute for cardamom use equal parts ground cinnamon and ground ginger.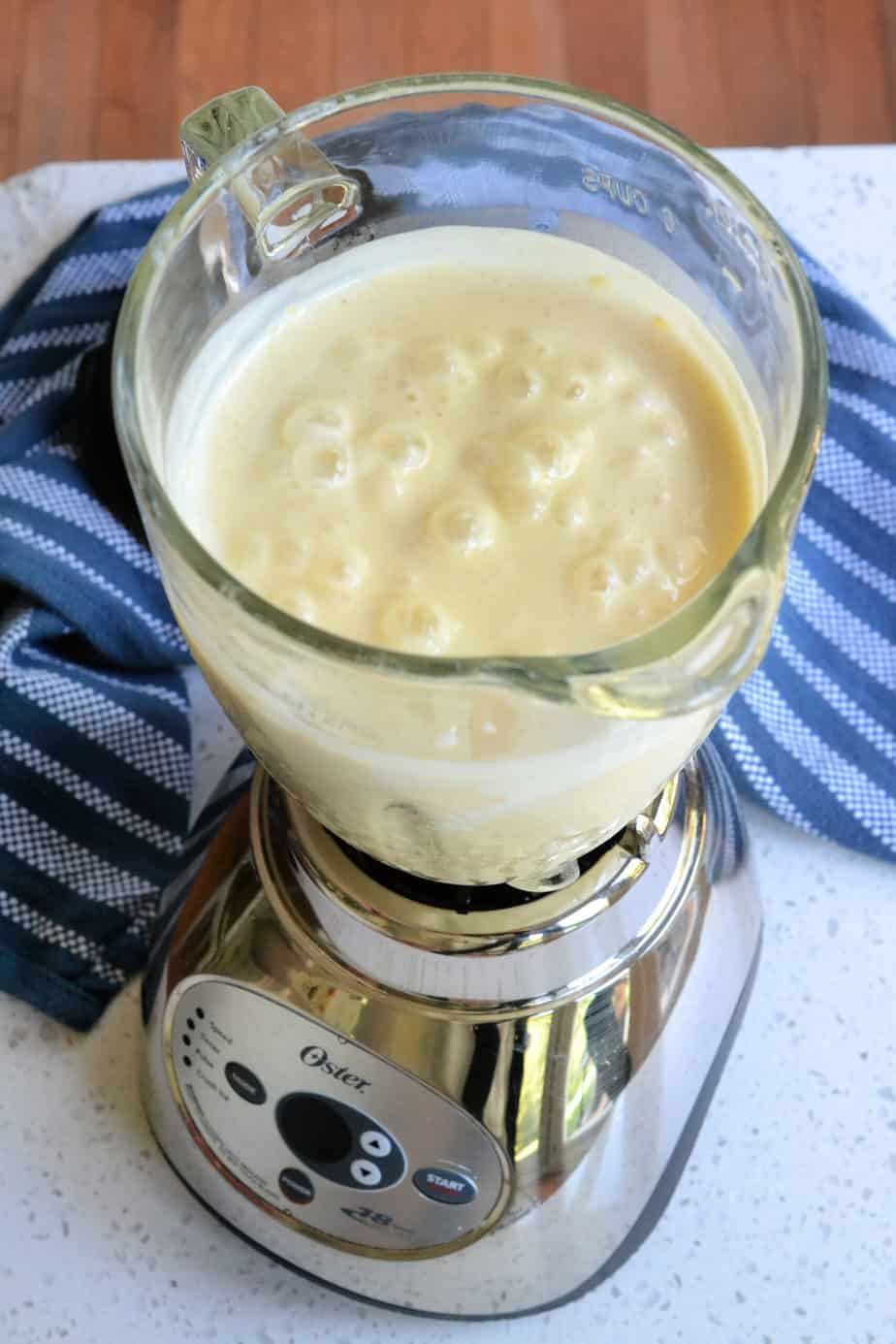 How to pick the perfect mangoes
Do not judge a ripe mango by it's color as a red one is not always an indication of ripeness. Ripe mangoes can be a variety of colors like yellow, green, red or pink. When gently squeezed a ripe mango has a slight give to it kind of like an avocado. But just like an avocado if it has too much give to it than it is over-ripe.
Another indicator of ripeness is a fruity smell at the stem. If it smells like you would want to eat it than it is good indicator that is ripe. The mango should be football shaped with a nice full round plump shape. Do not choose mangoes that are flat or ones that have shriveled skin as they may be over-ripe. Follow these simple guidelines and you should have the perfect mangoes for your lassi or any other mango recipes.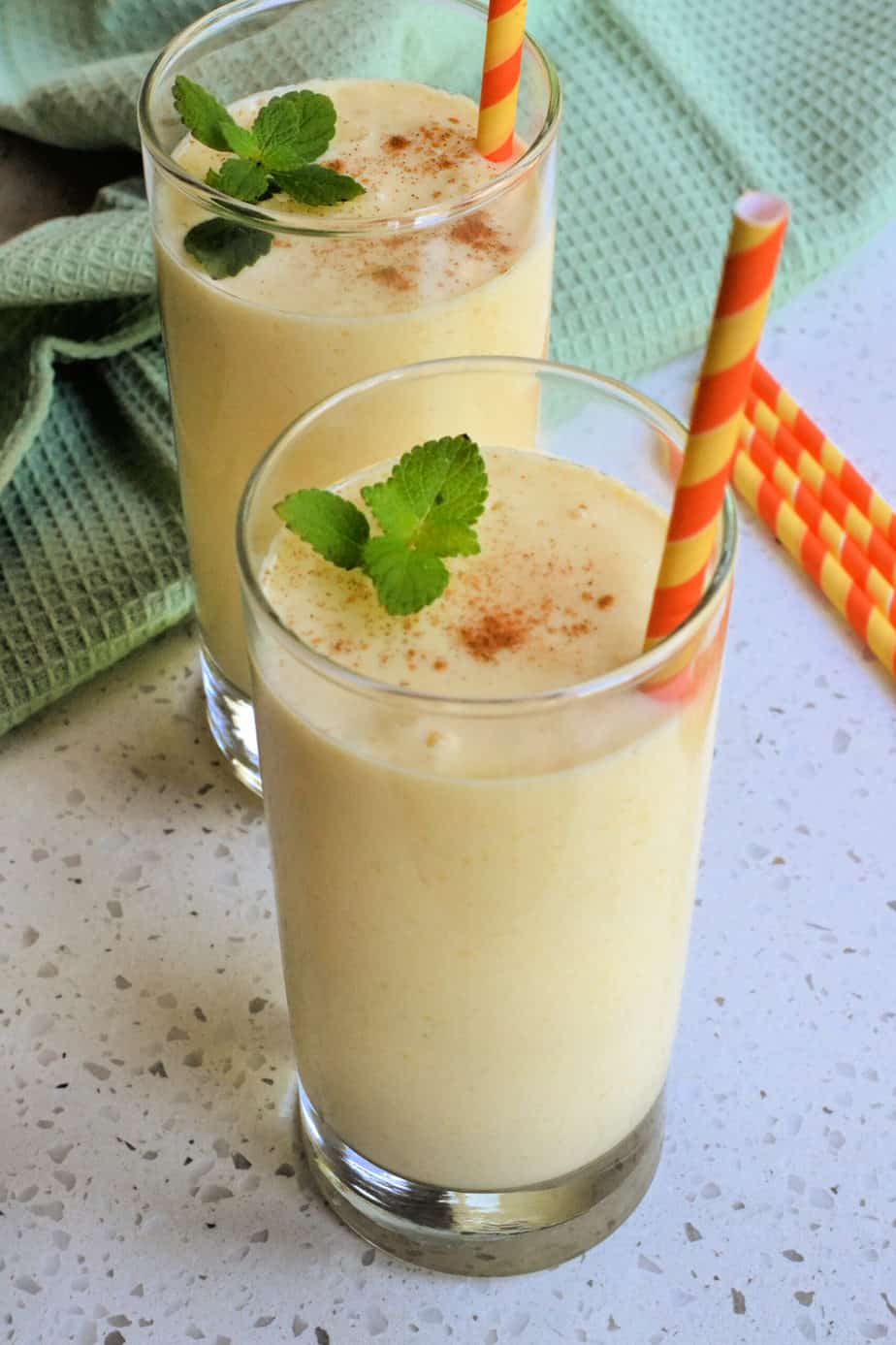 More mango recipes you will love!
Print
Mango Lassi
This quick and easy refreshing Mango Lassi is the perfect balance of sweet mangoes and tangy yogurt made easy in a blender in less than ten minutes.  Enjoy them for a quick breakfast treat or dessert.  
Author:
Prep Time: 10 minutes
Total Time: 10 minutes
Yield: 4 servings 1x
Category: beverage
Method: blender
Cuisine: Indian
2 cups chopped mango (fresh or frozen)
1 ½ cups plain whole milk yogurt
1 cup milk
¼ cup honey
1/8 teaspoon cardamom powder (ground cardamom) or cinnamon (reserve a pinch for garnish)
mint sprigs (optional garnish)
Instructions
Put the mango, yogurt, milk, honey, and cardamom or cinnamon in a blender.  Blend until smooth.
Pour into glasses and top with mint sprig and a pinch of cardamom or cinnamon.
Keywords: mango drink, Indian mango drink, mango lassi drink, Indian mango lassi
On the hunt for more delicious recipes? Follow Small Town Woman on Facebook, Pinterest, and Instagram.
https://www.smalltownwoman.com/wp-content/uploads/2019/05/Beth-1.pdf