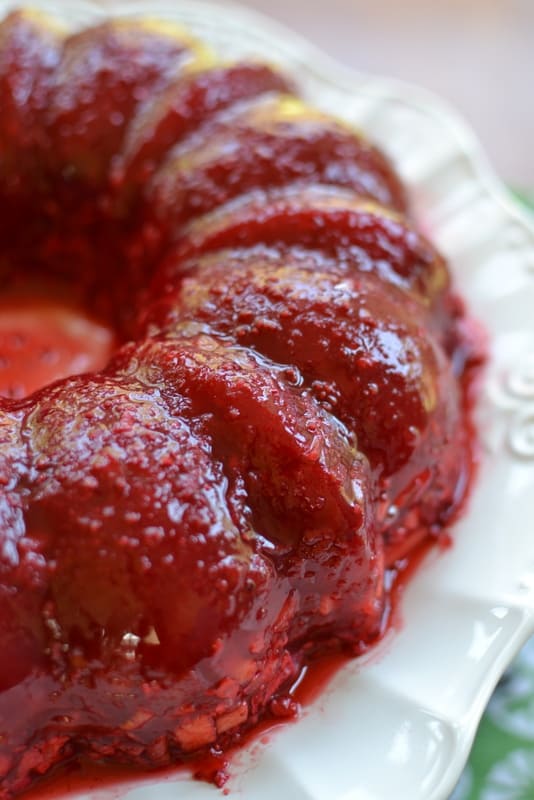 So Thanksgiving is just around the corner and with it comes all things cranberry. I remember when I was a kid and Mom would open that can of cranberry jello and flop it on a plate. Needless to say hardly anyone would partake of that gorgeous beauty. Well cranberry jello salads have come a long long way since then. This Cranberry Apple Pear Pecan Jello Salad combines slow simmered cranberries, crisp apples, fresh pears and buttery sweet pecans in a festive cherry jello mold.
Generally speaking fresh cranberries have come a long way in the food blogging sphere. Have you tried any of my other fresh cranberry recipes? Mini White Chocolate Cranberry Cheesecakes, Cranberry Orange Bread and Easy Cranberry Orange Daiquiris are just a few of my favorites.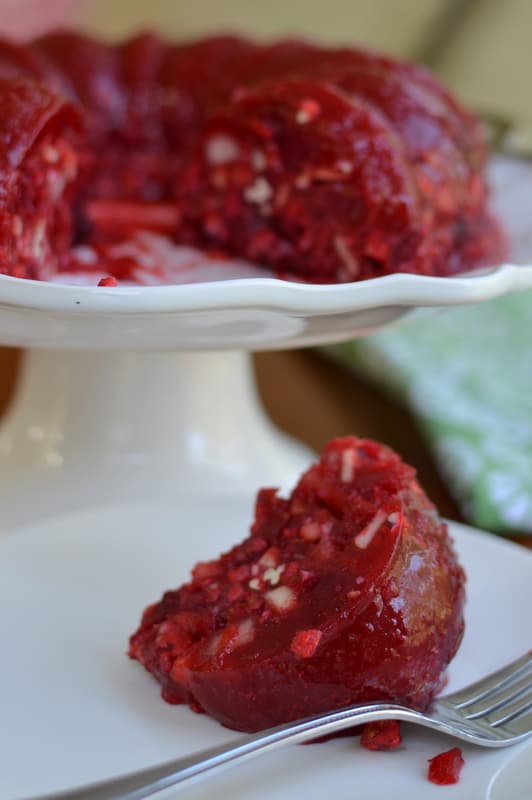 Are you entertaining this holiday season? If so, yeah for you! I absolutely love entertaining! I love everything about it from the planning, invitations, cooking, food styling to the final stage of hosting. This Cranberry Apple Pear Pecan Jello Salad would make an awesome addition to your holiday buffet table. It is so pretty and festive.
Are you hosting the Thanksgiving extravaganza? This beauty can be made a couple of days in advance and stored in the fridge until a few minutes before serving. You can even decorate around the edges with candied cranberries and bay leaves. Do NOT use holly leaves as they are poisonous!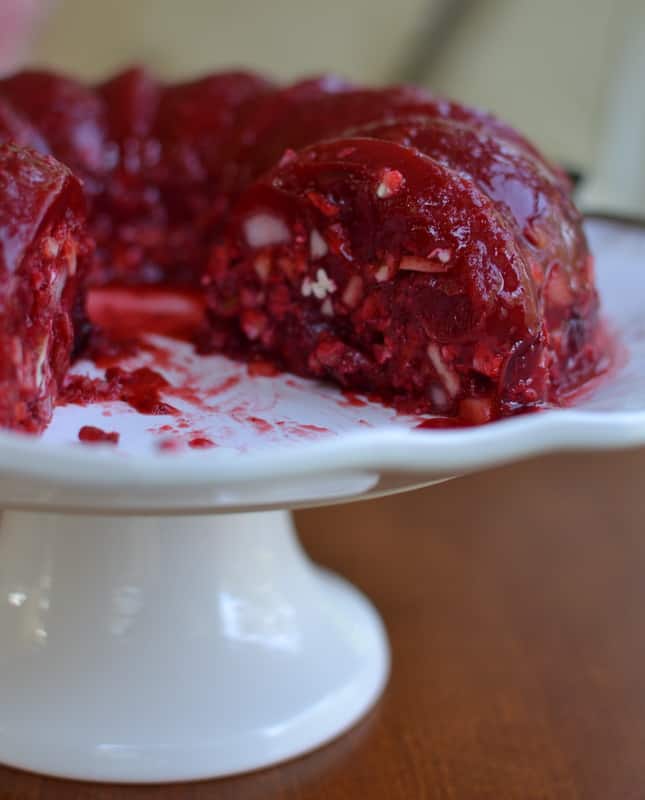 Cranberries are high in vitamin C, vitamin A, and vitamin K. You can find Dr. Axe Cranberries: Benefits, Recipes and Nutrition Facts You need to put this beautiful delectable Cranberry Apple Pear Pecan Jello Salad on your holiday list and enjoy the complements of your guests.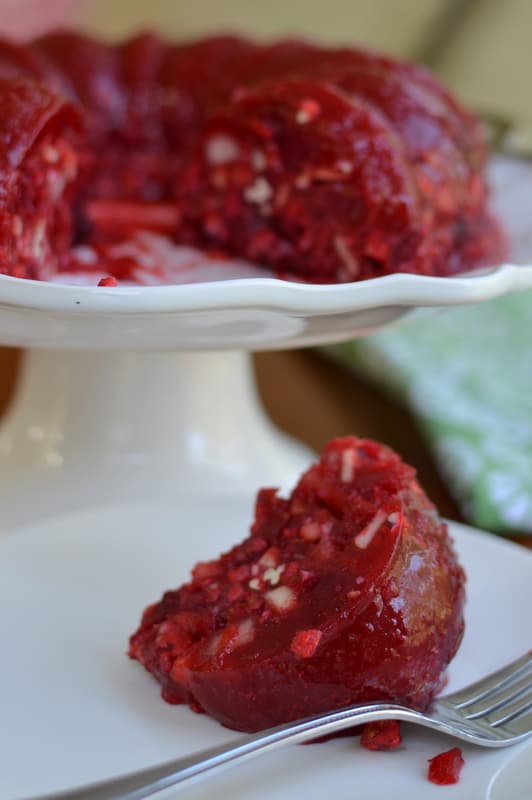 Cranberry Apple Pear Pecan Jello Salad
Ingredients
1 bag (12 ounce) fresh cranberries (reserve a few for garnish)
3 boxes (3 ounce) cherry jello
3 cups water
2 cups ice
1 cup finely chopped pecans
2 small crisp apples peeled cored and finely chopped (honey crisp are excellent in this)
2 small pears peeled finely cored and chopped (just barely ripe so they are still crisp
Instructions
In large saucepan combine water and cranberries. Bring to a simmer and cook for 10 minutes; stirring occasionally. The cranberries will burst.
Remove from the heat and add jello; stir until dissolved. Stir in ice cubes. Chill for 30-45 minutes to slightly thicken but not set. Stir several times so it cools but does not begin to set on the sides.
Stir in pecans, apples and pears. Pour in mold or bundt pan. Refrigerate for 6 hours or overnight.
Dip mold in hot water for 10-20 seconds. Carefully invert onto final serving platter. If mold does not release dip in hot water for another 10 seconds.
Garnish with cranberries and fresh bay leaves. Do NOT use holly leaves.
Notes
This recipe can be made up to three days in advance and stored in the mold covered. You can unmold it right before serving.
https://www.smalltownwoman.com/cranberry-apple-pear-pecan-jello-salad/
Other recipes you will love!!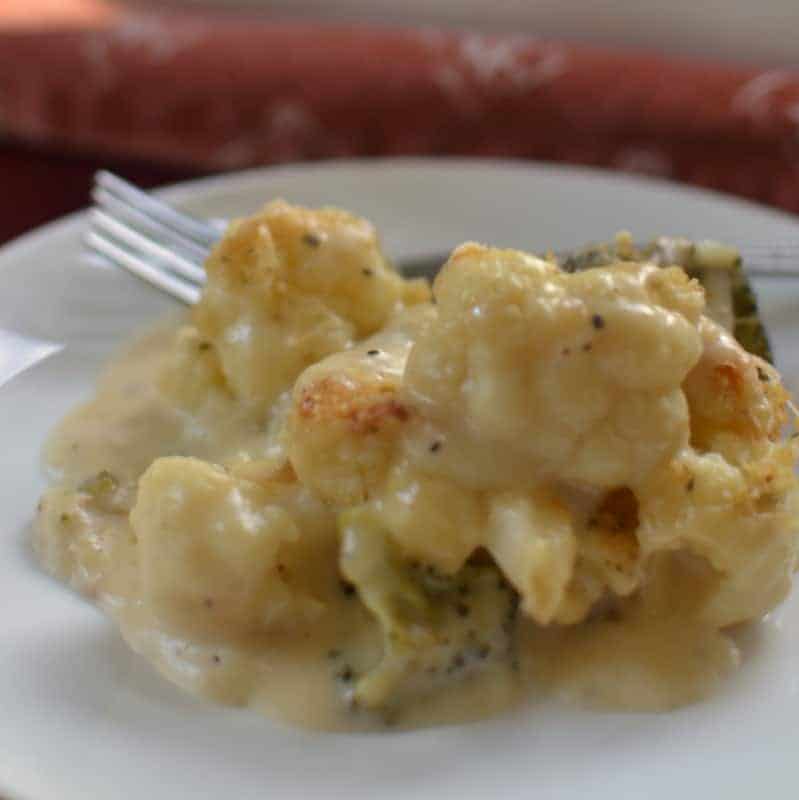 Broccoli and Cauliflower Au Gratin