This six-ingredient Cranberry Sauce recipe is an easy family favorite and worlds better than the canned version that our grandparents served with Thanksgiving dinner.  You can have this prepared and on the table in less than fifteen minutes.  I love to serve it for my Thanksgiving feast along with Bacon Wrapped Asparagus and Cauliflower Au Gratin.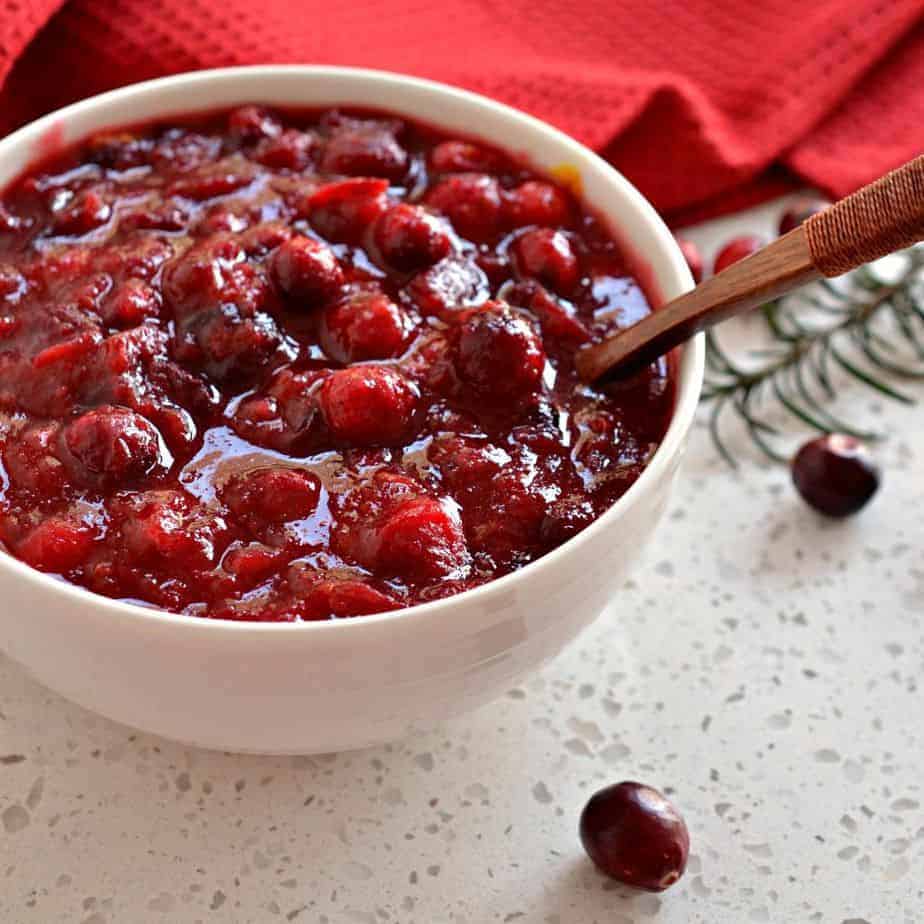 The holidays are right around the corner so when I saw a big bag of beautiful organic cranberries at Costco I knew that I needed to post my delectable six-ingredient cranberry sauce.  Once you taste this super easy tasty cranberry sauce you will be in love.  Before you know it this wonderful recipe will make it to your holiday table year after year.
How do you make fresh Cranberry Sauce?
Grab yourself a medium saucepan and add the orange juice, brown sugar, and sugar.  Cook over medium-low heat until the sugars dissolve.  Now stir in the cranberries, allspice, and orange zest.  Bring to a low boil and simmer uncovered for about ten minutes. They will begin to pop open and it can get messy so if you have a splatter guard use it.  I usually stop just short of ten minutes because I like some of my cranberries to remain whole. The sauce will thicken upon standing.
Can you freeze cranberries?
Yes, you most certainly can.  This is the time of year to grab those fresh cranberries as they will disappear from the shelves shortly after Christmas.  Most cranberries are sold prepackaged and are in the refrigerated produce section of your local grocery store. If possible sort through the berries and pick berries that are blemish-free with no soft spots and are bright red or pink.
Cranberries can be stored in the refrigerator for 3-4 weeks or frozen in zipper freezer bags for up to 10 months.  Take full advantage of the short harvest season as cranberries are absolutely delicious.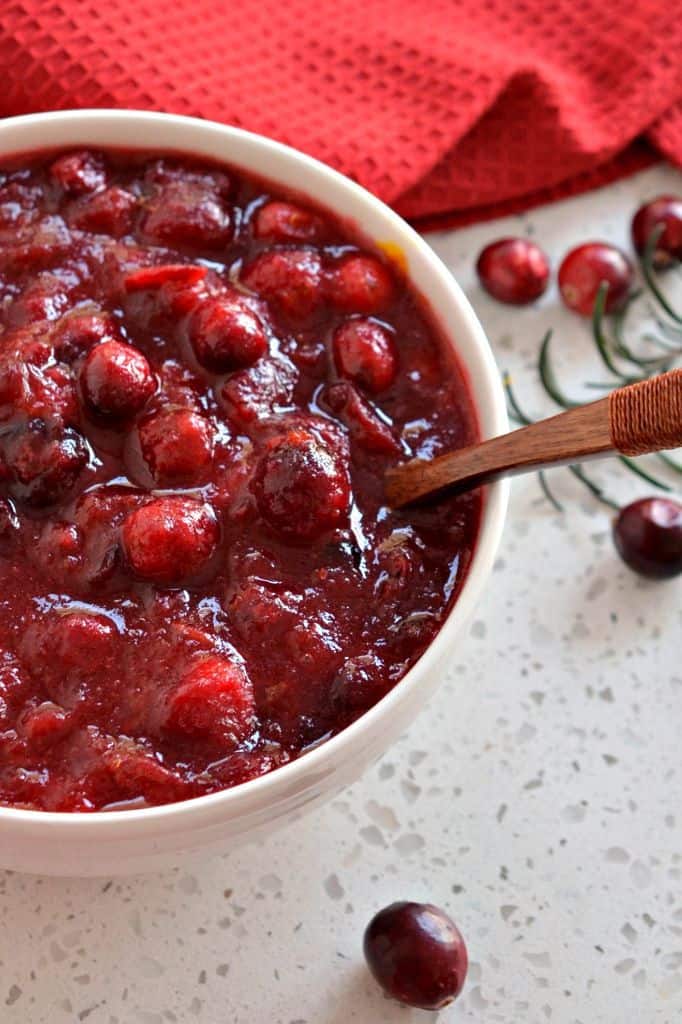 Helpful tips for making Cranberry Sauce
This Cranberry Sauce recipe can be made up to three days in advance.  Store in an airtight container in the fridge.
If at all possible use organic cranberries.  They really are the cream of the crop.
Use fresh squeezed orange juice as it has such a wonderful flavor.
Don't overcook the sauce. Just ten minutes uncovered on a low simmer should do the trick.  The sauce is best with some whole berries and some popped berries.
For an extra special delicious touch add one to two tablespoons of Grand Marnier.  Grand Marnier is an orange-flavored liqueur.  It is pricey and sometimes hard to find so it is optional.  However, if you have a bottle add just a little bit and you will love it.
All leftovers should be stored in the fridge in an airtight container.
Other cranberry recipes to try!
Print
Cranberry Sauce
This delectable six ingredient Cranberry Sauce is a family and friend favorite. It will quickly become your holiday favorite. It is prepared in less than 15 minutes and can be made up to 3 days in advance,
Author:
Prep Time: 2 minutes
Cook Time: 10 minutes
Total Time: 12 minutes
Yield: 8 servings
Category: side
Method: stove top
Cuisine: American
2/3 cup orange juice
1/2 cup brown sugar
1/2 cup white sugar
12 ounces fresh cranberries
1/8 teaspoon allspice
1 teaspoon orange zest
1–2 tablespoons Grand Marnier (optional)
Instructions
In a medium saucepan over medium-low heat add orange juice, brown sugar, and sugar.  Cook until the sugars dissolve.
Stir in cranberries, allspice, and orange zest.  Bring to a low boil. Simmer uncovered for 8-10 minutes or until cranberries begin to pop.
If desired stir in Grand Marnier after removing from the heat. The sauce will thicken as it cools.
Keywords: how to make cranberry sauce, cranberry sauce homemade, cranberry orange sauce, fresh cranberry sauce
On the hunt for more delicious recipes?  Follow Small Town Woman on Facebook, Pinterest, and Instagram.
https://www.smalltownwoman.com/wp-content/uploads/2019/05/Beth-1.pdf