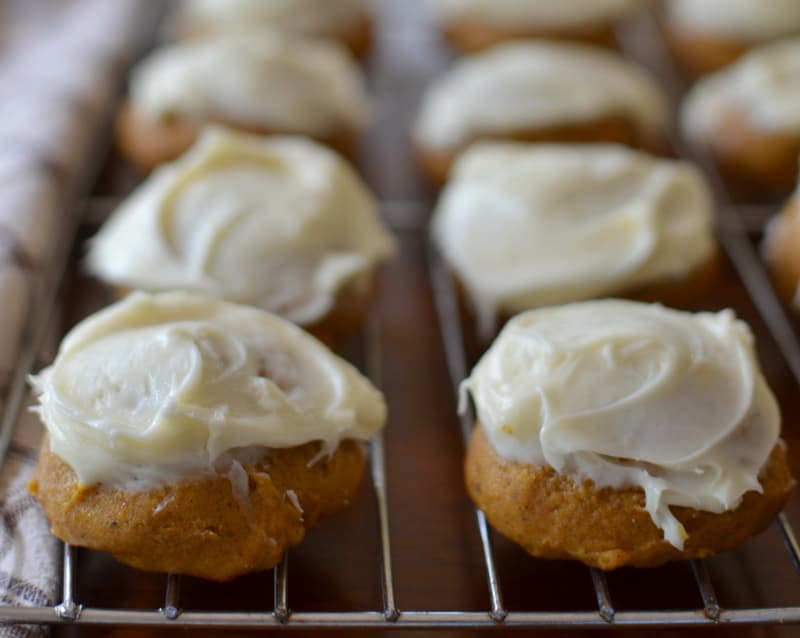 I simply love this time of year. October is the best month of all. My idea of heaven is an endless fall. I love all the leaves, the cool air and the fall recipes. Fall recipes are just delicious! I love them so much!! I love cooking with pumpkin and all those delicious spices that go with it.
I did not have any ground cloves for this recipe but I had whole cloves so I found my electric grinder and the smell was so nice. I might just grind some and leave them in the grinder with the top off so the kitchen continues to smell like freshly baked pumpkin cookies!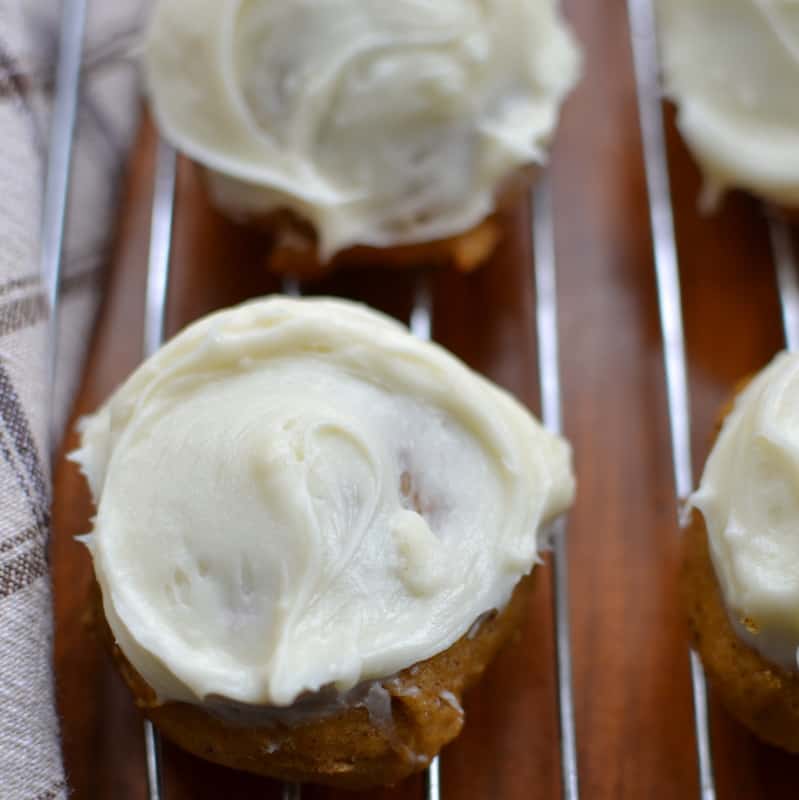 If you love fall and pumpkin than these Pumpkin Cookies with Cream Cheese Frosting are going to be awesome and delicious for you. The dough for these cookies comes together quickly and easily. The four ingredient frosting can be prepared ahead of time, stored in an airtight container in the fridge and spread on the cookies at your leisure. I know what you are thinking! What leisure?
These Pumpkin Cookies with Cream Cheese Frosting are cake like perfectly spiced pumpkin cookies lathered with a lightly sweetened cream cheese frosting. This recipe makes about thirty two cookies and the cookies should be stored in the fridge.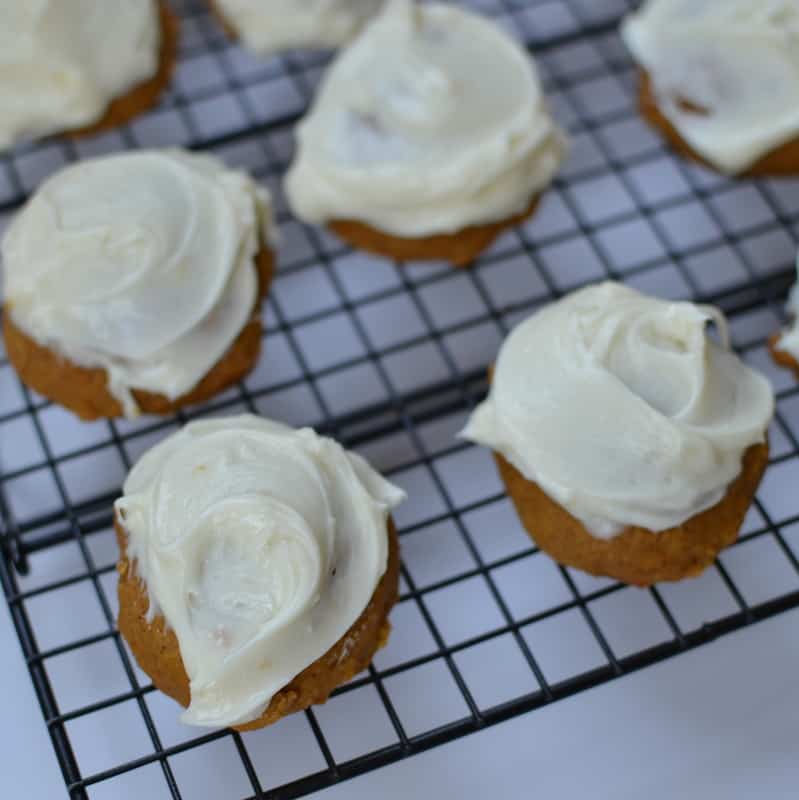 Now is the perfect time to put these scrumptious beauties on your to bake list. Your loved ones will be singing your praises and you will be tickled pink at your baking accomplishments!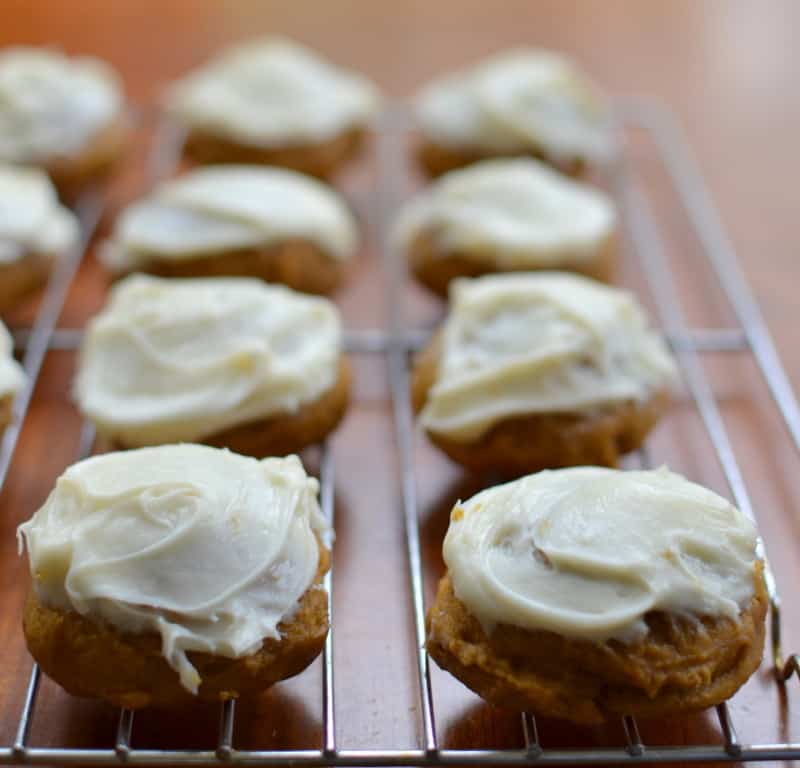 Other pumpkin recipes you will love!
Print
Soft Pumpkin Cookies with Frosting
Cookies
2 1/2 cups flour
1 teaspoon baking powder
1/2 teaspoon baking soda
1 1/2 teaspoons ground cinnamon
1/2 teaspoon ground nutmeg
1/2 teaspoon ground ginger
1/2 teaspoon ground cloves
1/2 cup butter softened
3/4 cup sugar
3/4 cup brown sugar
2 eggs
1 1/4 cup pumpkin puree
Frosting
1 box (8 ounce) cream cheese
1/4 cup butter softened
1 teaspoon vanilla extract
2 cups powdered sugar
Instructions
Preheat oven to 375 degrees. Cover cookie sheets with parchment paper.
In medium bowl mix flour, baking powder, baking soda, cinnamon, nutmeg, ginger and cloves. Using mixer cream butter with sugar. Add eggs one at a time and mix on low just until incorporated. Add pumpkin and mix until until incorporated. Add flour mixture one third at a time until combined; scraping the bowl and beaters. Using 1 1/2 tablespoon cookie scoop position on parchment paper. Bake for 13 minutes. Cool completely on cookie cooling racks.
In small bowl beat cream cheese and butter until smooth. Add vanilla. Add powdered sugar in three parts and beat until smooth and creamy. Spread over cooled cookies.
Keywords: pumpkin spice cookies, soft pumpkin cookies, easy pumpkin cookies
On the hunt for more delicious recipes? Follow Small Town Woman on Facebook, Pinterest, and Instagram.
https://www.smalltownwoman.com/wp-content/uploads/2019/05/Beth-1.pdf