This Pumpkin Muffin Recipe bakes up super moist muffins, covered with an easy crumb topping and drizzled with a cream cheese glaze.  They are the perfect fall treat!
My darling daughter and I just love sweet goodies made with pumpkin.  We just can not get enough of them.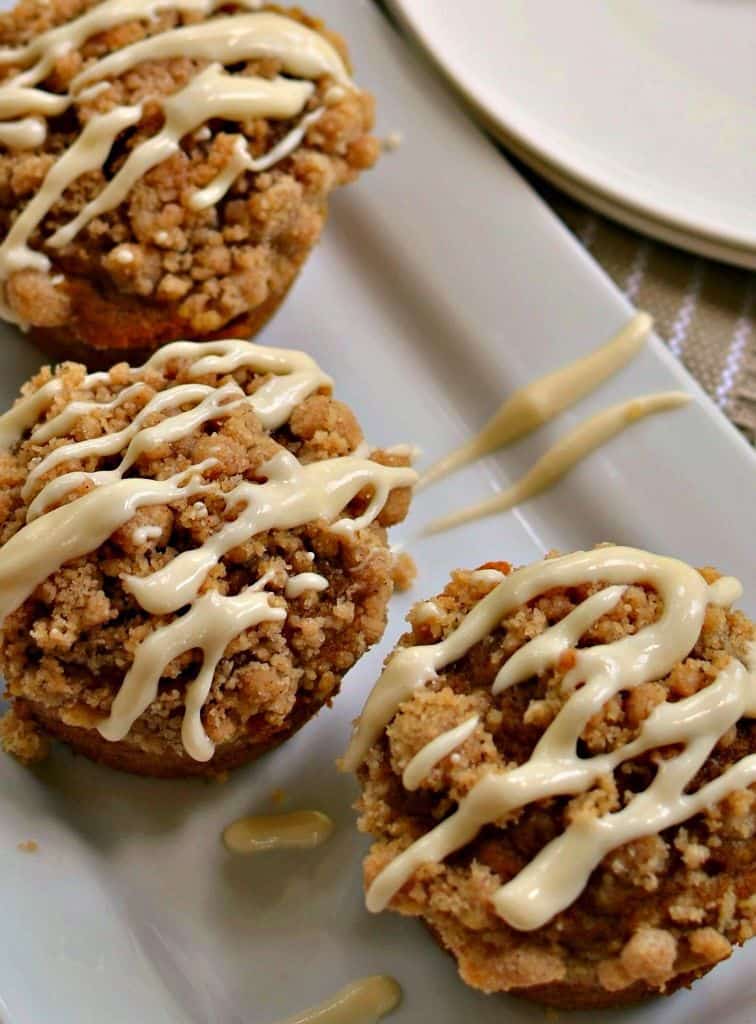 These big beautiful Pumpkin Muffins make for a marvelous breakfast with a big cup of coffee or a after dinner sweet treat with a glass of milk.  These delectable treats can be made up to several days in advance however store them in the fridge after the glaze has been drizzled on because cream cheese definitely requires refrigeration. What is it about cream cheese and pumpkin?  That delicious combination is just so incredibly scrumptious!!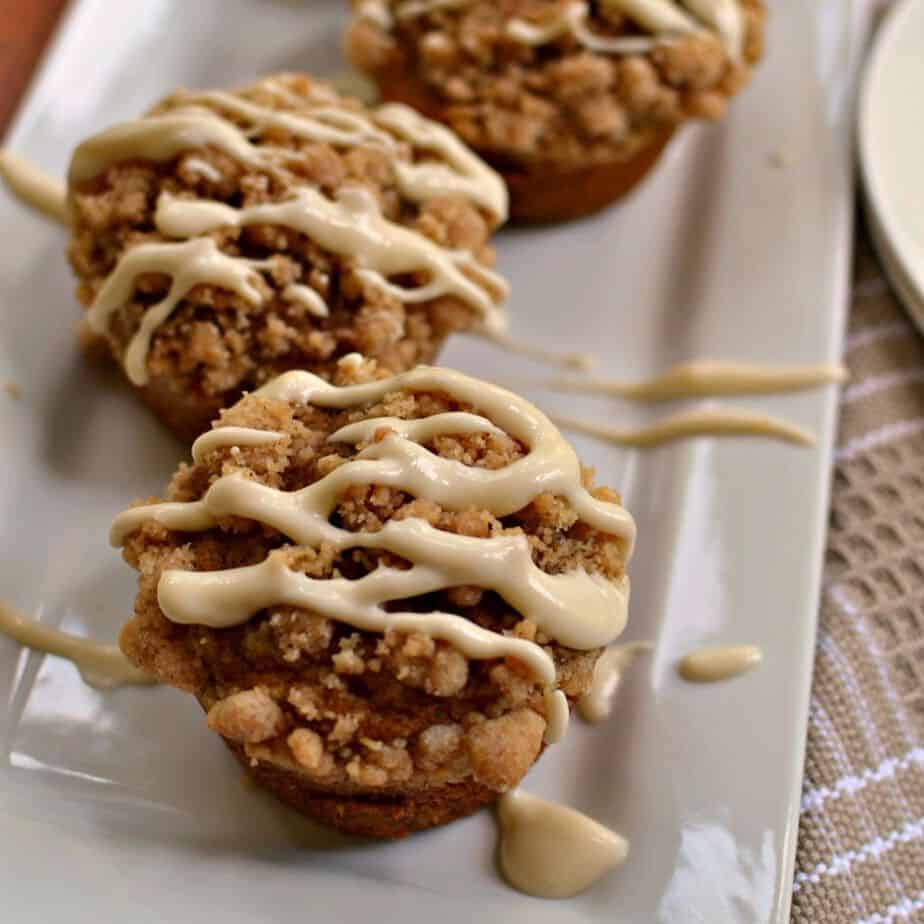 How do you make Pumpkin Muffins?
This pumpkin muffin recipe is a three part recipe but easy doable.  Are you in a hurry?  You can make the crumb topping and the cream cheese drizzle ahead of time.
The first part is the cake part of the muffin.  Whisk the flour, spices, salt, baking powder and baking soda  together.  Mix the sugars, eggs, buttermilk and pumpkin together. Add the dry mixture to the wet mixture and divide evenly in a well greased muffin tin.
The second step is the delicious crumb topping.  Combine the flour, sugars, and cinnamon. Slowly add the melted butter until the mixture is crumbly.  Divide the mixture evenly over the top of the muffins and gently press down so the crumb mixture adheres. Bake and fully cool the muffins.
In the final step beat the cream cheese, powdered sugar, vanilla and milk until smooth. Drizzle over the cooked cooled muffins. They look so good you can almost taste them!!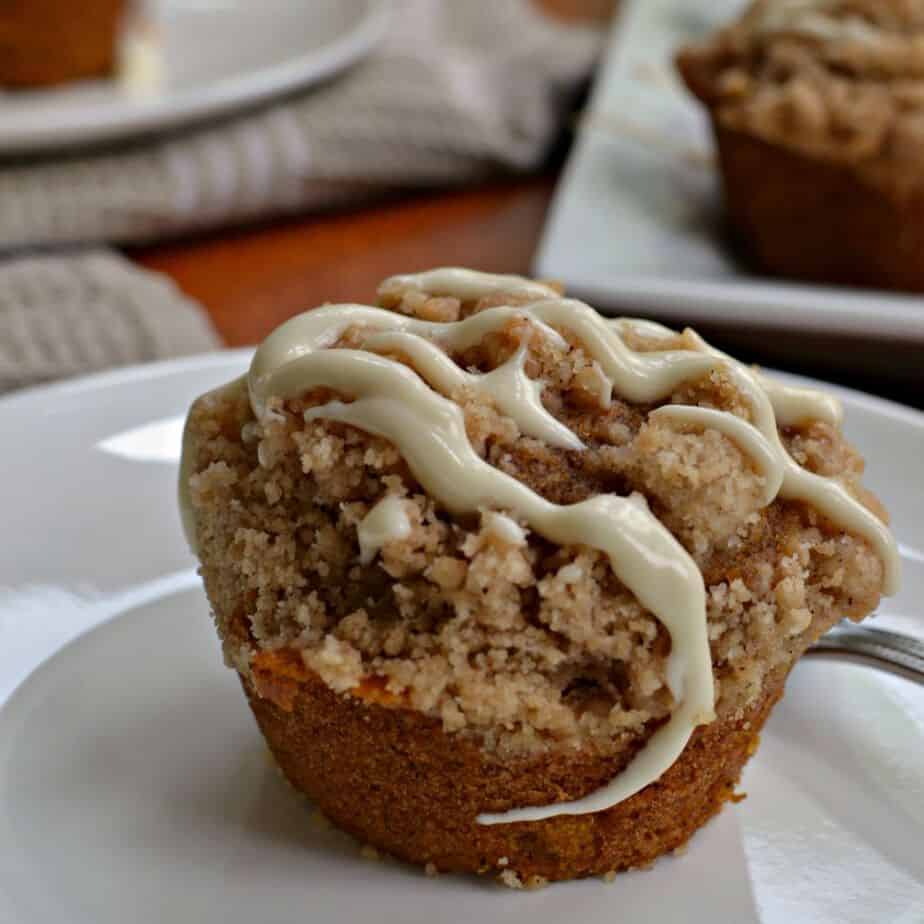 Helpful tips for making this Pumpkin Muffin Recipe
Fill the muffin tins just shy of the top therefore leaving enough room to add a couple of tablespoons of the crumb topping.
Gently press the crumb topping down so that it stays in place and secure.
Add the milk to the cream cheese mixture very slowly so that you can test for the right consistency for drizzling. Practice on a muffin or two to make sure you have it perfect.
You can mix the cream cheese drizzle ahead of time but remove it from the ice box 30 minutes ahead of time so that it is the right consistency.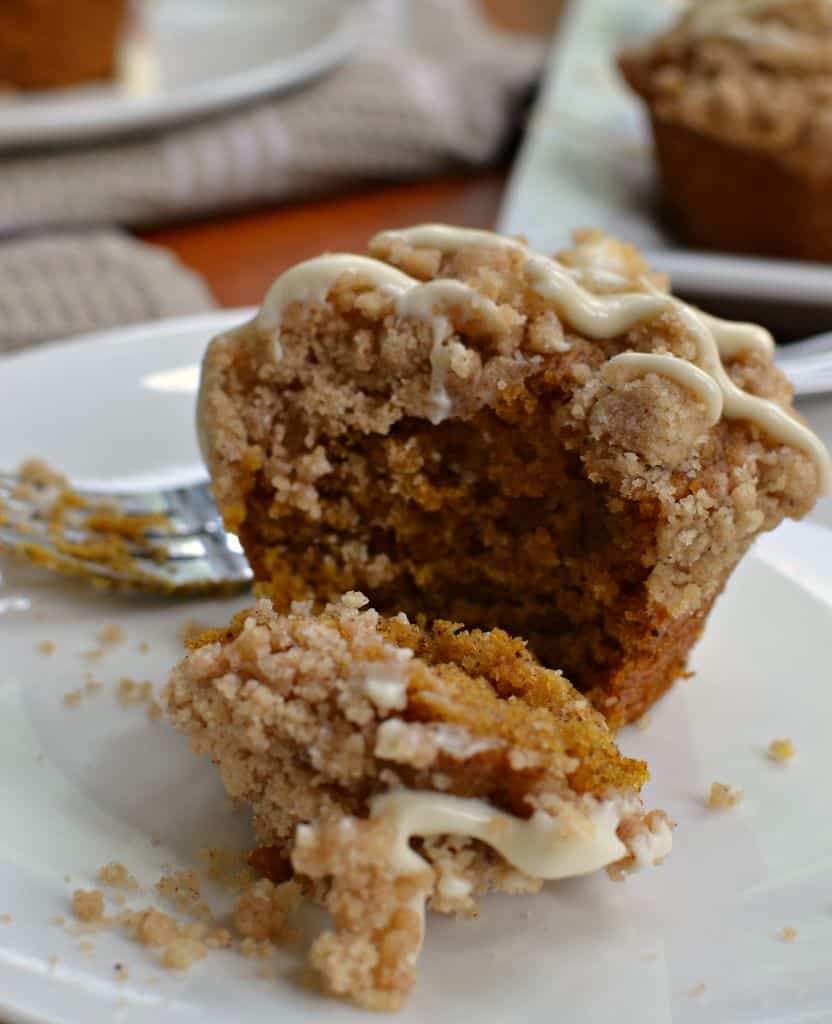 This Pumpkin Muffin Recipe is perfect for on the go breakfasts or school lunch treats!  Put the ingredients on your shopping list today and let me know what you think! Delicious!
Other pumpkin muffin recipes you will love!
Print
Pumpkin Crumb Muffins with Cream Cheese Drizzle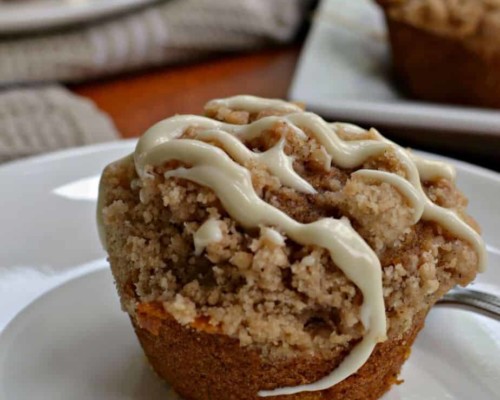 Scrumptious Pumpkin Muffins with a crumb topping and cream cheese drizzle!  You won't believe how moist these are!
Author:
Prep Time: 35
Cook Time: 20
Total Time: 55 minutes
Yield: 18 muffins 1x
Category: Muffins
Method: Baking
Cuisine: American
Scale
Ingredients
2 1/4 cups all purpose flour
1 tablespoon cinnamon
3/4 teaspoon ground nutmeg
3/4 teaspoon ground ginger
3/4 teaspoon ground allspice
3/4 teaspoon ground cloves
1/2 teaspoon salt
1/2 teaspoon baking soda
1 tablespoon baking powder
2/3 cup safflower oil
1/2 cup sugar
1/2 cup brown sugar
2 eggs
3/4 cup buttermilk
1 1/4 cups pumpkin puree
Crumb Topping
1 cup flour
1/4 cup sugar
1/4 cup brown sugar
1 teaspoon cinnamon
6 tablespoons butter melted
Cream Cheese Drizzle
4 ounces cream cheese
1/2 cup powdered sugar
1/2 teaspoon vanilla
2–3 tablespoons milk
Instructions
In medium bowl whisk together 2 1/4 cups flour, 1 tablespoon cinnamon, nutmeg, ginger, allspice, cloves, salt, baking soda and baking powder.
In larger bowl stir together safflower oil, 1/2 cup sugar, 1/2 cup brown sugar, eggs, buttermilk and pumpkin. Add dry ingredients to wet ingredients in three parts stirring until just incorporated. Divide into the well greased muffin pans filling a little short of the top.
In small bowl combine 1 cup flour, 1/4 cup sugar, 1/4 cup brown sugar and 1 teaspoon cinnamon. While stirring slowly add butter. Continue stirring until crumbly. Add 1 heaping tablespoon to each muffin and gently press down to make sure the crumb mixture adheres.
Bake at 350 degrees for 20-22 minutes. Cool for 10 minutes before removing from pan. Allow to fully cool.
In small bowl using mixer blend cream cheese, powdered sugar, and vanilla. Add milk one tablespoon at a time until desired drizzling consistency. Drizzle over cooled muffins.
Leftovers should be stored in the refrigerator.
Notes
You can sub vegetable oil for safflower oil.
Keywords: fall recipes, pumpkin, pumpkin bars, pumpkin cake, pumpkin desserts, pumpkin muffins, pumpkin pie, pumpkin recipes, pumpkin roundup, pumpkin sweets
https://www.smalltownwoman.com/wp-content/uploads/2019/05/Beth-1.pdf