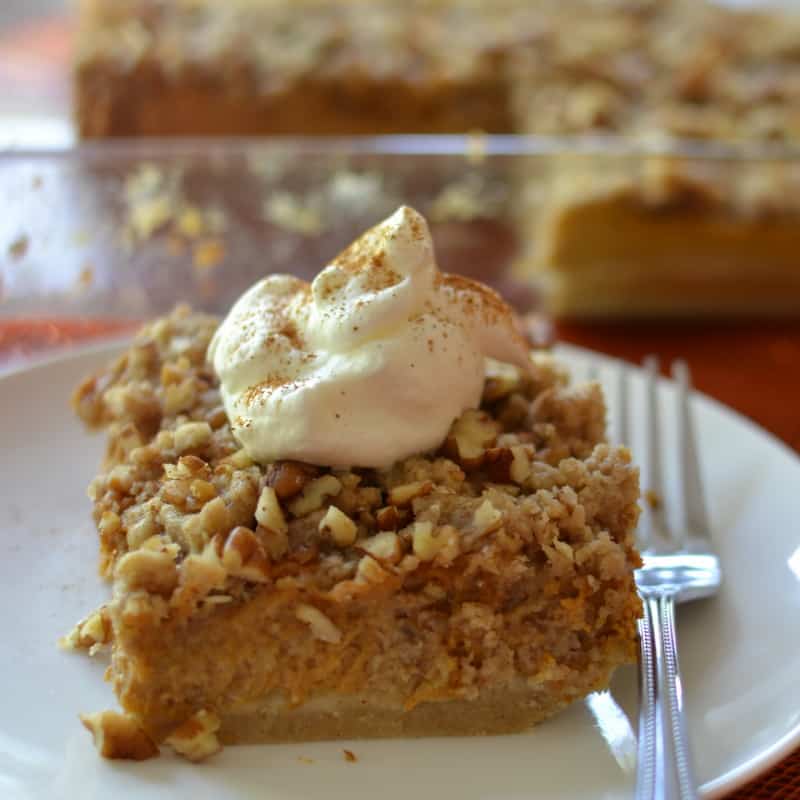 Well it is almost Labor Day weekend and that means fall is right around the corner. I purchased some of my mums from Costco and I am starting to make preparations for my favorite time of the year. My blogging friends are baking all kinds of apple and pumpkin goodies to tantalize your taste buds. I sure as heck don't want to be left in their dust so I have shaken off my June Clever apron (okay now I am dating myself) and baked these awesome Pumpkin Pie Pecan Crunch Bars. I mean honestly who wants plain pumpkin pie when they can have it all dressed up?
Have you tried any of my other pumpkin recipes? Pumpkin Cream Cheese Crumb Cake, Pumpkin Pie Smoothie and Mini Pumpkin Cheesecakes with white chocolate Pecan Sauce are just a few of my favorites. From the popularity of these recipes you can certainly tell that there are a lot of pumpkin lovers out there. I guess pumpkin is a lot like coconut and raisins. Either you love it or you hate it!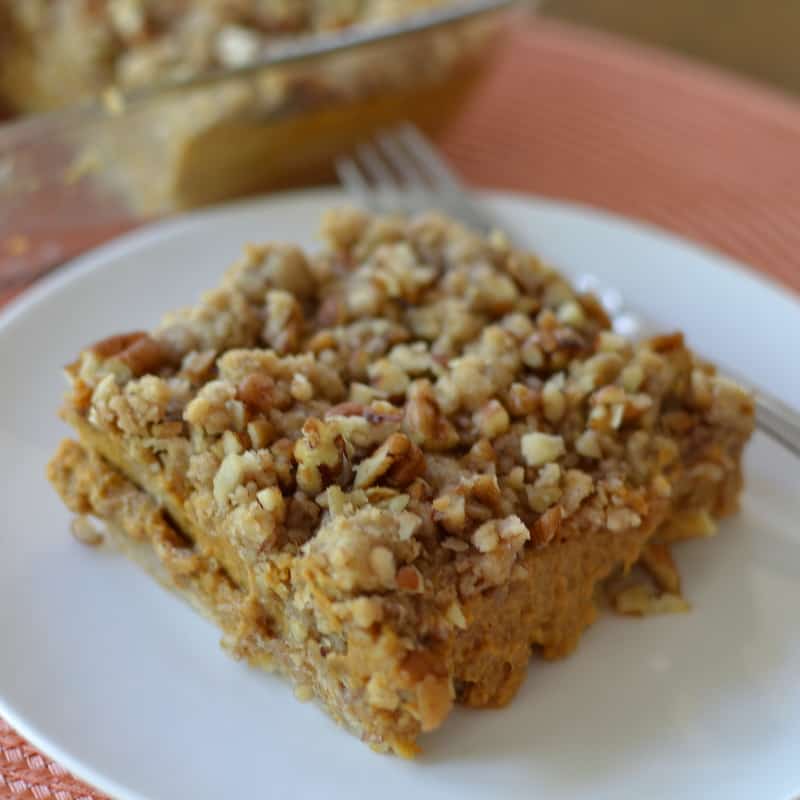 These delicious Pumpkin Pie Pecan Crunch Bars combine a sweet oat bottom crust covered with a pumpkin pie filling and topped with a pecan crunch. It can be made ahead of time but if refrigerated for than about 12 hours the crust becomes more of a pecan crumble albeit still delicious. It is rich so a little goes a long way. You can even dress it up with a little whipped cream and a sprinkle of cinnamon.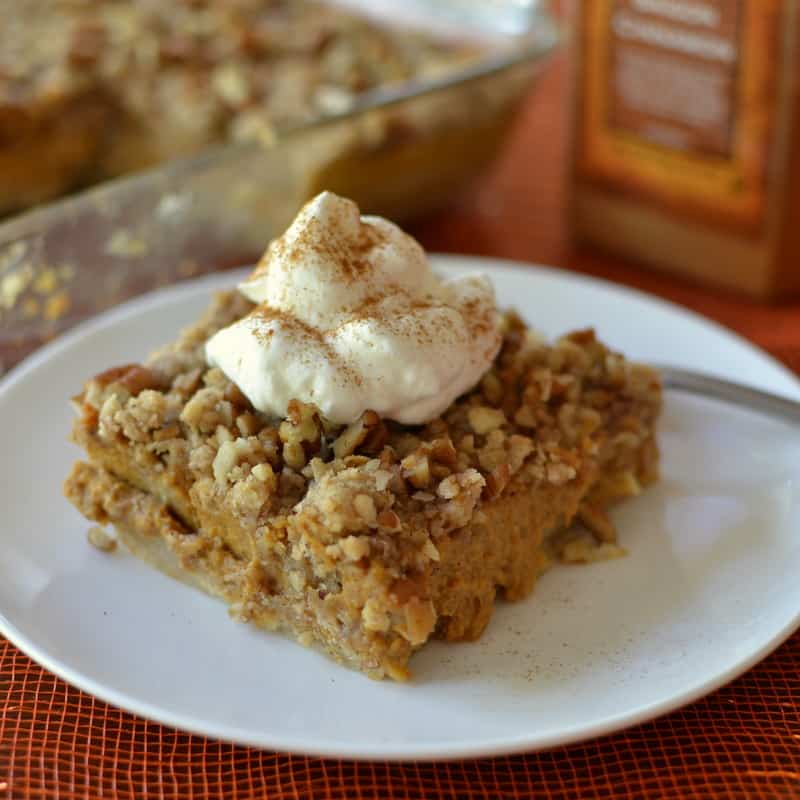 So if you love pumpkin and you love pecans than this baby is a must try! These luscious Pumpkin Pie Pecan Crunch Bars are rich so this recipe serves at least twelve. Enjoy my crazy food loving friends. Hold on I got to go get Ward a beer. Just kidding!! Ward can get his own beer! LOL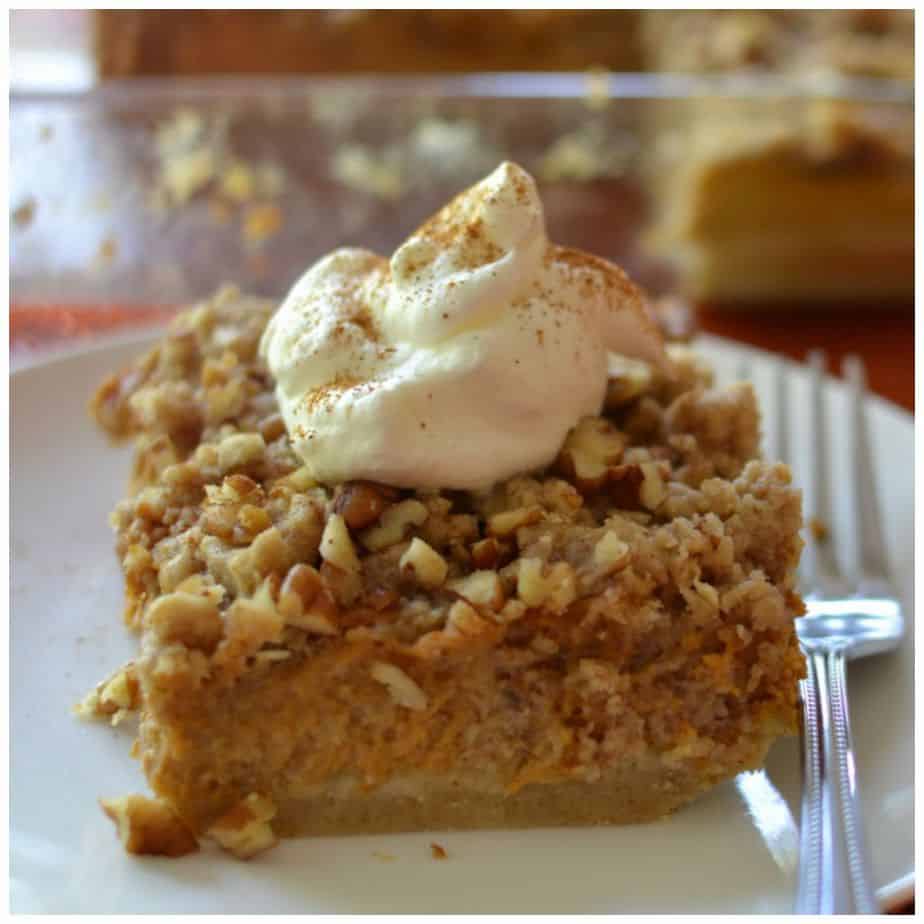 Pumpkin Pie Pecan Crunch Bars
Ingredients
Crust

1/2 cup old fashioned oats
1/2 cup brown sugar
1 cup flour
1/4 teaspoon cinnamon
1/2 cup butter slightly softened cut in 1 tablespoon increments

Pumpkin Pie Filling

1 can (12 ounce) evaporated milk
1 can (15 ounce) pumpkin
2 eggs beaten
1 tablespoon pumpkin pie spice
2/3 cup sugar
1/4 teaspoon cinnamon

Pecan Topping

3/4 cup flour
1/2 cup brown sugar
1/8 teaspoon salt
1/2 cup old fashioned rolled oats
1/2 cup chilled butter
1 cup chopped pecans.
Instructions
Preheat oven to 350 degrees and spray 9 x 13 pan with nonstick baking spray.
In food processor pulse 1/2 cup oats, 1/2 cup brown sugar, 1 cup flour and 1/4 teaspoon cinnamon a couple of times to mix it. Add 1/2 cup butter a couple of tablespoons at a time and pulse just until it combines and pulls together. Pat mixture into the bottom of the pan and bake for 15 minutes.
In large bowl mix together evaporated milk, pumpkin, eggs, pumpkin pie spice, 2/3 cup sugar and 1/4 teaspoon cinnamon. Pour over baked crust and bake for 20 minutes.
In medium bowl combine 3/4 cup flour, 1/2 cup brown sugar, salt and 1/2 cup rolled oats. Using pastry knife cut in 1/2 cup chilled butter until crumbly. Sprinkle over top of baked pumpkin. Bake for 20 minutes.
Remove from oven and sprinkle with pecans. Chill for several hours before slicing.
Notes
For an added bonus top with whipped cream and a tiny sprinkle of cinnamon. Refrigerate any leftovers.
https://www.smalltownwoman.com/pumpkin-pie-pecan-crunch-bars/
Other recipes you will love!!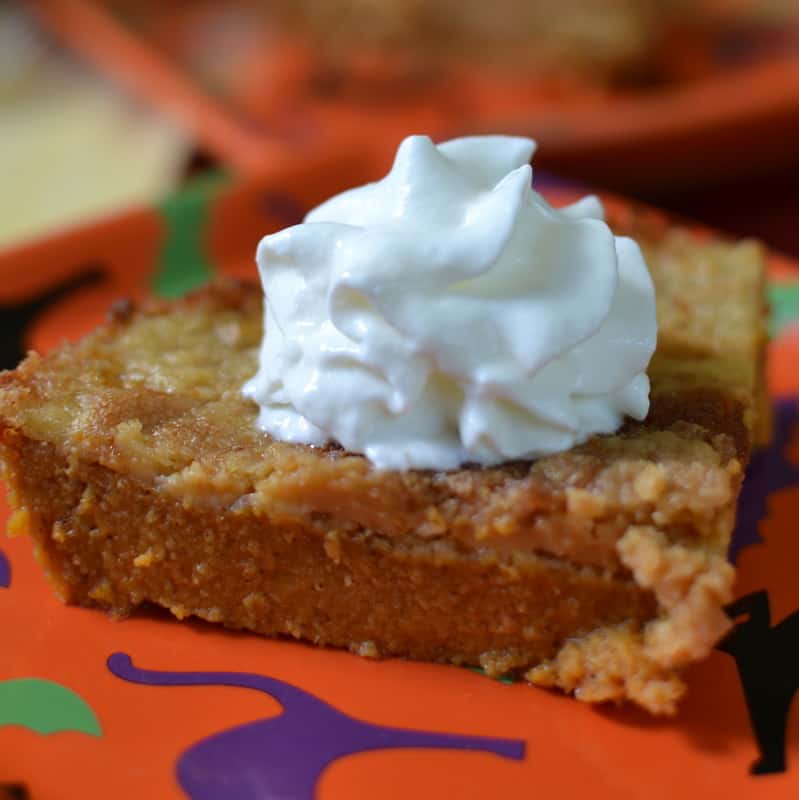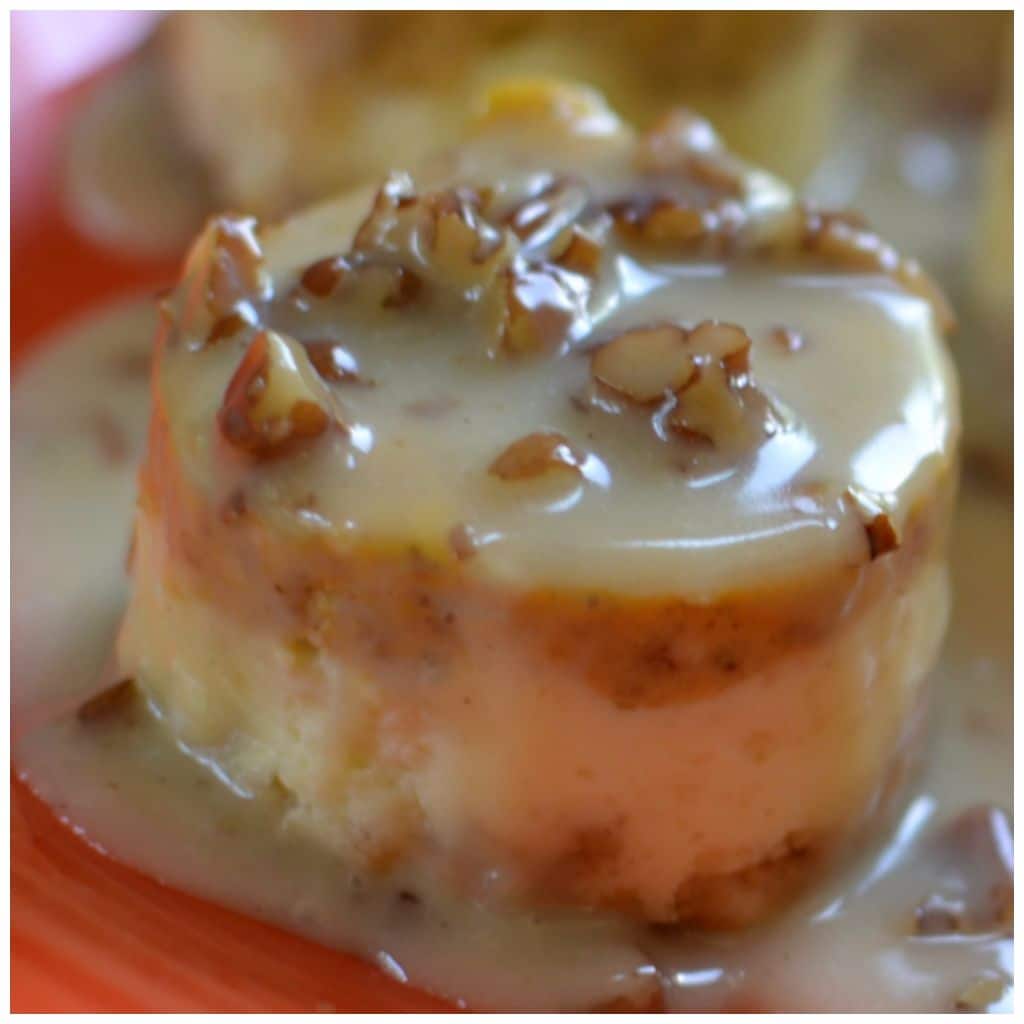 Mini Pumpkin Cheesecakes with white chocolate Pecan Sauce