This easy fantastic Chicken Fajita Casserole combines delectable chicken breasts seasoned perfectly with fajita spices, red and orange bell pepper, brown rice and salsa style tomatoes.  It is topped with plenty of cheddar jack and a dollop of sour cream and salsa.  I love to serve it with Doritos Taco Salad and Best Cornbread Recipe.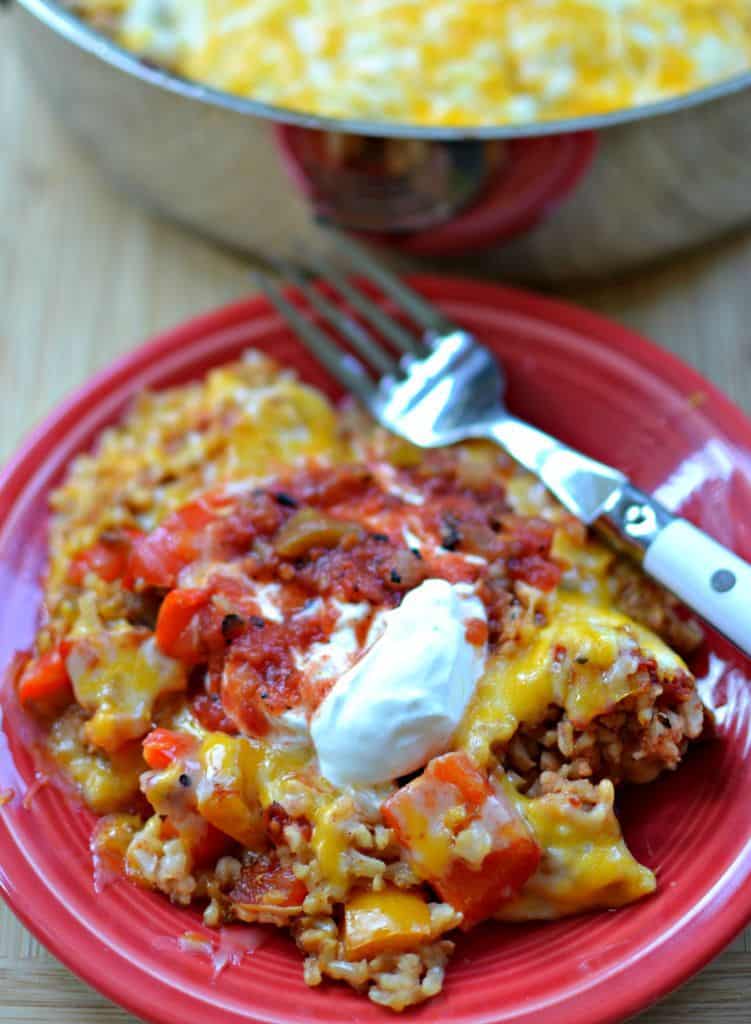 Life is definitely busy this time of year. The hustle and bustle really keeps you flying by the seat of your pants.  So easy simple casseroles that come together quickly and contain wholesome ingredients are always appreciated at my house.
With the exception of the rice this Chicken Fajita Casserole can all be prepared in one large ovenproof skillet.  If you wanted to jazz it up even more you could add avocados, black olives or sliced grape tomatoes.  I use brown rice in this casserole just because it has a few more beneficial nutrients but you can substitute white rice.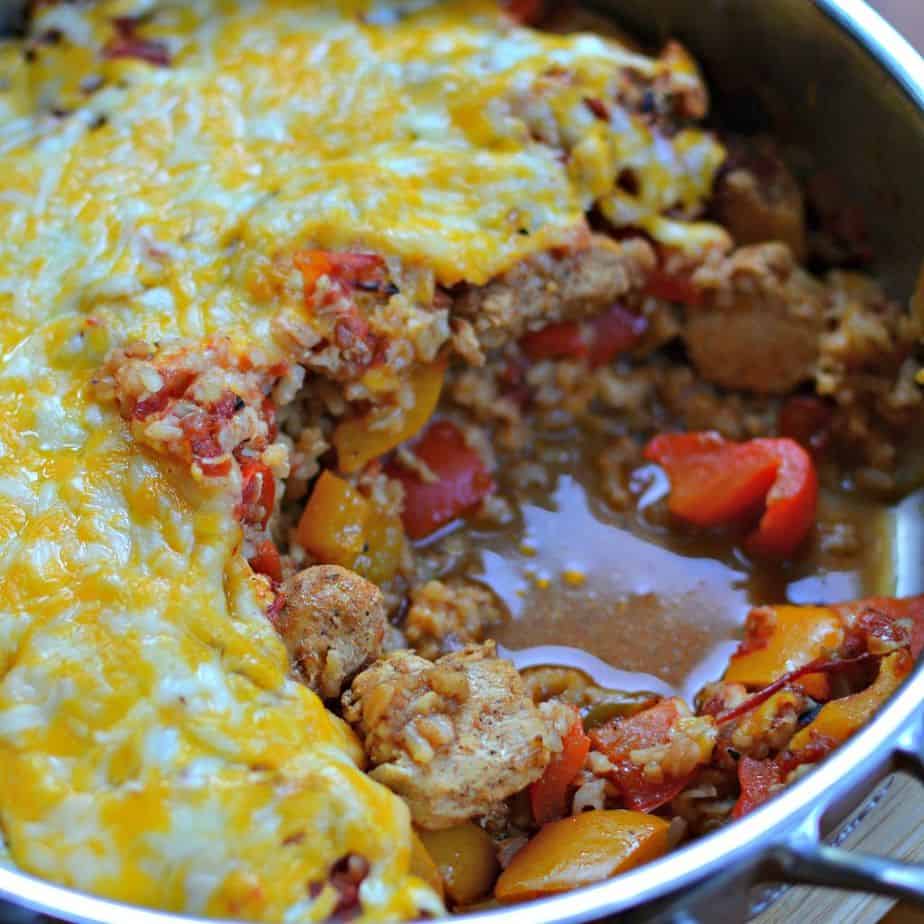 How do you make Chicken Fajita Casserole?
First in a large zipper storage bag combine the chicken, olive oil, garlic powder, chili powder, cumin, paprika, lime juice and honey. Allow that to marinate in the fridge for about 30-60 minutes. Next in a large skillet over medium heat add a little vegetable oil and cook the chicken until it is browned on all sides.  Now add the bell peppers and onions and cook for several minutes.
Stir in the cooked rice and salsa style tomatoes.  Finally top with plenty of shredded cheddar jack cheese and bake until the cheese is melted and the casserole is hot.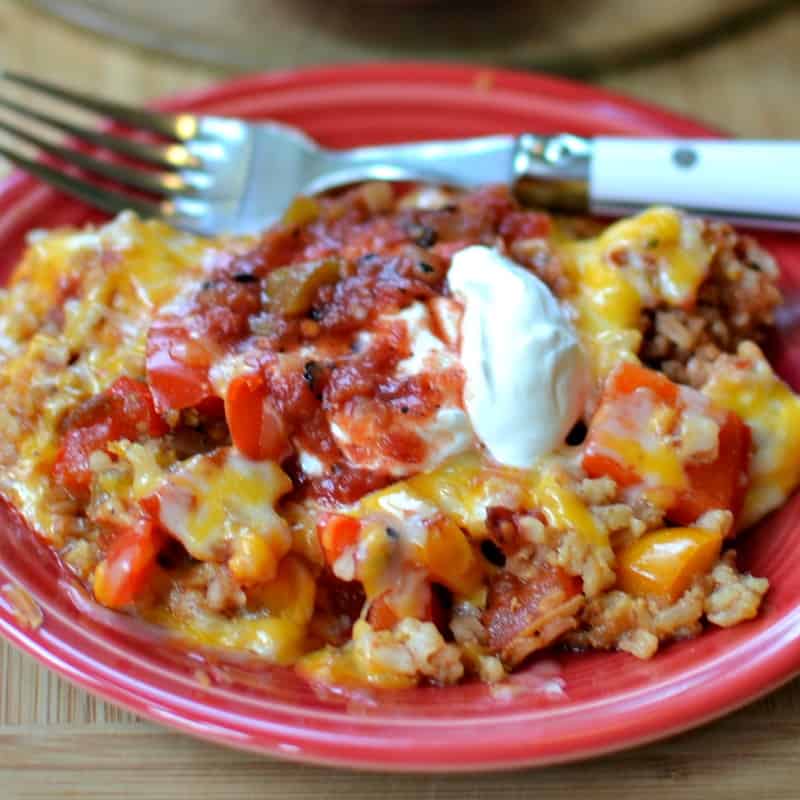 Tips on making Chicken Fajita Casserole
You can use boneless skinless chicken breasts or chicken thighs for this recipe. Just try to cut the chicken in bite size uniform pieces so they cook evenly.
Don't skip the seasoning/marinade step of this recipe.  It adds a lot of flavor and dimension to the recipe.
Cook your rice in advance or skip the rice and go low carb.
I like to use shredded Cheddar Jack cheese but you can use cheddar, Monterey Jack, or any Mexican or fajita blend that melts well.
Top with any or all of your favorite toppings like chopped tomatoes, green onions, avocados, black olives or sour cream.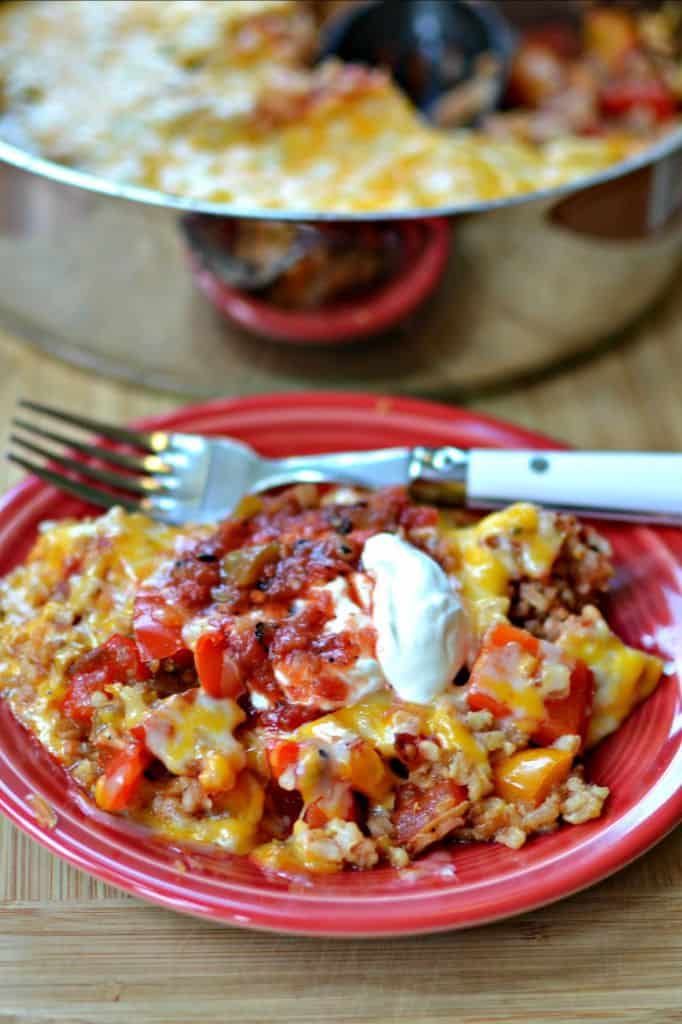 This delectable Chicken Fajita Casserole is easy to prepare and only needs enough time in the oven to properly melt the cheese which is about twenty minutes.  Feel free to serve with soft tortilla skins or crispy tortilla chips but I personally like it straight out of the skillet. That way the flavors can really burst without being masked by more carbs.
Other fun and easy Southwest Recipes you will love!
This post was originally published July 25, 2016 and was republished November 25, 2019 with new content.
Print
Chicken Fajita Casserole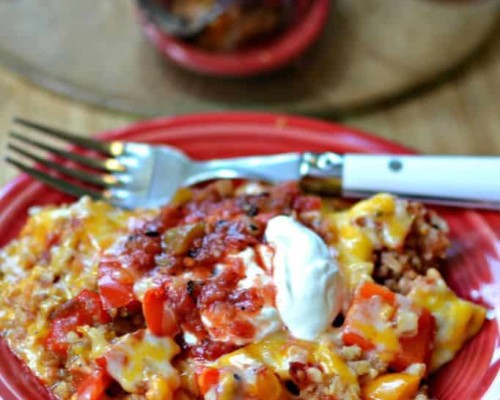 This family friendly wholesome Chicken Fajita Casserole comes together quickly and easily.  It combines delicious seasoned chicken with sweet bell peppers, onions, brown rice and plenty of melted cheddar jack cheese.
Author:
Prep Time: 10
Cook Time: 30
Total Time: 40 minutes
Yield: 4 servings 1x
Category: main meal chicken
Method: stove top and bake
Cuisine: Southwest
1 1/4 lbs. chicken breast cut in bite size pieces
2 tablespoons olive oil
1 1/2 teaspoon garlic powder
1 1/2 teaspoon chili powder
1 1/2 teaspoon cumin
1/2 teaspoon paprika
2 tablespoons lime juice
1 tablespoon honey
1 tablespoon vegetable oil
1 small onion chopped
1 red pepper chopped
1 orange pepper chopped
2 cups COOKED rice
1 can salsa style or fire roasted tomatoes
1 1/2 cups shredded cheddar jack
salsa (optional)
sour cream (optional)
Instructions
Preheat oven to 350 degrees.
Combine chicken, olive oil, garlic powder, chili powder, cumin, paprika, lime juice and honey in large ziploc bag. Place in refrigerator and allow to marinate for 30 minutes.
Heat 1 tablespoon vegetable oil in large oven proof skillet over medium high heat and cook chicken until just starting to brown; approximately 4-5 minutes. Add onions and peppers and cook for 2-3 minutes. Stir in cooked rice, salsa style tomatoes and top with shredded cheese.
Bake for 20-25 minutes. Serve with salsa and sour cream.
Keywords: chicken fajita, chicken fajita casserole, chicken fajita recipe, chicken fajita casserole recipe, chicken fajita rice casserole, baked chicken fajita casserole, chicken fajita casserole tasty, healthy chicken fajita casserole, chicken fajita and rice casserole, easy chicken fajita casserole
https://www.smalltownwoman.com/wp-content/uploads/2019/05/Beth-1.pdf